Martin B-26 Maurader 42-107635, Skibbereen, Cork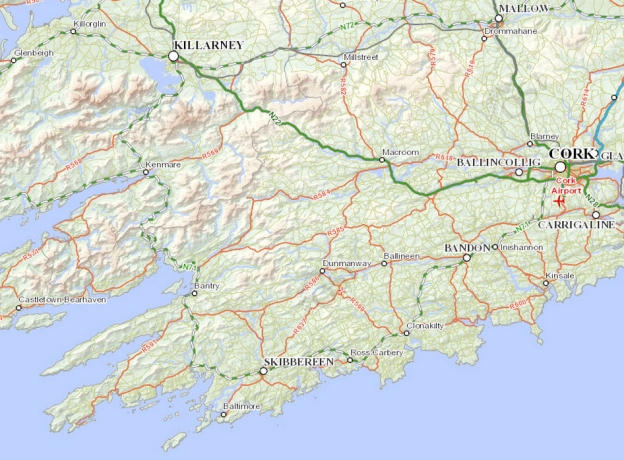 The 16th of March 1944 would witness the first of two aircraft landings in a patch of ground on the close outskirts of the west Cork town of Skibbereen. The landing took place on the area known as 'The Marsh' adjacent to Skibbereen's old railway station.
The United States Army Air Forces (USAAF) official crash report on this aircraft contains a statement from F/O Jones Jr about the flight and lead up to the landing. A summary of the event as determined by the investigating committee reads as follows: 1. This aircraft experienced difficulties in navigation as a result of radio Compass failure, in the early morning hours of the flight. The pilot reported fuel consumption had been progressively increasing from unknown causes since leaving South America. As a result, the aircraft arrived over the South coast of Eire after 7 hours and 5 minutes of flying with approximately 50 minutes of fuel left. Being unable to find a suitable landing field, the pilot made a forced landing with gear up in a race track near the town of Skibbereen, Eire at 1015 GMT with 25 minutes of fuel left. None of the crew injured but the aircraft was seriously damaged and will have to be salvaged. The term salvaged as used in USAAF terms meant that the aircraft was beyond repair, whereas in British terminology, this just referred to the recovery of an air frame be it repairable or not. The same report records the damage as being, Damage to the fuselage: Nose glass broken, Forward Section Fuselage, bomb bay doors buckled; Engines: Major Overhaul required and the propellers were a Complete Wreck.

This photo is apparently of the aircraft, USAAF serial number 42-107635, sitting forlornly on The Marsh on the day of the landing. It is unknown who took this photo but it is possible it was Frank Roche, an avid local photographer. This scan was provided by D. Smyth in 2017.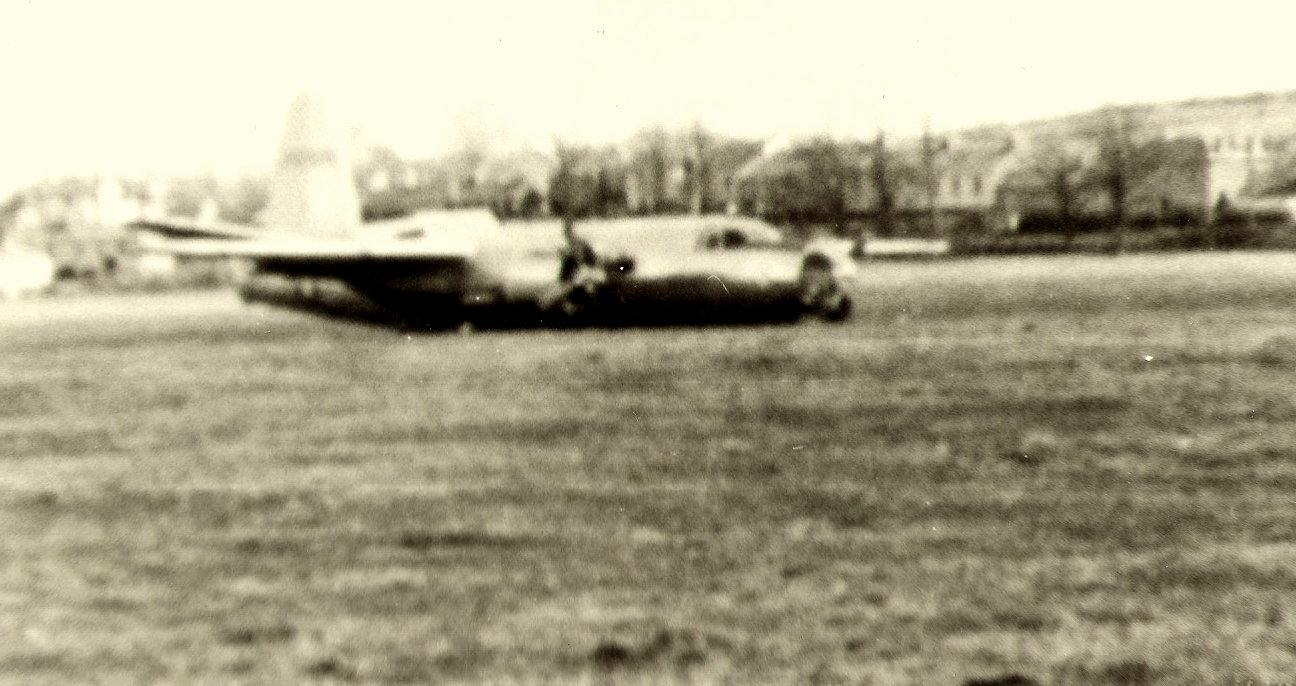 With the aircraft so badly damaged it was dismantled on site and transported away after a 16 day salvage effort by an Irish Air Corps crew. The remains of the aircraft were brought to the Irish air field at Baldonnel south of Dublin on the 2nd April, continuing onward and across the border on the 4th of the month. A long range fuel tank that the crew had jettisoned over the sea was also recovered by fishermen during this time.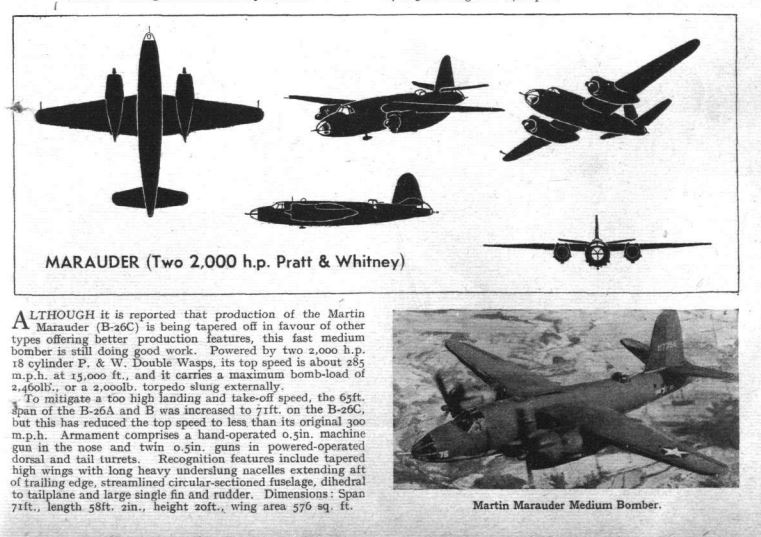 The B-26 was a twin engine medium bomber produced by the Glenn L Martin Airplane Company in Middle River, Maryland though this aircraft, a B-26C-25-MO model was actually built in Omaha, Nebraska. Joe Baugher's website provides an excellent short history of the type. The image shows a 1944 aircraft recognition report from the February 3rd, 1944 edition of Flight magazine published in the UK. Videos about the B-26 can be viewed on the Youtube.com website.

The crew of five on board received no reported injuries and were looked after by locals until the arrival of the Irish Military after which they were brought to Collins Barracks in Cork. The report in Military Archives fails to explain what time the crew were sent north to Northern Ireland. The five were however, sent north to Northern Ireland and thence to England where Enoch Miles returned to flying with Air Transport Command. The other four men it was determined, went on to be posted to the 322nd Bomb Group, where the were split up among other existing crews.

The Crew of B-26 42-107635 which landed in Skibbereen had their names recorded by the Irish Military who attended the crash sight. Their names were:

| | | | | |
| --- | --- | --- | --- | --- |
| F/O Oscar T JONES Jr T-185393, Pilot | 2/Lt James H DELOACH O-691088, Pilot | 2/Lt Enoch A MILES O-445777, Navigator (1942 College photo) | Sgt Richard W HARBORDT 38364743 | Sgt Billy J KERR 18184074 |
Oscar T JONES Jr was born in November 1921 in Oklahoma, to Corrine and Oscar T Jones. In the 1930 census he was residing in Strike Axe, Osage County with his parents and three siblings, Gerald, Edwin and Isabelle. By the time of the 1940 census however, and based on later records from the time of his death, he was enumerated at Randolph Field, based there with the United States Army Air Corps. In that census record he is recorded as being a Weather Observer with the airfields Headquarters Squadron. The next mention found of him is his landing in Ireland, the subject of this webpage. Few other records have been found about Oscar until the time of his death in January 2002. Fort Sam Houston National Cemetery contains a grave of Regina R M Jones, his first wife, who died in 1962 and who was interred as the wife of Major Oscar T Jones Jr.

Oscar T Jones Jr passed away on the 9th June 2002 in Colorado Springs. His service history indicates that he remained in the Air Force until 1949, and signed on again in 1950, remaining until 1963. (Note: Full name: Oscar Thomas Jones Jr). Oscar's record of the events leading up the landing in Ireland are recorded in the USAAF crash report as follows: After running our engines on the ground for forty (40) minutes at Marrakech awaiting tower permission to take off, we left the runway at 0242 GCT. Our scheduled take of time was 0110 GCT, and we were ready to go at 0110 GCT. The flight was uneventful until we passed Spain then the radio compass ceased to function properly, the trailing wire antenna was lost during flight. Noticed that the engines were using more fuel than normal shortly after sunrise. We flew instrument weather at 9500 ft for two (2) hours, during this time we must have been blown to the west. After turning on a heading into destination we sighted land in scattered cloud conditions in front and to the left of us. This proved to be Eire, we then had fifty (50) minutes of fuel left. The weather to the north was instrument. Made a forced landing with twenty-five (25) minutes of fuel remaining, at Skibbereen, Eire at 1015 GCT
The US National Archives has a single page form which was signed by Oscar after his 'escape' from Ireland. this was a standard format document which an escapee had to be vouched for by another officer, in this case a Major Henry C Newcomber O-21770. This officer was the Commanding Officer of the 451st Bomb Squadron of the 322nd Bomb Group during the war, receiving the award of Distinguished Flying Cross for his duties

On 15th June, 1944, Oscar Jones was flying in another of the 322nd BG's B-26's as co-pilot when James Deloach was shot down.

James H DELOACH was the co-pilot of the aircraft when it was put down in Skibbereen. Born in Georgia to Vera and John De Loach, he moved with his family to Newark, New Jersey before the war. James is the only member of the crew that made the landing in Skibbereen that a subsequent war time career is known about. Following the landing in Ireland, James was posted to the 322nd Bombardment Group (Medium) then based at Great Saling, England. On the 15th June 1944, while flying with the 450th Bomb Squadron in B-26 42-95949 'Rainbow Corner II", James' aircraft was hit by flak while returning from a raid on Jurques, a town between St Lo and Caen in Normandy, France. Not having sufficient altitude, the aircraft was brought to a successful belly landing which all crew members survived with no injuries. This was Lt. Deloach's 27th mission with the crew under the command of Lt Max L Bedell. The crew were looked after by some local French civilians but during their attempt to get through German lines to join Allied ground forces, they were discovered by German army soldiers and were taken prisoner. James remained a prisoner there after until the wars end. James provided the the photos attached to this article via his daughters in 2017. After the war, he returned to Army Air Force service and reached the rank of Captain flying with B-29 Superfortress units. In the photos below he can be seen on the right of each photo. The photo on the right appears to be taken at an Army Air Forces location.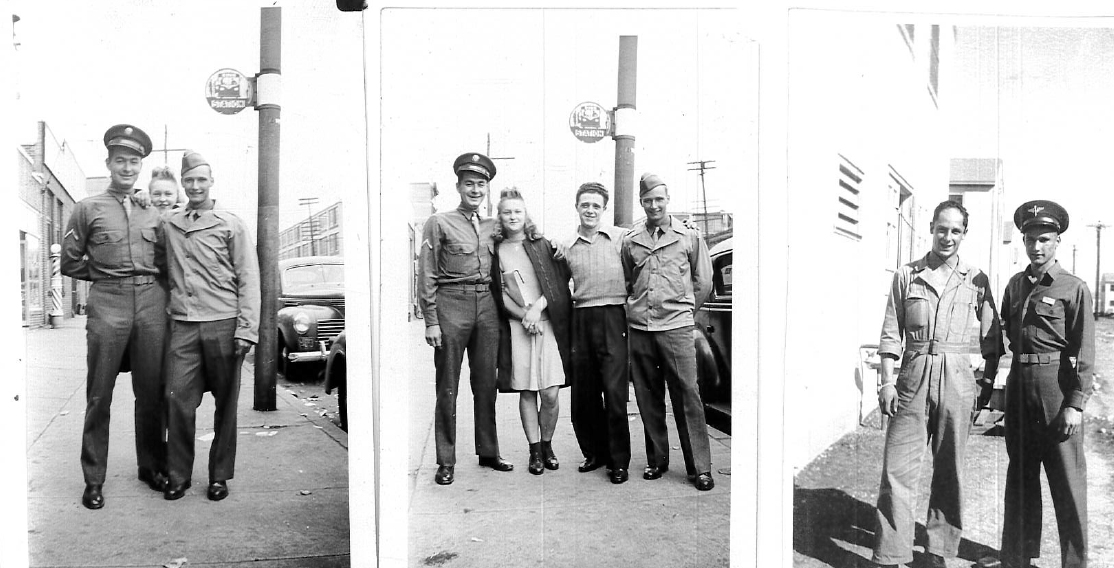 Enoch A MILES was the aircraft navigator on the day of the crash. A US National Archives Report from the Military Attache in Dublin recorded that Enoch was a temporary Air Transport Command (ATC) replacement for a Frederick Sullivan who had been hospitalised in Florida. It was uncommon for all B-26 combat crews to carry a navigator. Combat missions tended to use a navigator in selected aircraft in a formation. Enoch Miles was born in 1920 in Tennessee, the son of Mary E and Jess R Miles. Just prior to the start of the war, he was attending college at Athens, Georgia in the University of Georgia where he studied Agricultural Engineering, graduating in May 1942.
On the 12th of December 1944, he was a passenger on an ATC Douglas C-54 Skymaster from Casablanca, Morrocco to New York. He was among an assorted group of American and Allied passengers. He appears to have stayed on in the services after the war, in 1954 he sailed from Bremerhaven with his family with a group of US military personnel arriving into New York. At some point after after this, Enoch changed his name to Allen Richard Miles, and it is with this name that he is remembered having died in May 1967 in Texas. His burial in Sam Houstan Cemetary in Texas shows his final rank as that of Major in the air force.
Richard W HARBORDT was born in 1923 to Katherine and George Harbordt, in Monterrey, Mexico. His parents were American, and his father worked as a metallurgist, an occupation that brought him all around the world during the 1920's and 1930's. Richard resided in Mexico with his family during his early years, sadly loosing his mother in 1924 when he was just over a year old. He attended Schreiner University in Kerrville, Texas, being mentioned in the local newspaper in 1940 as a student who had traveled from Mexico. Richard enlisted in the Air Force in January 1943 in Texas. He graduated as a Radio Operator from R/O School in Chicago, Illinois and served overseas for 11 months as a Radio Operator Mechanic. He went on the fly with the 322nd Bomb Group but not in the same crew as the others in the crew. He returned home in January 1945, sailing into New York. He married his wife, Dorothy, in 1947 and after the birth of three children he was badly injured in a car accident in 1955. After a number of days in hospital, Richard passed away on the 15th of October 1955, aged just 32. The San Antonio Express published a short obituary for Richard after his death, part of which read: "Native of Monteroy, Mexico, he had been a resident of San Antonio for seven years. He was production manager for the Texson Clothing Company and a member of St Lukes Episcopal Church.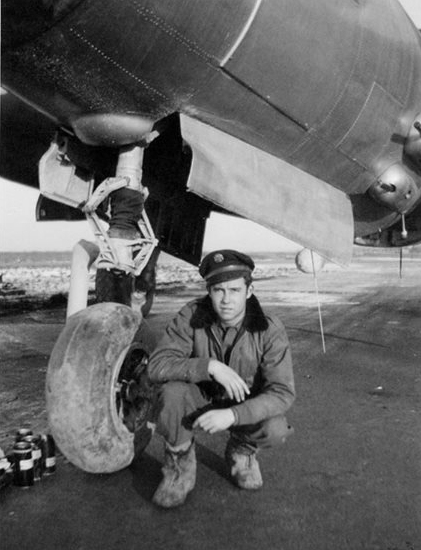 Billy J KERR was born in 1923 in Armstrong, Texas to Sue and Marshall M Kerr. By 1940 he was living in Claude, Texas with his mother.
Billy enlisted in the Air Corps in November 1940. He returned to America in August 1945 on a troop transport into New York and was met there by his sweet heart Imogene Doyle. The following month they were married in Claude, Texas. They had three children and lived out their years in Claude. Billy passed away in May 1988 in Armstrong county, Texas. Imogene passed away in 2001. Billy never spoke to his family about his wartime service but has left a number of artifacts and photos. One of these is the image shown at right, which was annotated on the back in hand writing Bill - 1945 - France. The B-26 Marauder medium bomb groups moved from their bases in the United Kingdom to bases in France during 1944-45.

These photos of Billy were also provided, standing at and sitting in a B-26 bomber.

Compiled in 2017 with the aid of the airmen's families who shared information and photos. Records from ancestry.com were also consulted along with the USAAF Official Form 14, crash report.