Boeing B-17G Flying Fortress, 42-97747, Mid Atlantic, May 1944
The 16th of May 1944 seen one of the stranger incidents included in the list of foreign aircraft crashes in or around Ireland. In reality it didn't happen 'near' Ireland and the crew members never set foot on Irish soil but they were plucked from the wide Atlantic by an Irish ship!
The pilot of Boeing B-17G serial number 42-97747, the wonderfully named Clarence W Fightmaster, was in command of the aircraft on a transatlantic ferry mission, delivering the new bomber to the Eighth Air Force in England for the ongoing bomber offensive against Germany. The crash report in the US Air Force archives includes his report filed in the aftermath of the incident and tells the story in simple terms:
"Last radio contact with any station was made with Goose Bay at the time flight altitude of 11,000 ft. was reached. We proceeded on course as briefed to the navigator.
No other radio contact was made. Our liaison transmitter was not working properly, apparently due to a broken trailing wire antenna. Many attempts were made for [text unreadable] and other radio aids.
We flew out our ETA plus forty min., and at no time could we pick up the Meeks radio, or any other radio. The navigator made several shots, but they showed to be roughly several hundred miles off DR course, so we followed Navigators briefing and remained on DR.
Due to the overcast and following flight plan the Navigator assumed a DR position and altered course for Stornaway. No indication was ever found of destination so at the end of new ETA plus thirty min. course was altered to the east in approximate direction of land. A London civilian radio station was also [text unreadable] up on the compass that roughly indicated that direction.
With about thirty min. of fuel remaining and no indication of land a ditching was made beside a tramp steamer approximately 160 miles south west of the Irish coast. Dingy procedure was followed and all of the crew were rescued. The ship remained afloat for thirty min."

In the above account, the following terms are:
ETA - Estimated Time of Arrival
DR - Dead reckoning

The Army Air Forces report includes the following summary of the event:
"On May 16 1944 at approximately 1200 GMT, B-17G 42-97747 ditched at 49" 46'N 13" 01'W.

This ship was cleared from Goose Bay, Lab. destined from Meeks Field, Iceland, Pilot Fightmaster, Clarence, 2nd Lt , AC, O-1291613.

According to the pilot and crew no radio contact was made from the time they took off or left Goose Bay the navigator was depending entirely on DR, and not celestial. He took several shots which put him several hundred miles south of course, but according to the navigator remained on DR, according to briefing.

The ship finally ditched appr. 1000 mi. S.E. of destination due to lack of fuel. The ship was ditched beside a tramp steamer which picked up the crew.

Recommend that Briefing Officers stress a point that celestial navigation should be depended on when shots are taken rather than DR. In addition it is also recommended that navigators before making an overseas flight should have navigation equipment checked. This particular navigator did not have his sextant checked in the last six months."

The ship they landed beside was the Irish registered SS Lanahrone. This was on a voyage from New York destined to England.
The crew of 2/Lt Fightmaster's aircraft consisted of seven aircrew and two radar technicians.
2/Lt Clarence W Fightmaster O-1291613 (Pilot)
2/Lt Neil K Gehret O-821257 (Co-Pilot)
2/Lt Gustav Ranzinger O-699960 (Navigator)
2/Lt George Silverstein O-757050 (Bombardier)
S/Sgt Harry W Clifford 39908529 (Radio Operator)
S/Sgt Harry A Phillips 35684917 (Engineer)
Sgt Carrol S Hurdle 34479180 (Air Gunner)
Cpl Bernard Nitkin 31143663 (Passenger, Radar Technician)
Cpl Robert D Shaver 39274851 (Passenger, Radar Technican)
| | | |
| --- | --- | --- |
| 2/Lt Clarence W Fightmaster O-1291613 (Pilot) | 2/Lt Neil K Gehret O-821257, Co-Pilot | 2/Lt Gustav Ranzinger O-699960 (Navigator) |
| 2/Lt George Silverstein O-757050, Bombardier on the right of photo. | S/Sgt Harry W Clifford 39908529 (Radio Operator) | S/Sgt Harry A Phillips 35684917, Engineer |
| Sgt Carrol S Hurdle 34479180 (Air Gunner) | Cpl Bernard Nitkin 31143663 | Cpl Robert D Shaver 39274851 (Passenger, Radar Technican) |
After their rescue from the sea, three of the officers and all the sergeants were posted to the 91st Bomb Group flying from Bassingbourne in . The 91st Bomb Group website records their arrival as follows, with EM indicating Enlisted Men:
11 June 1944 – The following EM and Officers assigned and joined from AAF Station 112: 2nd Lt. Clarence W. Fightmaster, 2nd Lt. Neil N. Gehret, 2nd Lt. George Silverstein and S/Sgt. Harry W. Clifford. The following EM assigned from AAF Station 112, DS to AAF Station 172: S/Sgt. Harry A. Phillips, Sgt. Carrol S. Hurdle, Sgt. Charles R. Knox, Sgt. Robert C. (Last name illegible.) Sgt. Virgil S. Skagsbergh
Just two days later and they would be off on their first bombing mission to Hamburg, 2/Lt Gehret getting to sit this one out while 2/Lt Fightmaster flew as co-pilot to 2nd Lt. Neiswender. The mission reports can be read on the www.91stbombgroup.com website. Five days later and Wally Fightmaster would lead his crew back to Hamburg. After one more mission to Berlin, 2/Lt Fightmaster no longer appears in the mission records of the 401st Bomb Squadron, but Gehret, Silverstein, Phillips, Hurdle and Clifford continue to fly missions into Autumn 1944 with other pilots and thereafter the newly promoted 1/Lt Gehret takes command of his own crew. Crew lists are varied at this point and different crews flew on different days. The enlisted men may have been transferred to another Squadron in the 91st in July 1944.
Clarence W Fightmaster was an Oklahoma born pilot. He had enlisted in 1940 and married in Florida in 1943. He was an industrial engineer and an expert at industrial equipment like boilers and pumps. Wally, as he was known to family and friends, passed away in Oklahoma in October 1980. His wife and son kindly provided the photo on this page. He recalled that Clarence suffered lacerations to his head during the ditching. In her letter, hsi wife recounted what she knew of the landing, as told to her be Neil Gehret and George Silverstein: "
The B-17 Wally was piloting was one of a group that had to be ferried overseas by their crews because they were fitted with (secret) radar that enabled them to fly at 30,000 feet—quite highjin those days. When their fuel began to run low, they jettisoned everything—all the clothes they weren't wearing, all their belongings---everything. They were carrying two passengers who were not crew members. When those in the plane spotted the ship, they realized that ditching was their best chance to survive. As the plane splashed down on the water, Wally went through the windscreen, injuring his head and cutting up his hands. One of the passengers had hysterics and had to be pulled bodily from the craft. Gus Ranzinger, the navigator, apparently sustained an injury that destroyed his balance. The seas, reportedly, were 20 feet. I do not know how the ship's crew got the plane's crew aboard, but one thing Wally did relate was that he got his first taste of Irish whiskey shortly thereafter. The ship had a cargo for London, so, the survivors were informed, they could go to London and rejoin the war effort or they could go back to Ireland and be interned for the duration, Being patriotic, foolish, young men, they opted for London, where they were treated like spies because of their "irregular" entry. Wally spent 6 weeks in hospital, Gus, longer. When Wally finally went back on duty,he got opportunities to go to Ireland on leave, where he bought me beautiful tweed, and where he remembered fondly having steak with an egg on top.
Neil K Gehret was a Pennsylvanian born pilot. He enlisted in July 1942 in Allentown. Following his arrival in the UK he was posted to the 91st Bomb Group but had returned to the United States by December 26th 1944. Neil was featured in his local Florida community newsletter in July 2014, with a group of similar veterans reflecting on being fathers. The article can be read here. It records for Neil, Neil Gehret served in WWII in the Army Air Force, as a pilot on a B-17. After the war he went back to a job as a controller for various manufacturing companies in south Florida.
In 2008 Neil was able to pass on the following narrative via his care assistant:After completing radar bombing training for the bombadier at Langley Field, Virginia, we left England by B-17 by the northern route. Our first stop outside the U.S. was at Goose Bay, Labrador. Our departure from Goose Bay was delayed because it had snowed during the night. Our next stop was to be Iceland. As we flew towards Iceland we found all the radio equipment onboard was not operating. Without radio contact, it was not possible to land in Iceland. At our briefing before leaving Goose Bay, we were told if it was not possible to land in Iceland, our alternative landing field was Stournway, Scotland. Also, we learned that our navigator's sextant was missing, making celestial navigation impossible. Following a compass course without knowledge of wind speed or direction would cause drift from the compass course. After many hours in the air and fuel running low, we spotted a ship. As we circled the ship, the radio operator flashed in morse code to the ship requesting directions to land. The ship responded with the code letter of the day identifying them as a neutral. It became necessary to ditch the plane while we still had fuel to make a power-on landing in the water. We ditched near the ship, inflated the life rafts, and eventually we were picked up. We were told by the crew of the Irish ship that they got the coal to run the ship from England, and had to report to an English port for inspection of their cargo before they could dock in Ireland. Upon arrival in the English port we were sent for more combat flight training before our arrival at our bomb group to engage in bombing missions for which we were trained.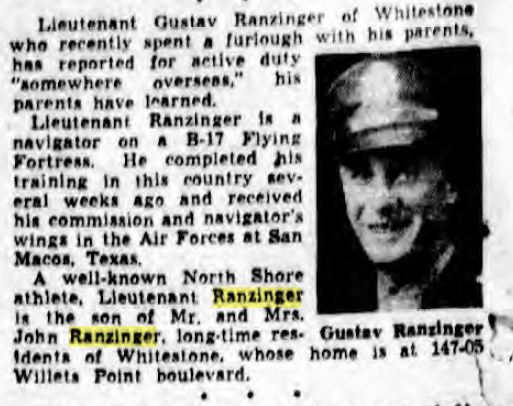 Gustav Ranzinger was a German born immigrant born in 1918. In 1923 he arrived in New York with his mother and sister, traveling to meet his father John who had preceded them. Growing up in New York city, the 1940 census shows Gustav to be working as a Bank Clerk. He was often reported upon prewar for his local newspaper due to his involvement with local tennis competitions. He enlisted in the Air Corps in 1942. The small article at right was published by the XXX in XXX and goes on to say: Lieutenant Gustav Ranzinger of Whitestone who recently spent a furlough with his parents has reported for active duty "somewhere overseas" his parents have learned. Lieutenant Gustav Ranzinger is a navigator on a B-17 Flying Fortress. He completed his training in this country several weeks ago and received his commission and navigator's wings in the Air Forces at San Marcos, Texas. A well-known North Shore athlete, Lieutenant Ranzinger is the son of Mr and Mrs John Ranzinger, long term residents of Whitestone, whose home is at 147-05 Willets Point boulevard." Beyond his presence on B-17 42-97747, little more is known of Gustav's service career as he does not appear to show up the the records of the 91st Bomb Group. His family understand that his hearing was damaged during the landing in the sea and this resulted in him being removed from flying duties. His service records indicate to them that he served with the 94th Bomb Group.

His daughter of her father: "My Dad never spoke of it. He was angry that they removed him from flying due to his injury from the ditching. He fought for years to prove...he finally did...that his hearing loss was service connected. It was Meniers syndrome from the shock of the crash. They tried to say it was nerves when it happened. The only stories I remember hearing was when he was in the hospital. He spoke of hearing the bombers struggling to take off and some not making it with the heavy bomb load. Also, one of his last assignments was stateside discharging GIs. Apparently he signed Ronald Reagans discharge papers...so we were told...not proven.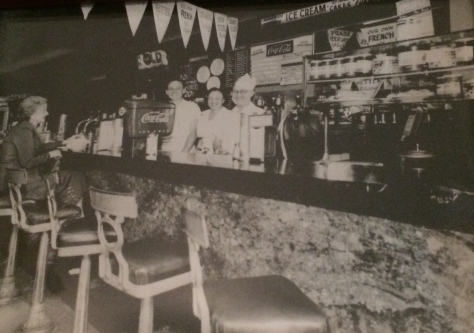 After the war my Dad went into business with his father and started Broadway Confectionery..an ice cream parlor in Flushing Queens. I included a picture..from left to right my Dad, his sis and Father. It was better known as the Slab...from the marble slab counters. That picture hangs on the wall still today. It is a coffee shop and we recently went there when we visited my Dad and family in Flushing Cemetery. He had the store until about 1959.
He bounced around a few years before becoming an insurance agent with Prudential. He retired in the late eighties after many years with them. He then battled prostate cancer and passed away April 4, 1990. He and my Mom married in 1946."

He passed away in New York in March 1990.

George Silverstein was a resident of Brooklyn, New York, born in 1915, the son of Sam and Fannie Silverstein. He along with two other brothers Milton and Martin, served during the war. George was awarded the Air Medal and the Distinguished Flying Cross (DFC) during his service. He passed away in 1985 in the Bronx.
Harry W Clifford was born in 1923 in Colorado to Harry and Eva Clifford, moving later with his family to live in Weber County, Utah. He enlisted at the start of February 1943 and served through until release from the services in November 1945. The Salt Lake Tribune of Sep 5, 1943 records him as having graduated from radio school at Scott Field, Illinois. At that time his father and step mother, Harry and Channie Clifford lived at 704 1/2 West 2nd Street in the city. Harry's brother Raymond L Clifford also served in England with the Army Air Forces, but the exact details have yet to be determined. He was awarded the DFC as well as the Air Medal with three Oak Leaf Clusters during his time with the 91st Bomb Group. Harry passed away in December 1987 in Salt Lake City.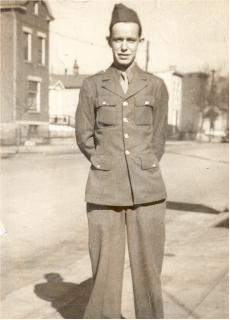 Harry A Phillips was born in 1923 in Campbell, Kentucky. Harry passed away in September 1984 and had told his family little about his wartime service. They did know that he carried out 31 missions with the 91st Bomb Group and he had told family members that he had been shot down over the Irish sea and had to be rescued. As the family understood it, he was given a long recovery period in Colorado after this, however the facts are unclear.
Harry passed away in Kentucky in September 1984 and is buried there in Campbell County.


Carrol S Hurdle came from Marshall County, Missisippi. He studied at Mississippi State University and was working before the war in a sales roles. He died in November 1983 in his native Marshall County. The American Air Museum website also has a page dedicated to Sgt. Hurdle however it too mentions that he spoke little about his wartime experiences. Carroll Simpson ("Simpson") Hurdle, oldest child of Donny Oscar Hurdle and Cornelia Bell (Bull) Hurdle, was born 7 October 1908 (Mississippi) and died 17 November 1983, married Margaret Louise ("Louise") Winter who was born 19 April 1915 (Holcomb, MS) and died 23 February 2008. Simpson and Louise are buried in Slayden Cemetery (Marshall County, MS). They had no children.
Bernard Nitkin came from New Haven, Connecticut. He remained a resident there until his death in 2011.
Bernard's life in public service was recorded in online Obituaries including this one at Legacy.com
Robert D Shaver was another radar technician on B-17 42-97747. His enlistment number unfortunately falls within a batch of numbers not saved in historical US Army enlistment databases, however, his name and serial were found on a shipping manifest of the Queen Mary, dated July 11th, 1945 arriving in New York. At that time he is listed as sailing with the 446th Bomb Group, but it may have been a posting for the purposes of shipment. His enlistment number starting with 3927xxxx suggested that he may have come from California. It turns out he was Robert Dale Shaver, from Manhatten, Kansas, who was working for the Douglas Aircraft Corporation in Long Beach, California at the time of his draft registration at the end of June 1942. Robert was born in 1922 to Claude and Bertha Shaver. The local Kansas newspapers in July 1945 reported that Sgt Robert or Bob Shaver had returned from England.

The aircraft, a Lockheed Vega built B-17G-30-VE, was one of the famous wartime Flying Fortress bombers. It had been delivered only in February 1944 and was enroute to Europe.
Compiled by Dennis Burke, 2017, Dublin and Sligo. If you have information on any of the people listed above, please do contact me at dp_burke@yahoo.com