Consolidated Catalina II, Leitrim, March 1941

On the 21st March, 1941, seven airmen of the Royal Air Force and one from the Royal Canadian Air Force took off on their very first patrol mission from their new base on Lough Erne. They had arrived on the Lough only the day before but sadly would never return to its waters. Their new Consolifdated Catalina Flying boat crashed into a hill side in the Kinlough Valley in Leitrim killing all eight.
.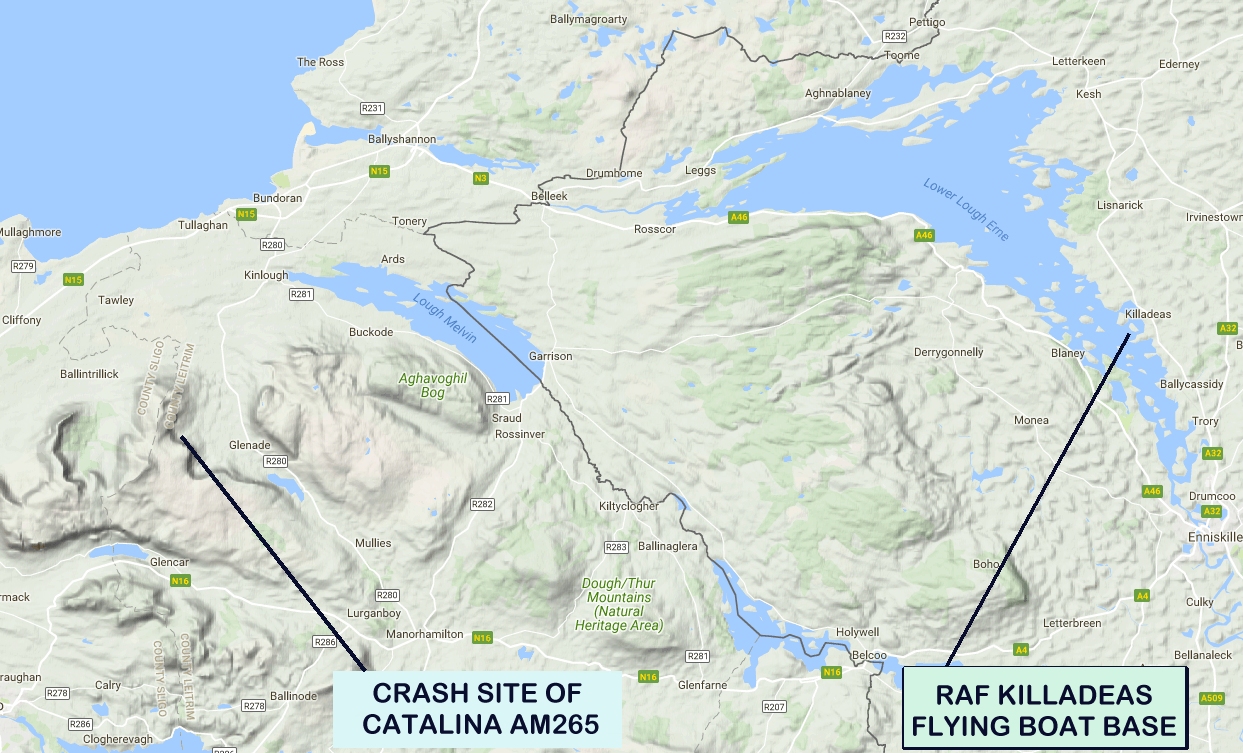 | | | | |
| --- | --- | --- | --- |
| F/O Albert Edmund WHITWORTH 33555 + | F/O Charles Peers DAVIDSON J/3113 RCAF + | P/O Harold Lewis SEWARD 84330 + | Sgt Frederick Rodney Albert CHALK 534048 + |
| Sgt Henry DUNBAR 570770 + | AC1 Ronald Henry OLDFIELD 940612 + | Sgt Gordon Henry SLACK 754693 + | Sgt Harry Harley NEWBURY 624214 + |
| | | | |
The Squadron operations Record Book is rather sparse in names for the months prior to the crash. Operational missions are recorded with only the two pilots names. On the 13th February 1941, it is noted in the ORB that P/O Harding and F.Lt T A W Edwards proceeded with eleven airmen to Lough Erne to establish an advanced based. The first of the Squadron Stranraers proceeded there on the 20th February and flights were carried out on the 24th February searching for mooring sites. Beginning in March there is mention of the appearance of Catalina's at the squadron, with 15th March being the first observed mention of the ill fated AM265. On that date, its compass was swung in Stranraer.

On the 20th March W/Cmd Watt and P/O Seward, F/O Louw and Whitworth, and P/O Davidson proceeded to Lough Erne. It is not clearly stated but this would seem to be inferring that three crews flew their aircraft to the new base in Northern Ireland.

The following day of course would see Seward, Whitworth and Davidson board AM265 with another two crews on two more Catalina's. Only two aircraft would return from that mission, and one of those had to land at RAF Bowmore.

F/O Whitworth appears in the ORB for 1941 on 3rd January, flying a patrol in Stranraer K7298 as co-pilot, flying almost 4 hours for a convoy that never sailed. He fly's again with F/O Louw on Jan 6th, 7th, 10th, 13th, 14th, 17th, 19th, 24th, 29th, 30th, 31st, Feb 7th, 9th, 10th, 12th, 13th, 14th, 16th. On the 3rd of February is was recorded by the Squadron that he had completed completed night training on the Stranraer. He co-piloted a Stranraer to Greenock with F/O Louw on 19th February, and was back on the 22 Feb to allow him go on leave the following day. On the 6th of March he was part of a crew that delivered Catalina AM267 to the base at Stranraer.

P/O Davidson is noted, without initials or mention of being RCAF, as being posted into the Squadron at Stranraer on January 8th from Uxbridge. He was in the base hospital for a number of days, returning on the 1st of February. On the 12th March, it appears that he accompanied F/O Louw of the Squadron to Greenock and they brought Catalina AM268 to Stranraer.

P/O Seward was recorded on the Squadron as having been posted in from the FBTS (Flying boat Training School) on January 25th, 1941. He was posted on leave on the 7th of February 1941`but was back on the unit by 21st February when he is noted as as proceeding to Lough Erne with "secret documents".

Compiled by Dennis Burke, 2017, Dublin and Sligo. Massive thanks to the niece and nephew of F R A Chalk, and Ronald Oldfields sister and brother in law and the family of H H Newbury, If you have information on any of the people listed above, please do contact me at dp_burke@yahoo.com