Lockheed Hudson, AM834, Cahore Point, Wexford, 1942
On the 24th of February 1942, training continued at the base of the Royal Air Force's No.1 (Coastal) Operational Training Unit ((C)OTU) at Silloth in Cumbria, England. This base was the location where trained pilots, navigators and Wireless Operators/Air Gunners (WOP/AG) congreated after their individual training in order that they would be grouped into crews and learn to fly and fight as a team. The OTU had been based here since 1939.
The unit records books in the UK national Archives records the days activities as:
WEATHER. Fair or fine - hazy. Wind, light NE to ENE or calm. Vis 2 1/2 to 4 1/2 miles. Temps. Max 35 degs. Min 21 degs. Aerodrome 50% serviceable. At 11.55 hours Hudson N7307 collided with Hudson T9283 on landing, causing extensive damage to A/C. fuselage and nose., both mainplanes. F/lt Winnicott, 1st pilot, was unijured. At 11.55 hours Hudson T9283 collided with Hudson N7307 on landing causing damage to fuselage, mainplane and tail - engines serviceable. P/O Chandler, 1st. pilot, and Sgt Neil both uninjured. This resulted in Cat. "E". Hudson AM834 crashed into the sea off Cuhore, Eire, at 1300 hours - reason unknown. The crew, consisting of 928519 Sgt Plt. A.R.Rylatt, 1378465 Sgt Observer Sherlock-Beard, 1068192 Sgt WOP/AG Rostern and 1365081 Sgt WO/AG McGarvin all killed
It was the latter incident, the loss of Hudson AM834 that relates to Ireland. This was the third fatal loss of a Hudson from the Training Unit in the month of February 1942 alone. The crew of the aircraft consisted of, with their names having been cross referenced with the Commonwealth War Graves Commishion website:
| | |
| --- | --- |
| Sgt Alastair Ritchie Burrett RYLATT 928519 + | Sgt Alexander Sherlock BEARD 1378465 |
| Sgt Alexander William MCGARVA 1365081 + | Sgt Jack ROSTERN 1068192 + |
The crew of four was made up of Sgt Rylatt the pilot, Sgt Beard the observer or navigator, and two wireless operator/air gunners, Sgt.s Rostern and McGarva.
No cause could ever be established for the crash, the only contributing factor alluded to by the RAF was that the weather at the time was poor with bad visibility.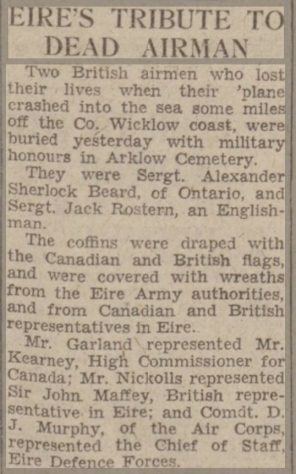 The crash was a little unique also in that the burial of the two crew men in Arklow received wide coverage in the United Kingdom press. In these Sgt Beard is identified as being from Ontario, presumably becuase the only addresses found on him reated to his recent training completed in Canada. As can be seen above, Sgt Beard was English. An example is shown here from the Gloucestershire Echo, 28 February, 1942. This was sourced from the britishnewspaperarchive.com website.
The aircraft was a Lockheed Hudson, carrying UK Air Ministry serial number AM834. This was one of a batch of just over 200 Hudsons delivered too the RAF of the Hudson V (LR) version. AM834 was the second of three Hudsons from this batch to end up landing or crashing around neutral Ireland. AM864 made a forced landing the previous year and AM885 crashed in the following year. A brief history of the aircraft can be read on Joe Baugher's website. You can watch footage of a restored example of the Hudson, based in Australia, at this Youtube video:
Compiled by Dennis Burke, 2015, Dublin and Sligo.