Douglas C-47 Skytrain, 42-23395, Rinneanna, March 1944
The first United States military aircraft to find itself landing in Ireland during the war was a C-47 Skytrain transport, its story is told here on the website. Less than 24 months later, another C-47 would find itself in difficulty and be forced to take refuge at the neutral airfield at Rinneanna in County Clare, Ireland.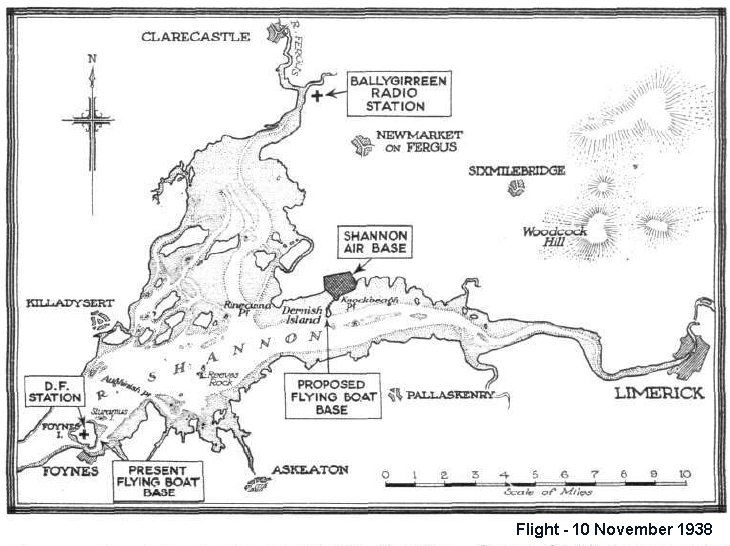 As was normal in these cases, the United States legation in Dublin was informed of the aircraft's arrival and departure. A confidential telegram sent from the legation dated the 6th March 1944 reads: "1215 March 5 C-47 No 42-23395 with 9 occupants landed Rine Anna (sic) took off same date 1545"

Humorously, this telegram was followed up two days later with a further more irate telegram: "Pilot Capt C B Anderson of C-47 number 23395 landed Rineanna March 5 says he could have reached England but was briefed at Marrakech that landing in Ireland would be "Lark" with food, rest, drinks, and speedy release. Request Marrakech be at once enlightened. Serious repercussions possible from such a briefing. Hathaway." Hathaway in this case was the US military attache in Ireland from January 20, 1943 to March 20, 1945.

The comments of Capt Anderson were deemed serious enough to warrant the following telegram on the same day: "Authority is requested to send Major G E Sprague AMAA to North Africa to inform air stations concerned of proper briefing for Eire. Reference our 15 [the above telegram]. The American Minister Mr Gray concurs and strongly urges this step be carried out at the earliest possible date.

The Irish Army's report on the landing is understandably short. It records the landing as being at 12:05 of an American aircraft with nine persons on board. All their names and serial numbers were recorded while the aircraft was refueled. The pilot reported they were flying from Marrakech to Cornwall in England. With 150 gallons of fuel provided, the aircraft and it crew continued on its way at at 15:50 the same day, bound for an airfield near Lough Neagh in Northern Ireland.

The aircraft, a Douglas C-47A-DL-5 Skytrain, serial number 42-23395, was operated by the USAAF and the 314th Troop Carrier Group for the remainder of the war, flying on the D-Day missions. After the war it was sold to Poland and operated there until at least 1955 and there after it seems, no trace of it is known.
As it turned out, this was the last Allied aircraft to make an emergency landing at the airfield during the war.

In 2007 a veteran of the Squadron provided the following memories of the days ferry flight, he was Radio Operator Robert E Callahan. His memories of the day were:
"Now, I stated I almost ended up in Ireland on the same day Anderson had to land. What happened was that both planes were flying between a very high cloud cover and a complete cloud layer below us. What we did not know was that at the altitude we were assigned to fly a strong wind from the east was blowing us off course to the west and we did not know it. I saw the navigator aboard my aircraft try to take shots on the sun and stars for hundreds of miles but could never get a single good shot. Meantime, on my radio I was taking position fixes right along on radio stations in France. I kept showing him what my fixes were showing but he ignored me. He was a First Lieutenant and I was a Sergeant. He was supposed to know where we were. We were flying due north up the 11th or 12th meridian. After many hours in the air we still had not made our turn to about 45 degrees to pick up Lands End when suddenly the clouds cleared and we found ourselves almost over the southern coast of Ireland. The coast was in full sunlight and full view right below us. Hurriedly, the pilots and navigator had a huddle in the cockpit. Then the flight engineer was asked if we had gasoline to make St. Mawgin RAF base on the west coast of England. Quickly it was decided we just might be able to make it, and so we banked about 120 degrees to the right and headed for England. Every fuel saving effort possible was followed to stretch the fuel as far as it would last. We were on the very last tanks when the coast came into view but fuel was so short we were not certain we could even make it to the runway while being able to see it in the distance. The needles were sitting on zero when the wheels of our plane touched the runway. A great shout went up throughout the plane when we felt the wheels on the runway. There was hardly a cup full of fuel left in the tanks.
I have often wondered what my reception would have been in Ireland had we gone in. Since my name is very familiar around the area of Cork County, I have wondered if I would have been received eagerly. Although I can't trace the lineage, I do know my forefathers came from Ireland.
With all of that, where do we go from here?
Robert E. Callahan, San Antonio, Texas, USA (Age 82)"

Robert later recounted the loading for the date as being:

"The Navigator was Allan Melvin Wrang, who was inserted into the crew at Marrakech. The Flight Engineer, sometimes called Crew Chief, was George A. Bishop. The Radio Operator was Edward K. Ott. Passengers in that plane, all from our squadron, were Secor D. Browne, Lamb B. Myhr, Norman J. Womack and Edward Daley, Jr. My copy of the orders shows Norman J. Womack as the first pilot on another of our planes but there was some changing around when the planes arrived at Marrakech from Sicily. There isn't a doubt in my mind that those changes caused Norman J. Womack to be placed on Anderson's aircraft as a passenger and someone else flew the plane that he flew from Sicily to Marrakech. Do not let me confuse you if you receive a copy of the orders for that flight. If you have Norman J. Womack on that flight, then he was, indeed, on it--no question about it. You wouldn't have his name otherwise."

Robert wrote a book about the Squadron and a summary of the D-Day missions is to be found on the wonderful www.6juin1944.com website by Patrick Elie.

The men on board were a combination of air and ground staff from the 50th Troop Carrier Squadron of the 314th Troop Carrier Group of the US Army Air Forces.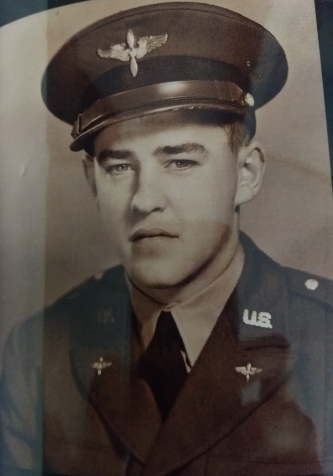 Clarence Bostic Anderson O-665499 was born in Hartford, Connecticut son of the late Clarence and Lillian (Bragg) Anderson. His local paper, The Berkshire Eagle, was a frequent reporter of his war time activities. In October 1942, his completion of training was recorded. "Two Pittsfield young men were pronounced "ready for combat duty" as pilots of Army fighter planes today and graduations at two advanced flying schools of the Gulf Coast training center, with Headquarters at Randolph Field, Tex."

He actually appeared in a photo in the Montana Standard some days prior to that article, taken at Foster Field and showing Clarence and other fighter pilot student. The photo was later published in the USAAF official history of the Second World War. The newspaper title was: "Practice Alert - As part of their course advanced fighter pilot students at Foster field, Texas, await a practice alert call. One of the cadets stands at the radio equipment to get the flash from the control tower while the planes, already warmed up, stand ready for the take off on the runway. Cadets are, left to right, Clarence P Battley, Eaton Rapids, Mich.; Clarence B Anderson, Pittsfield, Mass.; George M Barnes, Detroit; Warren S Egbert, Pontiac, Mich.; Clifton E Hood, Blytheville, Ark.; Wesley F Andrews, Indianapolis; Ben R Blair, Newton, Tex.; and John E Kane, Muskegon, Mich."

Battley and Hood both died in 1987, Barnes (Unknown), Warren S Egbert killed in the Battle of Arnhem with the 61 Troop Carrier Squadron. Wesley Anderson died in 2011. Blair passed away in 1999. Kane may have passed away in 1982.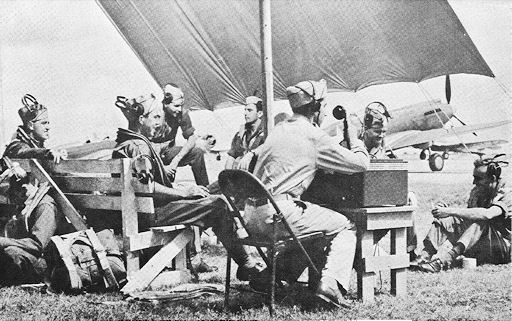 Clarence Anderson had graduated at Foster Field as a Second Lieutenant. Clarence had attended Pittsfield High School and worked for General Electric before the war with their photographic department. In January 1944, the Berkshire Eagle was reporting that the newly promoted Captain Anderson had left the USA in April 1943, last posting being at Fort Benning, Georgia, and had flown in the Sicilian campaign. By September 1944, it was further reporting his participation in the Normandy airborne landings.

Clarence is shown below, on the left in his USAAF uniform, with his brother Everett Anderson who his nephew states served in Alaska and whose insignia indicate he was a Private First Class and had served at least five years of overseas service.

Clarence returned to America and entered into a successful post war business career. He passed away in 2009. His remains were interred in Arlington National Cemetery. Merrill E Smith O-729256 Merrill Smith was born in Kansas, in 1921, to parents Herbert C and Lena Smith. Merrill enlisted in the Army Corps on the 23rd December 1941 at Fort Levenworth. He was reported in newspapers in August 1943 among those awarded for their efforts in the airborne invasion of Sicily.
He sailed back to New York in 1945 on the Queen Mary at the rank of Major, O-729256. Assignment was to the 96th Bomb Group but this may only have been for the purposes of the voyage.
Was he killed on 8 April 1952 when a North American TB-25J Mitchell bomber crashed in Colorado. The Kansas City Times of April 15th, carried a photo and obituary. It as reported that he had served 31 months overseas during World War II and had been awarded the Air Medal with four Clusters, the presidential unit citation with one cluster and the EAME theater ribbon with five battle stars for his work as a troop carrier pilot. Having left the service after the war, he worked for a construction company, J F Pritchard & Co, in Kansas City as a purchasing agent until he was recalled to the services in early 1951.

Merrill was buried in Kansas City on Wednesday April 16th, leaving his wife Janet and son Gary Lee Smith.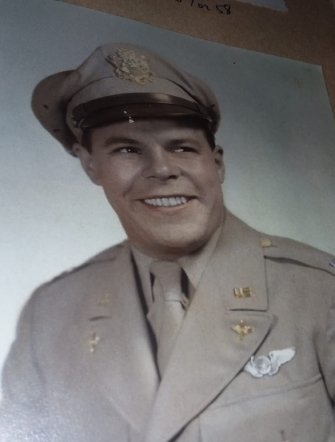 Allan M Wrang O-800800

Allan was born on the 16 June 1920 in Duluth, Minnesota to Martha and John O Wrang. The family had moved to Pennsylvania by the time of the 1930 US census.

The Delaware County Daily Times on Oct 20th 1942 recorded that Allan was studying at Monroe, Louisiana to be an Army Air Force navigator. His brother Arvie L Wrang also served in armed forces during the war.

His postwar service details filed in Pennsylvania show that he served overseas from the 5th May 1943 to September 8th 1945, after which he served two more months before leaving the service. He was residing at Glenolden in Pennsylvania during the time he served.

Many American newspaper in August 1943 carried a United Press Correspondent article entitled "How U.S. Airborne Unit Practices Mass Jumps Before Sicily Attack" or something similar. The article discussed the crew and paratroopers aboard a C-47 training in advance of the intimately failed air drops during Operation Husky in July 1943. Allan is mentioned briefly as "and 2nd Lt. Allan M Wrang of Glenolden, Pa., was the navigator, but on this flight he had nothing to do and went "for the ride". For all Northcutt had to do was follow the flights in front of him". His crew in this case consisted of Pilot, F/O Freeman C Northcott, Seminole, Okla, Co-Pilot, Lt Jack McCelland of Astoria, Ill Radio Operator, Cpl Thomas H Neesen and Crew Chief, T/Sgt Vernon H Williams of Vicksburg, Miss. all of whom, along with Allan, appear on the movement orders of the 53rd Troop Carrier Squadron, 61st Troop Carrier Group dated 11th February 1944, during the groups movement from Sicily to the UK.

As recounted above, Allan was not a permanent member of the 314th TCG, but may at this time in March 1944, have been assigned to Transport Command as a navigator for aircraft being ferried to Europe and Africa. His presence on the 314th aircraft is explained in a history of the 61st TCG (http://ww2flyers53rdtc.com) (, which was compiled with the input of Allan Wrang: "53rd TCS navigator 2nd Lt. Allan M. Wrang (O-800800)) had flown with the 53rd TCS when it migrated from Africa to England on 16 FEB 1944. However, their had been a need to have navigators on a 1:1 basis with each aircraft migrated from Africa to England, and he was sent back to Africa to function as a navigator on a 314th TCG C-47 (a part of the 52nd TCW), on No. 42-23395 when it departed Marrakech. No aircraft were to land in Ireland as it was neutral during the war, yet because No. 42-23395 was low on fuel it had no choice but to land at Rinneanna Airfield in Clare at 1205 local, and departed at 1550 same day".

His name is recorded in the 61st Group records as having flown on the three main airborne attacks in Europe, the invasion of Normandy in June 1944, the attack on Holland (Operation Market-Garden) in September 1944 and the attack over the Rhine in march 1945 (Operation Varsity).

Allan passed away on April 7th, 2013 in Delaware where he had lived after the war. He graduated as a mechanical engineer in 1957 and there after worked for 40 years with the DuPont company.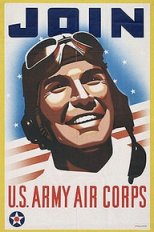 Edward Kramer Ott 13124623 was a Pennsylvania man, born in April 1912 in Philadelphia, to Ana Estella and William Ott.

At the time that he registered for the draft in 1940 he was living with his parents in Media, Pa. He enlisted in October 1942, and following training, proceeded overseas on the 7 May 1943. He stayed with the unit overseas and was a Radio Operator. During this time he took part in the D-Day missions with Capt Anderson as pilot. His family have promised to provide photos and some memories of he left of the war.

Edwards brother Pvt George Ott 33081801 also served in the Army Air Forces, but in the Pacific theatre. He was tragically murdered in Manila in October 1944.

Edward died on 9th October 1996 in Barnstable, MA.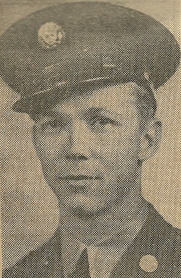 George A Bishop 19075930, the son of Eva and Orange R Bishop, was born in California in April 1920.

The 1930 census find him living with his divorced mother Eva, but in 1940 he is found with his father and step mother, and brothers Raymond and Lawrence in Madera, California. George married in 1941 in to Doris M Taylor.

Having served throughout the Normandy and Arnhem Campaigns as a crew chief, George lost his life on 6th April 1945 on devastating day for the 50th TCS. His aircraft was flying a supply mission to XXX when it was in collision with another of the squadrons C-47s, causing the death of George and eight officers and NCO's. The crash occurred near Solwaster in Belgium.

His remains were returned to California for burial in 1949 and he lies buried in the Golden Gate National Cemetery. Newspaper obituary at that time recorded his Air Medal award as: The Air Medal with four oak leaf clusters were awarded posthumously to Sgt Bishop. One citation was for heroism displayed in helping land a crippled C-47. With its braking system wrecked by enemy machinegun bullets, the big plane was in danger of cracking up in landing. Sgt Bishop, however, saved the plane and its crew by rigging up parachutes to serve as brakes.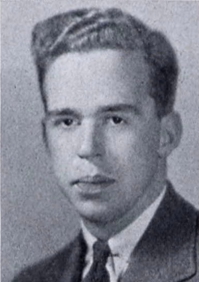 Secor Delahay Browne was born in Chicago on 22 July 1916 in to Aldis and Elizabeth Browne.
Veteran Radio Operator of the 50th TCS, Robert Callahan in 2007 described Secor as: Capt. Secor D. Browne was my communications officer and a very good personal friend.

Secor went on to have a successful career in aviation and was the Chairman of the Civil Aeronautics Board from 1969 to 1973.

Secor passed away in Boston in March 1986. His personal papers are held in the archives of the National Air and Space Museum.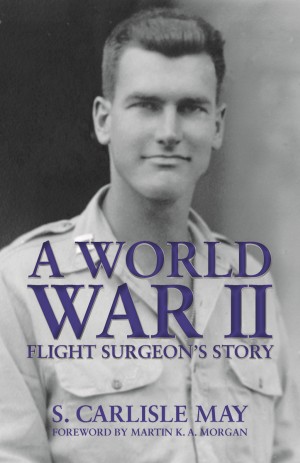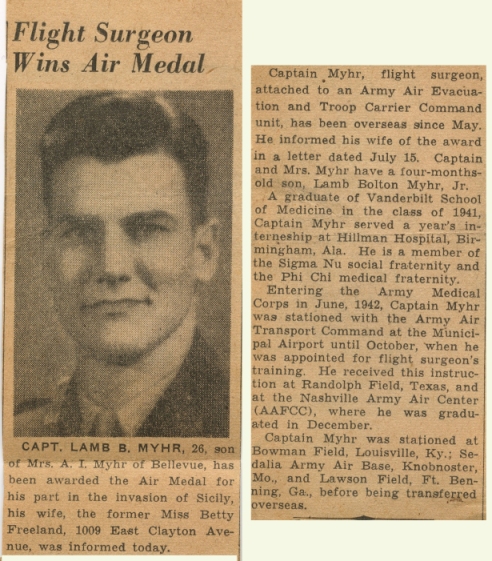 Lamb Bolton Myhr was born May 8, 1917, in Bellevue, Tennessee, just outside of Nashville the son of Reverend and Mrs. A.I. Myhr. His wartime story was published as a book in 2015 by his niece S Carlisle May. The author published a website with details of his career and the book at www.wwiiarmyairforcemedicine.com. The landing in Ireland was not mentioned in the book and did not feature in the stories that Lamb told his family.

Robert Callahan had this to say about Capt. Myhr: Capt. Lamb B. Myhr was our squadron flight surgeon for most of the war. An absolutely marvelous guy. We adored him.

Lamb Myhr died in April 2008 and is buried in Ridgecrest Cemetery, Jackson, Madison County, Tennessee.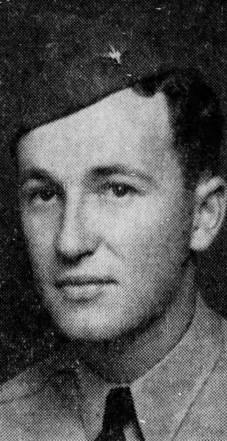 Norman J Womack was born in February 1921 to William and Amelia Womack in Eckert, Colorado, the family moving to California a year later.

His local newspaper, the The San Bernardino County Sun, carried a number of articles about him d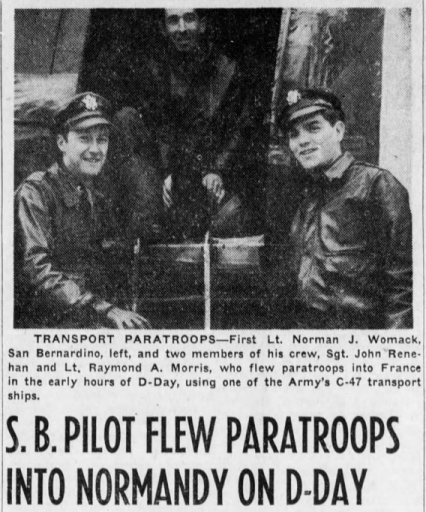 during 1942-1945. From these it was possible to compile the following wartime biography.

On January 25, 1942, the newspaper recorded that he had the day before entered the Allen Hancock School of Aeronautics at Santa Monica for cadet training. Norman had enlisted in the Army Air Corp on the 14th January 1941 straight out of high school and was assigned to the 89th Recon Squadron at McChord Field, Washington. The 1st of May seen him having graduated from both the Allen Hancock school and the basic training held at Moffett Field, California. In September 1942, the paper reported his first visit home since enlistment and that he had since been assigned to Mather Field, Sacramento, California as a "staff pilot officer". He was at this time reported as being a transport aircraft aircraft pilot based in Camp Williams, Wisconsin. He had been a star on the San Bernadino Basketball high school teams in 1937, 38 and 39 prior to graduation.
It was a year later that the paper reported on his being awarded the Air Medal and Oak Leaf clusters for his actions flying in the Mediterranean theater. He had flown with Flight Officer rank until July 1943 when he was promoted to the rank of Lieutenant.

The County Sun paper of 4th August 1944, carried a photo and article about Norman's participation in the D-Day airborne landings. He was quoted as saying: "From my ringside seat I could see the troopers floating right down on the bulls-eye and knew our mission was a complete success. The rest was up to them and they certainly did a job. After we dropped out paratroops and made the turn for home is when we realize what was happening. They started to throw up plenty of small-arms fire and hit the ship in about 30 or 40 places but luckily none of the crew were injured, though the stuff was bursting in the cabin and fuselage." This article reported that he had been overseas since May of 1943.

August 1945 then finds Norman back in the United States sinc eJanuary that year and undertaking a course in advanced instrument flying in Texas. His list of decorations havin grown to four oak leaf clusters and eight battle stars on his ETO ribbon.

Norman reentered the Air Force in 1951 and became a helecopter pilot. In August 1956, Capt. Norman Womack was given a commendation by the Flight Safety Foundation, for his efforts flying rescue helecopters in the Grand Canyon during the recovery of human remains after the crash of two airliners.

Norman passed away on the 10 December 1987.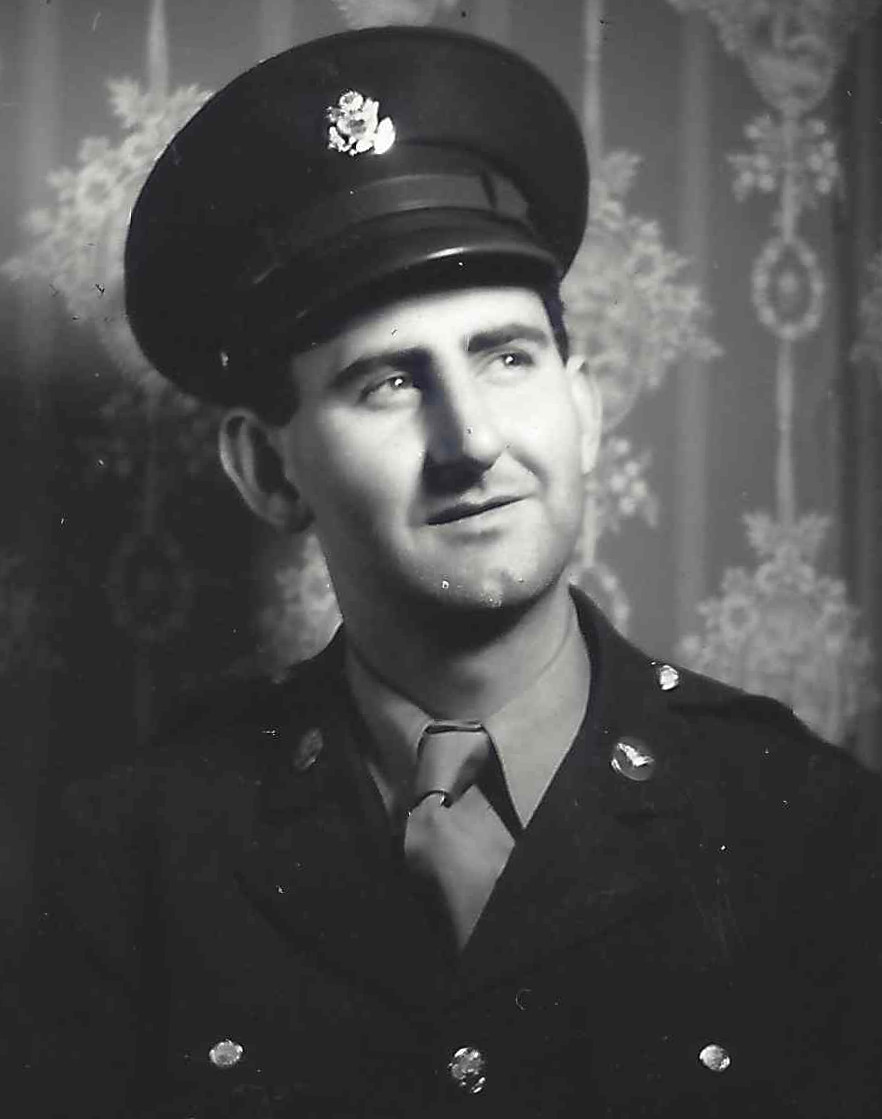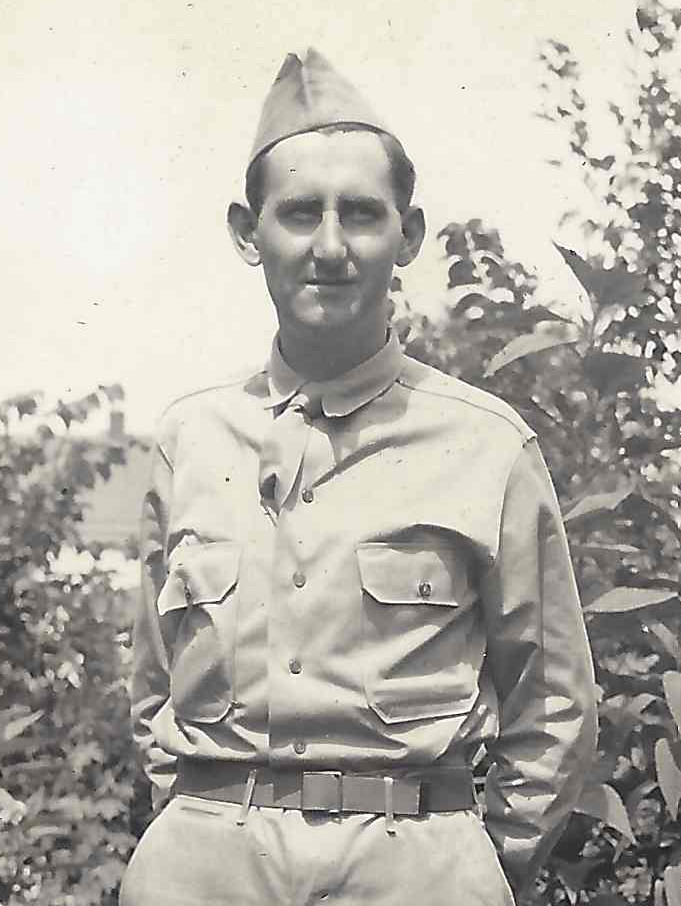 S/Sgt Edward Daley Jr, was born on the 17 June 1919 far from Rhode Island in Oldham, England. His parents, Edward Daley and Edith Stott, having married in 1918, emigrated to Rhode Island in 1923, bringing Edward and his younger sister Margaret with them. His father was a veteran of the first world war

At the time of the 1940 census, Edward Sr and Edward Jr both worked in a Cotton mill in North Providence, the family then being resident at 96 East Avenue, Centerdale. Edward Jr enlisted in the Army in July 1942. By the Spring of 1944 and probably earlier, Edward having completed his training had been posted to the 314th Troop Carrier Group flying on C-47 Skytrain transports. On this flight to Ireland he was a passenger on the aircraft but he was a Crew Cheif within the unit and would have flown in the rear cabin, assisting paratroopers and managing the loading/unloading of passengers and cargo etc.

S/Sgt Daley flew on the early missions to Normandy on June 6th and 7th. It was here that Edward's luck ran out when the C-47 he was flying on as Crew Chief, serial number 42-93065, was hit by German flak during mission Neptune-Bigot FREEPORT on the night of June 6 through 7th and crashed in flames in a french field. The aircraft was witnessed by Capt Merrill Smith and his crew. Somehow, the pilot of his aircraft survived but Edward and the remaining three men were killed. His remains are permanently interred at the Normandy American Cemetery. His name is recorded on the World War Honor Rolls in from the the town hall in North Providence, Rhode Island.

Compiled by Dennis Burke, 2018, Dublin and Sligo, with the kind assistance of the families of the men above. Images and information sourced from newspapers.com and ancestry.com. If you have information on any of the people listed above, please do contact me at dp_burke@yahoo.com