Boeing B-17G Flying Fortress, 42-31971, Rinneanna Airfield, Co. Clare

February 8th, 1944 witnessed yet another emergency landing at the airfield at Rinneanna, near Ennis in County Clare. On this occasion is was another B-17 Flying Fortress of the United States Army Air Forces. They arrived at the same time that another American aircraft, the Consolidated B-24 Liberator of 2/Lt Charles W Stilson was grounded awaiting spares at the airfield.

At 14:10 hours on the 8th February, 1944, the B-17 landed landed at the airfield with a crew of ten men. The captain reported the aircraft had run low on fuel on its ferry flight from United States. The Irish army officers noted that while the aircraft was armed with machine guns, all such weapons were sealed and showed no signs of use. This would have been noted in order for the officers to be able to judge if the aircraft had been on a combat mission or not.

In one of the shorter visits by wartime foreign aircraft, the B-17 was refueled, the crew were provided with additional navigation maps of Ireland and they departed from Rinneanna at 17:25 hours that day. Note was received that they had landed at Nutts Corner airfield in Northern Ireland at 19:00 hours.

The Irish Army file on the case records the aircraft as having the following number marked on it, "231971", which allows one to determine that the aircraft was Boeing B-17G-35-BO Flying Fortress, serial number 42-31971, an airplane that was delivered to the USAAF on the 7th January 1944 at the Cheyenne Modification Center. It was flown to Kearney Air Force Base on 23 January where it would have been assigned to 2/Lt Rottstedt's crew. It was part of a batch of 184 of the -G-35-BO type delivered from the Boeing factory at Seattle.

Following their arrival in Northern Ireland, the crew of 10 took their leave of 42-31971 and were posted to the 95th Bombardment Group (Heavy) based at Horham, in Suffolk. There they were assigned to the 334th Bomb Squadron.

The aircraft itself, following its ferry flight and unplanned stop off, was prepared for combat and itself assigned to the 390th Bomb Group based at Framlingham, also in Suffolk, where it gained the card playing nose art, "Twenty-One or Bust". It flew combat missions with this unit, having two crew members injured on the 13th April 1944 mission against Augsburg. She met her end however on the 11th May 1944, when hit by anti aircraft fire over the Netherlands. At that time two members of her crew were killed in action, the remaining 8 were taken prisoner.

The Irish army report records the names of the 10 men on board the aircraft which landed in Ireland on February 8th 1944 as follows:
2/Lt. William Otto Rottstedt, O-803278.
2/Lt. John J. Duffy, O-685261.
2/Lt. Daniel James, O-676285.
Flight Officer Paul L. Himtermeier,
Sgt. Edmond Balling, 33005284.
S/Sgt. L.D. Regan, 35522533.
S/Sgt. Edward French, 15104561.
Sgt. John Dingee, 31248246.
Sgt. Merle Lindsey, 19079454.
Sgt. Raymond Woolsey, 32808528.

They also recorded the postal address for each of the men, which proved, along with their serial numbers to be very helpful in tracing relatives of the men. The website of the 95th Bomb Group, located here, 95thbg.org has a wealth of information about the crews of the formation. Upon their arrival, 2/Lt Paul L Hintermeier was the first to enter combat, flying as navigator on 18th March 1944 for Lt D D Miles. On the 19th, 22nd and 23rd of March, John J Duffy flew as co-pilot to E G Cunningham.

Daniel W James never flew with this crew in combat, he instead is not found on missions until 28th May 1944 with Lt W H Greenwald. There after up to late August 1944, he flew 36 missions with Lt's Romanchek and Pinas.

With some corrections in spellings the men's names could be confirmed using contemporary records. Each of the men is discussed below along with photos. The photo below has at times been associated with being the Rottstedt crew and this is almost correct, however it was actually taken of the crew following the injuries to 2/Lt Rottstedt and Sgt Ragan, the official title on the photo from the USAAF archives is: "Lt. McEntee's crew of the 8th AF's 95th Bomb Group standing by their B-17, "El's Belles", at their base in England, 13 June 1944" The photo is among those available on the fold3.com website but has been sent to this website by the Dingee, Ragan and Woolsey families.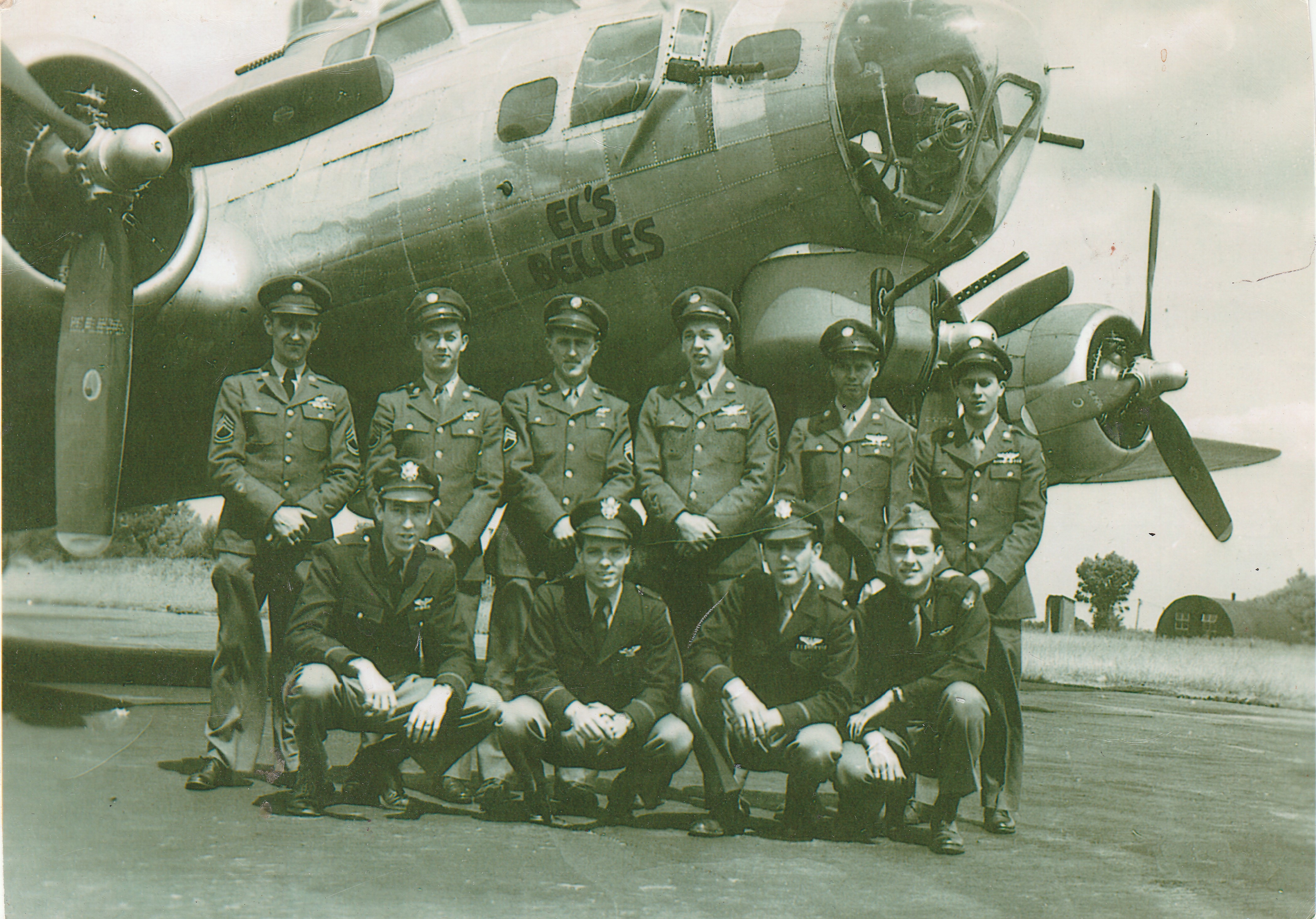 Those photographed are:

Front Row (L-R) Matthew J. McEntee – Pilot, John F. Duffy - Co-Pilot, Lester J. Lavyne - Navigator, Joseph C. Westerkamp - Bombardier
Back Row (L-R) Edmund S. Balling - Waist Gunner, Merle L. Lindsey - Ball Turret Gunner, Henry A. Tarcza - Top Turret Gunner, Edward J. French Jr. - Waist Gunner, John A. Dingee - Radio Operator, Raymond E. Woolsey - Tail Gunner
2/Lt William Otto ROTTSTEDT O-803278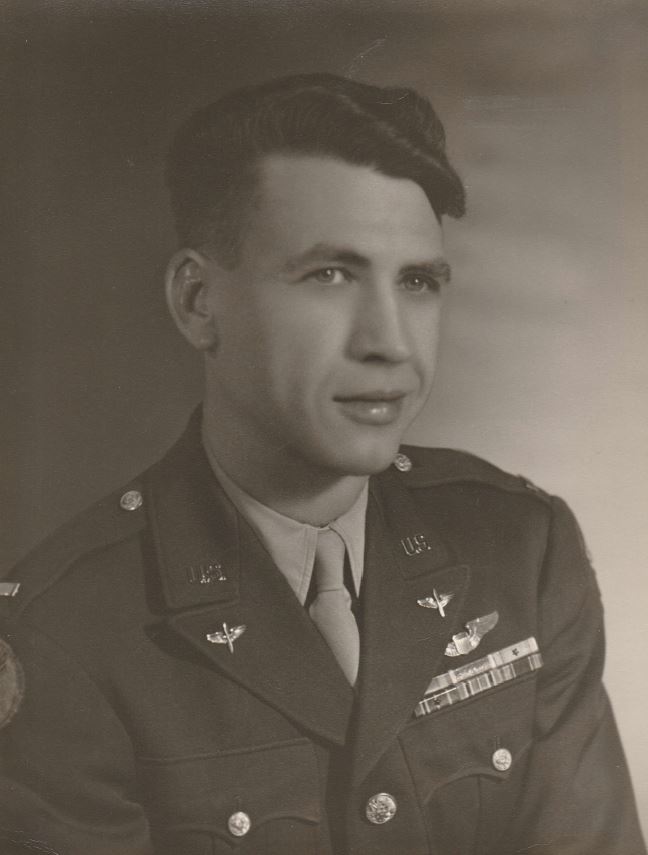 William O Rottstedt was born in 1919. At the time of the war he parents lived in Olean, New York. His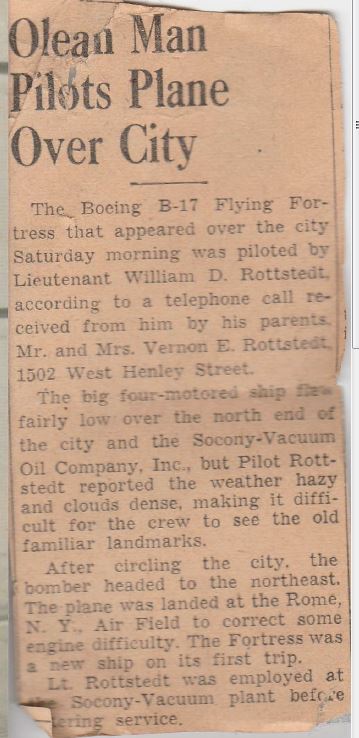 parents were Mr and Mrs Vernon E Rottstedt of 1502 West Henley St. Prior to entering the service, he was employed at the Socany Vacumn plant.
His local paper the Times Herald from Olean , carried numerous articles about him and his brother Vernon during the war. One of the earliest was was printed on the day before his landing in Ireland and reported that he was the pilot of a B-17 bomber that circled the city of Olean on February 5th 1944.

He flew 11 missions with the 95th Bomb Group, until on 27 April 1944, on a mission against V1 launch sites he was wounded in action flying B-17 42-38123. In the Olean local newspaper, the Times Herald of 16th May 1944, it was reported that he was seriously wounded, with shipping records showing that he arrived back in New York in July 1944 on an Air Transport Command C-54 transport.

On March 1st, 1945, it was reported that he was located at Thayer General Hospital , White Bridge, Tenn., still undergoing treatment for his wounds. Notes kept in his wartime memorabilia state that he "flew 17 missions before his plane was hit over Cherbourg, France, . Bill's right arm was almost shot off. His co-pilot got them aback to England they took 185 major holes in their ship. Bill sent back to States in order to save his arm. He had 23 major operations on it but the doctors saved it. After he had 75% mobility of his arm. He was sent to the Pacific where he flew B-17's to rescue downed planes or drop boats in water to rescue seamen."

His aircraft which he flew on April 27th, 1944 is shown below.

His brother Vernon was a decorated infantry Captain, having fought in Africa and Sicily.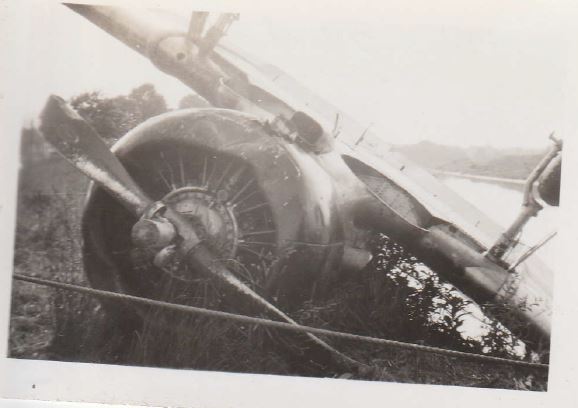 William returned to the service however and was flying as an instructor at 112 AAF Base Unit, Olmstead Field on 25th June 1946 when he suffered a landing mishap in AT-6 Texan trainer serial number 42-44716 one mile south east of Olean. His son was able to provide this photo which must show the aftermath of this crash.



He married Cecelia Ann Hanley in 1947 at which time he was a patient in the Military hospital in Valley Forge General Hospital and they had a son born in Texas in 1951. William Rottstedt served with the Olean Police Department in the 1960s, before he resigned to become a state parole officer based in Elmira.

Williams cousin was able to provide this image of him standing next to a rescue boat equipped Boeing B-17 on the island of Iwo Jima. The nose can be seen to be carrying painted nose art and the chin turret has been replaced by a radar unit. Another photo shows him standing next to sign painted fo rthe Headquarters of the 4th Emergency Rescue Squadron.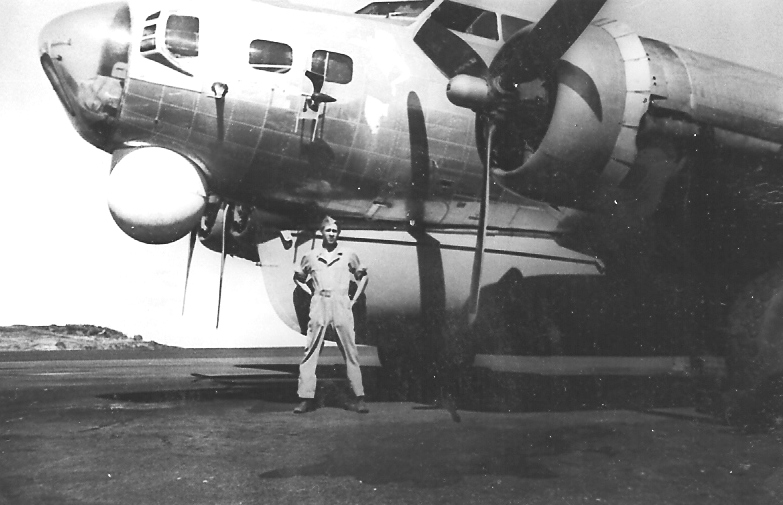 In 1961, he was awarded the New York State, Conspicuous Service Cross with an address in Olean.
He passed away in 1974 and is buried in Chemung County, New York.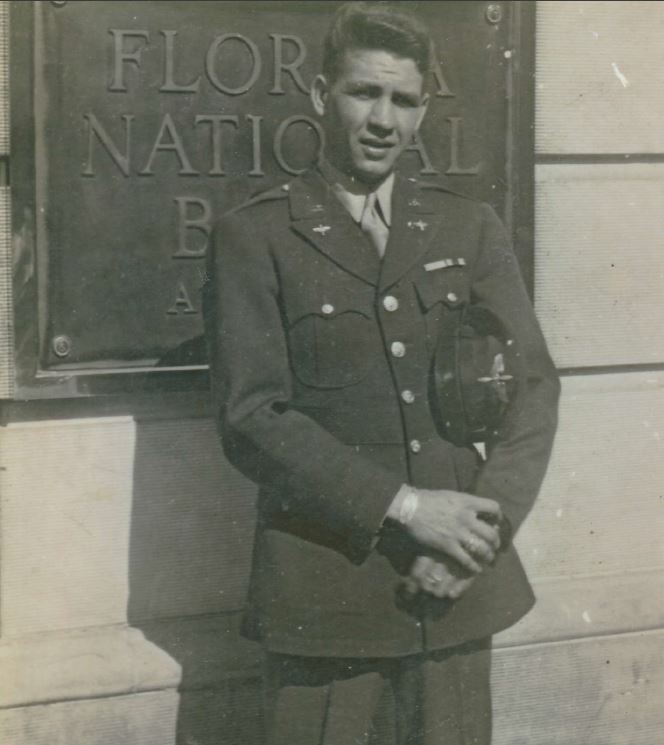 2/Lt John J DUFFY O-685261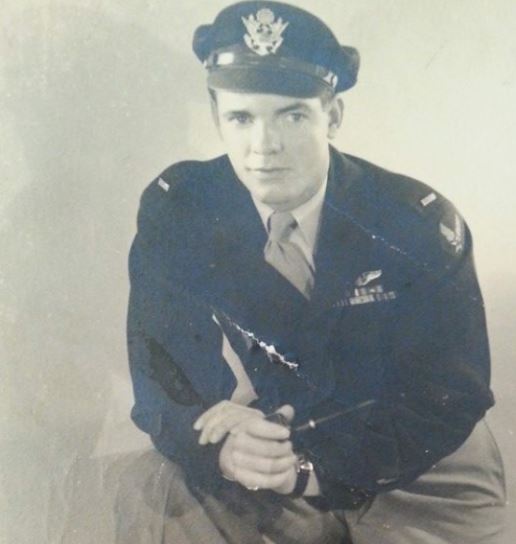 Born, 23 June 1920 in Philadelphia, to Catherine and Thomas Duffy. His mother was born in Ireland. He enlisted under serial number 6998049. In the 1940 census is to be found living at home with his widowed mother and four siblings. He entered the service in December 1939, and left the service in September 1945, His overseas service being from Feb 5th to Sep 21st 1944. He was the co-pilot within the crew. He was not injured in the 27th April 1944 mission. He flew both before and after this time with a variety of pilots, his tour ending with a mission on the 4th of August 1944
He was awarded the Air Medal in 1943, as his local paper recorded: AIR MEDAL Corporal John J. Duffy, son of Mrs. Catherine Duffy, 3908 N. Darien St., will be awarded an Air Medal today for meritorious achievement while on antisubmarine patrol duty off the Atlantic Coast last fall. Corporal Duffy, 21-year-old crewman of a U. S. Army bomber, was a member of the crew credited with sinking an Axis Submarine. They were commended in an order of the day issued by Lieutenant General Hugh A. Drum, commander of the Eastern Army Forces. Awards will be made today to Private First Class Donald J. Raher, of Indiana, Pa., and Sergeant Joseph R. Tokar, of Ellsworth, Pa.
16 March 1945 would see John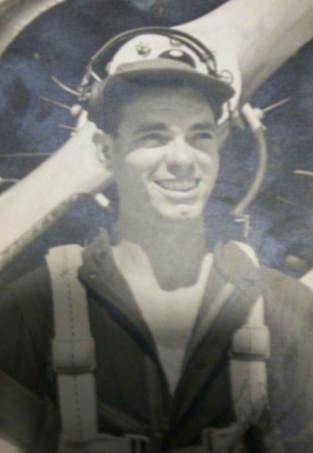 Duffy being involved in the crash of North American AT-6A 41-15971 of 3028 Base Unit, Luke Field, Arizona. He and student Richard G Bignall escaped injury when they had to crash land the two seat trainer
Arizona Republic, March 18th 1945: LUKE FIELD. Mar. 17 "Lt. John J. Duffy. 25 years old. Philadelphia, Pa., and Aviation Student Richard G. Bignall. 19. of Midland. Mich. yesterday escaped injury when they crash landed their training plane in Prescott National Forest. 15 miles northeast of Crown King mine.
Duffy telephoned the field here this afternoon from Crown King to detail the experience, saying that he and Bignall stayed with the wrecked plane a few hours before following a power line to a mountain shack where they remained last night."
John Duffy passed away on the 10 July 1990. He is buried in the National Memorial Cemetery of Arizona.

2/Lt Daniel W JAMES O-676285
2/Lt. Daniel James, O-676285. NoK; Dr. Henry James (father). 48 East 74 Street, New York City.
Born in 1920 to Henry and Rosalie James in Manhatten, Daniel is to be found in the 1940 census living with his parents and siblings at their Manhatten home on East 74 Street. At that time he was working as a statistician with a distilling company.
Recorded by the Irish Army as coming from New York, he was the Bombardier in the crew. None of his combat flying was completed with Lt Rottstedt, his missions being almost all flown with the crew of Cyril Romanchek.

Daniel Willis James passed away in April 2004.

F/O Paul L HINTERMEIER T-61451

Paul Hintermeier came from Buffalo, New York, born in 1921 to Ella and Louis Hintermeier. He had completed his tour of duty and was back in the USA on Oct 7th 1944 when he married Margaret Jean McGowan.
Paul flew his early missions up to April 25th 1944 with William Rottstedt but was not on the April 27th flight. Thereafter he flew as navigatgor to 2/Lt T.M. Bachuzewski 's crew, last mission being on August 28th. He gave an interview to the 95th Bomb Group Oral History Project in 2004. This can be read on their website at: http://95thbg.org/j3migr/95thbg-history/vet-stories/veterans-interviews/166-paul-hintermeier
He died in 2004 and is buried in St Vincents Cemetery, Eden, New York.
November 4, 2004, beloved husband of Jean (nee McGowan); dear father of Paul J., Mark L. (Marianne), David (Heather), Joseph D. (Janset) Hintermeier; grandfather of Michele (James) Kmitch, Michael, Andrew, Laura and Stephen Hintermeier; great-grandfather of Isabella Kmitch; brother of Muriel (Graydon) Klopp of Leesburg, FL.

Sgt Edmund S BALLING 3305284


Edmund Balling was born in New Mexico in 1916, to Stephen and Margaret Balling. He had a brother Robert and sister Marie. His mother came from Alsace-Lorraine and in 1921 he traveled with his mother and sister to visit her family in their home country.
The Albuquerque city directory for 1939 lists Edmund as being a house man at the El Fidel Hotel, whereas the 1940 census recorded no occupational details. A newspaper article and a post war service questionnaire completed by his mother records that he worked as a Civil Service Clerk. His local newspaper told in 1940 how he had been posted to Washington DC to work in a government role. It was here in Washington DC that Edmund enlisted in the armed forces in March 1941, he then going on to train at Nashville, Tennessee; Ellington Field, Texas and Harlingen Field, Texas, where Aerial Gunnery was taught. Prior to his Army Air Forces service however, and up to at least the Autumn of 1942, he was serving with the with the Coastal Artillery forces.

He was qualified as an aerial gunner and flew as a waist gunner with 2/Lt.'s Rottstedt and McEntee on his 23 bombing missions. His brother Robert also served, in the Army infantry.
Edmund took his own life in September 1963, while an outpatient at a Veterans Administrations Hospital. He is buried in Mount Calvary Cemetery, Albuquerque.
S/Sgt L D RAGAN 35522533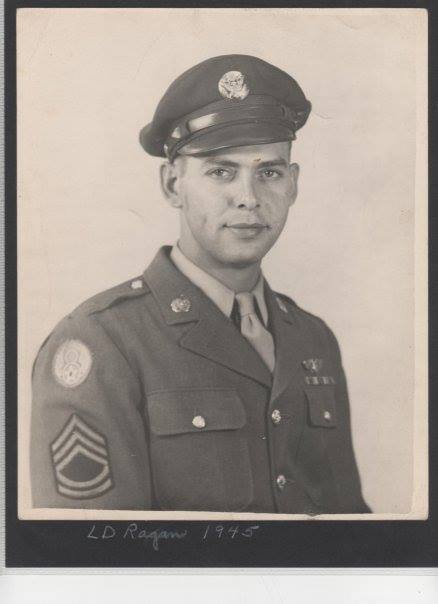 T/Sgt Ragan was born in 1922 to Atha and Willis W Ragan in Kentucky. His actual name was the initials L D, he did not have a name in the normal sense.
He was wounded in Action on the 27 April 1944 raid with Lt Rottstedt, and has no further missions listed with the 95th Bomb Group. He is listed on the manifest of an Air Transport Command C-54 arriving into New York from Prestwick on the 1st August 1944. He reenlisted in the forces in October 1945, leaving in 1947.
L D passed away in October 1983 in Phoenix, and his ashes were scattered in the Arizona mountains. His daughter recalled: "I grew up, as many here, with stories from his service years. Sadly he passed away in Oct. 1983. He passed on the love of the B-17 to his children, and also to his grandchildren. My grown sons used to sit and listen for hours to Grandpas stories."

S/Sgt Edward J FRENCH Jr 15104561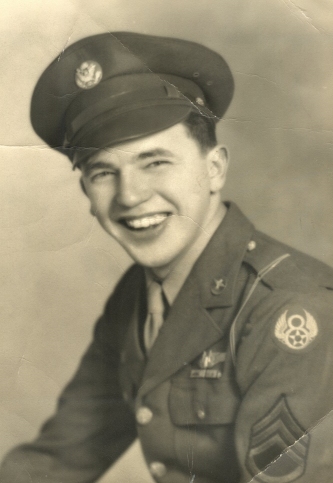 S/Sgt French was born in in 1923 in Ohio, the son of Florence and Edward French.
He enlisted in the Air Corps in July 1942 in Fort Benjamin, Indiana.
Following the wounding of Lt Rottstedt on April 27th 1944, Edward French carried out the remainder of the tour with the McEntee and Deluca crews. He was one of the waist gunners in the crews, flying at both left and right positions.
Edward moved to California after the war where he passed away in Riverside in on February 12th, 2013. His obituary read: Edward was a WWII veteran, having served in the 8th Air Force. He was a waist gunner in a B17 serving 25 missions in France, Normandy, Rhineland, Air Offensive Europe and Western European Offensive. He was happiest in his later years square dancing in several local clubs, where all his name badges read, "Just Ed". He loved taking long walks, reading stacks of history books and hiking the deserts of California collecting the western artifacts which filled his home.

Edward did not speak much of his wartime experiences until the 1970's, telling of how his pilot had been injured and the co-pilot had flown the aircraft back to to England.



Sgt John A DINGEE 31248246

Born in 1921 to Ralph and Margaret Dingee in Bridgeport, Connecticut. His father passed away in 1928 when he and his two brothers were all under 10 years of age. In the photo below, he is seen, on the right of the photo, with his mother, step father and his younger brother Ralph who served in the US Navy.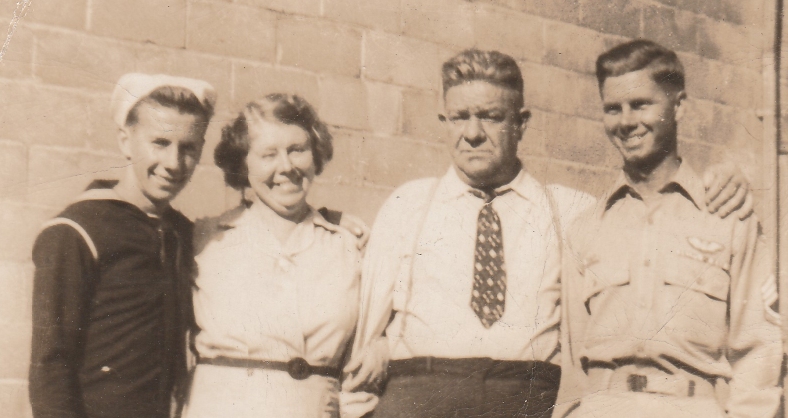 He flew all his missions with 2/Lt Rottstedt up until the 27th April 1944. There after his flights were almost all with M J McEntee and a number of isolated pilots near the end of his tour. John Dingee was the radio operator within those crews. After the war, John worked with the
He passed away in April 2006. He is buried in St Andrews cemetery, Roanoke, Virginia and has a veteran's grave marker.

Sgt Merle L LINDSEY 19079454

Born in 1920 in Oklahoma, the youngest son of William and Elizabeth. His family moved to California during the 1920's and is was from here that he entered the service in 1942. In the 1940 census he is found living with his parents and brother Losson M Lindsey, Merle or Meryl is recorded as being a salesman in a men clothing. His brother Losson, a much older sibling, died in July 1940, a disabled Army veteran. He was the ball turret gunner in the crew and flew mainly with Lt Rottstedt until April 27th 1944.
Merle passed away on 13 Dec 2004 in Whittier, California, where he had lived since the 1940's.

Sgt Raymond E WOOLSEY 32808528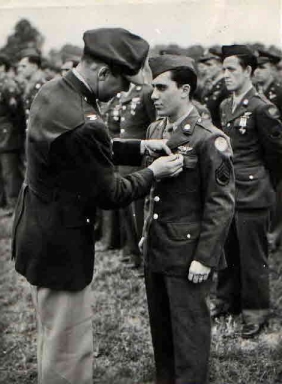 Raymond Woolsey was a Queens County, New York born man, son of Ameilia and Edward Woolsey.

He remembered in 2008 in a number of emails, the following details of his wartime service:
"Years ago I had plans to travel all over Ireland. I got books and maps, but somehow never went. I know it's a beautiful country.

I flew with that crew for 11 missions. The pilot was hit in the arm and the upper turret man (L D Ragen ) was hit in the foot. Because of this the crew was split up. I went with a crew that lost the tail gunner. I flew the rest of the missions with them.

I never got in touch with any of the crew so I can't help you with any information of where they are."

"I was lucky, I was discharged early. I had a wife and a baby. I needed a job fast. So I went out looking. I got a job with Con Edison Electric Company for $30 dollars a week (Very low wage even then), You couldn't;t get an apartment. There just weren't any. We bought a summer bungalow nar the water for $1000. It had kerosene to cook on, kerosene for heat and a hand pump for water. We lived there for 8 years. But with Con Edison I received raises and promotions. I worked for them for 38 years and retired at age 58. Life wasn't easy but it was rewarding."

He had flown 35 bombing missions.

Raymond passed away in 2010.

Page compiled February 2017, with the kind assistance of the Rottstedt, Ragan and Duffy families and from information sourced from the AFHSA, Ancestry.com and with the very kind assistance of Martin Gleeson.