Consolidated B-24 Liberator, 42-50721, Ballyshannon, Donegal
The 19th of June 1944 would end with the crash of no fewer than three Consolidated Liberator bombers in County Donegal, Ireland. Two RAF Liberator patrol aircraft crashed after take off within hours of each other on the Inishowen Penninsula in the north of Donegal. Later that day, another Liberator, this time from the United State Army Air Forces (USAAF) crashed outside the town of Ballyshannon in the South of the county. The three crashes took the lives of 18 Allied airmen. This is the story of one of those crashes, the loss of USAAF Liberator serial number 42-50721. On board the aircraft were ten officers and men of the USAAF, on their way to Europe join the bombing offensive. They were:

2/Lt. Arthur H. DITTMER O-818843


2/Lt. Marvin J. REDDICK O-813419

2/Lt. Arnold A. H. GRUEBER O-716650

2/Lt. Wayne R. DAVIS O-717040

S/Sgt. Lester M. CLARK 16731214

Sgt. Edward J. FRIEDL 15374339

Sgt. Carlos F. MAESTAS 37344981


Sgt. George H. SMITH 14162110

Cpl. James O. E. HARVEY 38100520

Cpl. Riley W. CANNON 38532991
In order to undertake the bomber offensive against Germany it was necessary to get the bombers to Europe from North America. In many cases this was done by having the newly trained bomber crews fly their aircraft to Europe, across the North or South Atlantic. This was a dangerous operation for the crews. They were subject to the changing Atlantic weather and they were without the navigation aids that are today common for long distance flight.
The aircraft was a Consolidated B-24J-1-FO Liberator bomber. The designation shows the aircraft was the B-24J sub type of Liberator. This subtype, along with the B-24H, had introduced the familiar four twin gun turrets onto the type, one each in the nose and tail along with upper dorsal and lower ball turret. The designators '-1-FO' indicated further that this aircraft was from the first production block of B-24J's built by Ford at their massive Willow Run plant in Michigan.
Second Lieutenant Dittmer and his crew were flying from Goose Bay in Newfoundland to Nutts Corner airfield outside Belfast in Northern Ireland. However, as they approached their destination they found that they were not making the progress they had expected due to winds and were running low on fuel. The USAAF crash investigation report contains the following statement from Arthur Dittmer.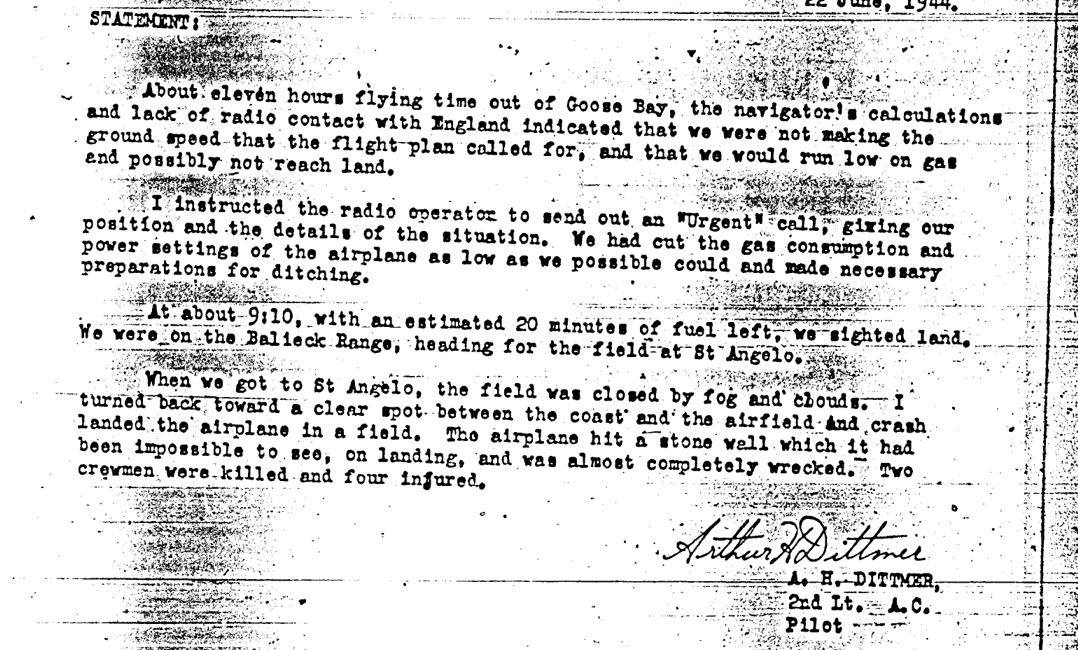 These words all too simply explain the sad train of events that led to the deaths of Sergeant Carlos F. Maestas and Corporal Riley W. Cannon.
Information about all of the men who flew on 42-50721 is presented below. In each case the genealogical databases on ancestry.com and other such website was a starting point along with the United States National Archives and Records Administration (NARA) AAD databases of US Army enlistments and prisoners of war. The US Army also were able to provide the Individual Deceased Persons Files (IDPF) for Sgt Maestas and Cpl. Cannon.
The IDPF files for Cannon and Maestas indicate that both airmen were assigned at the time to the 272 Army Air Forces Base Unit in transit to the Eight Air Force. This would have been something of an administrative Headquarters to which the men were assigned until they were placed with a combat unit. The 272nd AAF Base Unit was based at Topeka Army Air Field in Kansas.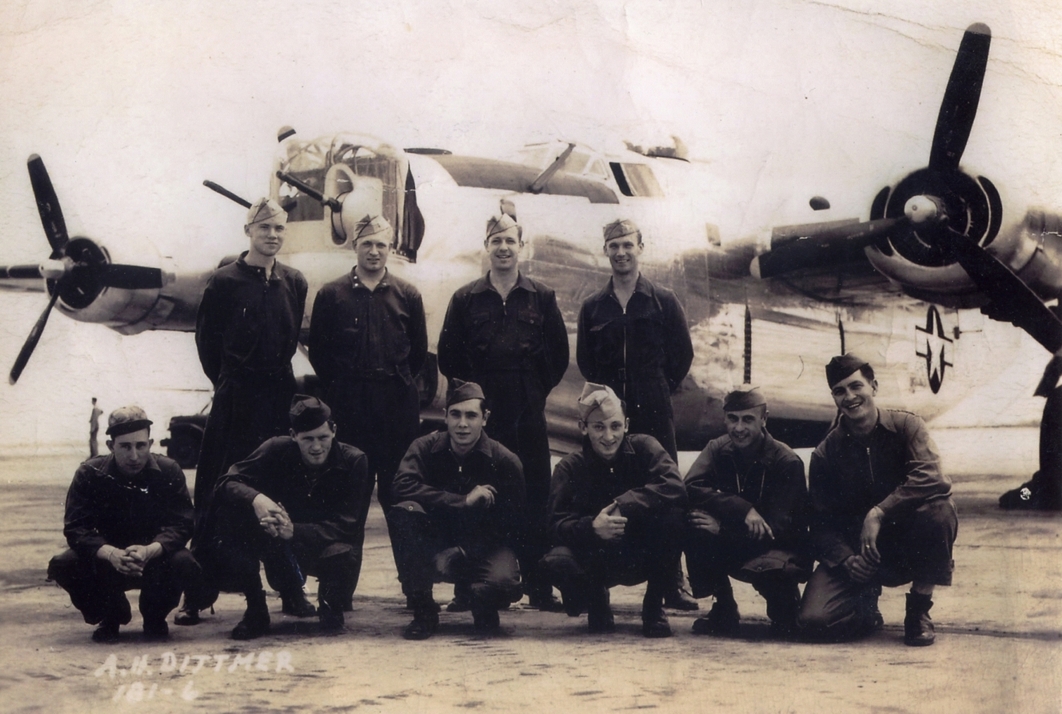 This superb crew photo was in the possession of the Grueber family, Arnold's son Dan kindly provided a copy to Billy Finn of Ballyshannon. When contacted the brother of James Harvey also had a copy and thankfully, the names of all those in it were written on the back!

The names of the crew James Harvey listed them, starting from the left on the front row (crouching) are:


Cpl James O. E. Harvey (New Mexico)
Sgt George Smith (Tennessee)
Sgt Carlos Maestas (Colorado)
Sgt Edward Friedl (Ohio)
Sgt Lester Clark (Illinois)
Cpl Riley Cannon (Texas)


Standing (top row) left to right are:
Lt Dittmer
Lt Grueber - Navigator (Kansas)
Lt Reddick (Florida)
Lt Davis (Oregon)
The Irish Army file on this crash contains the following information with regard to the events following the crash:
20 June:
1 American Doctor in civilian attire to visit Sheil.
1 Ambulance, 1 lorry, 1 car will travel with him arriving border at 6:30pm.
All crew moved with doctor except one seriously injured thought to be dying. U.S. Officers gathered personell belongings with truck.
21 June
Two U.S. Doctors visit hospital
26 June
Injured man taken from hospital at 13:00."
The Irish Army report also noted that the London Daily Mail newspaper carried a story on 22 June about the injured airman.
In correspondence dated June 26th, Capt. Birthistle of the Irish Army reported the following to his superiors.
"I visited the scene of the above crash on 20/6/44. The personnel belongings of the crew of 10 were heaped together and covered with a tarpaulin. At the Sheil Hospital I saw seven members of the crew in fairly good condition walking in the hospital grounds. Of the remaining three 2 were dead and one seriously injured. I brought the officer in command and 2 members of the crew to the crashed plane and asked them to collect all the personnel belongings and leave one of the crew in charge until 18:00 hours that evening when a lorry would call the material. Some kits and personnel belongings were still in the plane and owing to wreckage could not be released. The officer in command declined to place one of the crew in charge and returned with me to the hospital."
The Irish Army report elsewhere records that Wayne Davis was trapped in the aircraft wreckage for over four hours and had to be cut from the aircraft.
In a letter dated 14 July 1944, J. Power, Officer in command of the Irish Army G2 section of Western Command reported.
"At 22:50 hours in 19/6/44 a US Liberator bomber crashed at Abbeylands, Ballyshannon, Co. Donegal. The plane carried a crew of ten of whom two Sergt. Maestas and Cpl. Cannon, were killed, the former almost instantly and the latter dying shortly after admission to to the Sheil Hospital, Ballyshannon. Another member, Cpl. Harvey was seriously injured and was detained in hospital for 6 days. The two corpses were kept in the hospital until 20/6/44 and the remainder of the crew, some of whom were slightly injured were accommodated there until the same date."
The salvage operation to remove the wreckage from the site took up to 11 days to complete. The officer in charge reported on this operation as follows, "Gaps knocked in three dry stone walls, damage to cornfield by landing and sightseers. Damage to grass land by landing and salvage. Badly damaged fuselage broken in two, one wing torn off. Props and undercarriage torn off and center wing section damaged. Center wing section and portion of fuselage was destroyed by H.E. On completion of salvage."
The Irish Army report concludes that wreckage was taken across the border by RAF trucks.
2nd Lt. Arthur H Dittmer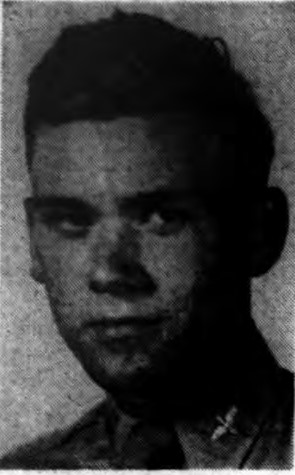 The crash report lists 2nd Lt. Dittmer as having officers serial number O-818843. Checking against the NARA enlistment database returns only one name that of Arthur H Dittmer who enlisted into the Army Reserve Corps on the 11th August 1942. He came from Queens in New York and enlisted in New York City. He was assigned enlisted serial number 12120888 and changed to the number above upon his commissioning as an officer. His year of birth is listed as 1922.
The 1930 census records a boy of this name in Queens, New York. It is likely Arthur's parents were Sophie and Henry Dittmer.
A search of the records of the American Battle Monuments Commission reveal the name of 2nd Lt Arthur H Dittmer being buried in the Netherlands American Cemetery at Margraten in the Netherlands, Plot E Row 14 Grave 14. His death occurred on the 24th of August 1944 and he was serving at that time with the 68th Bomber Squadron, 44th Bomber Group, Heavy. He is listed as having the Air Medal and Purple Heart awards. The website of the 44th Bomb Group was the source of the tragic events that occurred to 2nd Lt Dittmer following his return to active duty. The records of the 44th Bomb Group show him to have flown two missions on the 4th and 5th of August as a co-pilot with two different crews. This was normal enough procedure to allow a new pilot get to know procedures and for experienced bomber commanders to check them out under operational conditions. Thereafter, he flew six further bombing missions to France and Germany during the month of August 1944. His crew on these missions include the three other officers of his crew from Ireland, 2nd Lt.'s, Reddick, Grueber and Davis.
On the 24th of August their aircraft, B-24 44-40098 was shot down by heavy flak on a raid against the airfield and Focke Wulf aircraft assemby plant at Lagenhagen, near Hannover, Germany. As a result of this, 2nd Lt. Dittmer and his two waist gunners were killed. The remainder of the crew, including Reddick, Grueber and Davis were taken prisoner of war. Research after the war seems to confirm the fact that Arthur Dittmer was sadly, murdered by civilians after his capture, before German armed forces members could take him into custody.
The records of the 44th Bomb Group list Arthur's address as Glendale, New York. His next of kin from the USAF Missing Air Crew Report (MACR) Number 8273 was his mother, Sophie Dittmer, 7853 79th Lane, Glendale, New York. Checking this against the 1930 census chows that Arthur's parents were Sophie and Henry Dittmer. Arthur's father had immigrated from Germany in 1896, while his mothers parents were from Germany.
2nd Lt. Marvin J Reddick
Marvin J Reddick was born in Georgia to Glena and Henry Reddick in october 1920. The family settled later in Highlands County, Florida from where Marvin enlisted in the Air Corps on 30 July 1942 at Camp Blanding.
Marvin went on to serve with the 44th Bomb Group and was one of those crew members taken prisoner on 24 August 1944 when B-24 44-40098 was shot down. (See section on 2/Lt A H Dittmer).
Marvin's son Jim compiled is his father's recollections with some of the available offical records:
The B-24 Liberator bomber, combat unassigned and on a transfer mission from Goose Bay, Labrador to Nutts Corner, Northern Ireland was heavily loaded with 7000 - 8000 pounds of cargo (mail and other boxes). .... All cargo -- everything not tied down -- was dumped into the ocean in the effort to extend mileage. All crew except for the pilots were seated with their backs against the bulkhead, located directly behind and below the pilots' cockpit. With only twenty minutes of fuel remaining, land was sighted. ...The bomber flew down the coast, but seeing no landing possibilities, changed direction and flew inland. The airplane was on the Balieck/Belleek Range and successfully approached St. Angelo's airfield .... which was found to be closed due to fog and low cloud cover. The pilots turned around the huge airship to land in a clear field between the coast and the airfield previously noticed on initial entry. The pilots intended to make a planned, wheel-down landing. With all landing gear in place, they started a controlled approach to the field .... and ran out of gas! Right side engines #3 and #4 quit. The plane dropped rapidly, causing loss of sight of the stone wall crossing the field before them. The right side landing gear hit the stone wall. The impact jerked the plane's nose to the right, tearing the plane's tail and it swinging forward to the left wing. The landing gear was ripped off during the crash. The crash wreaked havoc and major destruction to the aircraft and her crew.
Two crewmen were killed during the crash, Tail Gunner Sgt. Carlos F. Maestas and Left Waist Gunner Cpl. Riley W. Cannon. Co-pilot 2nd Lt. Marvin J. Reddick somehow received an impact to his right eye resulting in serious injury, yet remained conscious. Right Waist Gunner Cpl. James O. E. Harvey received major injuries and later died at St. Mary's Hospital. Twelve to fifteen people, very nice and helpful, immediately arrived at the crash scene and tried to assist in any way they could. Pilot 2nd Lt. Arthur H. Dittmer, Lt. Reddick and Navigator 2nd Lt. Arnold A. H. Grueber independently climbed out with Lt. Dittmer leaving the scene to make an immediate report to American forces. Bombardier 2nd Lt. Wayne Davis' upper leg was pinned. Lt. Davis had to be extracted from the wreckage. Initially, authorities arrived with an acetylene blowtorch to aid his freedom, but Dad halted that plan in a hurry. The bomber had oxygen tanks (with possibly leaking lines) that with a blowtorch's use would have resulted in a major explosion killing everyone. Lt. Davis was then carefully extracted using axes and saws.
Marvin Reddick would spend the remainder of the war as a Prisoner of War in Germany. He returned to Florida after the war and studied to become a dentist. Marvin passed away in October 2010.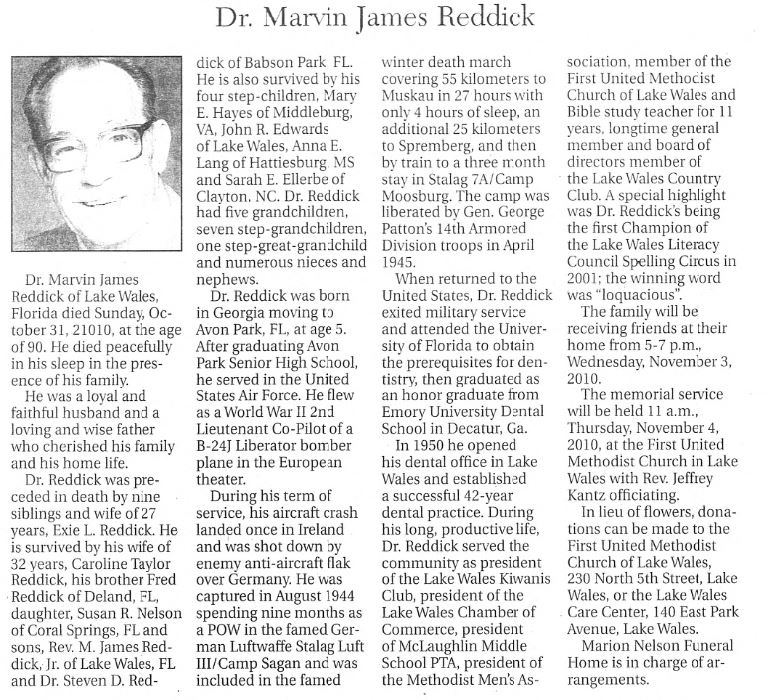 2nd Lt Arnold A. H. GRUEBER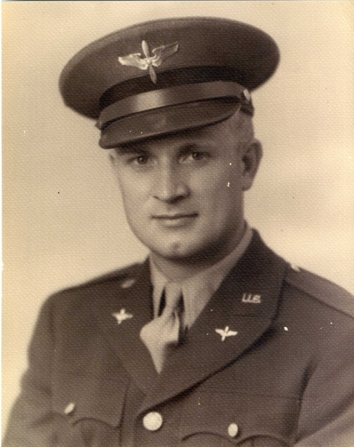 Arnold Grueber hailed from Thayer County, Nebraska. Born in December 1921 to Amanda and John Grueber, his grand parents had immigrated from Germany. He enlisted on 22 August 1942 in Omaha, Nebraska.
Arnold was also a member of the crew taken prisoner on 24 August 1944 when B-24 44-40098 was shot down. (See section on 2/Lt A H Dittmer).
Arnold passed away on 28 October 1998 in Dayton, Ohio. He is buried in the Heritage Hills Memorial Gardens cemetery in Springboro, Ohio where is grave is registered as a veterans burial by the Veterans Administration. He served as a Lutheran pastor in Ohio after the war.
2nd Lt. Wayne R. DAVIS
Wayne Davis was born in 1916 in Nebraska and was living in Oregon at the time he enlisted in September 1942. He was married at the time of his enlistment and his wife is named as Jessie Davies in Pendleton, Oregon. The 68th Bombardment Squadron history records that he joined the unit on 28 July 1944. He was one of three brothers all of whom served in the USAAF during the Second World War. The eldest brother, 2nd Lt Keith Edwin Davis, crewed a B-17 in Europe. The youngest, 2nd Lt Neil Clifton Davis, was a bombardier/navigator instructor on Mitchell B-25's in Texas ... a fact that his brothers, who flew actual combat missions, never let him forget ... in a good humored sort of way. Wayne died on 9th September 1977 in Santa Barbara, California. He was married to Jessie R. Davis (03 April 1917 - 12 December 1985). They had an adopted son named Bruce. After the war, Wayne continued his service in the USAAF (later USAF) until the time of his death. His nephew beleives he was attached to the Strategic Air Command (SAC). Waynes nephew said of his uncle: The story of the B-24 crash at Abbeylands has passed down through the family - I heard it both from my uncle and from my dad. I remember my uncle as a modest man who was reticent in talking about his war time experiences. For example, his telling of the crash somehow left out the fact that he had been trapped for some four hours in the wreckage. A detail I only learned from your website. He did, however, mention the stone walls they hit. He called them "hedge rows". Of his imprisonment in Stalag 7A Moosburg Bavaria 48-12, he would only say the he "had no problems with the Germans ... but that he hated the Russians". He offered no explanation.
The newspaper cutting comes from a 1945 paper following his return to the United States. The colour photo dates from the 1950 and shows Wayne with his son.
S/Sgt. Lester M. CLARK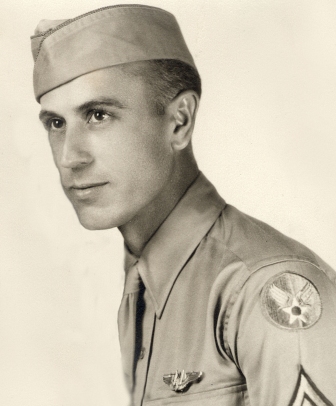 Lester M Clark was the son of Lela and Lester D Clark from Livingston, Illinois. He was born in June 1912.
He enlisted in the forces on 2 February 1942 at Fort Sheridan, Illinois. His occupation was recorded as a welder. The Pantagraph newspaper of Bloomington, Illinois printed his name as being a new draftee from Piper City in March 1942. The newspaper states that he had previous served a period in the Army. The 1944 crash report records his serial number as 16731214 however, the name matches up to an actual enlistment under the number 06731214. Lester passed away in 1982 in Colorado. The Pueblo Chieftain newspaper of March 21st, 1982 carried his obituary:

Lester M. Clark passed away March 19, 1982, at St. Mary-Corwin Hospital. Mr. Clark was a member of Antioch Baptist Church, retired employee of C.F. &I. (crane man) since July 1975 and a veteran of WWII, U.S. Army Air Corp. Survived by widow, Lena L. Clark of family home; daughter, Linda (George) Pavlin, Pueblo; son, Larry D. (Cinda) Clark, Loveland; stepson, Nick (Nancy) Griesan, Pueblo; two brothers, LaVan Clark, Cullom, Ill., Keith Clark, Bloomington, Ill., three grandchildren, nieces and nephews. Service 2 p.m. Monday, March 22, 1982, at T.G. McCarthy Rose Chapel. Interment, Roselawn Cemetery. In lieu of flowers contributions may be made to Park Hill Christian Academy.
His son and daughter in law Larry and Cinda Clark were kind enough to share the family memories of what Lester told them:
"It is the stuff out of which family lore is made. .... but in short, Lester was the engineer on that flight. The plane was not supposed to fly unless he signed off on it. He said it did not have enough fuel, and would fall (!) short of the proposed landing site, so he wouldn't approve the order to fly. His commanding officer signed an override, and you know the rest of the story."
Lester spoke little of his subsequent wartime service. No wartime medals or documents exist from his service. His son understands that he served in Italy in later months and that he was a bomber crew member.

Sgt. Edward J. FRIEDL

Edward was born in January 1924 in Wisconsin, the son of Edward and Josephine Friedl. He and his parents moved to Cleveland and are found living there in both the 1930 and 1940 US census. Edward's father was a doctor in the city.

He passed away on the 10 Nov 1979 in Cleveland aged 55.

Sgt. Carlos F Maestas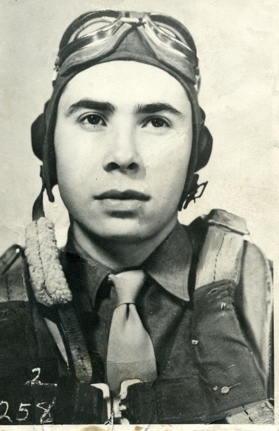 Carlos F Maestas was the son of Emma and XXXXX Maestas of Salida, Colorado.
He was born on 21 August 1924. Carlos enlisted in the military on 21 April 1943 in Denver. His occupation is listed as miner or quarryman. Carlos' Individual Deceased Persons File contains much information about him. His father had died in 1932, leaving a widow and five children. He is fondly remembered by his family including his niece Judy Raby who provided the photo next to this text
Carlos' remains were initially buried in Lissnabreeny Cemetery, outside Belfast Northern Ireland on the morning of 22 June 1944. To his left was buried his crew mate Riley W. Cannon. His mother subsequently arranged with the Army to have his remains returned to her in Colorado and in August 1948 his remains were returned to his home town almost 24 years to the day after his birth.
Carlos is buried in the local Chicago (Campo Santo) Cemetery where his grave marker lists the 272nd Army Air Force Base Unit as his last assignment.
Sgt. George H. SMITH 14162110
The enlistment corresponding to the serial number on the USAAF crash report details the December 15th, 1942 signing up of George H Smith from Louden County, Tennessee. He enlisted into the Air Corps at Camp Forrest in that state. His year of birth is recorded as 1923 and his occupation was tire rebuilder.
It is possible that George returned to Louden County after the war and stayed there as there is recorded the death of one George H Smith on 1 November 1988 in Lenoir City, Louden, Tennessee. His parents were George H Smith Sr and Floy Smith.
Cpl. James O. E. HARVEY 38100520
James Harvey enlisted on 21 February 1942 at Fort Bliss, Texas. His year of birth is listed as 1920 and he came from Catron, New Mexico.
He is described in the USAAF crash report as being seriously injured and this seems to correlate with the Irish Army report in that Cpl. Harvey is recorded as having to spend six days in the Shiel Hospital in Ballyshannon.
James neice Linda was able to provide this loving remembrance of her late uncle, compliled with the help of James's 85 year old brother Earl. He became quite an artisan with leather work - he tooled beautiful leather handbags, belts, etc.
James Oscar Elijah Harvey Junior was born January 8, 1920 to James and Zelma Harvey in rural New Mexico (USA). He was the oldest of eight siblings and greatly admired by all of them. My mother (his younger sister) describes him as patient and kind, remembering his good sense of humor even when it was about him. She said he would always willingly help with and care for his younger sibling.
James Jr spent the largest portion of his early life in the mountains of New Mexico where his family milled lumber. He was an industrious and handy young man. Having never skied before, as a teenager he set out to make his own skis. He formed the skis by hand out of green lumber that he shaped, polished and varnished – working on them until they were near perfect. The talents he showed in his ability to work with his hands would serve him well throughout his life.
After graduating from high school, he attended one year of university at the New Mexico School of Mines. His father brought him home after that first year to help with the family lumber mill. Shortly thereafter, he was drafted into military service. He first served in the US Army where he went through basic training, and then transferred to the US Army Air Corp. His first and only trip to Europe was as part of the crew ferrying the Consolidated B-24J-1-FO Liberator.
James Jr was the tail gunner for the crew and was in the tail portion of the aircraft that broke away. Although he survived the crash, he suffered significant injury that forever altered his life. He was brought back from Ireland to a military hospital in Denver, Colorado. As a result of the crash he was left as a paraplegic, having broken his back. His parents traveled from their home in New Mexico to Denver to see their son. Soon thereafter his two sisters Marguerite and Mildred traveled to Denver to see their brother. They found him alert and able to tell the story of the crash. He particularly noted seeing the stone fences that the aircraft ultimately hit.
He spent the remainder of his life in California and then finally in Arizona - always living near a military hospital. His wife Betty preceded him in death (he died December 1977). He was an industrious and positive man, always busy with his hands in his workshop.
.
Cpl. Riley W. CANNON 38532991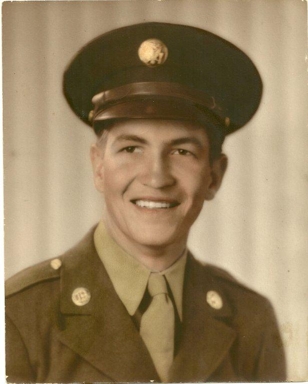 Cpl. Cannon was the son of Mary J and David R Cannon of Dallas Texas. He was born on March 15th, 1925 in Royce City, Texas.
His enlistment records show his enlistment being on 24 August 1943. His occupation is listed as driver.
Riley's remains were buried in Lissnabreeny Cemetery, outside Belfast Northern Ireland on the morning of 22 June 1944. To his left was buried his crew mate Carlos F Maestas. His parents subsequently arranged with the Army to have his remains returned to Texas and in August 1948 his remains were returned to his home town.
He was laid to rest at Grove Hill Memorial Park, Dallas on August 5th, 1948.
His mother, in a letter to the Army in 1945, mentioned that he had one brother who had served 28 months with the 5th Air Force in New Guinea.
Family members contacted had these recollections of Riley: Riley Wayne Cannon was the eighth of ten children born to David Riley and Mary Jane Shackelford Cannon. Known as "Bud," he went to school in Rockwall Co., Texas. His family moved to Dallas around 1942. Bud is remembered as having a sharp sense of humor, and that humor is evidenced in the almost daily letters he wrote to his parents. He was also thoughtful and kind, never failing to ask about his uncle who was ill or his older brother, also in the Army. He often mentioned the amount of his pay and the amount he would be sending home, telling his mother to use that money for the family. In a letter from December, 1943, Bud asked his mother and older sister to buy gifts for his four young nieces and nephews and his two younger brothers.
Memorial Activities
The local people of Ballyshannon and surrounding areas have made great strides to see that the events of 19 June 1944 are remembered.
Billy Finn of Ballyshannon in 2010 published a memorial album in the Donegal Annual historical journal. It told the story of the crash with an emphasis on the local memories of the crash.
This article followed on from events in 2005 when a memorial stone was raised close to the location of the crash. Billy Finn in his article recalls that in 2004 the local historic group, Historic Ballyshannon, decided that an effort should be made to raise a memorial to the crash. On 19 June 2005 a ceremony was held in Coláiste Cholmcille, Ballyshannon. Billy Finns article and the Order of Ceremony describe the events.
Mr Joe O'Loughlin of Beleek kindly sent on a copy of the 2005 order of service from the event in Ballyshannon. A copy of this is shown below:

Joe O'Loughlan of Beleek, also provided this photo graph of the memorial stone which was raised near the crash site in 2005.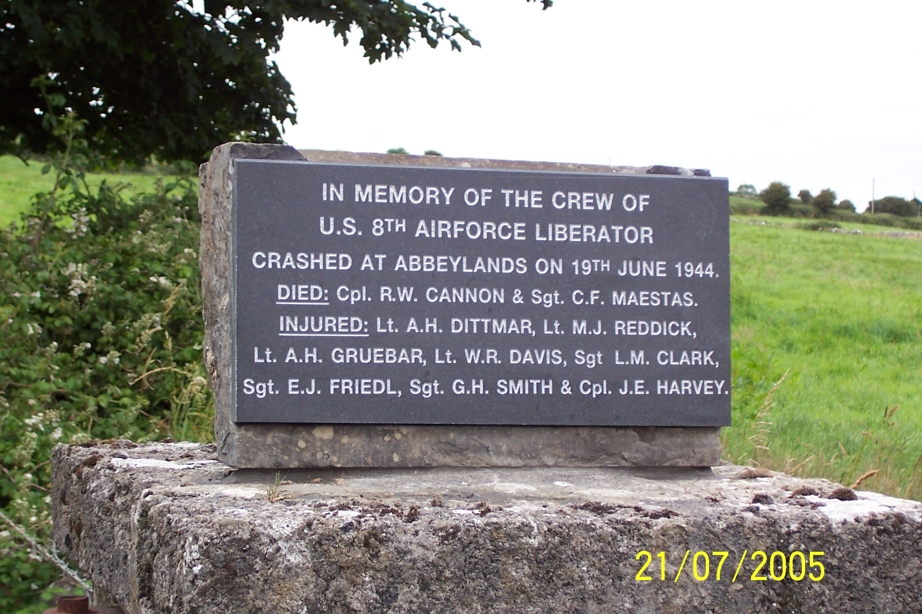 Compiled by Dennis Burke, 2012, Dublin and Sligo. With thanks to the families of the men and to Billy Finn of Ballyshannon and Joe O'Loughlan of Beleek.