Boeing B-17 Flying Fortress, 42-5220 at Rinneanna, Clare
On March 21st, 1943, at about 12:54 in the afternoon, a four engine aircraft made an unannounced landing at Rinneanna Airport in County Clare. The Irish Army force at the airport quickly met the aircraft and made contact with its crew.
The aircraft was a Boeing B-17F Flying Fortress and on board were ten airmen of the United States Army Air Forces. Only the names of the crew members were recorded by the Irish army as follows:
Lt B Davis, F/O C D Brown, 2/Lt J G Fogarty, 2/Lt R L Alexander, T/Sgt L F Ayscue, S/Sgt L L Meyer or Meger, T/Sgt E W Norlen, T/Sgt P D Pederson (Pederson), S/Sgt L D McCoy and S/Sgt E Wheeler.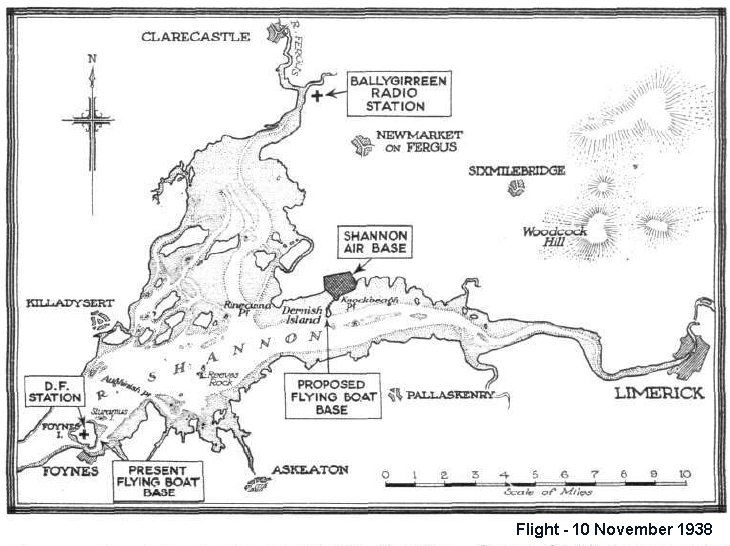 The aircraft had been observed flying around for the best part of two hours by various Irish Coastal Watch stations, Garda Stations and army posts before they found and landed at Rinneanna airfield, which is now Shannon International Airport. The map shown is from a 1938 copy of the British magazine, Flight. Theirs was the second American aircraft to have to make a landing at the airport. By April 1943 when this occurred, the Irish government had decided it was not worth the risk of interning American airmen so they were given all possible assistance to depart including fuel and accommodation for the night so that they would be rested for a departure the following day. Indeed, the unfortunate Irish officers got a grilling from their commanders for treating the airmen so well with food as their own soldiers were on rations at the time!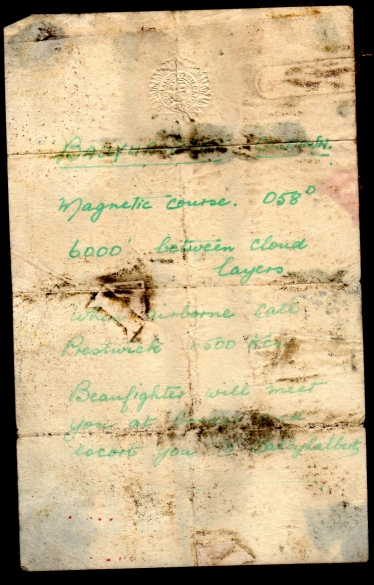 And so on 22 March they departed for Ballyhalbert in Northern Ireland and eventually made their way to the UK and joined up with the 306th Bomb Group (Heavy) based at Thurleigh in England. Their journey out of Ireland was aided by the Irish Army who passed on to the crew directions received from the Allied air command in Northern Ireland. Clear evidence of this is shown at the right in the form of a small sheet of paper headed with the embossed badge of the Irish Defence Forces which the family of Bombardier Robert L Alexander still have after 70 odd years. The note gives a compass heading for the airfield at Ballyhalbert, on the Ards Peninsula outside Belfast. The aircraft was to have been met over Northern Ireland by a British twin engine Beaufighter aircraft. The note reads:
Balyhalbert Co. Down
Magnetic Course 058 degrees
6000' between cloud layers
When airborne call
Prestwick 6500 Kcs
Beaufighter will meet
you at ?border? and
escort you to Ballyhalbert

By the end of the day on July 29th, 1943, only three of the airmen would still be alive, and only two survived to old age.
While the Irish army recorded the names of the men by Rank, initial and surname only, it was possible with the aid of the records of the US National Archives, the American Battle Monuments Commission (ABMC), the 306th Bomb Group website and the assistance of internet researchers and enthusiasts to build up the correct names of those on board the aircraft which landed in Rinneanna.
The Irish Army gave 'Lt B Davis' top billing on their crew list but it would seem apparent that "Flight Officer C D Brown" was in fact the lead pilot on the aircraft. It may be that Lt Davis spoke with the Irish officers due to his greater rank. The telegram sent by the US Legation in Dublin to the US War Department used the phrase 'plane piloted by Captain C D Brown'. The historical records of the 306th Bomb Group also indicated that two new pilots to the unit in May 1943, flew in the positions of Pilot, C D Brown, and Co-Pilot, Davis, on their respective crews over the following weeks.
The special orders of the 306th Bomb Group contain the following duty order on the 11th April 1943. The 11th CCRC was a Combat Crew Replacement Centre based at Bovingdon, in Hertfordshire.
The crew arrive without the aircraft that they brought across the Atlantic. They were a replacement crew having, it would appear, being posted overseas as a trained crew with the intention that they would ferry one aircraft overseas and then be assigned to whatever unit was next in need of a crew. As it turned out they were assigned to the 367th Bombardment Squadron (Heavy) of the 306th Bombardment Group (Heavy) based at Thurleigh in England. The 306th Bomb Group (H) has an especially detailed website with a wonderful array of archive documents scanned at www.306bg.us. This archive allows one to trace the missions flown by the crew members and some of their subsequent movements.
The aircraft that had landed in Ireland on the 21st March 1943, Boeing B-17F serial number 42-5220 was itself assigned to the 305th Bomb Group based in Chelveston. It was flown by that unit on just three raids before it was shot down on April 16th 1943 over Brittany, France. Five members of her crew on that date were killed with the remaining five becoming prisoners of war. A memorial stands on the side of the road near Landevant in Britany.
Within a few weeks of their arrival at the unit, the officers and F/O's of the 376th posed for the following photograph, which the family of R L Alexander had a copy of. The 306th BG website also had the same image but with slight differences in so much as one must have been taken moments before the other, some of the mens pose's had changed ever so slightly. Lt's Alexander and Davis are found sitting at extreme left and extreme right in the front row respectively, while F/O Brown is believed to be second from the left in the back row, with Lt Fogarty fourth from the right in the back row.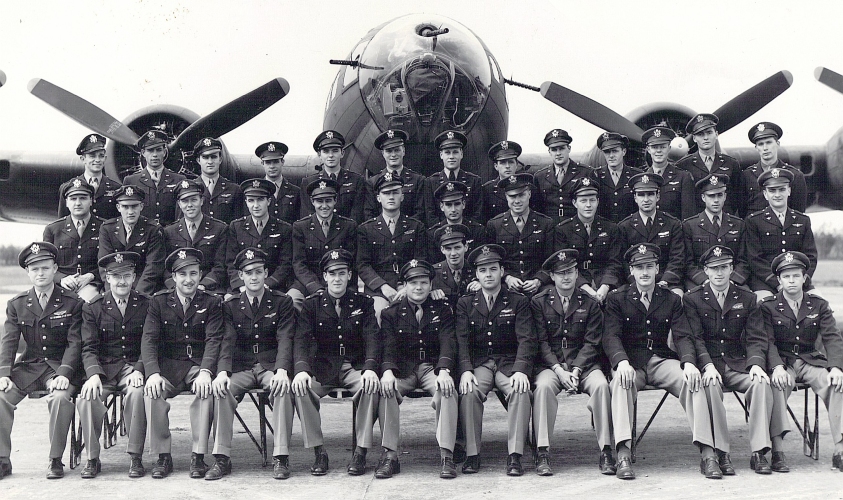 1/Lt Zias D Davis O-791079 (Z Duncan Davis))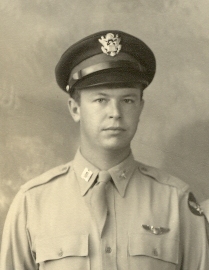 One of the small mysteries with this landing was the name of one of the pilots, the Irish Army officers recorded his name as 'Lt B Davis' only so it proved difficult to say for sure who he was. As can be seen from the April 11th special orders however, Zias D Davis did arrive at the 306th BG along with all the other crew members recorded by the Irish Army. It is likely that our Army officers would never have heard of the Christian name 'Zias' and might just have failed to record it. Also, Zias D Davis, both before and after the war commonly used the name 'Z Duncan Davis', so this might also explain the Irish officers not recording Zias or Z. Lt Davis was born in May 1918 in Jackson, Mississippi, the son of Mary and Silas Davis. His father passed away when Z D Davis was only 9 years old. He flew first as a co-pilot then as a crew captain until his tour was completed on December 3rd 1943. He rose to the rank of Major in the Air Force and is buried in Parkway Memorial Cemetery, Mississippi. He passed away in his native Jackson in October 1998.
Obit: DAVIS, Z Duncan; 80; Jackson MS; Jackson Clarion-Ledger; 1998-11-1; cbertls
F/O Carl D BROWN T-000080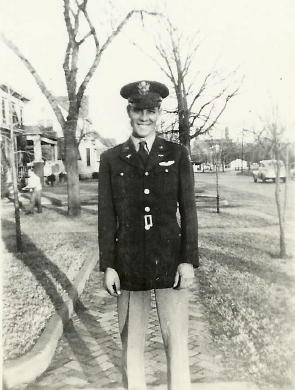 Flying Officer Carl D Brown came from Ohio County, Kentucky. The 1940 United States census shows him to be working as a hired hand for the Kramer family in Lawndale, Mclean, Illinois. His residence in 1935 is given as Narrows, Kentucky while in 1930 he was living with his parents in East Chicago, Indiana. In 1920, he was living as an infant with his mother's parents in Fordsville, Kentucky. He was born in April 1919 to Ermon H and Mabel C Brown (nee Mitchell). He had at least four siblings. He appears to have enlisted in October 1941 while resident in Lake, Indiana. Carl was the pilot of a B-17 Flying Fortress, serial number 42-3084 on July 29th, 1943 on a bombing mission to Kiel. With him that day were two of the officers and four of the enlisted men what had flown into Rinneanna in March. The full crew list for that fateful flight to Kiel was:
F/O Carl D Brown T-000080 (Pilot)
2/Lt Roy Y Padgett O-802777 (Co-pilot)
1/Lt John G Fogarty O-733424 (Navigator)
1/Lt Robert L Alexander O-726103 (Bombardier)
T/Sgt Graham W Diggs Jr 38130313 (Engineer)
T/Sgt Earl W Norlen 37166578 (Radio Operator)
S/Sgt Perry G Pederson 7071226 (Gunner, Ball Turret)
Sgt James C Seigler 14062343 (Waist Gunner)
S/Sgt Larry D McCoy 13087069 (Waist Gunner)
S/Sgt Jesse O Wheeler 14053337 (Tail Gunner)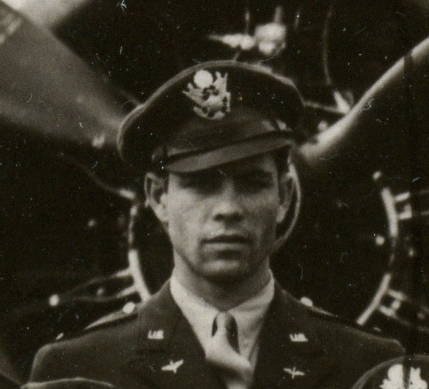 Other aircraft in the formation reported after the mission that they believed the aircraft had been shot down by fighters shortly after the bomb drop at about 9:15 in the morning. The information reported at the time was not clear however and it would be many months later before the full story was known. It was only after the war and the liberation of Europe that his surviving bombardier Robert L Alexander could report to the USAAF the fate that befell the crew of 42-3084 in July 1943. In his post war additions to the Missing Air Crew Report number 121 he advised the Air Force that the aircraft had been swarmed by fighter aircraft after dropping its bombs and after suffering heavy damage, one wing having been taken off, the aircraft entered a violent spin from which only the two men in the extreme nose were able to escape. Carl's remains were never recovered and his name is entered on the walls of the missing at the Netherlands American Cemetery, Margraten. He had been awarded the Air Medal during his few weeks with the 367th BS. The photos of him come from two sources. Earl Norlen's brother retained a copy of the photo his mother had been sent by Carl's family. This shows him standing on a street. The other image is extracted from the Group photo held by both the Alexander family and the 306th BG association.
2/Lt John G FOGARTY O-733424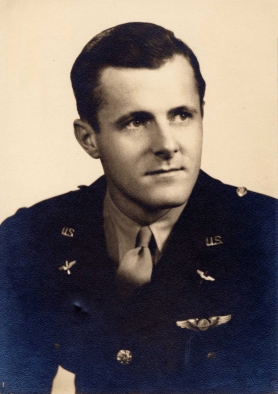 John G Fogarty came from Springfield, Illinois. His parents were Nellie and John G Fogarty Sr. His father passed away in December 1926, leaving John's mother with two daughters and three sons. According to newspaper articles published in his local newspaper, John had graduated from the University of Illinois where he specialised in Architecture. On September 5th, 1942, he married Marise Tefft, also from Springfield, at the chapel in Mather Field, Sacramento, California where he was undergoing training. John's brother Edward M, was also an Army Air Forces officer qualifying as a pilot. On Valentine's day 1943, his local paper reported that he and his wife had returned to Salina, Kansas where John was stationed as a navigator, they both having travelled to visit their parents in Springfield. 2/Lt Fogarty began flying with the 306th Bomb Group during April 1943. He flew as navigator with a number of pilots before settling into a crew with Carl D Brown. He was lost with Carl Brown on July 29th on the raid to Kiel. Having been stationed in the nose of the aircraft alongside bombardier Robert Alexander, Lt. Alexander recalled that John had received wounds to the chest prior to their both being blown from the aircraft. John's parachute was deployed but he died in the water. Lt Alexander was later shown his dog tags while recovering in German hospital. John's remains were interned locally until after the war and following consultation with his family, he was interred in the Ardennes American Cemetery in Belgium.
2/Lt Robert L ALEXANDER O-726103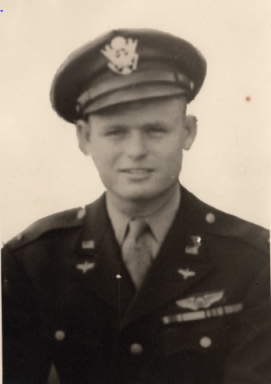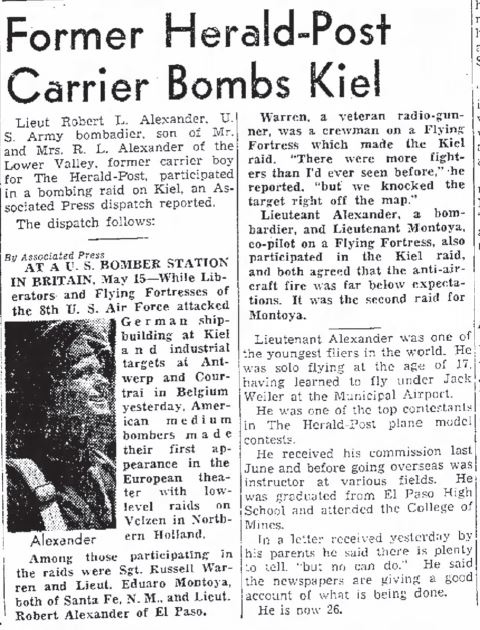 26 year old Robert L Alexander was the husband of Marion Alexander and the only son of Kate and R L Alexander from the Lower Valley, Texas. The El Paso Herald Post, dated 15th May 1943, carried the article shown at left about Lt. Alexander and again on 29th May 1943 carried a further article about him. It read: First Lieutenant R L Alexander, husband of Mrs. Marion Alexander of 405 Hague street, has been awarded the Air Medal for 'exceptional meritorious service while participating in five separate combat missions over enemy territory."
The 26-year-old former College of Mines student, who is a bombardier based in England recently wrote his wife of the award. He said, "I wrote your name on one bomb and daughter on another before I dropped them on the moustached man."
Lieutenant Alexander was awarded the medal May 17 two days after he became the father of a daughter. Mrs. Alexander by letters and cables to her husband is trying to agree with him on a name for the child. "The name now is Barbara Suzanne but I am waiting for him to confirm it" she said today.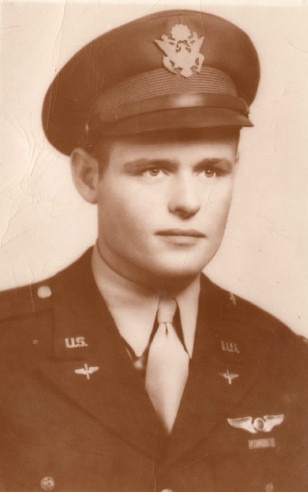 He was graduated from El Paso High School where he was on the track team. He left the college of Mines to enlist. At Ellington Field he was married in March, 1942, to the former Miss Marion Crabtree of El Paso. He is the only son of Mr and Mrs R L Alexander of the Lower Valley.
He has served in South America and at Dakar. From England he writes his parents and his wife frequently. "I have many pictures of Buckingham Palace and other London sights which I want to show you", he wrote.
He expects to return home in September for a one month furlough.


That expected leave was not to be as Lt Alexander was a member of Carl D Brown's crew and was the only airman to survive the loss of 42-3044 on July 29th, 1943. Having survived the loss of the aircraft, Robert was rescued by a German vessel and ended up a prisoner of war until 1945. Local Texas newspapers further reported during September 1943 that Mrs Alexander only received confirmation of her husband being alive at that time, he had earlier been posted missing.
Robert was released in 1945 at the wars end and returning home, served until January 1947. His local paper printed a long article about him on his return.
He reenlisted as a Master Sergeant in February 1947 and it was in this capacity that tragedy struck again but with fatal results. On March 9th 1947, he was killed along with another man, Isidro M Romero from Juarez, in the crash of an aircraft in Mexico. The crash occurred near Chihuahua City. Newspaper reports mentioned that he had just purchased the aircraft from the Air Force.
| | |
| --- | --- |
| 29th May 1943, El Paso Herald | Undated article retained by the family of Earl Norlen assumed to be from 1945. |
T/Sgt Lewis F AYSCUE 33122529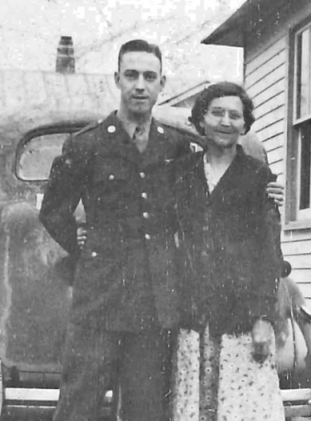 T/Sgt Ayscue came from Chesterfield, Virginia. He was the son of Lottie Lee and Frank Parker Ayscue. Born in 1918, Lewis enlisted in the Armed Forces in January 1942 in Richmond.
Lewis was the first member of the crew from Dublin to be killed in the war. On April 17, 1943 he was member of the crew for Capt. W J Casey on B-17 41-34488 of the 367th Bomb Squadron, when their aircraft was shot down over Germany. Lewis was found near Greetseil on that date and was buried in the local cemetery of Wittmund on April 20th. His remains were returned to Virginia in Jun e1949, this having been arranged by his father with the aid of the Army Graves Registration service and the Quartermasters Corps. His reburial was to be overseen by Rev G T Tunstall, the pastor of the West End Baptist Church, in the chapel of J T Morriss and Sons. The photo at left comes from a 1949 newspaper notifying people of his burial service while the other photo shows him with his late mother Lottie. The photos were supplied by his nieces, the daughters of his late brother Floyd Ayscue.
S/Sgt Lloyd L MEYER 37074924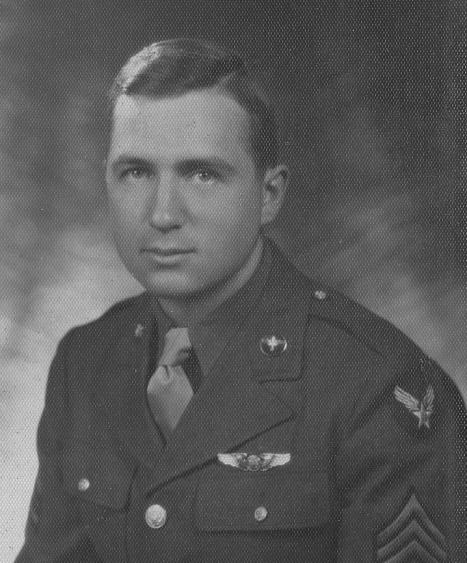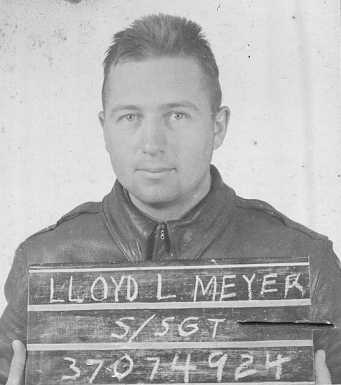 The crew member that was most difficult to trace was Lloyd L Meyer. His record was one of the many missin gfrom the punch cards digitised by the US National Archives in the 1990's and thus his service number was of little help. However, with the aid of genealogy sources, it was possible to narrow down the possible candidates and by taking a chance at contacting the pastor of a former South Dakota resident it was possible to determine that Lloyd was a Nebraskan born airman who survived the war. He was born on June 29, 1918, in Pleasant Dale, Nebraska, to Grover and Anna May (Dunten) Meyer. He did not fly any combat missions with the crew with whom he landed in Ireland with. He was a crew member on one mission in April 1943 with a different crew and his name appears again on a raid in October. On November 11th 1943, he was flying with Lt Coster when the crew were forced to bail out over England following take off. The pilot was sadly lost on that occasion. His family have indicated that the injuries he received at that time prevented him from continuing to serve and he was allowed to return home. Lloyd married in 1947 and had a family of five. After the war he attended Colombia Bible College and thereafter worked with religious bodies. He passed away in 2009 in Carter, South Dakota. HIs family were very kind in providing copies of the photos seen here, including the image from his Army ID card which firmly identify's him as the Lloyd Meyer from 42-5220 in Ireland.
T/Sgt Earl W NORLEN 37166578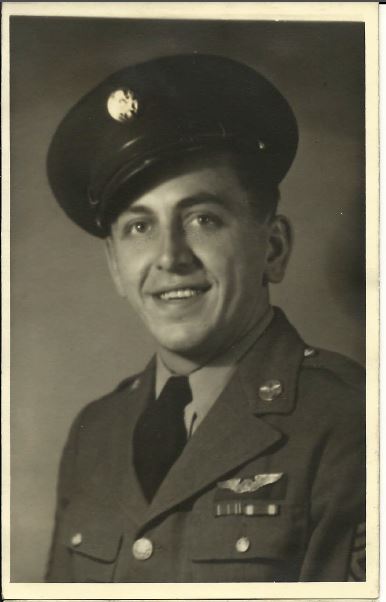 Earl W. Norlen was born May 18, 1918 to Walter and Sadie (Gustafson) Norlen, in Two Harbors, Minnesota. On July 29th, 1943, Earl was reported missing in action, and it was December of 1943 before his parents received the telegram confirming that Earl was indeed deceased, body never recovered.
Two Harbors is a small beautiful town located on the shores of Lake Superior. Earl grew up in Two Harbors where he attended school, graduating from high school in 1936. He was employed at the Duluth Misabe Railroad, as a craftsman in the Car shop. Earl was engaged to be married on his return from the war.
Earl and his brother Chester enlisted in the army the same day (March 8, 1942)-Earl in the Air Corps, Chester in the Medial Corps.
Earl had 3 siblings: sister Marjorie, who died in 1950 at the age of 29; brother Chester, who died in 2009 at the age of 89; brother Donald living in their hometown of Two Harbors, Minnesota. Donald was kind enough to share a great number of newspaper cuttings and photos of his brother but also of the other crew men.
Earl had completed 14 missions, in a letter to his brother Chester he wrote: We've been getting the crap kicked out of us and I'm having some bad vibes about not making it home."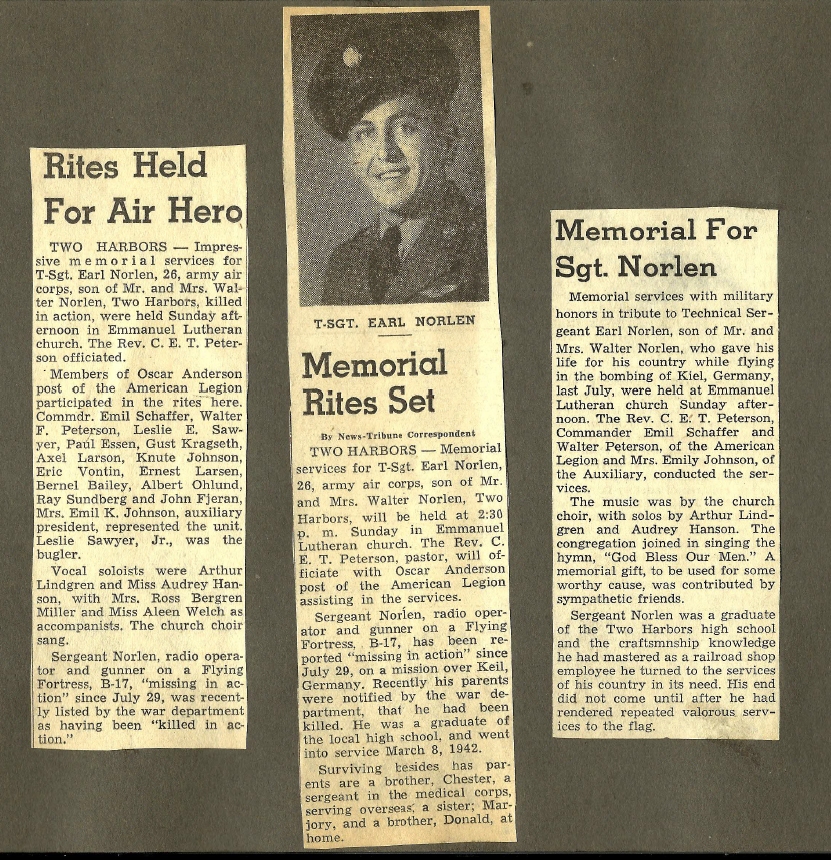 T/Sgt Perry D PEDERSEN 07071226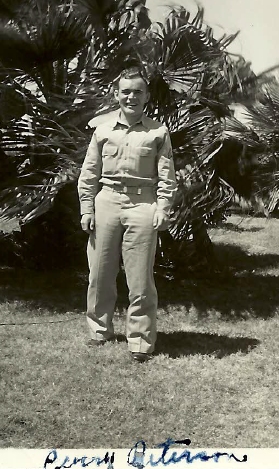 Perry Pedersen from Brooklyn, New York was born in 1920 and was the son of Gerda and Peder, both emigrants born in Norway. He had one sister Gertrude.

The Brooklyn Eagle newspaper carried the attached story about Perry following his family's notification of his going missing. Perry was also on Carl D Brown's crew when they were lost on July 29th 1943.

As his remains were never recovered, his name is recorded on the walls of the missing at the Netherlands American Cemetery and Memorial at Margraten in Holland.

Earl Norlen's brother was able to provide the following photo of Perry from items collected by their late mother.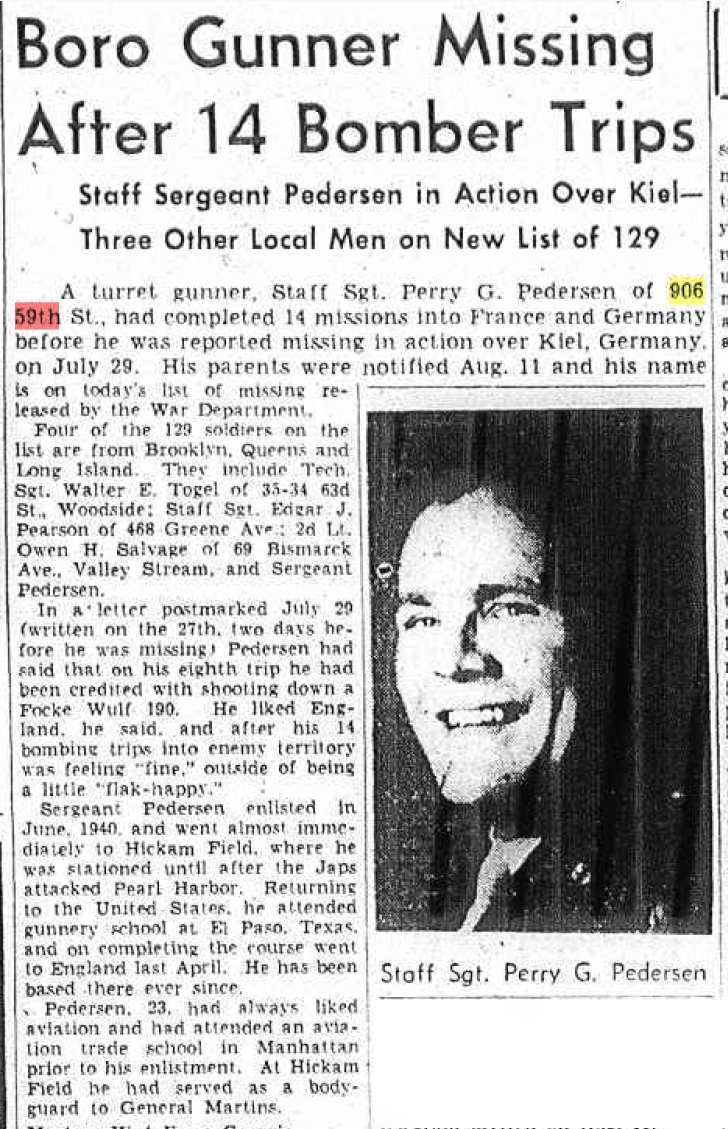 S/Sgt Larry D MCCOY 13087069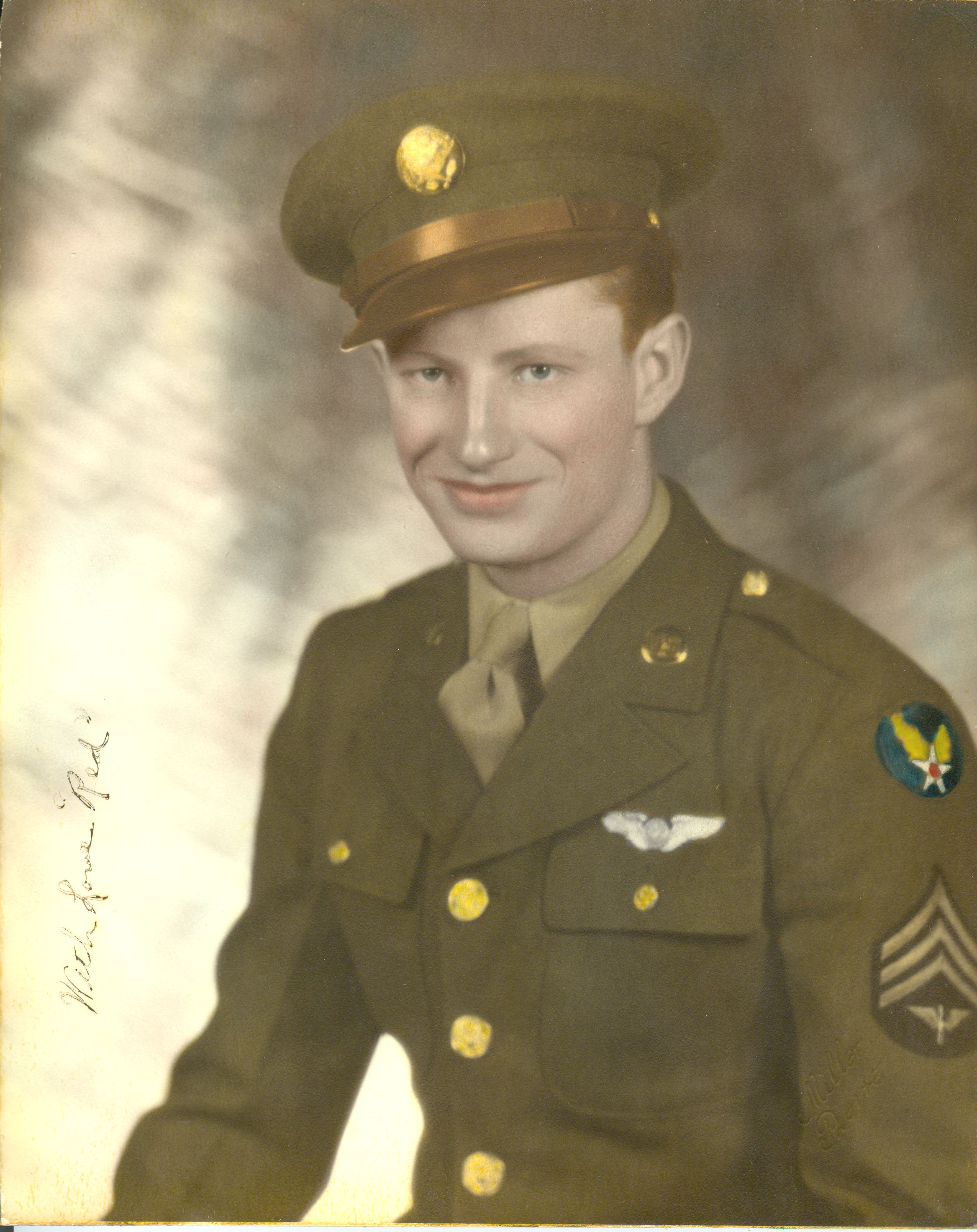 S/Sgt Larry D McCoy came from Bolivar, Westmoreland County, Pennsylvania and was born in 1923. He grew up in the Bolivar Rural District, Ligonier Valley or Fairfield township area. He enlisted in June 1942 in that city. He and his brother Ronald G McCoy both joined the Army Air Forces and tragically for their parents, Sara and K Dick McCoy, both boys were killed in action in 1943. 1/Lt Ronald G McCoy O-731524 was killed on 29 May 1943 on a raid to Germany with the 410th Bomb Squadron, 94th Bomb Group. His remains were returned to his mother in 1948 for interment in Fort Palmer cemetery. Sadly, Larry was lost with Carl D Brown on July 29th 1943 and his remains were never recovered. The families local newspaper, the Ligonier Echo, reported on Friday January 28th, 1944 that on the previous Sunday, Larry's mother was presented with the Air Medal and Oak Leaf clusters at her home by a Pittsburgh based Army officer. She would later receive similar awards for Ronald.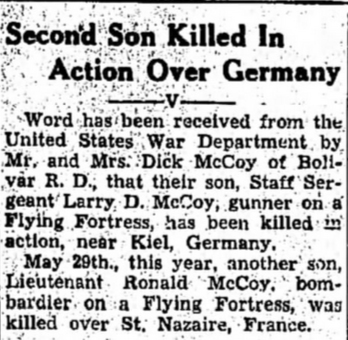 Larry's Air medal award had been published in the newspaper just days prior to his death. Th eLigonier Echo reported: Staff Sgt. Larry Dick McCoy, 19, has been awarded the Air Medal in the European Area where he is serving as an Aerial Gunner on a Flying Fortress. The citation for the Air Medal reads as follows: For exceptional meritorious achievement while participating in five separate bomber combat missions over enemy occupied Continental Europe. The courage, coolness and skill shown by this man reflects not only on himself, but on the Army of the U. S. as well.
McCoy has been overseas about three months. He is a graduate of the Ligonier High School Class of 1941.

His name is recorded on the walls of the missing at the Netherlands American Cemetery and Memorial at Margraten in Holland. Their remaining brother William 'Jack' McCoy lived until 1993 and served with the US Navy for 11 months in the Pacific during the war. Larry's name is also inscribed on the head stone for Ronald, being remembered alongside his brother. Larry and Ronald's photos were very kindly provided by the Ligonier Valley Library who have a collection of wartime veteran photos from the area. Ronald G McCoy is shown in photo below.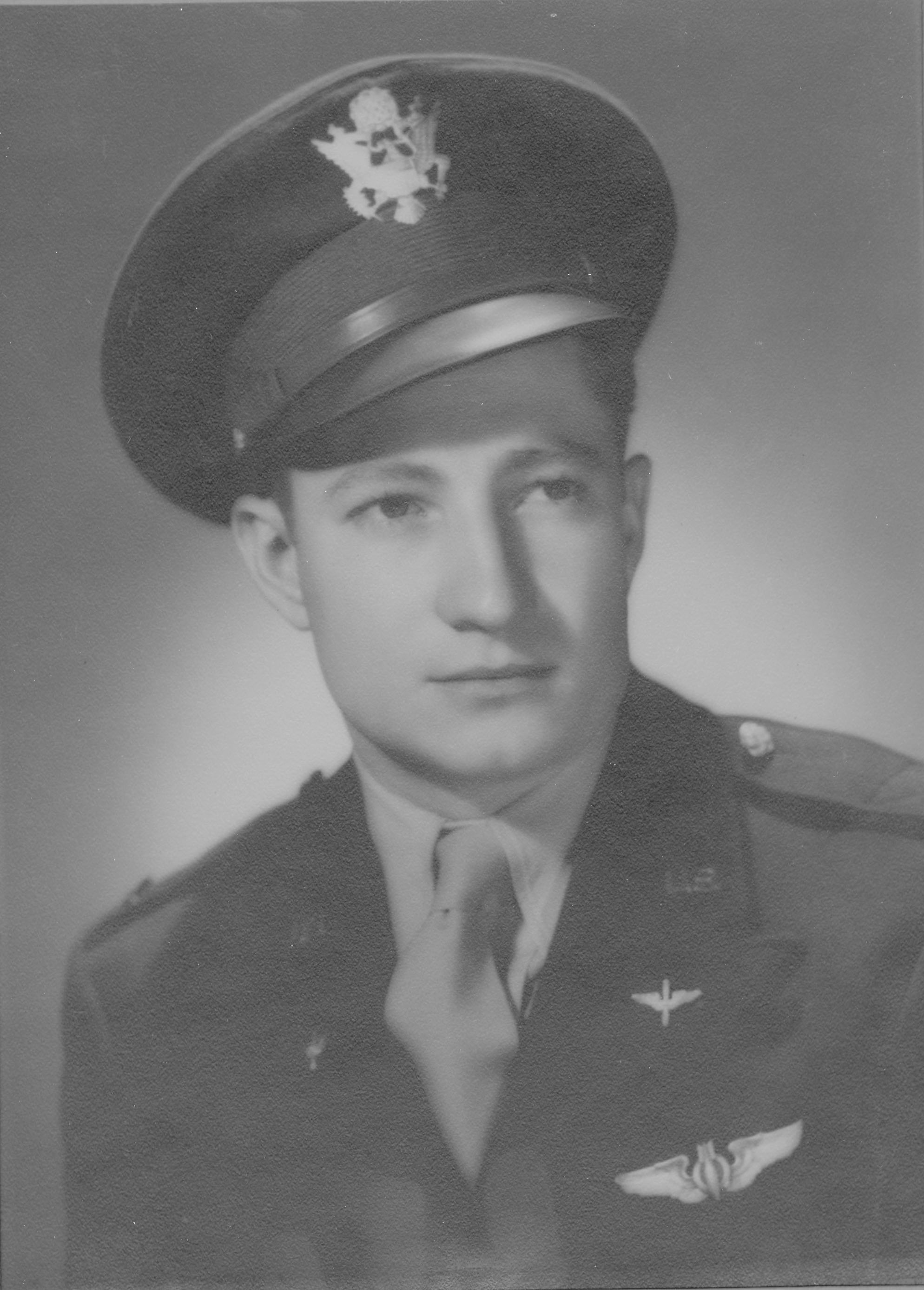 S/Sgt Jesse O WHEELER 14053337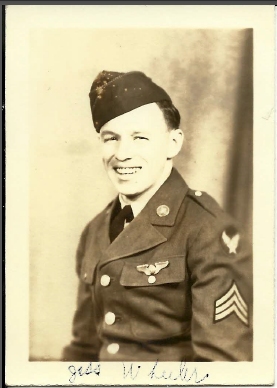 Jesse, the son of Minnie and Jesse O Wheeler Sr, came from Greensboro, North Carolina. He was born in June 1922. He was a gunner on Carl D Brown's crew on the 29th of July 1943 when their aircraft was shot down. His remains were returned to his parents for burial in 1949. Again, Earl Norlen's brother was able to send on the photo of Jesse at left. His mother was presented with her sons Air Medal at a ceremony at Greensboro Army Air Base in July 1944. The story was reported in the bases newsletter on the 14th July 1944.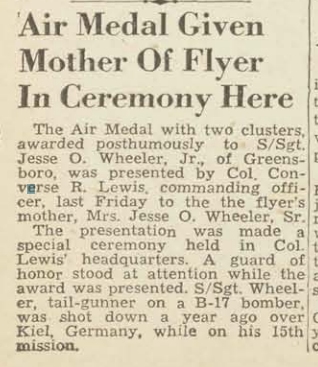 Compiled in 2014-2015 by Dennis Burke with the kind assistance of the families of R L Alexander, E W Norlen, J G Fogarty, L F Ayscue and P G Pedersen plus materials sourced via Ancestry.com and newspapers.com. Thanks also the Chesterfield observer, VA and the State Journal Register, Il.