Consolidated PB4Y Liberator, 63939, off the Irish Coast
On the 27th of February 1944, eleven young airmen of the US Navy's Patrol Squadron VB110 were lost while on an patrol out into the Atlantic. Their aircraft was reported missing and none of the airmen's remains were ever recovered. The eleven names are recorded on the memorial walls at the Cambridge American Cemetery near the city of the same name in England. This memorial is maintained by the American Battle Monuments Commission (ABMC) and this organisations records cause a little confusion in so much as their registers give all but Ernest Libby's date of death as being February 28th, 1945. This later date comes from the policy of reporting service personnel as officially dead one year and a day after they went missing if nothing had been heard of them by that time. It is not clear as to why Ernest Libby was recorded with the correct date that the aircraft went missing. While it is not known for certain where they went missing, there were reports from the staff of the Irish Lights house on the famous island of Skellig Michael, also known as Great Skellig, that they believed an aircraft had hit the upper parts of the rugged island. This information made its way through to the command of VB110 and the location of Skellig Michael was recorded in that units diary for the month of February 1944.
The summary crash record from US Navy records provides little information, not surprising given the aircraft disappeared.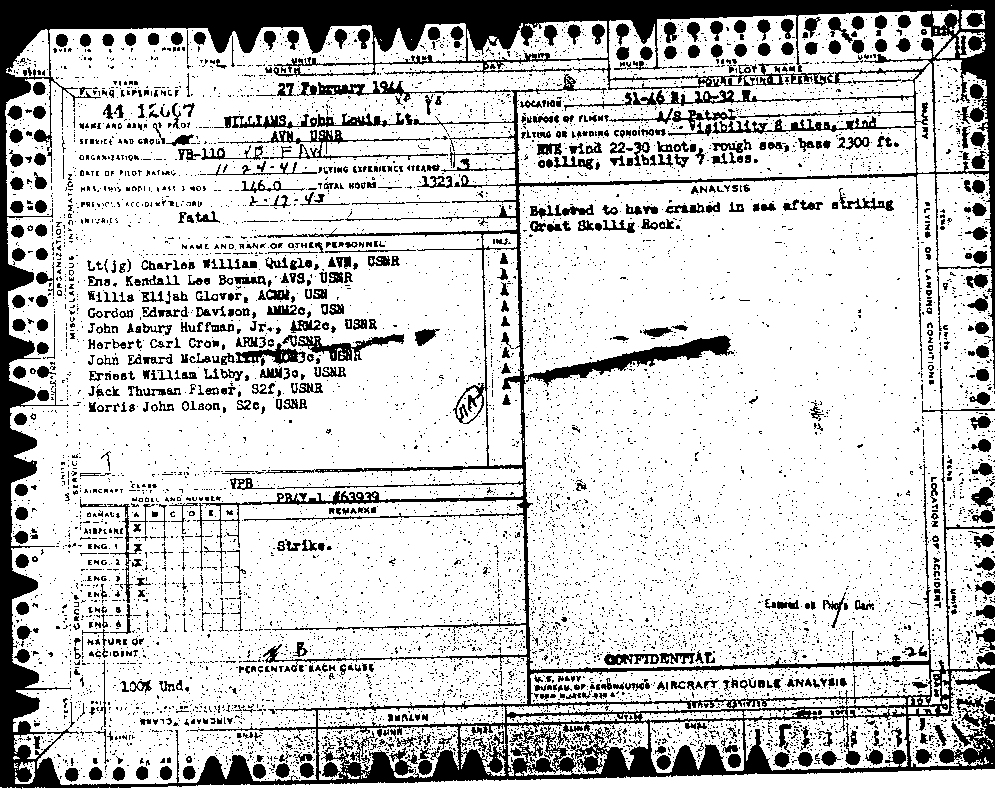 On the 18 August 1990, in a ceremony arranged by the former research group, the Warplane Research Group of Ireland (WRGI), relatives of the dead airmen held ceremonies on land and sea to commemorate the men. A monument was raised on the Irish mainland at Allaghee on Bolus head. The image below shows the google street view of the memorial on 9th Dec 2018 and links out to the google maps location itself.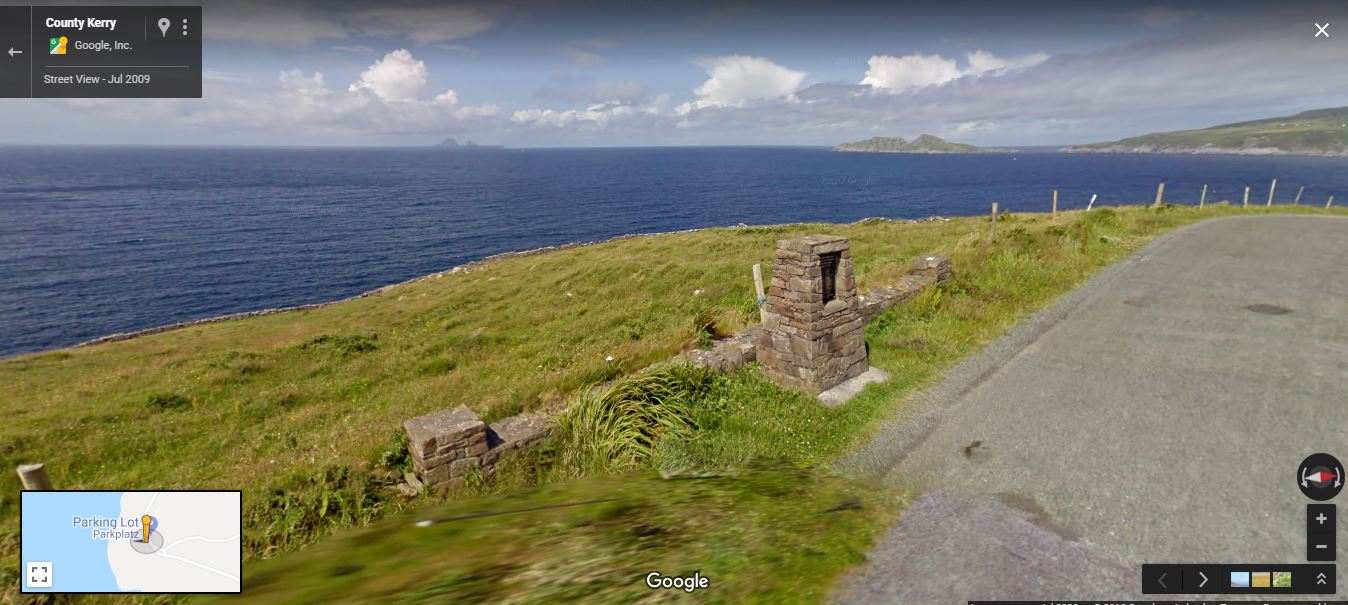 The memorial and its text is shown clearly on this page of the Ring of Kerry tourist site.

The WRGI also published a book on the crew titled, Fatal Echo, in 1990. This detailed the massive effort that was undertaken to contact the families of the 11 men.
Mr Gerard O'Regan from Cork who was involved in the research in the late 1980's and early 1990's, was kind enough to pass on the following photos which he helped to gather from families. They have been passed on to the Dunkeswell Museum in England and they kindly scanned and provided copies. Jack Flener's family were so kind as to provide his photos as shown below.

| | | | |
| --- | --- | --- | --- |
| Lt John Louis Williams, Louisiana | Lt(jg) Charles William Quigle, | Ens Kendall Lee Bowman | Acmm Elijah Glover Willis |
| Amm2c Gordon Edgar Davison | Rm2c John Asbury Huffman,Jr. | Rm3c Herbert Carl Crow | Aom3c John Edward McLaughlin |
| Amm3c Ernest William Libby | Sea2c Jack Thurman Flener | Sea2c Morris John Olson | |
The crew of Liberator 63939 were a mix of men from various parts of the United States. Newspaper articles from 1945 would suggest that each of the men received the Air Medal for their duty from November 1943 to February 1944. Certainly Williams, Quigle, Willis, Huffman, Flener,

Lieutenant John L Williams Jr was from Glenmora, Louisiana, the son of Estelle and John L Williams. Born in 1915, he studied in both Arkansas and Louisiana before enlisting in the Navy. While training in Florida he met his wife, Mabel Rogers and they were married on the 24th April 1943 in Hendersonville, North Carolina. John had a brother, T-3 J E Williams serving with the US Army in Europe. They had one son, who born after the death of Lt Williams. Mabel, who remarried after the war, passed away in 2009 in Georgia. Newspapers in Louisiana and Florida recorded in June 1945 his award of the Air Medal. John L Williams was the pilot of PB4Y, 63939. His wife lived a Seminole Road, Jacksonville at the time of his death.

Lieutenant Charles W Quigle the co-pilot of the aircraft came from Newtown, Indiana, son of Mabel and Carl Quigle. He was a college graduate, specializing in dairy farming. He was 28 years of age at the time of his death.

Ensign Kendall Lee Bowman was the aircraft's navigator. He came from Wichita, Kansas and his parents were Noble P and Alice R Bowman. He was aged 22 at the time of his death. His mother died aged 100 in 1993. He has a memorial alongside his parents grave in Resthaven Cemetery, Wichita. His photos were sourced via his old high school magazine which remembered him in their 1945 publication.
Chief Aviation Machinist's Mate Elijah Glover Willis was the aircraft Engineer. The son of Roberta and Elijah G Willis, he came from Belcross in North Carolina. His name is remembered on a memorial marker in Arlington National Cemetery, Virginia. His father was an Army Chaplain during the war and in 1945 made a number sailings on the SS Santa Rosa and was assigned to the ships hospital.
Aviation Machinist's Mate 2nd Class Gordon Edgar Davison was also an Engineer on the aircraft. He was originally from Flint, Michigan but grew up in Medford, Massachusetts with his mother Vivian Davision Edgar following his parents divorce. His adopted father Deforrest Davison, raised a memorial stone to Gordon on the edge of the garden at 57 Essex St, Medford, Massachusetts. This can be seen in Google Street view images.
Aviation Radioman 2nd Class John Asbury Huffman, Jr came from Richmond, Virginia and was a radio operator on the 63939 crew. He was the son of Margaret and John A Huffman.
Aviation Radioman 3rd Class Herbert Carl Crow came from Tulia, Texas and was also a radio operator on PB4Y 63939. His parents were Effie and Homer Crow.
Aviation Ordnanceman 3rd Class John Edward McLaughlin was the son of Irish born parents, Phillip and Mary McLaughlin from Donegal. His parents married in Donegal in 1914 before returning to Washington where John and his siblings were born and raised.
Aviation Machinists Mate 3rd Class Ernest William Libby was one of the aircraft's gunners and came from Lawrence, Massachusetts. He was the son of Mary Libby from the city of Lawrence. His father Ernest had passed away in 1940.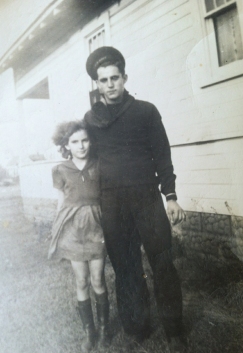 Seaman 2nd Class Jack T Flener from Marion, Williamson, Illinois was another of the aircraft's dedicated gunners. He was the son of Ruth and James Hobsen Flener. Born in 1925, Jack had three sisters. The 1940 census lists the family at their home in East Marion, jack being 15 years old and recorded as a 'New Worker' rather than as a student. His father 'Hob' Flener was a horse trader and his local newspaper carried a story about his life in 1960 in which Jack's death is briefly mentioned. At the time of his parents 70th wedding anniversary in 1970, Jack's mother is mentioned as being an member of the Veterans of Foreign War Auxiliary. Jack is shown at left in a photo with his little sister Emma "Jane". Relatives of Jack were kind enough to make contact in 2016 and 2018 to provide the photos shown here..
Seaman 2nd Class Morris John Olson was a Minnesota man, born in 1923 to Carolyn and John O Olson. They lived in Itasca county.
The Skellig Islands are located off the west coast of Ireland and are famous for having an ancient monastic settlement perched on their inhospitable surface. In more recent times they have also been one of the locations where the Star Wars Movie, "A New Hope" was filmed.

View Skelligs Rock in a larger map
The website of the Commissioner of Irish Lights provides a short history of the island at their webpage on the station maintained there.