Lockheed Hudson FH233
On Saturday, May 23rd 1942, the waters off the Sligo Coast and Donegal Bay were the scene of a aircraft accident which would claim the lives of three young Allied airmen.
Witnesses on the coast of north Sligo on morning of May 23rd 1942 reported seeing an aircraft making a landing off shore.
Lockheed Hudson serial number FH233 had departed from Newfoundland in the hours before hand. The crew consisted of Royal Canadian Air Force pilot, James Constabaris, age 27, Royal Air Force Volunteer Reserve navigator, Kenneth Busbridge Dyer, age 21 and Royal Canadian Air Force Radio Operator, Donald Eugene Engemoen, age 19.
The service records of F/Lt Constabaris contain some small details about the last known movements of the aircraft. Telegrams in these state: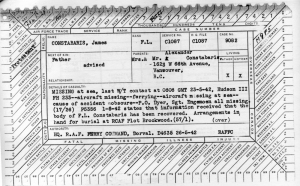 (Image from Canadian Library and Archives)
The aircraft involved was a Lockheed Hudson III patrol bomber, one of many delivered to England for duty with the Royal Air Force. It was one of a batch of the Hudson Mark IIIA with 1,200 hp Wright GR-1820-G-205A Cyclone engines delivered between April and July 1942. Other aircraft from the batch of 300 were also lost during delivery including, FH269, lost with no trace out of Gander on 12th May, FH365, crashed on take from the Bahamas on 29 April and FH465, missing on delivery flight on May 30th. Many were flown by crews like that of Hudson FH233, a mix of experienced and fresh aircrew members along with civilian employees of Ferry Command. Between 1941 and 1945, the ferry service delivered over 10,000 aircraft across the wide Altantic Ocean at a time when long range navigation was in its infancy. Indeed, by the end of the war the efforts of the service along with countless USAAF transatlantic flights had paved the way for modern day civil long range transport operations. Over 500 aircrew died during these operations by RAF Ferry and Transport Commands.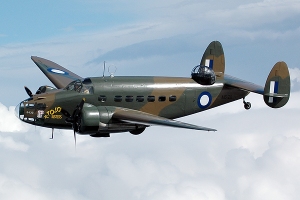 The location of the crash cannot accurately be known but many witnesses are recorded by the Irish Army and Police as having seen an aircraft in the sea off the north coast of County Sligo, around Carrownabinna Point near the village of Easky. Those giving statements came from the areas of Ballykillcash, Donaghatraine, Killinduff and Ballymeeny. The times of these sitings was recorded to have been around 11:30 in the morning. The Irish Military would have advised the British Authorities in Northern Ireland and during the day the British rescue boat, Robert Hastie traveled to the scene of the reports but nothing was found. The Robert Hastie was a British manned vessel which was permitted to be stationed in the harbour of Killybegs in Ireland, rather than the nearest Northern Ireland harbor of Derry City.
A body was discovered near Drumbannon Point on the north coast of Donegal Bay, near to the harbour of Killybegs six days later on Friday, 29 May 1942. From letters and clothing items found it was found that these were the remains of Fl/Lt. James Constabaris. This was advised to the British Authorities in Northern Ireland and also to the Canadian consulate in Dublin.
Fl/Lt Constabaris' remains were transferred across the border at Pettigo on May 31, 1942. It is likely that he would have been given a guard of honour by the Irish Army in keeping with other similar transfers.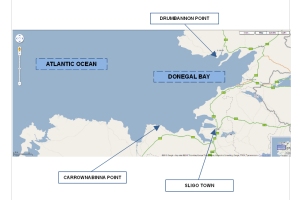 The Crew of Hudson III FH233:
Name: JAMES CONSTABARIS
Nationality: Canadian
Rank: Flight Lieutenant (Pilot)
Service: Royal Canadian Air Force
Attd: Royal Air Force Ferry Command
Age: 27
Date of Death: 23/05/1942
Service No: C/1087
Additional information: Son of Alexander and Helen Constabaris, of Vancouver, British Columbia, Canada. B.A., L.L.B.
Grave Reference: Plot 1. Grave 1.
Cemetery: Irvinestown Church of Ireland Churchyard
Name: KENNETH BUSBRIDGE DYER
Nationality: United Kingdom
Rank: Pilot Officer
Service: Royal Air Force Ferry Command
Age: 21
Date of Death: 23/05/1942
Service No: 123986
Additional information: Son of William George Dyer and Lavinia Sarah Dyer, of Harlesden, Middlesex, England. Memorial: OTTAWA MEMORIAL
Memorial Reference: Panel 1. Column 3.
Name: DONALD EUGENE ENGEMOEN
Nationality: Canadian
Rank: Sergeant
Service: Royal Canadian Air Force
Date of Death: 23/05/1942
Service No: R/103709
Memorial: OTTAWA MEMORIAL
Memorial Reference: Panel 1. Column 5.

Son of Mabel C and Emil Engemoen of Calgary, Alberta. Aged 19
Each of the crew members is fondly remembered by relatives contacted in the course of researching this small article.
James Constabaris' sister Penny and niece Nicky-Lea were kind enough to send on the above photo and some of their memories of James. In 1989, Penny and her husband were able to arrange to visit James grave in Irvinestown cemetery. He was born in Edmonton, Alberta in January 1915. He attended University of Alberta until 1938 where he studied Law. James had graduated top of his class and for this he received the Governors Gold medal. He had however, expressly turned down his career in law to serve with the Royal Canadian Air Force according to letters contained in his service record. Following his graduation from training he served as an instructor at numbers 4 and 15 Service Flying Training Schools in Canada. He survived with slight injuries the crash of a Harvard II training aircraft which crashed near Buttress, Saskatchewan. The airman which was undertaking instruction with him sadly died in the crash, Leading Aircraftman William Darling from Revelstoke, British Colombia. The crew card held by the DHH in Ottawa indicates that FH233 was James' first Ferry Command delivery flight. His were the only remains recovered after the loss of FH223. James was identified from documents contained on a body which washed up on the shore at Drumanoo, near Killybegs, Donegal on the 29th May 1942. He was buried at the cemetery in Irvinestown, Fermanagh on the 2nd of June 1942.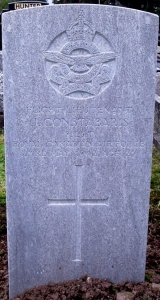 Kenneth Dyer was the Navigator on the aircraft. At that time, this trade was referred to as 'Observer'. Born in February 1921 to Lavinia and William Dyer, he came from the town of Harlesden in Middlesex and was the middle of three brothers. Both his brothers served in the war but survived their service. Kenneth was known as 'Dick' within the family, Gill recounting how his grand-father thought Kenneth was a silly name and that he would call him Dick! Kenneth's crew card from the Ferry Command archives show that this was his first ferry flight. As Kenneth's remains were never recovered his name is entered on the Ottowa Memorial in Canada. His mother Lavinia travelled to Canada for the unveiling of the memorial which took place on 1 July 1959. RAF Casualty list number 255 published in Flight magazine on July 15th, 1943 recorded Sgt. K. B. Dyer as 'Previously reported missing, now presumed killed on active service'. His name had initially been printed on October 29, 1942.
Donald Engemoen was the Radio Operator on the aircraft, or more correctly, the W.A.G., Wireless Operator/Air Gunner. No age or relationship details are recorded on the CWGC but his name is listed as missing overseas on the RCAF Casualty List No. 277 published on May 30th 1942 in the Globe and Mail newspaper. His mother was recorded there as his next of kin. Donald's history comes from his sister Jeanne and brother in law via their family history research. Donald was born on December 10th 1922 in Lethbridge, Alberta, making him the youngest member of the crew at 19 years. His parents were Mabel C and Emil Engemoen. Emil had passed away in 1931 while Mabel followed her young son in death in 1944. Donald's Ferry Command card shows he flew two previous ferry flights, that of a Canadian built Hampden bomber, AN137, and a Lockheed Ventura bomber, AE837, both earlier during the month of May 1942. These may only have been positioning flights within Canada however as the turnaround times are very short and the location codes do not suggest the flights were to England. Donald's name also appears among the almost 800 names on the Ottawa Memorial.
The Ottawa memorial is described by the CWGC: The Ottawa Memorial commemorates almost 800 men and women of the Air Forces of the Commonwealth who lost their lives while serving in units operating from bases in Canada, the British West Indies and the United States of America, or while training in Canada and the U.S.A., and who have no known graves.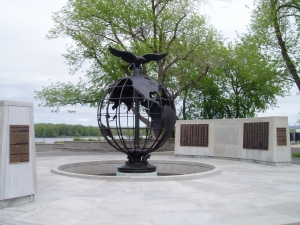 (Photo from the CWGC website).
The Air Ministry Form 1180 below, held by the RAF Museum shows the sadly limited amount of information known about this aircraft loss.
The Air Ministry Form 1180 for this aircraft.
The reason for the loss of Hudson FH233 was not established in any of the documents found during this research. F/Lt Constabaris's service file make no suggestions as to the reason and the aircraft loss card from the RAF Museum is similarly lacking in reasons for the loss. The business of ferrying aircraft across the Atlantic was fraught with dangers. The crews would have likely test flown their aircraft on a number of occasions before hand to work out its most efficient engine settings to give them the best possible range on the trip. 1942 seen at least ten other Ferry Command aircraft or crash in or near Ireland alone. It is likely that Hudson FH233 developed a technical problem of some sort and this caused its loss. An engine might have over heated, fuel consumption might have been too high, the reason will never be known as they were did not report any problems by radio. It is unlikely that they were lost due to German actions as German aircraft were were very active at this time in the North Atlantic. The introduction of long range RAF fighters and the increasing numbers of aircraft carrier escorts had reduced the once potent threat of the Focke Wulf Condor to allied convoys. The author and researcher Chris Goss in his studies of German maritime operations records no Luftwaffe claim for aircraft in this area during 1942. Of the many Ferry Command losses during 1942, none are attributed to enemy action in the North Atlantic area. Thus, in most probability, Hudson FH233 was lost due to a technical fault with the aircraft or higher than expected fuel consumption.
This fine image of a Hudson bomber comes from the website of the Temora Aviation Museum in new South Wales Australia. It clearly shows the lines of the aircraft and the rear turret. This is one of very few airworthy Hudsons remaining. The museums website is: www.aviationmuseum.com.au
Sources:
The Constabaris, Dyer and Engemoen families.
Irish Army Military archives
Commonwealth War Graves Commission. - www.cwgc.org
'Ocean Bridge, The History of RAF Ferry Command' Carl A Christie. Toronto Press 1997.
Martin Gleeson, Limerick, Ireland
Genealogy Records: www.ancestry.com
The Canadian War Museum's World War 2 Online Newspaper Archives - www.warmuseum.ca
http://www.uboat.net/allies/aircraft/hudson.htm
The Canadian Virtual War Memorial - www.vac-acc.gc.ca
Flight Global Archive - http://www.flightglobal.com/pdfarchive/index.html
Royal Air Force Aircraft FA100 – FZ999, Air Britain Historians
Directorate of History and Heritage, Ottawa, Ontario, Canada.
Canadian Library and Archives, Ottawa, Ontario, Canada.