Lockheed Ventura, Emlagh, County Mayo, 1942
The townland of Emlagh lies to the south of Roonagh Point, a few miles west of the town of Louisburgh in County Mayo. It was here on the 30th of September 1942 that another aircraft of the Royal Air Force's Ferry Command was forced to make an emergency landing after coming into difficulty on the long ferry flight from Canada.
At 09.20 hours that morning an aircraft made a forced landing near the coast on land belonging to Patrick James McHale. The pilots brought it in for a belly landing, causing only slight damage to the aircraft in the opinion of the Irish Air Corps officers who attended the scene.
The aircraft carried a crew of three English officers and an Australian Sergeant. The Irish Army was soon attending to the crash site, aided no doubt by local Gardai (Police) and members of the Local Defence Force (LDF). Captain Birthistle of the Irish Army's Western Command, Intelligence Section (G2) was one of the officers who attended the scene. In his reports back to the G2 section in Dublin he told how the crew stated that they had just finished their training in Canada. Their flight had taken over ten hours before they began to to run low on fuel and they elected to put down where ever appeared suitable. It would be almost 60 years before some of the facts were corrected by the men themselves. He reported being told by them that there was a '£100 bonus' for ferrying aircraft across the Atlantic.
The crew were not kept in Mayo for long, they were brought to Athlone Barracks that same evening and were brought then to the border. The story of the aircraft and it crew thus passed into history a local folklore until the 1990's when the former airmen themselves sought to track down where they had landed on that day in 1942. This was to see friendships created and a return visit by one of the airmen in 1996.
The crew of the aircraft gave their names to the Irish military along with serial numbers and next of kin details.

The story of the landing of AJ460 is told in great detail by non other than Eric Doyle in his 1990's published biography, 'Just Call Me Joe: The life story of Eric Doyle known as 'Joe' in the army and air force and other places'. In this work, he describes his background from having joined the Army underage in 1940 to volunteering for aircrew duties in 1941. He takes the reader through his basic training in Australia, his voyage across the Pacific to Canada and the rip roaring adventure that was his time in training as a wireless operator/air gunner in various training establishments of the British Commonwealth Air Training Plan (BCATP) in Canada. It was near the end of this period that he joined up with two of the men on Ventura AJ460, R M Powell and G F Drake. They trained together as a crew on Lockheed Hudson's at 31 Operational Training Unit (OTU) at Debert, Nova Scotia. They were assigned to the then new Lockheed Ventura bomber and prepared for the dangerous single leg ferry flight to the United Kingdom. P/O Donaldson was assigned to them for this flight but was retained by Ferry and Transport Command for the remainder of the war. Following their short stay in the west of Ireland, Powell, Drake and Doyle were posted back to Northern Ireland where they crewed up on the Vickers Wellington at 7 OTU at Limavady near Derry. From here they collected a new Wellington bomber and flew it over nine days to India where to their dismay they found themselves relegated to second line ferrying operations for a number of weeks. Eric Doyle returned to the UK just before Christmas 1944 and it appears that Powell and Drake did so also. They each took on different duties from this point but stayed in contact.
P/O Richard Meyrick POWELL 123003, (Pilot), Royal Air Force.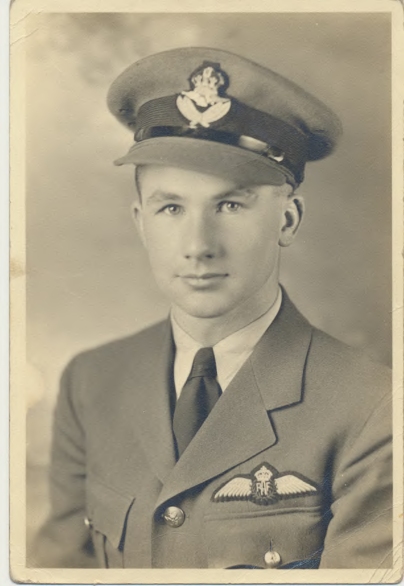 Richard Meyrick Powell was born in Oswestry, Shropshire in late 1919, the son of Thomas Powell and Mary Baker. On the day of the crash he informed the Irish officers that his fathers address was in Gobowen near Oswestry. He was one of the pilots on board the Ventura for its ferry flight. His presence on AJ460 suggests that he had only recently completed training in Canada and that this Ferry Flight, the only one recorded on his Ferry Command assignment card, was his transfer back to the UK for combat assignments.
His log book records the flight and the landing in Ireland without any fanfare. The list of flights in Wellington aircraft indicate that he was also posted to 7 (C) Operational Training Unit, where Eric Doyle explains he, Powell and Drake were posted after arriving in Europe.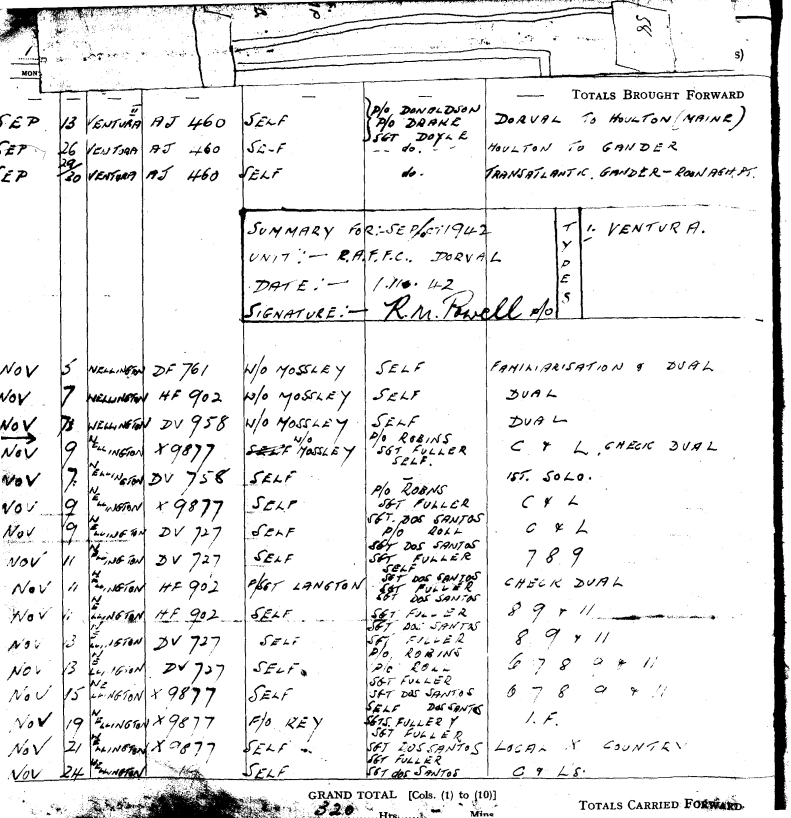 His promotions were published over the following years in the London Gazette. Richard's name was published on the same page as G F Drake in June 1942, announcing their promotion to the commissioned rank of Pilot officer, effective from January and March respectively of that year. By early 1944, he had reached the rank of Flight Lieutenant in the General Duties Branch of the Royal Air Force Volunteer Reserve. He was able to attend Eric Doyle's wedding in August 1944. He remained in the RAF post war, at this time it is not clear what other duties he performed after returning from India in 1944. In 1951, his name appears having taken a two year commission in the RAF Aircraft Control Branch, the service of Air Traffic Control as it might be referred to now. This commission was relinquished in 1953. His name afterwards seems to appear in civil service lists related to air traffic control work. Richard passed away in 1999 in Berkshire. Not much else is known about R M Powell at this time and his Ferry Command card did not carry a photo.
P/O Thomas Neville DONALDSON 124779, (Pilot), Royal Air Force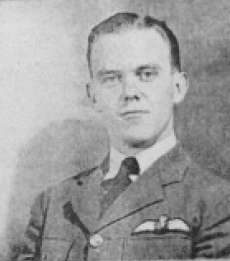 The second pilot on Ventura AJ460 was Thomas N Donaldson, a fresh young pilot from Kent. Unlike the others who flew that day in Ventura AJ460, Thomas remained posted to Ferry Command and later RAF Transport Command. AJ460 was his very first ferry but between 1942 and 1944 he ferried a great many more aircraft. His return to Canada after 'escape' from Ireland was on board Lancaster R5727 as a passenger. This bomber was being sent to Canada as a pattern aircraft to assist the setting up of a production line for that aircraft in Canada. In 1944 he progressed on to flying dignitaries from North America to the UK and elsewhere. In May 1944 he had been posted to take delivery of Winston Churchill's new Douglas C-54B transport, Skymaster I EW999. This found him flying as co-pilot with Wing Command W H Biddell on the well known converted Liberator transport, AL504. This activity culminated with his being one of the pilots that flew to Moscow in October 1944 with part of Churchill's military staff. Churchill himself traveled on a Avro York transport. Thomas's final wartime posting was to San Diego from where he flew regular transport missions to Sydney across the wide Pacific Ocean. These continued up to December 1945 at least. Through his family, Thomas provided a copy of his wartime memories. Thomas stayed on in America after the war and became a citizen of the country. He passed away on January 21, 2013 in Pennsylvania. The photos below of Thomas with his wife were supplied by his family.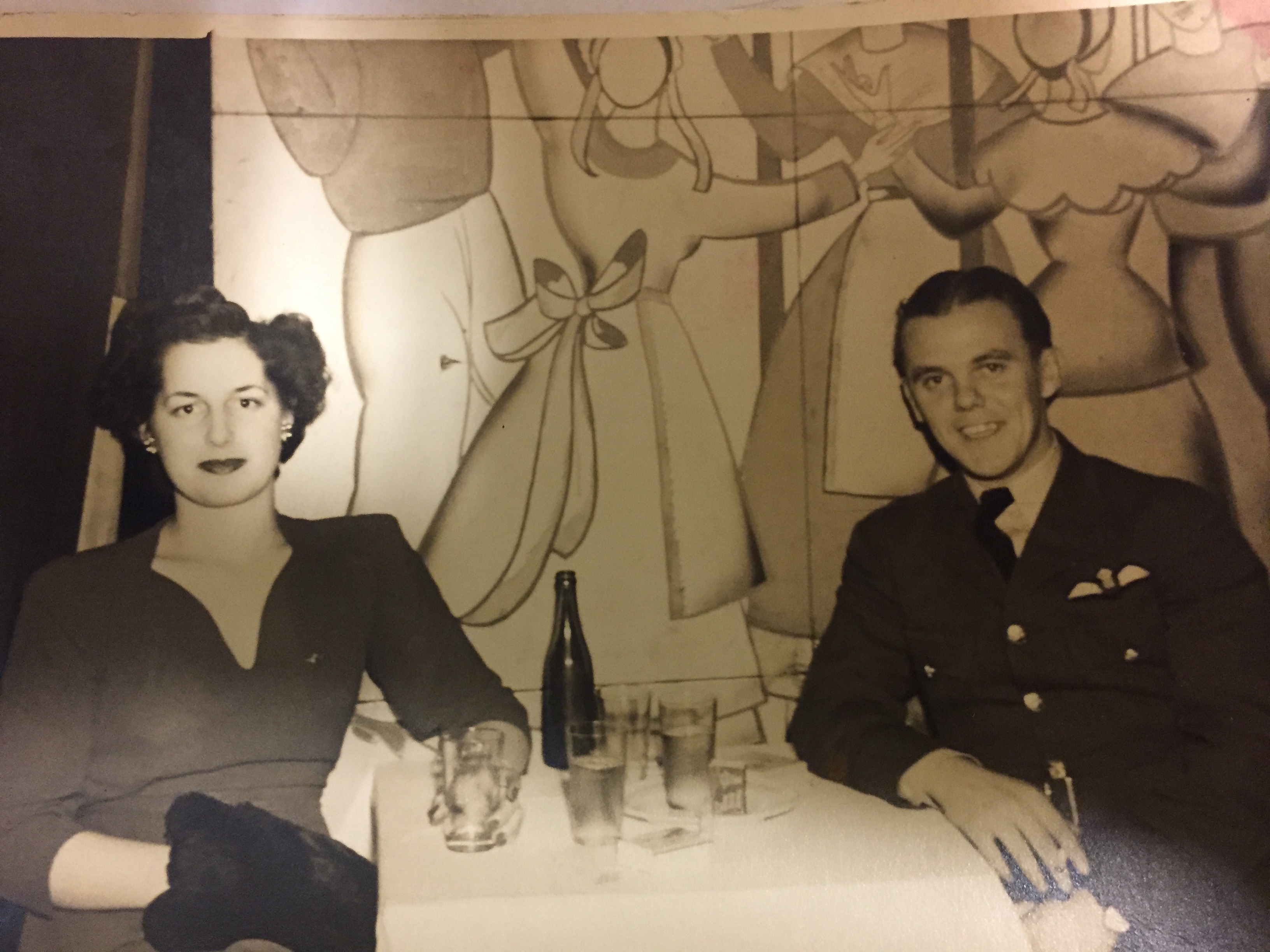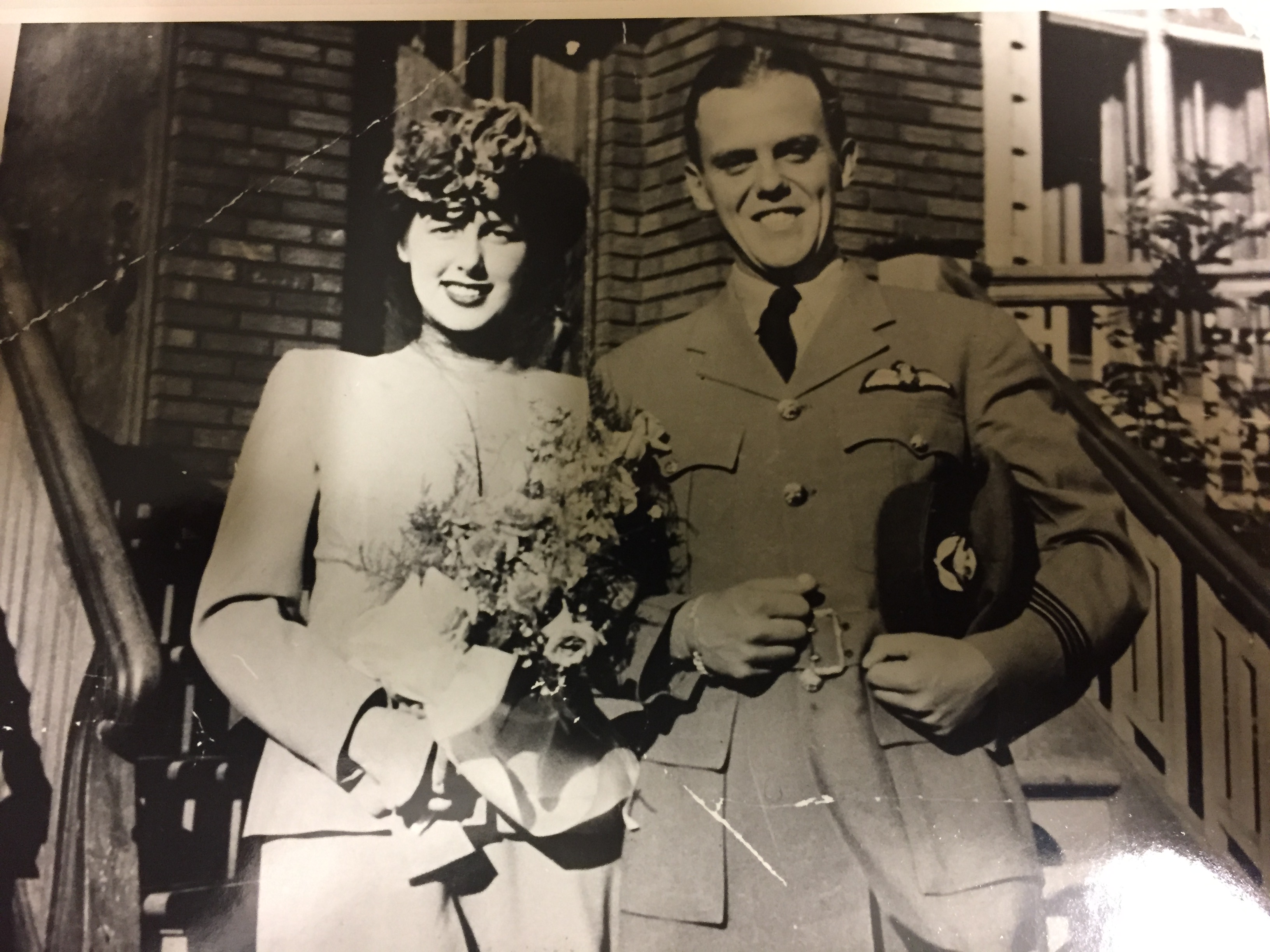 Thomas and Jocelyn were married in August 1944 in Montreal, Canada.

P/O Gilbert Frederick DRAKE 120968, (Observer (Navigator)), Royal Air Force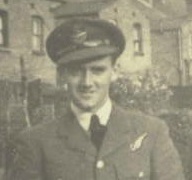 The Navigator of AJ460 on its delivery flight was an RAF officer, promoted about the same time as P/O's Powell and Donaldson, Gilbert Frederick Drake came from Worchester. His training was also completed in Canada and as early as March 1941, a record on ancestry.com seems to identify him crossing the border at Buffalo, New York as an airman of the RAF. Its not clear if he was visiting or enroute for training. Gilbert Drake had returned to the United Kingdom by early 1944 also. He was posted to a Meteorological unit according to Eric Doyle's post war writing. 'Gil' Drake visited the location of his wartime adventure in 1996 when he and his wife visited Emlagh and met some locals who had witnessed their landing in 1942. Eric included Gil's story of his visit in his writing:

RETURN TO EMLAGH - A REVELATION
by Gil Drake
After nearly 54 yrs. I went back to Emlagh on a bright sunny afternoon of 15th May 1996. This time I came, not out of the skies in Ventura AJ 460, more precisely by car, accompanied by my wife, Gerry Bracken , Jarlath Duffy and Dominic Moran of the Westport Historical Society, Noel O'Neill of the Castlebar Historical Society and Don Gibbons, an ex R.A.F. navigator. Gil then expresses his thanks to every one for making the visit such a success, in particular Gerry Bracken.
Joe Lyons, claimed in the Louisburg Journal as the first man on the scene in 1942, and now a sprightly 85, had not been told we were coming, but his younger brothers had made sure that he would be at home that afternoon. After a very reserved opening he became more and more relaxed.
In the course of the afternoon and in the end we had a job to get away. His only regret was that he had not been warned so that he could have got a bottle in which we could have shared with him.
Joe's memory of the day in 1942 is astonishingly vivid. He was able to describe, in detail, just how and where we had circled in the area before putting the aircraft down, in probably the only flattish field, just behind the beach. Joe's verdict was that Meyrich Powell must have been " ... one of the nicest men he ever met and a darn good pilot " and he was certainly . He remembered his age (24 and commented "what a good looking fellow he was." He didn't really remember me but commented that there was a small slim chap among them.
Although his memory is vivid, he continues to believe in certain misconceptions which he enunciated with a twinkle in his eye. First of all we were Canadians- it is possible that we were responsible for this belief, after all we were coming from Canada. Secondly when we flew out over the sea before coming back to land, we did so to dump our guns and bombs. Thirdly we landed at Emlagh deliberately to get out of the rest of the war. We were not out of fuel, and the 500 gallons in the tanks in the Louisburgh Historical Journal has now grown to 1700 gallons. Were not the local people good to have left that untouched at the time of petrol rationing? Or was that because a small army section was posted to Emlagh to guard the 'plane.
After a little while we were joined by James and Brendan Lyons (Joe's younger brothers ) and Christina (James' wife). James who was eight years old in 1942, has a clear memory of the occasion and like Joe, could describe in detail how we had circled low around the area. Christina showed us a hand written diary of her fathers, describing the incident, and there were tears in her eyes when we shook hands and she said, "Are you really one of those boys ? " Brendan, who was 2 1/2 at the time, said that he was taken into the aircraft, in his mother's arms, because he might never have another opportunity like that.
Considerable interest was shown by everybody in the way in which we had been whisked rapidly back to Britain. Apparently, it is only in comparatively recent times that it has become public knowledge that there was an escape line from Eire for members of the British forces. Most people believed that we had been interned in the Curragh. `
I hope this makes interesting reading and does some small justice to what was for me a most nostalgic, but also a most enjoyable and memorable occasion.
Gilbert Drake passed away in Worchester, aged 82, in November 2004.
Sgt Eric Lee DOYLE 412330, (Radio Operator), Royal Australian Air Force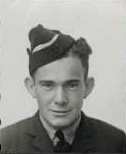 Eric Lee Doyle came from New South Wales, Australia. He enlisted in 1941 and after basic training was sent to Canada for training in his trade of Radio Operator/Air Gunner. He attended 4 Wireless School and 3 Bombing and Gunnery School. His transfer to Europe took place with a posting to RAF Ferry Command and the flight of Ventura AJ460. His Ferry Command Card show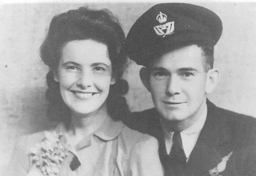 s his one and only delivery flight was on AJ460. Arriving in the UK in September 1942 after the landing in Ireland, he was posted to 7 Operational Training Unit until March 1943. From here he was assigned to a different form of Ferrying operation when he was posted with 303 Ferry Training Unit. During 1943, he was posted to India along with Powell and Drake and two new crew members. They were posted to 36 Squadron in India but that unit did not need their services so the next few months were spent ferrying various aircraft around India. At the end of that year he was back at OTU in the UK and was was finally posted to 179 Squadron of Coastal Command. He flew with that unit on patrol missions until June 1945 with a crew consisting of four Australians and a Canadian pilot. The part of his service would have been on Warwick aircraft. Eric returned to Australia after the war and passed away in 2012. He lived in Wauchope, New South Wales and was an active member of the local Rotary Club who published an extensive obituary for him in their bulletin in June 2012. it can be read on their website, http://www.wauchoperotary.org.au/wp-content/uploads/2011/07/Bulletin-48-19-June-2012.pdf. The main website can be acessed from this link.
This wonderful photo of 'Joe' Doyle were supplied by his wife and son. They show him with his wife Anne whom he married in England in 1944. Richard M Powell and Magnus G Magnusson RCAF were at the wedding, Gilbert Drake could not get leave however the newly married couple spent their honeymoon staying with Drake's parents in Worcester. M G Magnusson is the pilot standing on the right of the photo, and it is thought that R M POwell might be the man standing at the left.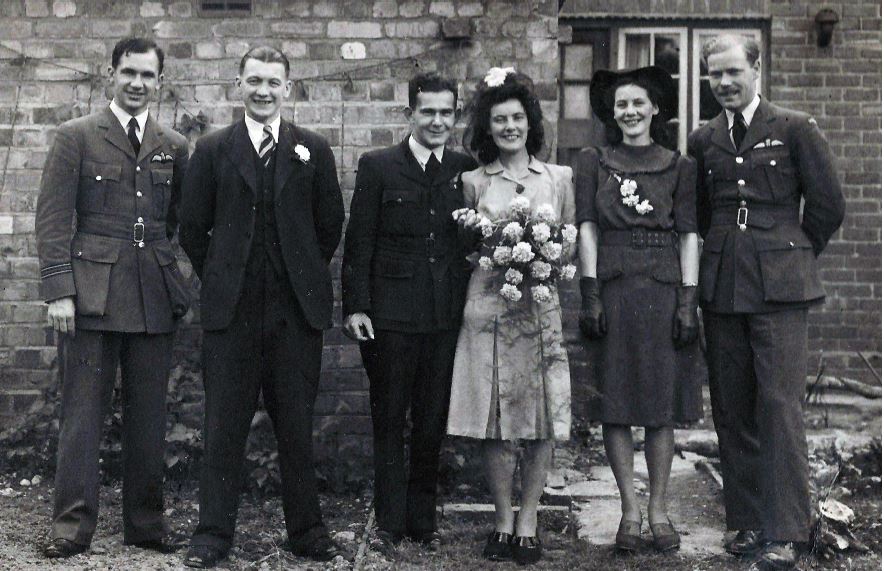 Compiled by Dennis Burke, 2021, Dublin and Sligo. If you have information on any of the people listed above, please do contact me at irishwarcrash@yahoo.com
With thanks to the Doyle and Donaldson families.