Lockheed Hudson, AM864, Sligo
The following was one of the many less significant war time incidents in Ireland involving a foreign aircrew. This aircraft made an emergency landing on July 21st, 1941, a beach and after refreshments the crew were allowed to leave for Northern Ireland. It is significant for one reason however and that is because it was the very first aircraft recorded by the Irish Military that was flying under the Royal Air Force's Ferry Command, the organisation that would have the important role of bringing American and Canadian built warplanes to the United Kingdom and elsewhere in order for them to bring the war to Germany and its allies.
The aircraft landed at 07:50 having flown from Newfoundland. The landing was made on a strip of sand known as Tra Bui. This was described as being south of the Irish Army Coast Watching Service, Look Out Post (LOP) number 63 at Rosskeragh south of Ballyconnell. A search of the ordnance Survey Ireland Maps online reveals the beach named 'Yellow Strand' on early maps. The LOP was situated on the curving headland to the north of the beach, over looking Horse Island. The crew reported they had run low on fuel and had elected to land on the beach. The crew were taken for refreshments nearby and later took off for Limavady airfield in Northern Ireland at 13:40 after only about five and a half hours on Irish soil. The local military had corresponded with Dublin and were instructed to treat the aircraft as a civilian one and thus allow it to leave Ireland.
The crew members names were recorded as surnames only by the Irish Army, however the Directorate of History and Heritage (DHH) in Canada was able to confirm Bishop and Marvin as being in the crew from their Ferry Command crew cards.
| | | |
| --- | --- | --- |
| Murray Benjamin DILLEY, Pilot | P/O Ian Prior BISHOP, 45492, Observer (Navigator) | Daniel Peter MARVIN, Radio Officer |
The three crew members were a fairly representative cross section of the men who flew for ferry Command. Some short biographical details are presented below.
Murray Benjamin Dilley was one of the early civilian pilots contracted the UK authorities for ferry operations. Born in 1909 in Manila, Murray Dilley was the son of a US Army Officer of the same name. In 1927 he made US newspapers as a 17 year old pilot in an attempt to flight non-stop from San Francisco to New York. His initial attempts failed when his aircraft was destroyed on October 8th 1927 during a test flight which killed his mechanic, Thomas Mangun. While papers were very busy reporting on his plans, they are less help in determining if he actually completed the flight. No reports were found of a successful flight. Murray followed his father into the US Armed forces and became a pilot with the US Army Air Corps. At the time of the 1930 census, he is listed as having the profession of Aviator living in Kansas City. 1934 seen him appear in many newspaper and magazine articles as he took part in many air races and record breaking attempts. He attempted to take part in the 1934 MacRobertson air race from London to Australia in the Vance Viking aircraft he had purchased but it appears he never left the US and abandoned the aircraft. By 1940 he is to be found working as a Civil Aviation Authority employee and living with his wife and young family in Kansas. He signed up with Ferry Command and AM864 is the first aircraft listed as having been delivered by him to England. He returned to Canada on one of the Consolidated Liberator bombers assigned to the Return Ferry Service, the means by some pilots were sent back to North America to pick up new aircraft. He delivered one more aircraft, Hudson V9118, before tragedy struck on the 14th August 1941. On that date, Murray Dilley was among the precious passenger load of Liberator AM260 when she failed to take off from Ayr in Scotland killing 22 passengers and crew. Murray B Dilley was buried afterwards in Ayr Cemetery but post war his remains were moved to the Cambridge American Cemetery in England. He was survived by a wife and three daughters. His father passed away in 1948.
Ian Prior BISHOP the aircraft's navigator was born in 1919 in Kobe, Japan to a merchant and his wife. In 1921, Ian came to England with his parents but his father, Alan Sydney Acton Bishop, died the following year in Japan having returned there. The family moved to Canada in 1928 when his mother Eileen remarried. He joined the RAF in 1938 and was commissioned as an officer in 1941. He continued his RAF service with Bomber Command, going on to win a Distinguished Flying Cross for his excellent service as an observer/navigator with 150 Squadron during 1939-1941. The 150 Squadron Operations Record Book records his posting out of the unit on the 28 of March 1941 with the following entry:

28 March 1941:
"580389 Sergeant BISHOP, I. P. Air Observer who has been with the squadron since it was reformed prior to the present war has been granted a commision as Pilot Officer in the GD branch. He is to proceed to Canada for a Navigation Course."
His citation for the award, published in Flight Magazine reads:

"Act. F/O. I. P. BISHOP, No. 150 Sqn.—F/O. Bishop has participated in many successful operations against objectives in Germany and in France and the other occupied countries. His coolness and skill as a navigator, combined with courage and fearlessness, have contributed largely to the successes achieved by his squadron. When in France he took part in eight daylight sorties."

The award was published in the London Gazette of May 22nd, 1942. The citation was not printed in that paper but does appear quoted in Flight magazine. Ian later served with 627 Squadron on Mosquito bombers.

He remained on with the RAF after the war and was active with the Royal Air Force, both with flying Mosquito's with 14 Squadron as late as 1949 and then flight testing at Boscombe Down. He died on 26 September 1949 during a test flight in Hasting TG499. The mission was to test fly an underbody cargo pannier for outsize loads. Shortly after take off, the pannier structure failed and then tore from the bottom of the aircraft, it smashed into the aircraft's tail and the aircraft crashed to the ground. Ian's former sister in law Tina was kind enough to get in contact and tell that Ian married in early 1941 in Bognor Regis to Emerald Howley. They had three children before Ian's tragic death. Ian's brother in law, Richard Alexander Howley was sadly lost during the war. He was a Pilot Officer with 141 Squadron flying the Boulton Paul Defiant aircraft. Ian Bishop's sister, Waveney Massie passed away in February 2012 in British Columbia.
| | | |
| --- | --- | --- |
| | | |
| Ian Bishop on the day of his wedding to Emerald Howley, 1941 | Ian Bishop's brother in law, P/O Richard A Howley, 141 Sqn. RAF | Ian Bishop's brother in law, R A Howley, during his training, at Shoreham, Sussex in 1938, aged 18. |
Daniel Peter Marvin was another civilian contractor on Hudson AM864. Born in Truro, Nova Scotia, in the Autumn of 1919 he was a radio operator on many Ferry flights during the war. It is not clear from his Ferry Command card but shipping records on the ancestry.com website record a young man of the same name employed as a WTO, wireless telegraphy operator on the cargo vessel the Lady Drake sailing from South America to Boston. It was common in the early days of the Ferry Operations for railway and shipping employees trained in telegraphy to be employed as the all important wireless operators on military aircraft being ferried across the Atlantic, there being a shortage of available military personnel for the task. His Ferry Command cards is awash with the many and varied flights he undertook during the war. He was involved in ferry operations to Australia and too Africa. He flew in all manner of aircraft ferried during the war including the Mosquito bombers built in Canada, Mitchell bombers, Liberators, Venturas. His duties would not have been just Ferry flights but he also appears to have flown as crew member on general transport duty flights within Canada and the United States. After his wartime efforts, he was decorated in the Kings honours lists in 1945:
CENTRAL CHANCERY OF THE ORDERS OF KNIGHTHOOD.
St. James's Palace, S.W.I.
14th June, 1945.
The KING has been graciously pleased, on the occasion of the Celebration of His Majesty's Birthday, to give orders for the publication of the names of the undermentioned in the London Gazette as having been Commended for valuable service in the air: —

Daniel Peter MARVIN, Radio Officer, No. 45 Atlantic Transport Group, R.A.F.
London Gazette, 37122, 8 June 1945.
After the war, Daniel Marvin remained in the flying industry, with his name appearing on the crew lists of Northwest Airlines aircraft in the post war years. He moved to Wasington state in the mid 1950's and became a US citizen in 1958. He appears to have passed away in July 1974 in Skagit County, Washington.
And what of the Hudson patrol bomber they were ferrying across the wide Atlantic. This author has no note of the aircraft's serial coming from the Irish Army file but it was certainly confirmed from the Ferry Command Cards of the three members. Hudson AM864 was one of a batch 207 of Hudson V(LR) aircraft delivered by Lockheed in 1941. After its brief stop off in Ireland it was delivered to the Royal Air Force where it found its way to 407 (Royal Canadian Air Force) Squadron. It was while serving with that unit that AM864 was destroyed, on May 16, 1942. It was part of strike force flying from its base at Bircham Newton to attack shipping off the Dutch Coast. During these low level attacks it was badly damaged by anti-aircraft fire and its pilot was forced to make an emergency landing at RAF Coningsby. Sadly, this effort was in vain as the aircraft crashed a half mile north of the airfield killing its crew of five.
The location of the landing in Ireland can be seen in the map and photo below. The map image shows the beach area more clearly as the tide appears to be in on the aerial photo. The spit of land just to the north of the strip of beach is the headland containing the ruins of the Look Out Post but also an ancient promontry fort as well as traces of an early telegraph tower.
You can view photos taken at the site of the Look Out Post at the wonderful Look Out Post Art project website.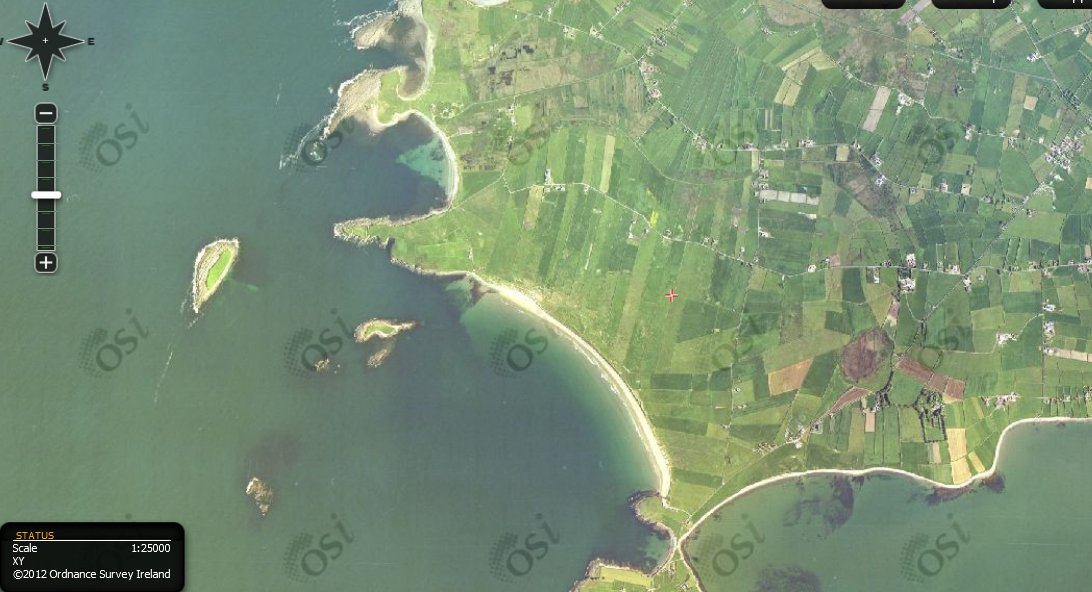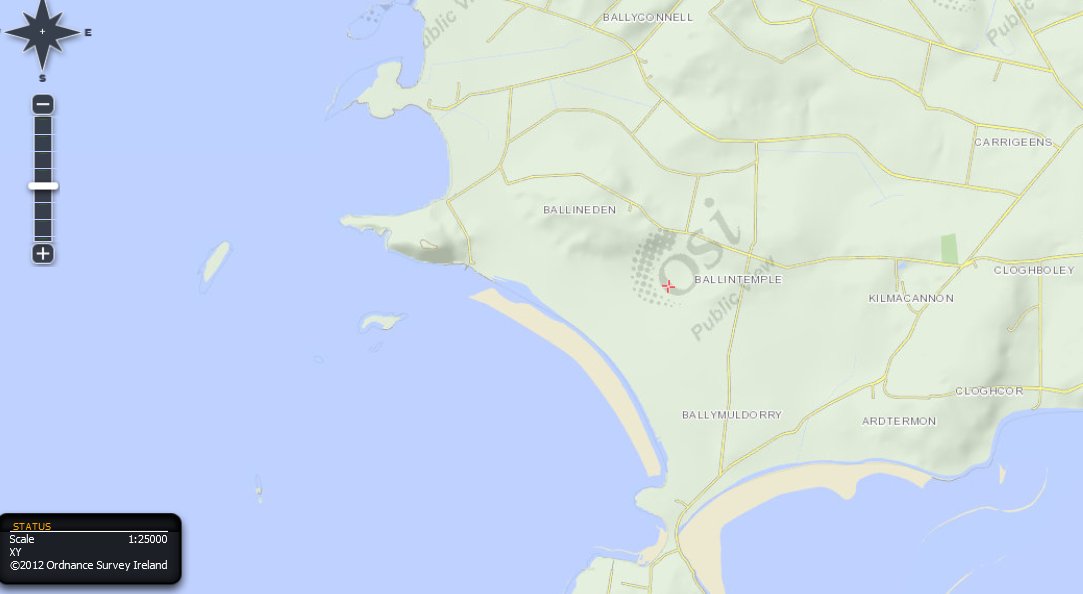 The aircraft was a Lockheed Hudson, carrying UK Air Ministry serial number AM864. This was one of a batch of just over 200 Hudsons delivered too the RAF of the Hudson V (LR) version. AM864 was the first of three Hudsons from this batch to end up landing or crashing around neutral Ireland. AM834 crashed a year later and AM885 crashed in 1943. A brief history of the aircraft can be read on Joe Baugher's website. You can watch footage of a restored example of the Hudson, based in Australia, at this Youtube video: