Boeing B-17 Flying Fortress, Clonakilty, Co. Cork - April 7, 1943
Occasionally the emergency landings which occurred in Ireland during the war became a strong part of local history for the area it occurred in. This was much the case with the Boeing B-17 that made a forced landing on White's Marsh in the townland of Garrnagoleen, near the town of Clonakilty on the south coast of Ireland. The location was just to the east of Inchydoney island. Perhaps due to the fact that the crew of the aircraft were accommodated in the town for four days while attempts were made for them to fly the aircraft out, the interaction between them and the local towns people was of much greater duration than other incidents where the crew usually were dispatched quickly to the border and Northern Ireland.
The aircraft was undertaking a ferry delivery mission when it became lost over the Atlantic and was forced to land in Ireland. US Army Air Force (USAAF) Air Transport Command (ATC) was tracking the aircraft on its long delivery from North America to Europe via North Africa. Due to the size and complexity of aircraft such as the B-17 Flying Fortress were flown from America via either the Northern Atlantic, through Newfoundland or on the Southern Route via the Caribbean, Brazil and Morocco. This aircraft, recorded only as #3090 in the in ATC report, was on the final leg of its delivery flight, having departed from Marrakesh in Morocco en-route to St Eval in Cornwall, England. It was flying as part of the overall effect to deploy the entire strength of the 95th Bomb Group to England. Each aircraft flew the long route on its own, directed by its own navigator.
The peaceful town of Clonakilty was shaken by the arrival of the aircraft and it attracted much attention during its stay. The Irish Army were on the scene quickly and placed the aircraft under guard and the crew were taken into the town and to Donovan's Hotel where according to all accounts, a three day long party was had. Some of this may be the stuff of local legend but it lives on in the local memory. Particularly memorable was the only victim of the incident, a small pet monkey the crew men had obtained while flying through Brazil. Over the few days in Ireland, Tojo, as he had been named by the crew, succumbed to the climate and perhaps the hospitality and died. Local legend has it that he was buried with 'military honours' next to Donovan's Hotel.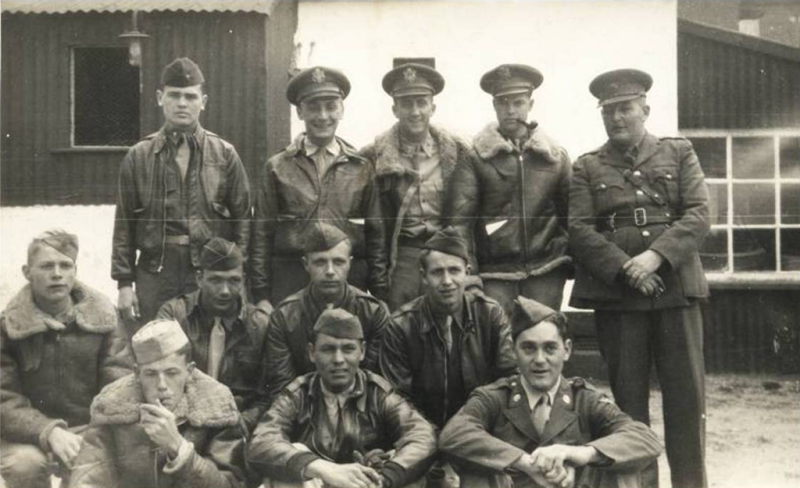 The crew as photographed in Clonakilty above were:
Back Row, Left to Right - J B Stapleton, W Prochaska, W K THomas, S B Haynes and Lt T W Glavin of the Irish Army.
Middle Row - G L Tice, W A Whitcombe, C H Cameron, R J Neely.
Front Row - A G Arneson, F L Thompson, M J St Louis
The crew of the aircraft are recorded in the US Army Air Force, Air Transport Command missing aircraft report:


1/Lt William K. THOMAS O-791163, (Captain, Pilot)
2/Lt James B STAPLETON O-734021 (Co-pilot)
2/Lt William PROCHASKA O-731417 (Bombardier)
2/Lt Collis P HAYNES Jr O-732729 (Navigator)
S/Sgt Guy L TICE 16092892 (Gunner/Engineer)
S/Sgt William A WHITCOMB 36183598 (Tail Gunner)
T/Sgt Carl H CAMERON Jr 13036442 (Gunner/Engineer)
Sgt Rex J NEELY 35326058 (Radio Operator)
S/Sgt Arlie G ARNESON 06575918 (Gunner)
S/Sgt Floyd L THOMPSON 18129666 (Gunner)

The official report did not include an eleventh American serviceman named, Sgt Marcel J St LOUIS 16109481, a passenger on the aircraft. Most sources say that he had joined them in Marrakesh.
After their four day stay in Clonakilty, it was decided that the aircraft would need to have a specially cleared and laid runway prepared and so 1/Lt Thomas and his crew were sent North via Baldonnel outside Dublin to Northern Ireland. Temporary steel planking was sent from Northern Ireland and a special ferry crew sent south who managed to fly the stricken aircraft out of White's Marsh on the 2nd of May. Records in the US National Archives and found on the fold3.com website, show that 42-3090 went to the airbase at Langford Lodge near Belfast, and was delivered into the hands of the Lockheed Overseas Corporation where over a 23 day period it underwent a maintenance inspection and a post 200 hour flying time overhaul.
Aircraft 42-3090 arrived eventually in England and was assigned to the 95th Bombardment Group (Heavy) and that units 334th Bomb Squadron. It flew one combat mission with that unit to Kiel in Germany after which it was transferred to the 508th Bomb Squadron, 351st Bomb Group based at Polebrook. There, it flew another twelve missions with that group before being taken out of front line operations in late 1943. Some records place it with the 2nd Combat Crew replacement Center during 1944, where it may have been used to train new aircrew arriving from the US. Its last recorded entries is a date of salvage in 1945, indicating that it had been taken out of service. It was most likely scrapped in the immediate aftermath of the cessation of hostilities.
And what of the men on 42-3090 after their visit to County Cork? Some readers might think that Clonakilty was the high point of their wartime experience, but in the following months they found themselves embroiled the very worst of the wartime bomber offensive of 1943. Lt Thomas would have at least two aircraft shot down under his command and six of the men would end up as prisoners of war.
They were all posted to the 95th Bomb Group and began their wartime combat. They did not have to wait long for their first brush with death when their aircraft on 28 June 1943 was forced down into the English Channel on a raid on St. Nazaire in France. Luckily all ten men were recovered from the water.
This was followed up by aerial battles which saw Floyd Thompson hailed for his bravery in particular and which seen his name and those of his crew mates mentioned in many American newspapers. It should be noted that the 10 man crew did not fly together at all times, the requirements of combat seen them flying with other crews as needs arose.
One of the media appearance was in the summer of 1943 when the following article appeared in the US Army newspaper, Stars and Stripes, dated 2nd July 1943. The story appeared in various other newspapers across America also and also appeared in the July-August 1943 publication, 'Indians at Work', printed by the Office of Indian Affairs, US Department of the Interior. They date this mission to have been on June 13th, 1943.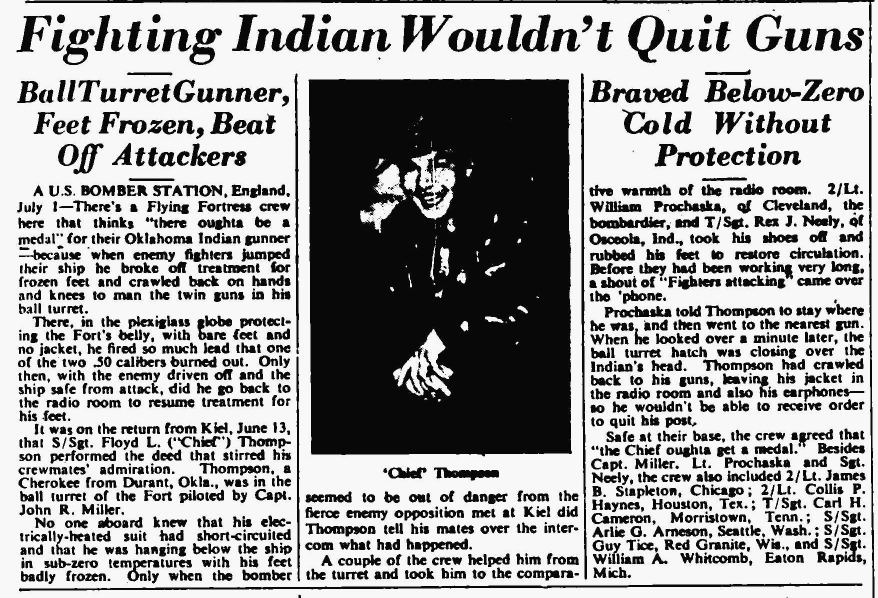 The 28th of July, would see the first two members of the crew from Clonakilty fall into captivity. The story was published no doubt with some embellishment by the Associated Press and printed in state newspapers in America. This and the preceding article were very useful in providing evidence of where the men came from and their home towns.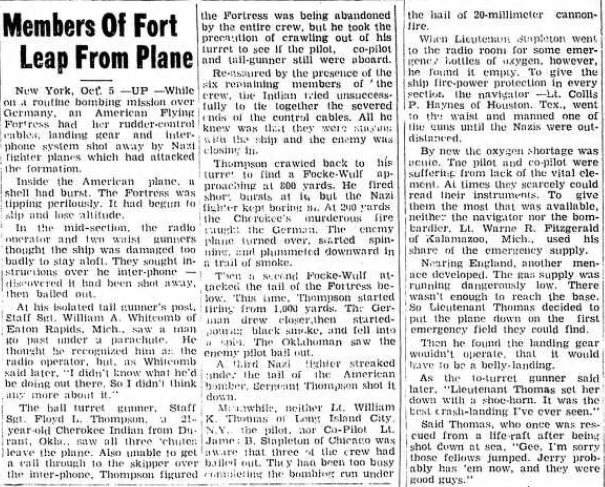 Each of the men on 42-3090 is described below, based on searches of ancestry.com and 95th Bomb Group website, as well as obituaries where found. Input from family members is also included.
William K Thomas came from Pennsylvania but at the time of his enlistment in December 1941, he was living in Long Island, New York.
He is found to have returned to the US in October 1943, as a passenger on an Air Transport Command flight, aged 27. He was posted as a pilot instructor following his return to the US and in this role had to force land a B-17G on April 29th, 1945 in South Dakota after suffering engine failure. Sadly one member of his training crew died after an unsuccessful bail out from the aircraft.

His grandson was able to confirm that he passed away in 1989 in Phoenix, Arizona.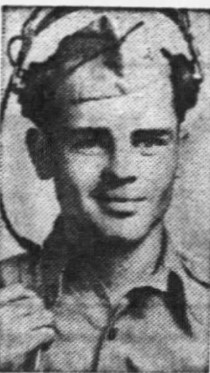 James B Stapleton the co-pilot was promoted later in 1943 to 1/Lt. and in November 1943 returned to the United States, flying from Prestwick to New York as a passenger. At the time of his arrival home, he was 23 years of age. James came from Illinois and climbed steadily through the ranks during the war.

his wartime next of kin was his mother Mrs Gladys Mansell of 116 North Pine Avenue

He died in San Diego, California in 2003

William PROCHASKA came from Cuyahoga County, Ohio and was born in 1916 to Mary and Felix Prochaska, sometimes spelled Prochazka. He was married at the time he was drafted.

Throughout 1943 his name appeared in many American newspapers as providing comfort to the frozen feet of Sgt Thompson.

He also featured in widely published news articles in December 1943 which told of him being bombardier in a B-17 named 'Patches". Flown by 1/Lt. Louis Reno, William, from Parma, Ohio, is recorded as treating the wounds of the news story protagonist, S/Sgt Rollie C Wilson. The piece ended with: "We were so happy that when we got out of the ship, we all kissed the ground," said Lieutenant Prochaska".

On the 14th of October 1943, B-17F 42-30135 of the 334th Bomb Squadron, 95th Bomb Group was shot down. William and the remainder of the crew of that aircraft were taken prisoner. Their loss was covered in newspapers due to his Captain having volunteered for extra duty only to be lost on the first of those missions.

William left the services in 1948 with the rank of Captain.

William died in Florida in 1981.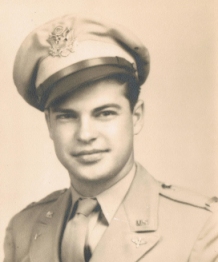 Collis P Haynes Jr, born in 1920 in Texas was a navigator. He made it safely through his tour of duty with the 95th Bomb Group without serious mishap. Records that he left to his family show that he flew 25 bombing missions between the 13th May and the 23rd of September 1943. During that time he was awarded an Air Medal with two Oak Leaf Clusters, as well as a Distinguished Flying Cross and a later Oak Leaf Cluster to that award. After his tour of duty he was recommended to return to the United States to become an instructor in Flying Training Command. He married after the war and had five daughters. He was a respected Certified Public Accountant in private practice in El Campo, Texas for 35 years. After retirement, he and his wife moved to their ocean-view home in Mendocino, CA. He passed away in September 2000 in California.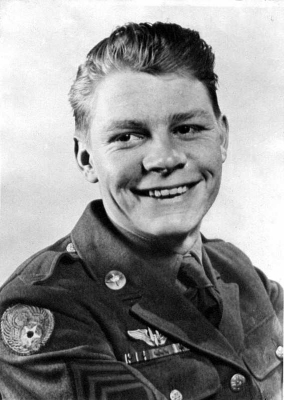 Guy L Tice was one member of the crew who made it back to Clonakilty after the war following the efforts of local researchers to track down the airmen. Guy, from Red Granite in Wisconsin, enlisted in the Army just under one year before the events in Clonakilty. He served out his tour of duty and safely returned to the United States. he visited Clonakilty in 1997 and was welcomed with open arms by the town. As late as 2008 he was active with the 306th Bomb Group Museum in Tucson, Arizona. He is always very eager to share his wartime experiences with people.

Guy passed away in 2015. His obituary can be found on findagrave.net, click on the link to view it. It was from here that the portrait of Guy was obtained.

And Guy's story can be heard in his own words in a Youtube video uploaded by his son.
William Whitcomb, from Eatonn Rapids, Michigan was born in 1915. He married on the 1st of March, 1943 in South Dakota just prior to his going overseas. He was based at Rapid City Army Air Base at the time and married a lady from his native Eaton Rapids. William was shot down on November 29th, 1943, whilst flying on B-17 42-6039. His pilot on this occasion was 1/Lt Leslie B Palmer. William Whitcomb appears to have passed away in 1966 and is buried in Eaton County, Michigan.
Carl H Cameron Jr is recorded as being from Morristown, Tennessee. He enlisted in early 1942. He was one of the unfortunate airmen who bailed out of Lt Thomas's damaged B-17 aircraft in July 1943. He spent the remainder of the war as a prisoner. His brother William F Cameron died in an October 1943 collision between two B-24 Liberators while training in the United States. Carl's name was published in a June 1945 list of liberated prisoners in the Kingsport Times newspaper. Carl was able to supply this below photo showing the crew, minus Arneson, posing in front of B-17F 42-5445. While this aircraft carries the obvious nose art of T'AINT A BIRD, this is not the aircraft which landed in Ireland. The aircraft pictured was written of in July 1943 when it was force landed on Moses Lake in Washington while under training with the 390th Bomb Group, thankfully with out loss of life.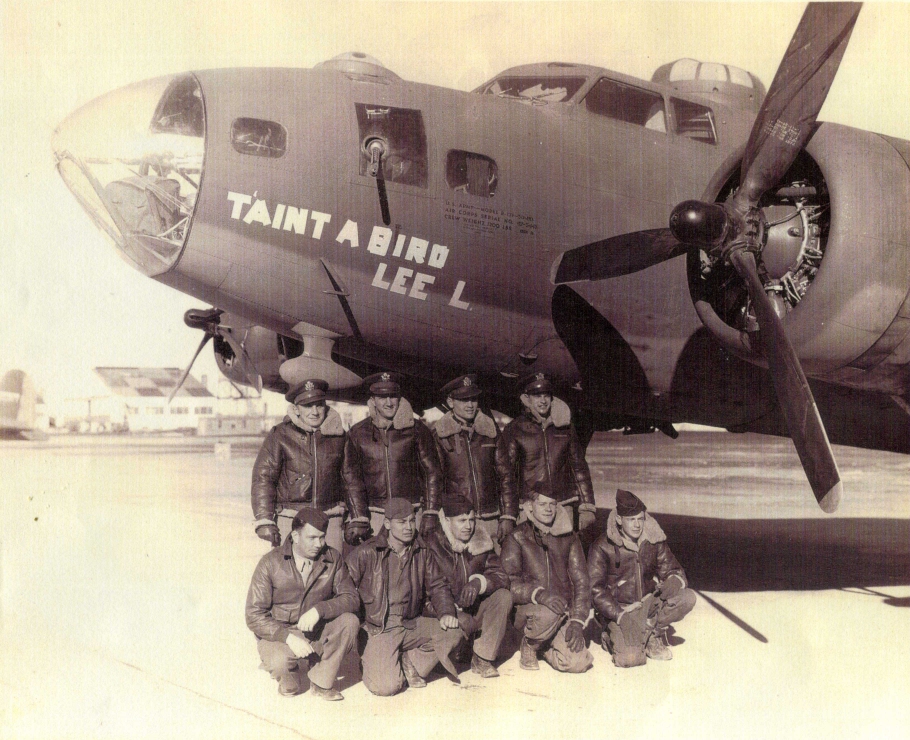 Zooming in on the crew members, Carl identified them as:
Back row from left; Prochaska, W K Thomas, Stapleton, Haynes
Front Row from left; Whitcomb, Thompson, Neely, Tice and Cameron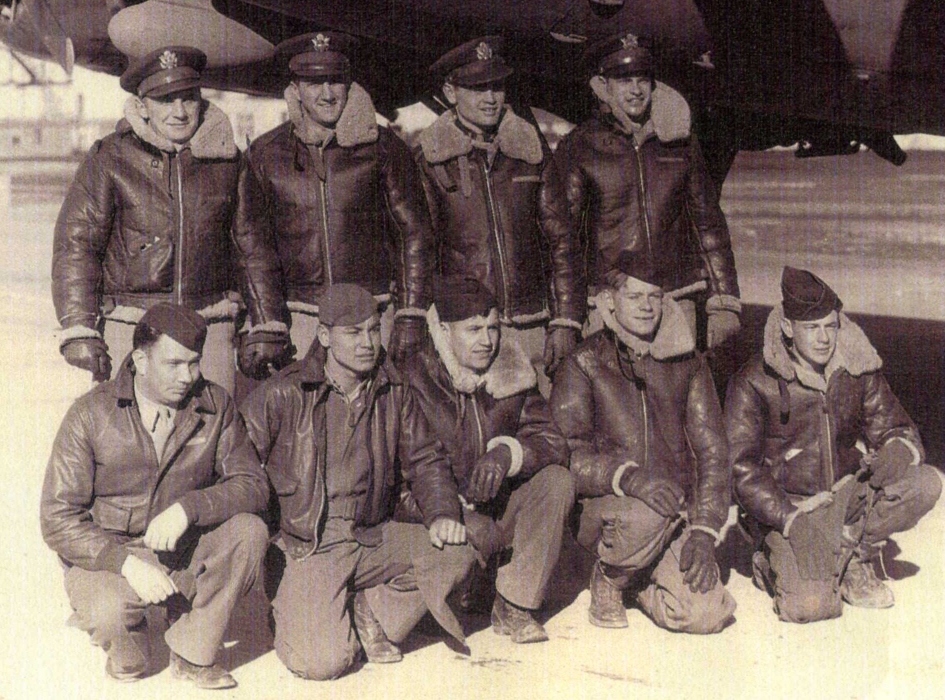 Carl explains that their crew was formed in late 1942 in Spokane, Washington. He recalled that he had great appreciation to the people of Clonakilty for the kindness shown to his crew.

Carl passed away on the 11 May 2018, the last surviving member of the crew.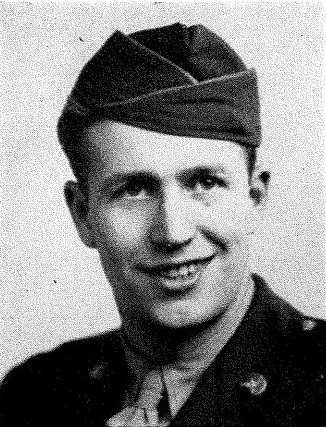 Rex J Neely joined Carl Cameron in bailing out of the damaged bomber on July 28th, 1943, also ending up a prisoner. Born in 1919, Rex passed away in February 1984 in Florida but is buried in Indiana, where he was born.

His photo appeared in the July 1943 edition of American Parade, published by the Indiana based foundry.

His name was mentioned in Indiana newspapers regularly during 1943.

Arlie G Arneson a Washington man, from Seattle, was a pre-war regular member of the Army Air Corps. His Veterans Affairs Department death records show that he enlisted in August 1939. Arlie became a prisoner of war on October 4th, 1943. His aircraft on that date was 42-30045 under Lt Crowder. They were forced down into the sea off Bayuex, France. All but one member of his crew were saved and became prisoners. Arlie passed away in Washington in 2004.
Floyd Logan Thompson the young Oklahoma man whose wartime exploits provided such riveting wartime reading passed away in 1980. Born in 1921, he was the son of Rosie and Auston Thompson. His grave stone in Del City, Oklahoma has carved B-17's on it and notation of his past as member of the Eighth Air Force and as a prisoner. Floyd fell prisoner to German guns on 21st July 1944. At this time he was flying with the 414th Bomb Squadron of the 97th Bomb Group. This unit was based in the Mediterranean area and Floyd may have volunteered for a second tour. Floyd's son Ronald E Thompson was killed in action as a US Marine in Vietnam in 1968.
The final man on board 42-3090 when she landed in Clonakilty was Marcel J St Louis. He was not a member of the 95th Bomb Group and was flying as a passenger only, having joined the crew in Africa. He was one of the veterans contacted in the 1980's by researchers. He came from Michigan, being born in 1917 in Canada. He was posted to the 306th Bomb Group on April 23rd and was wounded on May 1st, 1943 on a raid to St. Nazaire. He was flying as a gunner in the left waist position on that raid while the gunner in the right hand position was killed by flak. He was flying with that Groups 367th Squadron on the infamous raid on Schweinfurt on 14 Oct 1943 when his aircraft on which he was a gunner was shot down. He was repatriated home early perhaps due to injuries, arriving in New York in February 1945 aboard the SS Gripsholm with other former POW. Marcel passed away in 1995 in Doylestown, Pennslyvania. Previous writings about the crew of 42-3090 in Ireland have treated Sgt St Louis as some 'mystery' man, as if he were a secret agent or other. There appears to be nothing to base this upon what so ever, Sgt St Louis was simply being deployed to Europe like thousands of other airmen at the time.
The 1980's were a busy time for Irish local historians who began the task of trying to learn some of the truth behind the stories of crash landings all over Ireland. During the decade and beyond, much was written about the Flying Fortress in White Marsh. In July 1988, the then active, Warplane Research Group of Ireland (WRGI) erected a memorial plaque on the wall of O'Donovan's Hotel in the town where the airmen had been accommodated during their short stay.
In 2013, the town of Clonakilty again had the national and international media reporting on their unveiling of a specially commissioned statue to the the unfortunate monkey, Tojo. Whether he received a military funeral or not, he is now commemorated in metal in the town. The events were organised by locals including Tina Pisco a locally based author who wrote a novel loosely based on the events in the town. Hopefully people will stop to think a moment about who the eleven young men who briefly visited Clonakilty in 1943 before departing into a hellish few months of combat.
Compiled by Dennis Burke, 2013, Dublin and Sligo. Bob Reid, A Fortress in Cork, Aeroplane, July 1989; USAAF ATC Missing aircraft report April 1943; Patrick J Cummins, information provided. 95th Bomb Group website; 306th Bomb Group site.
Transcription of news article published in the Camden Times, Arkansas, Thursday, October 7th, 1943
MEMBERS OF FORT LEAP FROM PLANE
New York, Oct. 5 – UP – While on a routine bombing mission over Germany, an American Flying Fortress had her rudder-control cables, landing gear and interphone system shot away by Nazi fighter planes which had attacked the formation.
Inside the American plane, a shell had burst. The Fortress was tipping perilously. It has begun to slip and lose altitude. In the mid-section, the radio operator and two waist gunners thought the ship too badly damaged to stay aloft. They sought instructions over the interphone – discovered it had been shot away, then baled out.
At his isolated tail gunner's post, Staff Sgt, William A Whitcomb of Eaton Rapids, Mich., saw a man go past under a parachute. He thought he recognized him as the radio operator, but, as Whitcomb said later, "I didn't know what he'd be doing out there, so I didn't think any more about it."
The ball turret gunner, Staff Sgt. Floyd L. Thompson, a 21-year old Cherokee Indian from Durant, Okla., say all three men leave the plane. Also unable to get a call through to the skipper over the inter-phone, Thompson figured the fortress was being abandoned by the entire crew, but he took the precaution of crawling out of his turret to see if the pilot, co-pilot and tail-gunner were still aboard.
Re-assured by the presence of the six remaining members of the crew, the Indian tried unsuccessfully to tie together the severed ends of the controls cables. All he knew was that they were staying with the ship and the enemy was closing in.
Thompson crawled back to his turret to find a Focke-Wulf approaching at 800 yards. He fired short bursts at it, but the Nazi fighter kept boring in. At 200 yards the Cherokee's murderous fire caught the German. The enemy plane turned over, and plummeted downward in a trail of smoke.
Then a second Focke-Wulf attacked the tail of the Fortress below. This time, Thompson started firing from 1,000 yards. The German drew closer, then started pouring black smoke, and then fell into a spin. The Oklahoman saw the enemy pilot bail out.
A third Nazi fighter streaked under the tail of the American bomber, Sergeant Thompson shot it down.
Meanwhile, neither Lt. William K. Thomas of Long Island City, N.Y., the pilot, nor Co-Pilot Lt. James B. Stapleton of Chicago was aware that three of the crew had bailed out. They had been too busy XXXXXX the bombing run under the hail of 20-millimeter cannon-fire.
When Lieutenant Stapleton went to the radio room for some emergency bottles of oxygen, however, he found it empty. To give the ship fire-power protection in every sector, the navigator – Lt. Collis P. Haynes of Houstan, Tex., went to the waist and manned one of the guns until the Nazis were out distanced.
By now the oxygen shortage was acute. The pilot and co-pilot were suffering from lack of the vital element. At times they scarcely could read their instruments. To give them the most that was available neither the navigator nor the bombardier, Lt. Warne R. Fitzgerald of Kalamazoo, Mich., used his share of the emergency supply.
Nearing England, another menace developed. The gas supply was running dangerously low. There wasn't enough to reach the base. So Lieutenant Thomas decided to put the plane down on the first emergency field they could find.
Then he found the landing gear wouldn't operate, that it would have to be a belly landing.
As the to-turret gunner said later, "Lieutenant Thomas set her down with a shoe horn. It was the best crash-landing I've ever seen."
Said Thomas, who once was rescued from a life-raft after being shot down at sea, "Gee, I'm sorry those fellows jumped. Jerry probably has 'em now, and they were good guys."