North American Mitchell, FL214, Fourmilehouse, Roscommon
On the side of a road in Cloonconny townland County Roscommon, as you travel from Strokestown to Four Mile House, you can see the following memorial stone:

The inscription reads: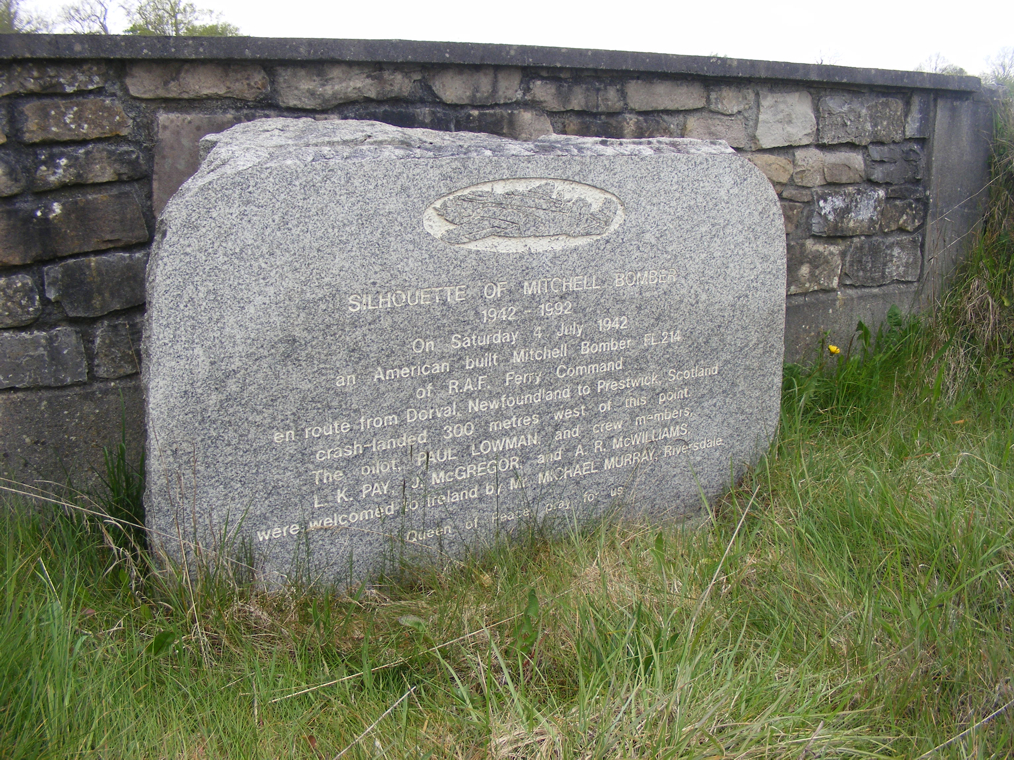 SILHOUETTE OF MITCHELL BOMBER
1942-1992
on Saturday 4 July 1942
an American built Bomber FL214
of R.A.F. Ferry Command
en route from Dorval, newfoundland to Prestwick, Scotland
crashlanded 300 metres west of this point.
The pilot PAUL LOWMAN and crew members
L.K. PAY, J McGREGOR and A. R. McWILLIAMS
were welcomed to the Ireland by Mr. MICHAEL MURRAY, Riversdale
Queen of Peace pray for us.
John Quinn from Antrim was able to determine the name of the pilot during his 1992 research and he includes a chapter on the crash, research and the ceremony in his book, Down in a Free State. At that time, the remaining crew members names were not fully confirmed.

The following photo of Mitchell FL214 was kindly provided by Roscommon County Museum. One can see the damage described in the Irish Army report.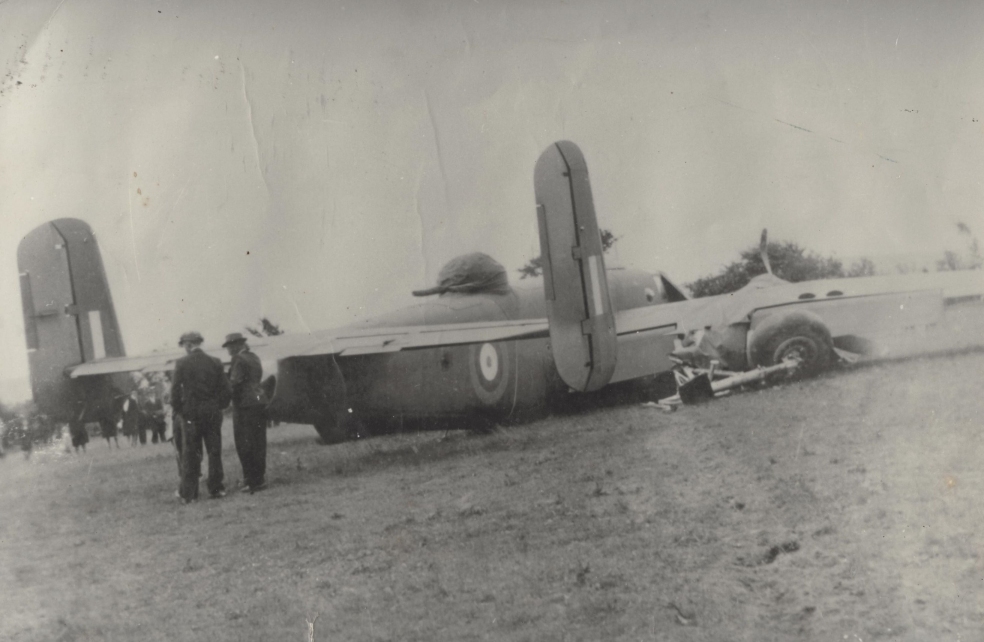 It was from correspondence with the Directorate of History and Heritage in Canada that the names of the men began to become clearer.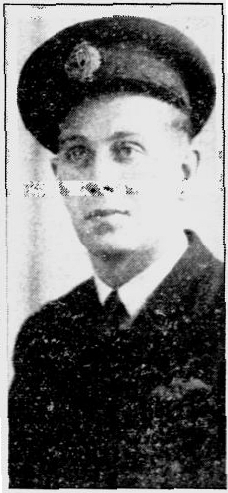 Paul Lowman was contacted in 1992 by the locals of Four Mile House and John Quinn. At that time Paul was able to reveal that his wartime career began with his traveling to England in the winter of 1940/1941 where he joined the ranks of the Air Transport Auxiliary, the ATA. This organisation was used to ferry aircraft around the United Kingdom from factories to RAF depots and airfields and spared trained RAF service pilots for front line duty. His name appears on the passenger list of the ship, HMT Leopoldville docking in Liverpool around the 11th of January 1941. The newspaper in the town he came from, the Warsaw Daily Union, eagerly reported on his activities overseas at this time.
Paul Lowman was well known in his local area before the war and indeed all over America. In 1938 his name appeared in publications all over the country following his teaching of a Lion to use a hydrofoil! It's best to let this extract from the magazine Popular Science explain!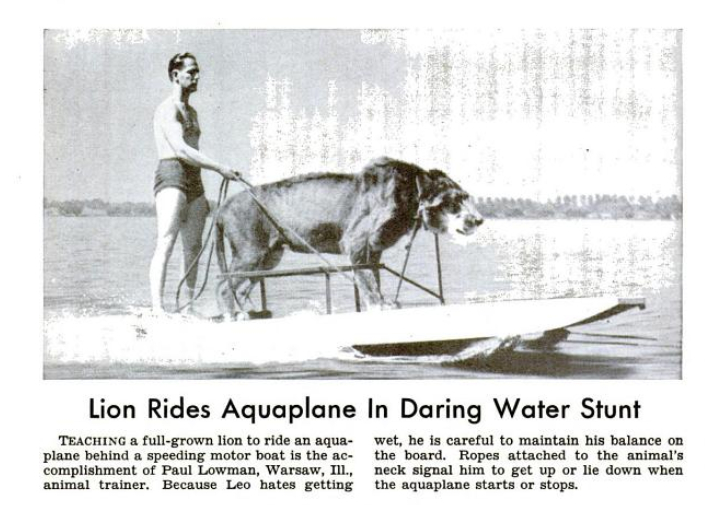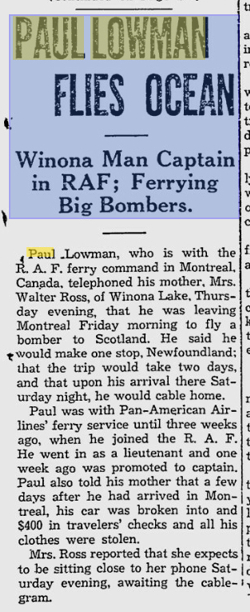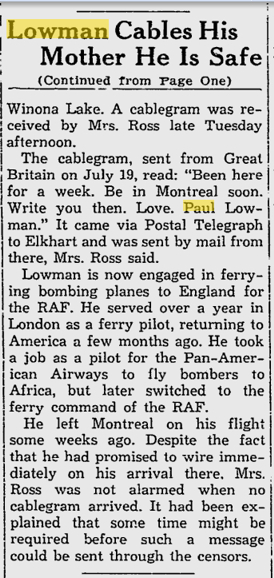 By July 1941, Paul was talking about returning to the US after his ATA contract was up in December 1941. One does wonder if he meant for his family too publish his letters in the paper. His letters home discuss his experiences serving over seas as a civilian contractor in a war situation. He wonders in the letters if he will serve a further term with the ATA. In the end he decided not too and returned to America taking a position with Pan American Airways but weeks later joined the RAF Ferry Command in Montreal, Canada. The ever reliable Warsaw Daily Union tracked his progress on his transatlantic endeavors with the article at left. This appeared in the July 3rd, 1942 edition of the paper! To his mothers undoubted relief, he cabled his mother on July 19th to tell her he had arrived safe. After this unfortunate start to ferrying, Paul went on to deliver aircraft to many varied places, much like his crew as described below. After the war, his local paper again faithfully reported his post war activities as a flying instructor. After that he joined National Airlines as a pilot. 1992 would of course see him back in Cloonconny unveiling the memorial stone with his family. Paul Lowman passed away in Florida on 9 December 2002.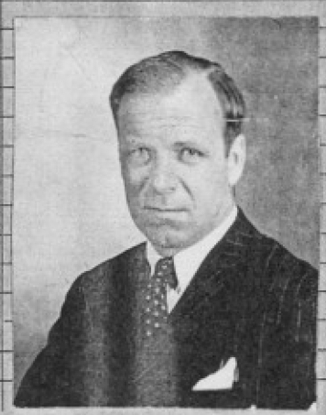 Leif Kaare Pay had a varied career prewar. He is mentioned in mid 1930's Singapore newspapers as being an aviator and had constructed an airstrip on his Ulu Bernam estate. In March 1939, he and a colleague took off from Kuala Lumpur en route to Copenhagen. This was reported in The Straits Times newspaper of Singapore. he was flying his own DH Hornet Moth aircraft and they planned to fly via Siam (Thailand), Burma, India, Turkey, Germany and thence to Denmark. Their arrival in Copenhagen was announced in the same newspaper on 14 May 1939. Mr Pay was no stranger to long distance flying. These articles can be found on the newspapers.nl.sg website. His Ferry Command/Transport Command record card shows his crewing up on at least 25 deliveries of Liberator, Mitchell, Catalina and a mix of other types. He was First Officer on these flights between 1942 and 1945. He delivered many of the Liberators to the Middle East and to the Far East. After his landing in Ireland, he was returned very quickly to Canada by the Return Ferry Service. This used Liberator bombers as transports to return selected ferry crews back across the Atlantic. He made two further flights that month, taking another B-25, FL696, from Houston to UK although the card is a little unclear. It is not known what became of L K Pay after the war but some evidence shows that he returned to Denmark and may have continued flying. Danish aviation historian, Mikkel Plannthin has a page about Mr. Pay on his website commemorating Danish aviation during the Second World War.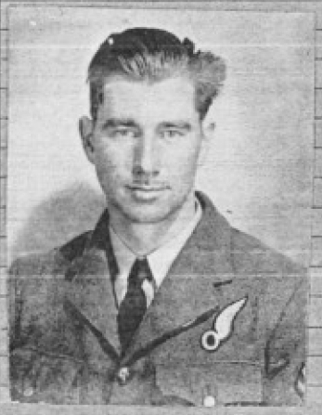 Flight Sergeant Roderick James MacGregor R105529 was born in 1916 in Barrhead, Alberta. He was married during his time with Ferry Command, Transport Command. The flight with Mitchell FL214 appears to have been his first trans-atlantic flight and he was back in North America on July 27th, sailing into New York. His subsequent wartime career would see him deliver a good number of aircraft to South Africa and the Middle East, with one flight to India for good measure.

Roderick trained at 2 Air Navigation School during 1941 and 1942. He was later commissioned in May 1943 as an officer in the RCAF, gaining the new service number CAN/J35953 and in 1946 was transferred to the reserve of the Air Force. Information from Canadian historian Hugh Haliday indicates that in July 1944 he was posted to the United Kingdom and as such may have served with an active service unit from there, perhaps as navigator on bombers, patrol aircraft or transports.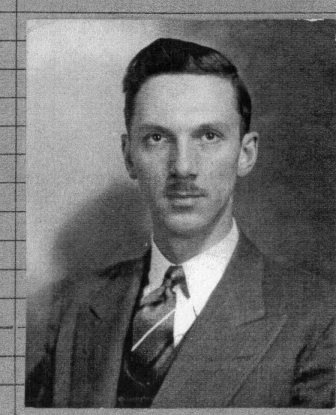 Arthur Reginald MacWilliams was 25 at the time of the landing in Roscommon. He passed away in February 1973 in Halifax, Nova Scotia aged 56. He came originally from Prince Edward Island, one of the provinces of Canada. Arthur was a civilian contractor with the ferry operation. It was possible to trace Arthur using shipping records during the war, on at least two occasions he arrived in New York from Gourock in Scotland. He was a radio operator and some of these operators had been members of the telegraph service before the war, volunteering to act as the vital radio operator on the dangerous transatlantic ferry routes.

Only days after his landing in Roscommon and after returning to Canada as a passenger in the belly of Liberator AM262 of the Return Ferry Service, Arthur was crewing on a Ventura bomber being flown near Lachine, Montreal on 14 July 1942 when it crashed. Luckily, all four crew members survived albeit with varying degrees of burns. Arthur was back flying again in the following month. This was the same aircraft on which Sgt Karl Dzinkoski RCAF was burned, Karl having ended up making a similar landing in Donegal in June 1942.

The Roscommon county museum was kind enough to share the following photos and artifacts from their collection: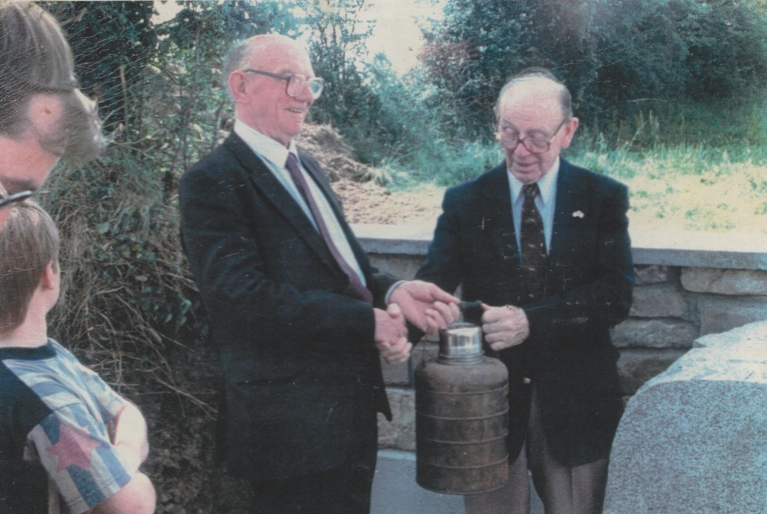 1. Photograph of Michael Murray, left, and pilot Paul Lowman at the 1992 commemoration with the Stanley Thermal Jug from FL214.
2. Photograph of Paul Lowman and researcher John Quinn at the 1992 Commemoration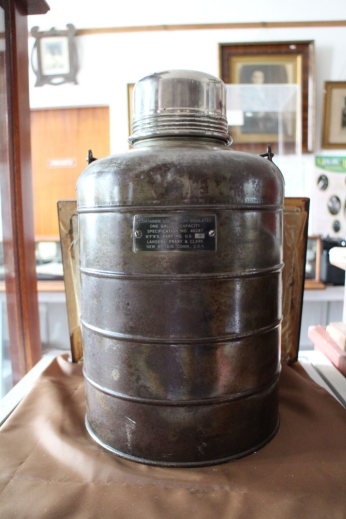 3. Photograph of a "Stanley Thermal Jug" flask from the Mitchell Bomber which is on display in the museum. This was a item delivered on long range aircraft as a means of providing hot beverages for crews. The jug was a 1 gallon capacity and was manufactured by Landers, Frary & Clark, of New Britain, Connecticut.

The photo of Pay, MacGregor and MacWilliams were sourced from the DHH, Canada