Landings of Foreign aircraft at Gormanstown airfield, 1939-1945, County Meath

The aerodrome at Gormanstown was the location of seven unannounced arrivals by aircraft of the belligerent nations during the Second World War. All bar one of the aircraft was able to leave under its own power. Just one of those aircraft was German.
The first such landing took place on the afternoon of December 21st, 1941 when a Vickers Wellington bomber, being flown by a solo pilot, landed. An aircraft had been reported flying off the east coast by the Irish Coast Watching Service over the preceding half hour or so. The landing was at 16:39. The pilot reported that he was ferrying the aircraft from Hawarden in Cheshire to Aldergrove in Northern Ireland. He had become lost and had landed already at Ballyhalbert in Northern Ireland but had gotten lost again. He was accommodated overnight having been interviewed at Portobello Barracks in Dublin. During this time his circumstances were taken note of, that he wore a uniform with shoulder straps carrying the letters USA while his cap bore the letters ATA. The man gave his name as Leslie Lee Garlow and it was soon determined that he was actually a civilian pilot. It was for this reason that the Irish Government allowed him to depart without being interned. The aircraft was refueled and took off at 13:05 next day. An Irish officer, Lt. D. K. Johnston, was sent to Aldergrove with him to assist in navigation.
Major General P A Mulcahy, Officer Commanding the Irish Air Corps, in a report dated the 22nd December 1941, identified the aircraft as being a Wellington type bomber carrying the number "Z.145" on the fuselage.
The pilot of the aircraft was indeed a civilian pilot, a member of the ATA, the Air Transport Auxiliary, a body of civilian pilots recruited by the British Air Ministry and used for the ferrying of aircraft from the factories to front line stations. The men and women regularly flew alone and without the benefit of navigation aids and radios.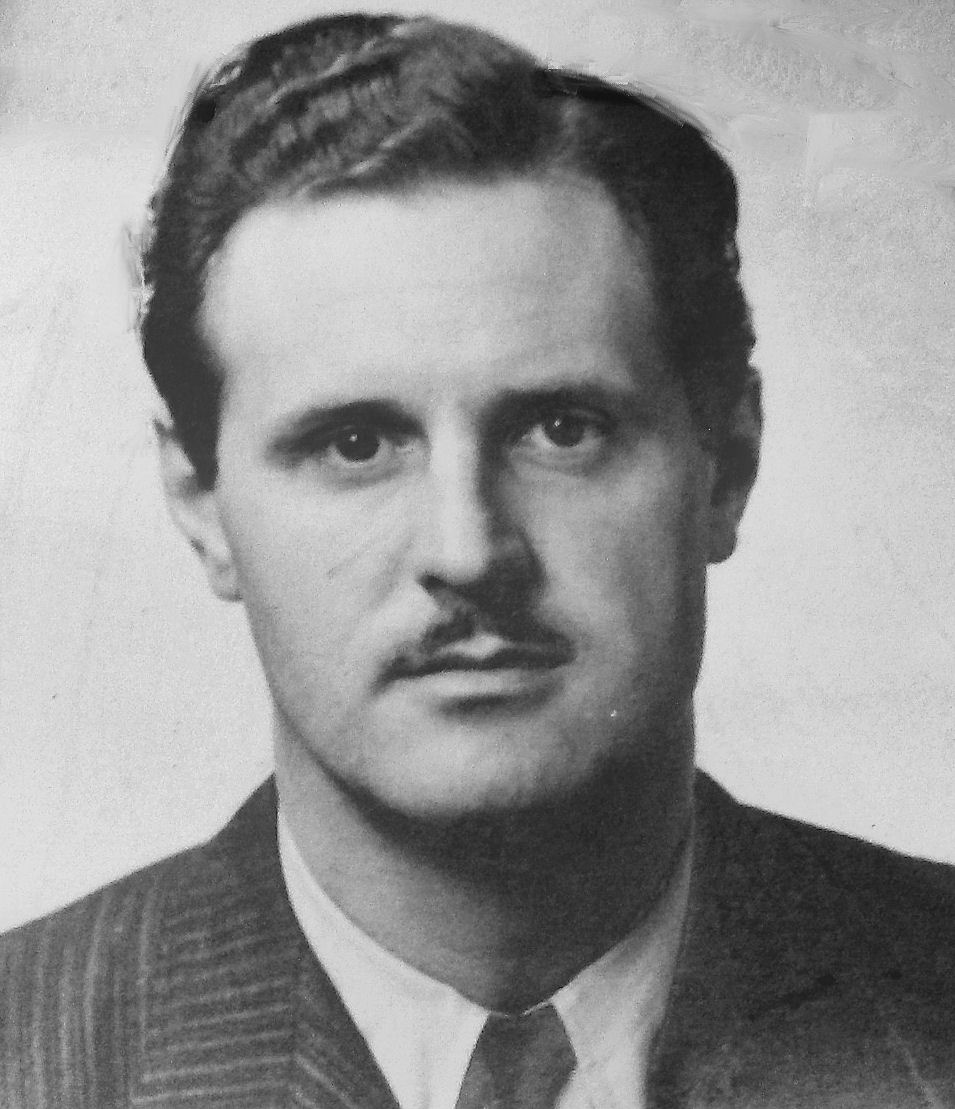 Lee Leslie Garlow was a 33 year old man from Grand Rapids, Michigan, the adopted son of Martha and Leonard Lee Garlow. His ATA service file is held in the RAF museum and was kindly shared by Terry Mace from the ATA Memorial Website

Stuart Updike's diary is in the Maidenhead Heritage Center. He was, like Lee, an ATA pilot. In it he mentions Garlow as he had sailed from Canada with him.
Updike's diary starts in Canada, where recruits were given flight tests, and the entry for 30 May 1941 states "Should have gone to England today, bad weather, probably tomorrow. Have met a bunch of boys going with me (approx.18 from States)."
They arrived in Scotland, took a night sleeper to London on 8 June, then went to White Waltham for induction and training.
Updike's diary entry for December 27th reads "3 more boys killed - Lee Garlow, Texan"
Similarly, the book "We flew without guns" by mentions Garlow, as described by an ATA colleague, Joseph Gen Genovese: Lee Garlow had been a lot like Fulton when I first knew him; completely carefree , liking the danger of his job, and in every minute of his spare time looking for a gang to drink with or a girl to kiss. He had brought the playboy spirit with him from the States, where he had been a rich man's son, a sportsman flier, and even at one time a Hollywood actor. He was a handsome boy, six feet tall, broad-shouldered and straight, with curly black hair, a trim mustache and the manner of Ronald Colman at his best. But Lee had changed after flying with the ATA for a few months. He was more serious and he seemed to take a sincere pride in the work he was doing. He told me once that flying for England was the first real job he had ever had and the first honest responsibility he had ever felt.
The above mention of him being an actor is borne out by some newspaper articles and gossip column's of the prewar period and one from the summer of 1942. So far, only a minimum of newspaper articles have been found relating to Lee Garlow and the only movie role attributed to him so far identified is that of an extra in the 1938 musical, "Start Cheering". His family is traced through the 1910, 1920 and 1930 US census records. In 1910 and 1920 he is enumerated as Leonard Garlow Jr, adopted son. He is not found living at home in the 1930 census, he is at that time living in Kalamazoo, Michigan, working as a buyer in a shoe store. The 1928 year book for the South High School, Grand Rapids contains a photo of the football team, one member of which is a Leonard Garlow. The 1940 census of the United States finally finds a Leonard L Garlow, aged 31, from Michigan, resident in the Tuscany Hotel, New York. He lists no occupation. As is known from the Stuart Updike diary, Garlow sailed from Canada with other ATA candidates in 1941.
Garlow's ATA service file held in the RAF museum in Hendon records his British Overseas Airways Corporation (BOAC) contract being signed on the 8th August 1941, with Lee resident at the Hotel Pierre, New York. In that file it is highlighted that he had been a pilot since 1930, described as having a XXXX license. He recorded that he owned a Spartan Executive aircraft type.
Gen Genovese, in his book, tells a story that Lee had instigated arrangments for a group of the ATA pilots to make a visit to Dublin for New Years celebrations. His book was first published in 1945. In it he wrote: "During his few months over there he became one of the best ferry pilots we had. "For almost two months I've been living like a Boy Scout, Gen," Lee said that day at White Waltham, "and I'm planning to keep it up. But I'm going to cut loose once —just once— and that'll be New Year's Eve. Ninteen hundred and forty-two is going to mean a lot to me. It will be my first year as-well, as a man. Up till a couple of months ago I was never anything but a kid. Pockets lined with easy dough, a belly full of booze half the time— and I thought I was living— high, wide and handsome. Hell! I didn't know what it was all about. ." I didn't feel philosophical, and I laughed. "Well," I said, "it's nice to know you've found the answer. But getting back to New Year's Eve— if you're figuring on celebrating in Carlisle I think you'll be disappointed. Why don't you try to get to London? You know all the spots there—" "I know them all and I'm sick of them," Lee said."
"What I had in mind was that I'd be stationed at Kirk-bride through the holidays and it would be easy to get to Dublin from there. I'd like to see Dublin and the way the turkeys hail the New Year . . ." That was how it started— with Lee Garlow wanting to put a highlight on the new life he was living, wanting to put on a show for 1942, the year that was going to be a really big and meaningful one for him."
As mentioned above in the Updike diary, Garlow's luck in landing in Ireland on the 21st ran out just five days later when he was flying Lockheed Hudson AE489. The aircraft crashed on Glenouther Moor, a short distance from Stewarton in East Ayrshire, on the East Coast of Scotland. The aircraft flew into the ground killing Lee Garlow and co-pilot David Aaron Marks from Middlesex. Some parts from the aircraft were recovered and today are on display in the Dumfries and Galloways Aviation Museum. http://www.dumfriesaviationmuseum.com/
Lee's remain were buried first at the Monkton and Prestwick Cemetery in the immediate aftermath of the crash. His remains were removed from there to the Cambridge American Cemetery probably in 1947.

His death was reported in American newspapers in December 1941 and January 1942, in the Fort Worth Star-Telegram, Tucson Citizen and the Arizona Daily Star.

They included:
"One of the most excellent and daring pilots ever to put a plane's nose in the air," was the description Fort Worth friends gave Monday of Lee Garlow, pursuit pilot with the Eagle Squadron of Americans fighting with the Royal Air Force, who was killed in combat Friday.
Grief-stricken over the death of the 33-year-old pilot, who became one of the most popular men in the city during his year's residence here, they recalled how his deft handling of a plane had driven a heavily-armed ex-convict out of a cornfield near Aledo last July into the custody of waiting officers.
The ex-convict, wanted on several counts, including a murder charge had taken refuge in the field when frightened from a farm house and was holding officers at bay until Garlow arrived.
The pilot, a close friend and daily companion of John Henry Dean Jr., Aledo rancher, took Dean's plane into the air, spotted the fugitive and began a series of power dives directly at him where he half crouched in the field.
When he started knocking corn stalks down around my ears, I figured it was time to get out of there," the badly scared ex-convict told officers after he had dashed from the field, arms over his head.
The exploit was a fitting demonstration of Garlow's skill as a pilot, Dean said Monday.
"We always said he was just about half-airplane," the rancher declared. "The CAA inspector here told me Lee was as good a pilot as he ever checked out. He wasn't afraid of anything and he was
very popular — everybody liked him."
Garlow and Dean flew together almost daily after the pilot came here in October, 1940, until he left last August to ferry bombers to England and later to join the Eagle Squadron. Garlow, who formerly lived in New York and Los Angeles, made his home here at the Worth Hotel, where an aunt, Mrs. Spencer Kennedy, resided until about a month ago. He was just learning to fly when he came here.
Dean said, The cablegram of his death, received Sunday by Dr. Jack Furman, a friend, did not give details.

The above exploit with the convict was indeed reported by the Fort Worth Star-Telegram as having taken place on 25 July 1941.

In January 1942, the the following was published in the Tucson Citizen.

ANOTHER STUDENT VICTIM OF BATTLE
Another former student was added to the list of the university war dead today with news of the death of Lee Garlow, son of Leonard L. Garlow, Grand Rapids. Mich., who was reported killed while a member of the R. A. F. in England. December 26.
Garlow, who was 33 years old, attended the university during the 1934-35 session and was a member of Sigma Chi social fraternity.
Until several months ago, he had been ferrying bombers across the Atlantic but remained in England at the completion of his 12th trip. He is understood to have told friends that he "didn't want to
make the 13th trip." He joined the R. A. F. at that time.
Garlow was buried with full military honors at Prestwjck. Scotland, on New Year's Eve, according to information received by friends here.

Later in June and July 1942, a similar but shorter story was covered by many more American newspaper, reading: Hollywood hopes the reports aren't true that Lee Garlow, cowboy actor who used to go with Laurie Lane and who joined the R.A.F., was shot down by the Nazis on Christmas day. Before that, he was supposed to have bagged 18 enemy planes.
In the aftermath of his death a strange cycle of claims were made by those claiming to be his next of kin. He had designated one Mrs Spencer Kennelly from Los Angeles as his next of kin and referred to her as his Aunt. Attorney's acting on the behalf of his adoptive mother, Martha Garlow were soon also in contact with the American Authorities with regard to his estate. In these correspondences he is referred to as Leonard Lee Garlow. It was revealed in February 1942 by Mrs Kennelly that she was not a living relative but that Lee had lived with her and her late husband in California during his time living there before the war and that they came to see him as 'her son' as they had never had children of their own. The impression is given that she also thought he had no other family and had provided documents to show that the Garlow's had never adopted Lee. It was further complicated later in 1942 when the attorneys from Grand Rapids were also representing Lee's birth mother, Elizabeth Squires, Nee Baker. The situation was finally settled in early 1946 in a case that has since become case law, GARLOW'S ESTATE v. SQUIRES, that due to the Garlow's having never officially adopted Lee in a legal sense, the now widowed Martha was not entitled to Lee's estate. In the event, the three ladies, Kennelly, Squires and Martha Garlow received and had the estate distributed among them.
And so the mysterious solo pilot of the Wellington bomber lies at rest among his country men.
The aircraft he was flying, recorded by the Irish Army as Z.145, was for many years misidentified as Z1145. That aircraft however spent the month of December 1941 flying bombing missions with 57 Squadron. The correct identification came from a chance encounter on social media with the daughter of Desmond E Johnston, the Irish Air Corps pilot that flew with Lee to Aldergrove. She was able to find her fathers log book for the day, and there in he listed his flight on Wellington Z1405 with 1st Officer Garlow. The remarks of the flight entry read as: Returning a/c to British authorities in N Ireland after forced landing at Gormanstown Camp.

This aircraft was one of batch of Wellington IV aircraft delivered that week to the RAF's 23 Maintenance Unit based at Aldergrove. Later on in the summer of 1942, Z1405 was issued to 301 Polish Squadron. It was lost on the night of 21st/22nd July 1942 on a raid on Duisberg, Germany.

Supermarine Seafire

It would be the 12th March 1944 before the next foreign aircraft is recorded arriving at the field. This came in the guise of a Royal Navy Fleet Air Arm Seafire, the aircraft carrier based version of the famous Spitfire. The aircraft as flown by a Sub-Lt A J Thomson and he reported to the Irish military officers that he had been engaged on a search mission for a missing American aircraft. The aircraft was topped up with Aviation spirit and allowed to depart that same day. The pilot, Andrew John Thomson was a decorated Fleet Air Arm pilot who would go on to serve in the Korean war.

He may have been among the first group of FAA trainees to train at 31 Special Flying Training School in December 1940. Local Canadian papers describe there being an "A. J. Thomson, Hertfordshire".

The UK Navy Lists show that Thomson was posted with 800 Squadron in early 1942. Thomson is mentioned a number of times by Cmdr. R Crossley in his book "They gave me a Seafire". They served together in 800 Squadron in 1942 when the unit re-equiped with Sea Hurricanes. He is referred to as having the nick name Greyhound in the book. It was with this unit and on the carrier HMS Biter that Andrew Thomson seen action on the opening morning of Operation Torch over Oran in French Morrocco. He was credited with the shooting down of one French Dewoitine D520 that day.

The aircraft carried the serial number LR841 and had an unremarkable service career it seems. It was serving with 887 Squadron at the time of the landing at Gormanstown and later in 1945 was moved to second line training squadrons, 761 and 768. It was with 768 Squadron on 13 Jun 1945 that LR841 was lost when it went over the side of a carrier and was lost, happily the pilot was recovered safely.

887 Squadron at that time was flying from RAF Ballyhalbert but moved to RAF Eglington during the month. The squadron would move to Southern England the following month and flying combat missions escorting RAF fighter bombers over France.

He was posted to 887 Squadron in January 1944. He would take command of 887 Squadron in September 1944 while at sea on HMS Indefatigable on a mission off the Norwegian coast. He remained its commander until May 1945 and lead them through their deployment to the pacific theatre.

His wartime medals and photos were sold at auction in Sydney Australia in 2007. The catalogue for the sale recorded it as:

L.G: 10Nov1942 pp.4880 Temp Sub-Lt. 'As Senior Pilot in 887 Squadron this officer has taken part in three fighter sorties during recent operations, and has assisted in the destruction of several enemy aircraft on the ground, together with hangars at Banak and a radar station at Ytteroerne. He has displayed great courage and determination in his attacks, providing an excellent example for younger pilots and supporting his Squadron Commander with skill'. Awarded the DSC whilst serving on H.M.S. Indefatigable for work during Malta convoys, 1942. M.I.D. L.G.: 16Jan1945 pp.418 Temp Lt. 'For action against the 'Tirpitz' in the last week of August 1944'

Lockheed Lightning

A few weeks later on the 5th May 1944 an American Lockheed P-38 Lightning was deliberately force landed on the runway at Gormanstown after getting into difficulties. Various observations of over flying aircraft were made by Coast Watching Service Look Out Posts, Military and Garda during the day. The daily logs of sightings includes one entry from Counties Monaghan & Meath, Cavan, Dublin and Louth: GDA. INNISKEEN, VIRGINIA, KELLS, obsd. 2 American a/c mov. S. overland subsequently Mil. BRACKENSTOWN. CARDYS ROCKS obsd. these a/c. mov. N.E. overland. These a/c. were obsd. circling over GORMANSTOWN CAMP by MIL. who reported one as mov. N.


This aircraft made a belly landing, flying from Maghaberry, NI at 18:30 hours. It was as seen accompanied by another aircraft which flew on when this aircraft crashlanded. The pilot was evacuated over border next day. The damaged aircraft was salvaged and sent over the border on 10 May 1944.
The USAAF file contains very little information other than a copy of a telegram dated May 6th 1944 sent by the American Military Attache in Dublin to the War Department stating simply:
At 1830 GMT May 5 P-38 no. 42-66638 force-landed out of gasoline Gormanstown County Meath without injury to pilot 1st Lt Russell E. Hodge O-684867.
Plane badly damaged pilot evacuated this date.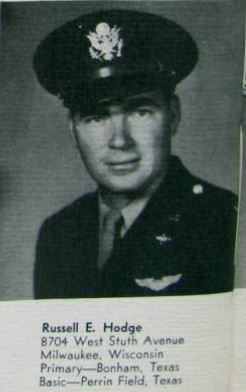 Russell Hodge was a veteran B-17 bomber co-pilot who had completed his tour of duty with the 388th Bomb Group. His Grand son was kind enough to provide a copy of Russel's May 1944 indivdual flight record. This shows that he had transferred from the 560th Bomb Squadron in Mach 18944 to the 312th Ferrying Squadron of the 27th Air Transport Group.

Born in Neilsville, Wisconsin in Nov 1917, he was the son of Alex and Florence Hodge. He studied at the University of Wisconsin and was mentioned by them during the war in their lists of serving alumni. and passed away in 1991.

Compiled by Dennis Burke, 2021, Dublin and Sligo.