Vickers Wellington HF450, Galway Bay
The crew of Wellington 'E' of 172 Squadron, based at Limavady airfield, Northern Ireland, took off on an anti-submarine patrol over the north Atlantic on the evening of October 4th, 1944. Over nine hours later they had to abandon their aircraft over Galway Bay and one member of the crew would not return to base.
Irish authorities became aware during that morning of the 5th October that a group of RAF airmen had appeared in the Salthill area. Upon meeting with them and discovering that one member of the crew, Stanley Gaudin, was missing a search was arranged. A Garda Sergeant, Michael Cassidy made the sad discovery of the airman's body on the beach at Knock. With aid of seven men he was brought to James Flaherty's pub nearby. Knock lies out along the north coast of Galway bay, near the town of Inverin.
The airmen, some with injuries, were taken to St Enda's hospital in Galway city. In the days following the bailout, a service was held in Galway City by Cannon Nash
The crew of HF450 on that fateful night consisted of:
S/Ldr Geoffrey Charles ALINGTON 40974 [Pilot, Captain]
F/O Stanley David GAUDIN + J/37642 [Second Pilot]
P/O Edward George TEED 176142 [Navigator]
F/Sgt Raymond ELDERKIN 1332910 [Wireless Operator Air]
W/O Thomas Francis O'NEILL 421002 [Wireless Operator Air]
F/Sgt William Wood Mitchell OUCHTERLONIE 1368136 [Wireless Operator Air]
This crew consisted of two English men, Teed and Elderkin, a Scot, Sgt Oucterlonie, with one Australian, O'Neill, a New Zealander, Alington and the tragic Canadian, Stanley Gaudin.

Alington was posted into 612 Squadron in 3 May 1943 from 3 (P) AFU. His first mission was as second pilot on 18 May 1943 with Both Alington and Ouchterlonie are found listed in the 612 Squadron ORB as early as June 1943. The first time they appear to fly together is in January 1944, on two patrols. The summary of 6th February 1944 records Allington's posting to 172 Squadron with his crew, and 612 Squadrons sadness as his departure.
5th April 1944 was S/LDR Allington's first mission with 172 Sqn, where he flew with Ouchterlonie only to have engine trouble and had to land at Davidstowe Moor. At this time, O'Neill, Teed and Elderkin were already on posting to 172 Sqn.

August 1944 seen Allington flying with O'Neill and Elderkin only on the 7th, other airmen made up the balance of the crew. By the 15th, 20th and 26th, Teed and Ouchterlonie are listed, with P/O N Eskdale as second pilot.
They had flown in 172 Squadron together as a crew of six on the 11th, 19th and 26th of September 1944, all three missions being reported "uneventful".

The Operations Record Book (ORB), Form 540, for 172 Squadron records the mission summary as follows:
04.10.1978: 17:10: S/L G C Allington and crew took off on operations. Captain ordered by Control to circle a contact which had disappeared and home an escort group to it. Aircraft stayed out longer that usual. Aircraft made unknown landfall and subsequent attempts to establish position failed. Just before calculated limit of endurance, five members of crew baled out successfully, landing near Galway, Eire. The body of F/O Gaudin, 2nd pilot was subsequently found in the sea. Aircraft crashed in sea at 04:10 five miles from the coast west of Galway.

The ORB, Form 541, in addition adds that the mission was to fly an "A/S patrol", an anti submarine patrol, in Area 63. Additional summary includes:
No enemy action. Exceptionally poor weather. No navigational or W/T aids available.
In the efforts to find out more about this crew, it has been possible to contact the families of three of the crew members. In the course of this research, the names of the crew were recorded in the first instance by the Irish Army in their reports. The next source was the RAF Form 765 crash report found in the service records of Stanley Gaudin. The full names of the crew were then confirmed within the UK National Archives file series, AIR 78.
Ballina, County Mayo born man James Naughton, emailed in 2011, to relate a story told to him by an old friend as follows:
The man who told me about it was the late Tommie Cooke, who used to run the old Moy Hotel in Ballina (now the Ballina Library). He was an officer in the Irish Army during ww2, and was Duty Officer in Renmore Barracks the night of the crash. He told me he got a phone call from the telephone kiosk outside the Warwick Hotel in Lower Salthill from the Wellington pilot (S/Ldr G. Allington, a New Zealander, if I remember correctly). The then Captain Cooke advised him he would send a truck to Salthill to pick him and his crew up, bring them back to Renmore, give them a hot meal and a bed, and that they would be back across the N. Ireland border within 36 hours (which apparently was the arrangement for downed allied fliers). Allington told him he first needed the use of a motor launch to confirm that the plane had sunk below water, since it contained a lot of top-secret electronics, which had to be kept out of enemy hands! Captain Cooke provided the boat, the plane was established to have been completely below water, and whatever crew could be found were brought to Renmore Barracks.

The aircraft was a Wellington XIV from 172 Squadron based at Limavady in Northern Ireland. This unit, an experienced Coastal Command Squadron, had only moved to Limavady at the start of September 1944.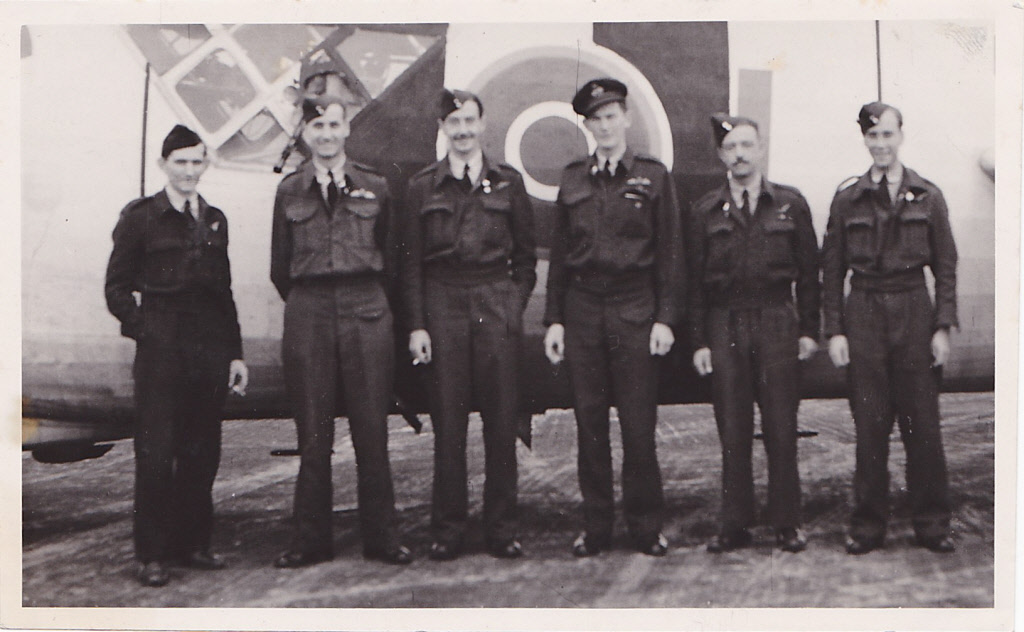 These two photos were provided by Julia, daughter of Edward Teed, the aircraft's navigator. The photos show the normal crew consisting of, Allington, Teed, Elderkin, O'Neill and Oucterlonie along with the normal second pilot, Bruce Lott. In the above photo, the crew is, from the left: O'Neill, Bruce Lott, Teed, Alington, Oucterlonie and Elderkin. In the image below, they are, at rear, from the left, Bruce Lott, Alington, Teed with the three WOP/Air's kneeling from left, O'Neill, Oucterlonie and Elderkin. Stanley Gaudin is not in these photos. The mission prior to the one discussed on this page was flown on October 1st with the same crew as the crash but with the exception E G Teed, the navigator on that flight being an Australian, F/O R A Elyard 421318. Bruce Lott was a Canadian officer, Bruce V Lott J28646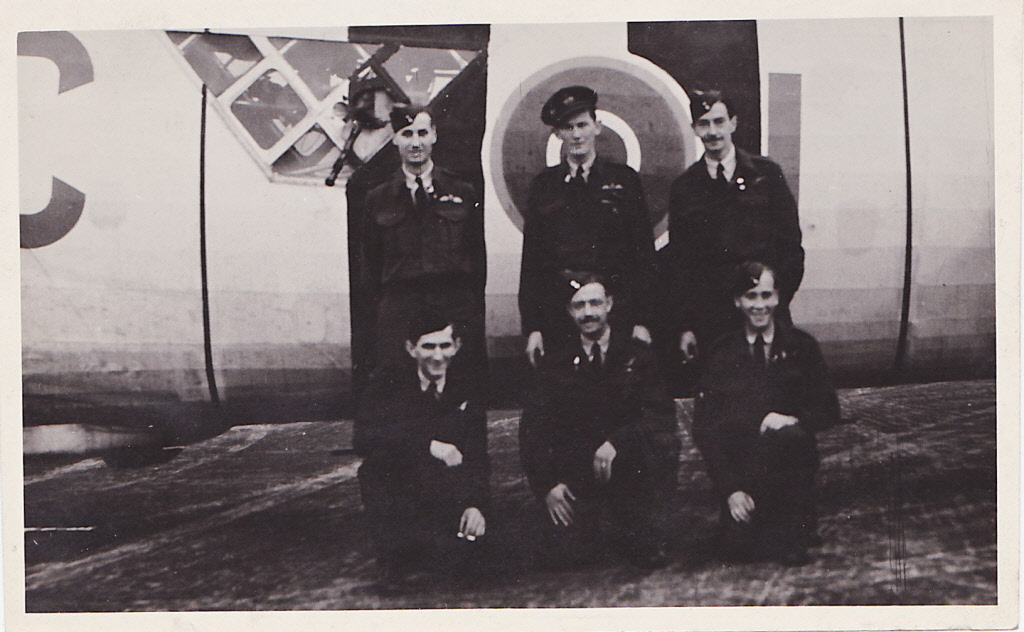 The Pilot of the aircraft was a highly experienced member of the RAF, having joined the service before the start of the war.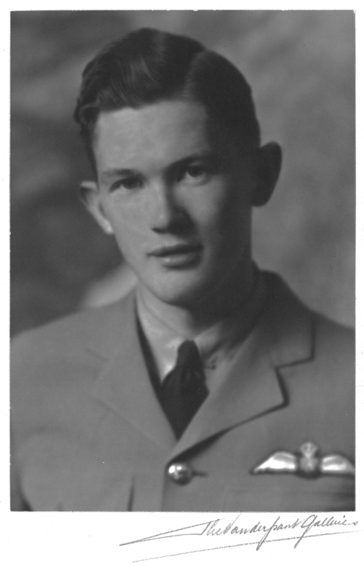 Geoffrey Charles Alington was New Zealand born and had travelled to England before the war to join the Royal Air Force. He survived a 1940 incident where his Anson patrol aircraft had to be ditched in the English Channel. His daughter was very kind in sharing information about him and his memories of the tragic incident over Galway Bay. Geoffrey always thought of the young Canadian airman who was lost that night.
His daughter was kind enough to transcribe his log book for this article, it reads under the remarks column:
A/U Patrol. "63" to position 60°N - 20°W.
Weather unfit for operation. M.T.B. on weather — disappearing contact in posn. 58°N. 18°W. Group instructed return for homing. Returned but no homing.
S/C Base 0021
D.R. posn unsafe; returned asking for D/F.
L.R.C.R not available
2M/F D/F. Groups " "
H./F. D./F " "
Decided to bale out.
Left A/C over Galway,
CO. Galway.
Casualty. Flying Officer S.D. Gaudin R.C.A.F (missing).
In his later years, Geoffrey dictated to one of his daughters details of his service career and among this was a chapter on the sad events of 5th October, 1944. This is a five page document so I have elected to present it in PDF format at this link, rather than transcribe it into HTML format. If you click on the link below you can read the file.

Geoffrey moved to Canada after the war and died there in 2010. His name had been published in the London Gazette of the 2nd June, 1944, having been awarded a Mention in Despatches. His obituary was published in the Penticton Herald on April 8th, 2010:
ALINGTON, Geoffrey
Thursday, April 8, 2010
ALINGTON, Geoffrey Charles November 24th, 1918 - April 4th, 2010 With great sadness we announce the passing of Geoff on Easter Sunday, April 4th, 2010. He was predeceased by his wife, Audrey; daughter, Diane; and infant son, Michael. Left to mourn are his daughters Alaine (Keith), Lynn (Jim), and Roberta (Tony). He also leaves behind his grandchildren Christopher, Katherine, and Adrienne. Geoff was born and raised in New Zealand, where he joined the Civil Reserve and learned to fly. In 1938 at 19, he was accepted into the Royal Air Force and joined the Coastal Command in England, as a bomber pilot. A year later he was sent to Canada to train new recruits at the Commonwealth Air Training Program. While in Canada, he met Audrey Robertson, whom he married in 1941. Eighteen months later they moved to England and by 1944 Geoffrey was promoted to Wing Commander. In 1947 they left England for Canada, settling in the Penticton area, where Geoff worked as an orchardist. Though he loved the South Okanagan, his passion was flying, so after 27 years, Geoff and Audrey moved to Vernon. There, he bought a flying school and taught an entire generation to fly. Geoff was a physical man, enjoying swimming and downhill skiing, which he learned at 60. In 1999 after Audrey's death, he volunteered at Hospice, where he learned to cook, delighting clients and friends with his creations. Always a spiritual man, Geoff embraced the parish of All Saints' Anglican Church and Choir. He was also an active member of the Vernon Community Choir. Geoff sang, skied, flew, and swam with the people of the Vernon community where he'd made his home for the past 36 years. He was 91. www.pentictonherald.ca/includes/datafiles/print.php?id=255857&title=ALINGTON,%20Geoffrey
Geoffrey left an audio interview with the Historica-Dominion Institute in their The Memory Project. An extract of Geoffrey's interview is presented on their website. Listen at this link: The Memory Project - G C Alington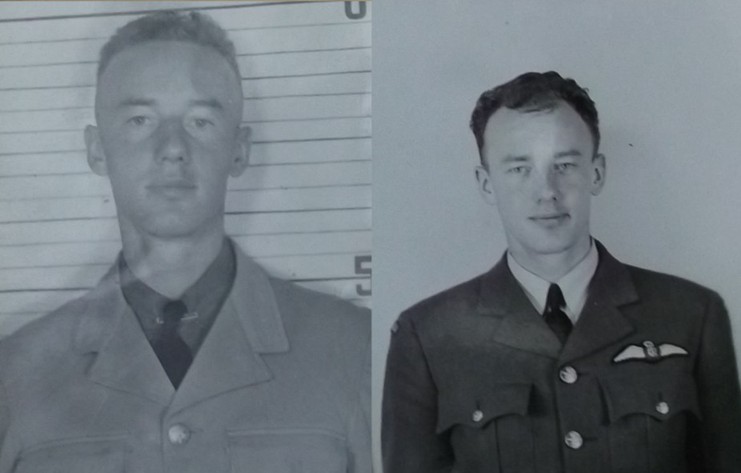 The story of the second pilot, Stanley David Gaudin, the son of Margaret Jane and William Murray Gaudin is told on his old colleges website, McMaster University by C M Johnston. This page can be read here at this link:

Stanley David Gaudin, Royal Canadian Air Force
Stanley had arrived on the Squadron from 15 (P) AFU only the month before the tragic incident. He is throughout his service file reported as a disciplined and eager service member. He did according to S/L Alington wait behind with him and bailed out of the aircraft before him on their second run over the chosen bail out area.

Stanley David Gaudin is buried in the Drumachose (Christ Church) Church of Ireland Churchyard, Limavady, County Londonderry, Northern Ireland on the 14 Oct 1944 with his Squadron comrades present.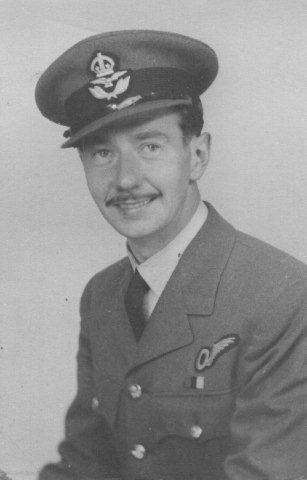 Edward George Teed's story is told by his daughter, Julia. During 2011 she provided this biography. Edward was the navigator on Wellington HF450.
Edward George Teed (usually known as Ted) was born in Woolwich 22nd January 1911.
At 17 my father was a member of the local Tennis club, where he met the Adams twins from a prominent Sheffield family. He first went out with Muriel but then changed to Eileen who he married (much later). He also belonged to the local Cricket club and cricket was always his big love. He also joined a Concert Party called the 'Queries' which the twins were also in, I think most were members of the Tennis Club.

He was a thwarted performer and I am sure he would have loved a career on the stage. He met Jimmy Edwards while training in Canada and did some sort of performance with him but I don't know the details. Whilst training in the USA he was billeted in Ronald Coleman's house, though he was away.

In the Queries he played the Ukulele and sang comic songs and did 'stand up', he did not like rehearsing so when he performed the rest of the cast were laughing as much as the audience as they heard the act for the first time. I still have his Ukulele.

In about 1954 he appeared at the Arts Centre in Doncaster as the lead in 'The Devil a Saint' which, though an amateur production, had an extended run due to its popularity and full houses.

He was training to be a Chartered Accountant when he was called up (I don't know if he volunteered or not) he would have been up the older end of new recruits in the RAF.

At the end of his basic training (he was still in Canada) knowing he would have leave he and my Mother organised their Wedding by letter (I still have them). His mother Alice was very uncooperative accusing them of rushing into things (they had known each other 17 years by now) and I do not know if she attended the wedding.

At the end of the War he was in India and had been offered a post as Pilot to a local Maharajah. My Mum refused to go and told him not to take the position; I was 8 months old and a fair skinned redhead and she wouldn't take me. She insisted he return home and finish his Accountancy exams. When he came home he was in a bit of a state, my Mum spoke of a tremor which meant he even had difficulty lighting his cigarettes. He was a heavy smoker to his dying day, as was my mother. He did get his Chartered exams eventually.

Initially he worked in Sheffield but in about 1950 we moved to Bradford where he was the accountant for a Woollen Mill and then 2 years later we moved to Doncaster where he was the Accountant at a Vauxhall dealer. My sister was born in 1955 when I was nearly 11 and in 1956 we moved to the Isle of Wight where he was General Manager of Canning Day the main Vauxhall dealership on the Island, he was still working there when he died on Christmas day 1966, 3 months after I had married in Ryde Church. My husband Michael and I were living in Yorkshire and decided on the spur of the moment to go for Christmas so luckily I got to see him one last time and we were there for support for my Mum. Zoe was just 11 when he died.
Edward's career can be partially traced in the London Gazette government publication. He was commissioned too Pilot Officer rank from Flight Sergeant with an effective date of June 6th, 1944. Edward was posted out from 172 Squadron on 27 Oct 1944 and posted to to RAF Tiree. Later again that year he was promoted to Flying Officer rank. Staying on in the RAF after the war, he can be seen to transfer from the General Duties Section of the RAF Volunteer Reserve (RAFVR) to the RAF Volunteer Reserve, Secretarial Branch, effective October 1950. In 1955, his name was published as having relinquished his commission. Combining this with Julia's story above, he was a reserve member of the air force and not on permanent service during the 1950's.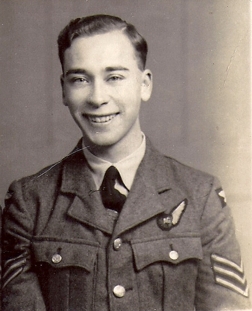 Raymond Elderkin was born in Lancashire in 1921. His daughter Jane and son John were very kind in sending on some details about what their father told them and the wonderful photos that he had. Raymond never spoke much about his wartime activities but his son John did say:

"Whilst Dad rarely spoke about his Wartime experiences, and never in any great detail, I was aware of this particular tragedy from brief conversations with him but did not know when, where or how it all happened. What I do know however is that he always said that he owed his life to the incredible bravery of the Pilot, presumably Flt. Officer Gaudin, who Dad recounted kept the aircraft steady to enable them all to bail out safely but sadly did not have time to do so himself. This particular incident had a profound effect upon him in that the delayed shock caused him to lose most of his hair during the next few days.
I've spoken to Mum who is now in her late 80's and she says that having safely landed by parachute Dad made for the nearest dwelling, presumably in darkness, asking for shelter only to be treated with some suspicion and as such dispatched to the cow-shed for the night. Dad always had a silver caterpillar tie clip which I believe was given to those whose lives were saved by a parachute and this was passed to my sister when he died suddenly in 1986. Unfortunately this was stolen when she was burgled some years later.
I do not even know myself where Dad was based or what missions he did but Mum recalls that they were stationed in Malta? (which is rather a long way from Ireland!) He must certainly have been based in Ireland at some stage however because he did speak of having 3 pints of Guinness every day for breakfast and loving the friendly relaxed atmosphere in between all the very dangerous stuff especially as a "tail-end Charlie" i.e rear gunner!"

Raymond Elderkin was posted sick out of 172 Squdron to the RAF Limavady base on the 14 October 1944. Raymond flew at east two tours with 172 Squadron. His log book shows operational flights with the unit as early as August 1943 and one dicey operation on the night of 7/8 September 1943 when his aircraft, captained by F/Sgt C J Beastal, was searching for the U-Boat, U-402, which that night shot down another 172 Squadron crew, with all lost, and badly damaged another from 612 Squadron. Raymonds aircraft was unable to find the German vessel and returned with an otherwise uneventful mission.

Among the photos supplied by the Elderkin and Teed families were these of an earlier crew from 172 Squadron that Ray Elderkin flew with.
Edward Teeds copy of the photo is described as follows 'The notes in Dads Album are difficult to read as he used some sort of crayon , which has faded, on the black page, I can only read the 'dents'. I think it says 172(L'L) Wellingtons Chivenor.'The Happy Gang' Ray Elderkin, Ken Beastall, Bill Rushworth, Jimmy Milne, Joe Stooge and in front George (Casanova) Holland. Then underneath an arrow to George killed 8.6.44
A search on the Commonwealth War Grave Commishion website shows that F/Sgt George Samuel HOLLAND 1314940 is listed on the Runnymede memorial having been lost with 172 Squadron on 16 June 1944. His aircraft, Wellington HF446, failed to return from a mission and the crew of six posted missing.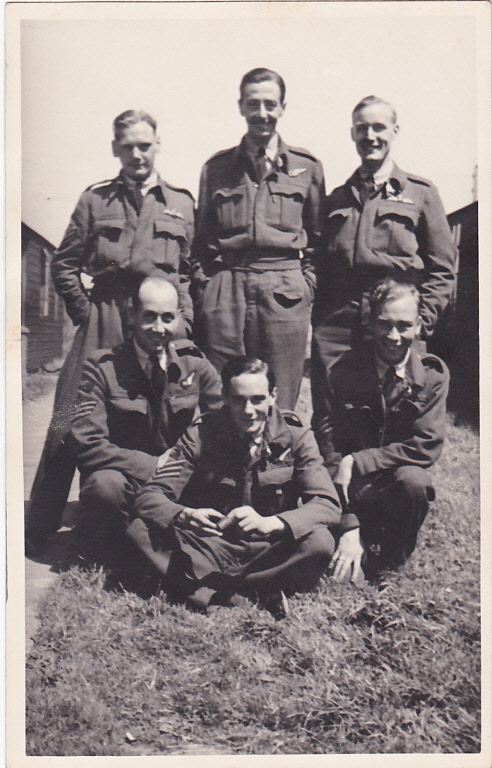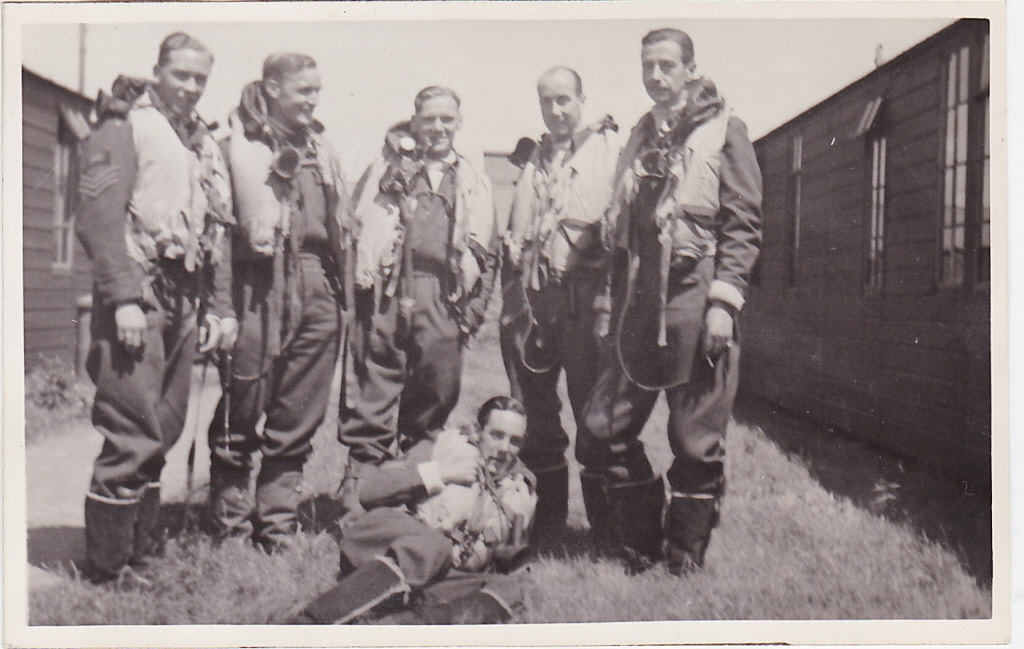 Raymond's family were also able to provide this wonderful photo of two airmen enjoying a pint, perhaps somewhere near Limavady?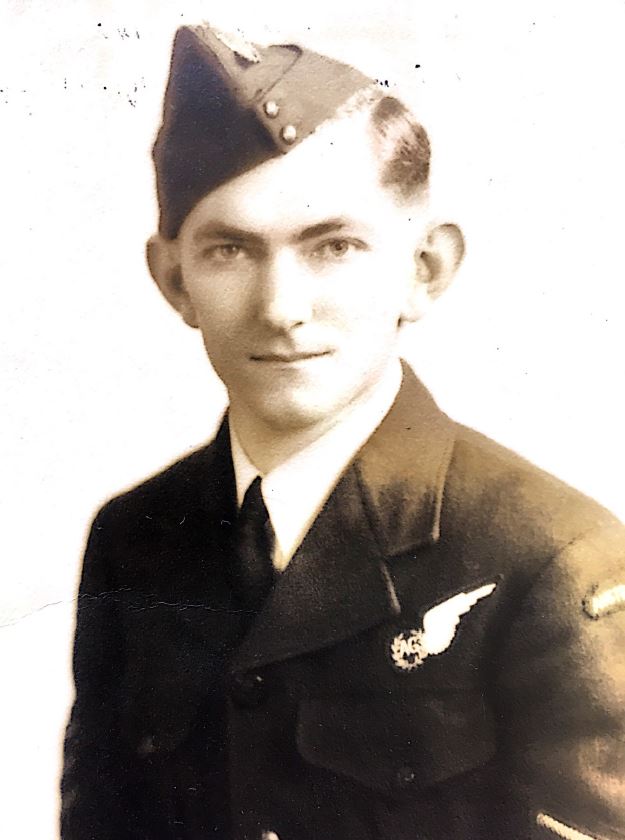 Thomas Francis O'Neill was born in Ballina, New South Wales, Australia in 1918. Thomas O'Neill enlisted in December 1941 in the Royal Australian Air Force giving his occupation as being a Cane Cutter. After initial training he was sent to Canada to train as a Wirelesss Operator/ Air Gunner. Arriving in Canada in April 1942, he completed his training in Brandon, Lethbridge and Winnipeg by June 1943. He arrived in the UK in July that year. After a spell with 1 Torpedo Training Unit, he was posted to 172 Squadron in November 1943 and remained with that Squadron until a posting in April 1945 seen him move to 6 Operation Training Unit. Finally in December 1945 he sailed for home to Australia. His service record shows he served with the Squadron in the Azores and Gibraltar as well as in England and Northern Ireland. His service record mentions his having been "slightly injured" in an "aircraft accident" near Northampton, England and he was posted to the Station Sick Quarters on the 12th of September. Following his bail out from HF450, he appears to have suffered from pneumonia due to the exposure and was posted to ground duties. Thomas was married to Mabel Lily at the time he enlisted. While it is not certain, Thomas appears to have passed away in 1991 and may be buried in Lismore Cemetery. His photograph shown at left, was provided by Ray Elderkin's family and comes from a print sent by Thomas to Raymond Elderkin, with the following note, "To my friend Ray, Wishing you all I wish myself, Tom".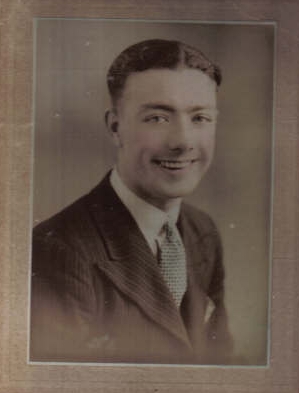 William Wood Mitchell OUCHTERLONIE was a Dundee born man. He is better known from his prewar career as 'Louy' Ouchterlonie, a professional footballer. Indeed, William had played for an Irish team during 1935/1936. The team, Reds United, was a team which played for only one season during 1935/1936 during a period when Shelbourne Football Club were banned from competing in the League of Ireland. William was Red's highest scoring player that season and scored 20 goals, helping them to finish fourth in the League of Ireland. William passed away in Dundee in 1984 at the age of 71. His daughter Jean and Granddaughter Lorraine were kind enough to supply the photos attached.
William was posted to 612 Squadron after the bail out and flew two missions in January 1945.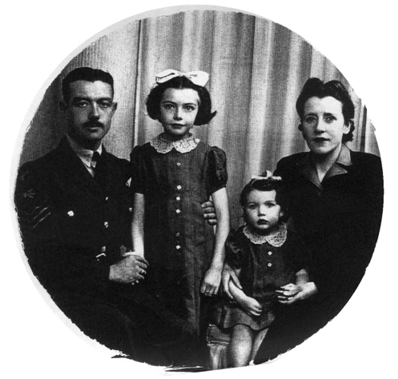 Compiled by Dennis Burke, 2012 thru 2018, Dublin and Sligo. If you have information on any of the people listed above, please do contact me at dp_burke@yahoo.com