Vickers Wellington HX737, Donegal
Early on the morning of Sunday, 28th February 1943, the people of the Falcarragh area in County Donegal were preparing to go to mass and could hear the sound of an aircraft circling around the area. It would later be reported that an aircraft had crashed in the area known as Meenderry or Meandarragh, a short distance inland from the town of Falcarragh. The crash location was among turf banks in the townlands of Tullaghobegley Irish and Sruhanreagh.
The Irish Army report into the crash is very sparse in details due to the nature of the crash. Among the details it records that:
"A British Wellington Bomber crashed at Falcaragh at approximately 09:15 hours on 28th February, 1943. The aircraft was completely destroyed and the crew of six were killed. The remains of four bodies were recovered from the wreckage, on the date of the crash, and the other two on the following day."
It records elsewhere:
I have the honor to submit report in connection with above mentioned crash.

The aircraft was a Wellington MK. 1 aircraft fitted with Pegasus Engines. It appears to have dived steeply into a bog and was completely burned out and destroyed. The crew of six were killed. The engines of the aircraft couldn't be seen but several separate cylinders were lying around. 4 Browning Machine Guns and 2 Vickers K. Machine Guns, all serviceable, were collected as well as about two hundred rounds of ammunition, all damaged. About two tons of scrap was loaded on the trailer and the remainder was dumped into the hole dug by the crash and buried there.

It was learned that the owner of the property was a Mr Philip Duggen of Lower Bealtoray, Cortahork, Co. Donegal and that, due to illness he had not been near the scene of the crash and would there fore have had little extent of the damage caused. The remainder of the engines were embedded in the face of the trench recently dug for cutting turf and the presence of scrap would render it impossible to cut any more turf from a thirty foot length of this face. It is considered by the salvage Officer that £10 or £15 would compensate the owner for the loss of turf from this part of the bog.
The Irish officers who attended the scene felt it was important to commend the soldiers and officers of 17th Infantry Battalion who had the task of sifting through the wreckage of the bomber for the remains of the dead airmen. For this reason, three bottle of Whiskey were purchased from the Non Commishioned Officers mess at Rockhill Miitary Post.
The unit records for 7 (C) OTU do not carry great detail and the deaths of the crew of HX737 are recorded on just two lines of the Operations Record Book (ORB) among some mundane administrative entries.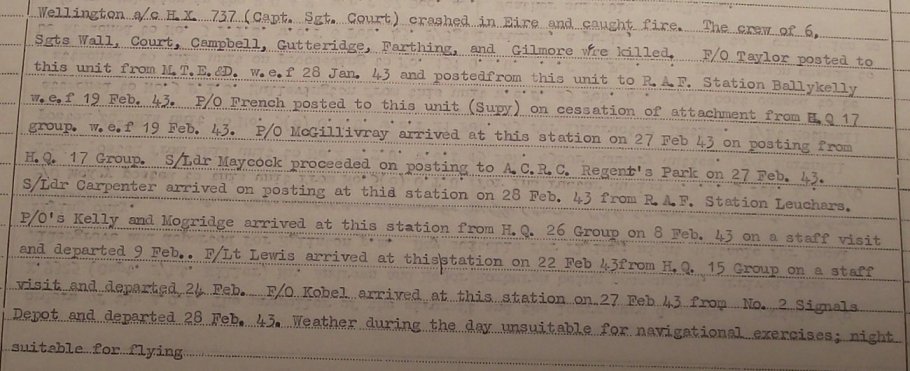 These records are held by the United Kingdom National Archives in Kew, London. It is worth noting that on the day before the crash of HX737, no 7 (C) OTU suffered the loss of another Wellington bomber on a training flight in Scotland. HX779 crashed into a hill side in Kintyre killing Sgt D F Sutterby RCAF, F/Sgt J N Mittom RCAF, Sgt W E Davies RNZAF, Sgt J M Wilson and Sgt H G Brooks
The only other obvious entry in the ORB relating to the crash is a note that Sgt Gutteridge's funeral took place locally on the 4th of March. The remaining five men were returned to their families for burial. Carnmoney Cemetery Belfast were able to say from their records that James Gilmore was buried there on the 3rd of March. His parents are buried with him, having died in 1953 and 1965. John Steen Campbell was also interred in the same cemetery following the crash.
The relatives of the dead airmen have been kind enough to supply the following information along with the details obtained from the Commonwealth War Graves Commishion website.
LEONARD ASHBY COURT Sergeant (Pilot) Royal Air Force Volunteer Reserve Age: 23 Service No: 1213640 Additional information: Husband of Joyce Enid Court, of Barkby.
Photo from Leonards son Ian and his wife Margaret.

JOHN D'ARCY WALL Sergeant (Pilot) Royal Air Force Volunteer Reserve Age: 22 Service No: 1140108 Additional information: Son of John D'Arcy Wall and Mary Elizabeth Wall, of Rochdale; husband of Janet Wall (nee Baron), of Rochdale.
Seeking a photo

JOHN STEEN CAMPBELL Sergeant (Nav.) Royal Air Force Volunteer Reserve Age: 34 Service No: 1081848 Additional information: Son of Samuel and Eleanor Campbell, of Belfast; husband of Emma Campbell, of Belfast.

Provided by Sam Christie

RONALD WILLIAM GUTTERIDGE Sergeant (W.Op./Air Gnr.) Royal Air Force Volunteer Reserve Age: 21 Service No: 1333994 Additional information: Son of Alice I. Gutteridge, of Huntingdon.

Photo provided by Ronald's sister Margaret.

JAMES GILMORE Sergeant (W. Op./Air Gnr.) Royal Air Force Volunteer Reserve Service No: 1036700 Additonal Information: (From Headstone) Aged 23, Son of Jane and John Gilmore.

Kindly provided by D Quinn, nephew of James's sister Betty.

GEOFFREY JAMES SCOTT FARTHING Sergeant (W.Op./Air Gnr.) Royal Air Force Volunteer Reserve Age: 21 Service No: 1315164 Additional information: Son of William Scott Farthing and Alice Farthing, of 22 Aycliffe Road, Hammersmith and later Caversham, Reading. Berkshire. Brother of Berie Leslie Scott Farthing.
Seeking a photo
The crew were stationed with 7 (Coastal) Operational Training Unit based at RAF Limavady in Northern Ireland. This training organisation was used to build together crews for Coastal Command's operational Squadrons. Each member of the crew would have undertaken their basic service training prior to this before going on to learn their particular trades at separate training facilities. At this stage in 1943, it is possible that some of the crew members may have done some off their initial training in Canada or another of the Commonwealth countries.
Sergeants Court and Wall would have completed their advanced training on single engined aircraft before moving on to a multi engine training unit.
John Campbell is known to have trained to become a navigator in South Africa.
The three remaining men, Farthing, Gutteridge and Gilmore would have learned their trades of air gunners and wireless operators. All would have found themselves posted too 7 (C) OTU where they formed a training crew. All would have therefore been well trained in each others trades and were in the process of becoming a crew. They may have gone on to join one of the RAF's front line Coastal Command Squadrons flying the Wellington or Halifax patrol bombers.
The aircraft they flew was a Vickers Wellington VIII bomber built by Vickers at the Weybridge, Surrey. It was delivered to the strenght of 32 Maintenance Unit on the 2nd of September 1942, thence to 33 Maintenance Unit and was delivered to 7 (C) OTU only on the 9th of February 1943, being with the unit less than 20 days before the crash.
Sgt Gutteridge's sister Margaret who was only a young girl of six at the time of his death sent a number of photos of him. She was able to learn some more about her older brother through the letters published in local papers by this researcher as people from the town came forward with their memories of Ronnie. She travelled to Northern Ireland on the 50th Anniversary of his death and was delighted to find his grave well tended. She planted there some snow drops from her garden as her little memorial to the brother she barely knew. She recalled how he had a sweet heart at the time of the crash and that this kind lady wrote to Ronnie's mother for many years after the war and then in turn to Margaret. The photo below shows Ronald with his mother and one of his brothers.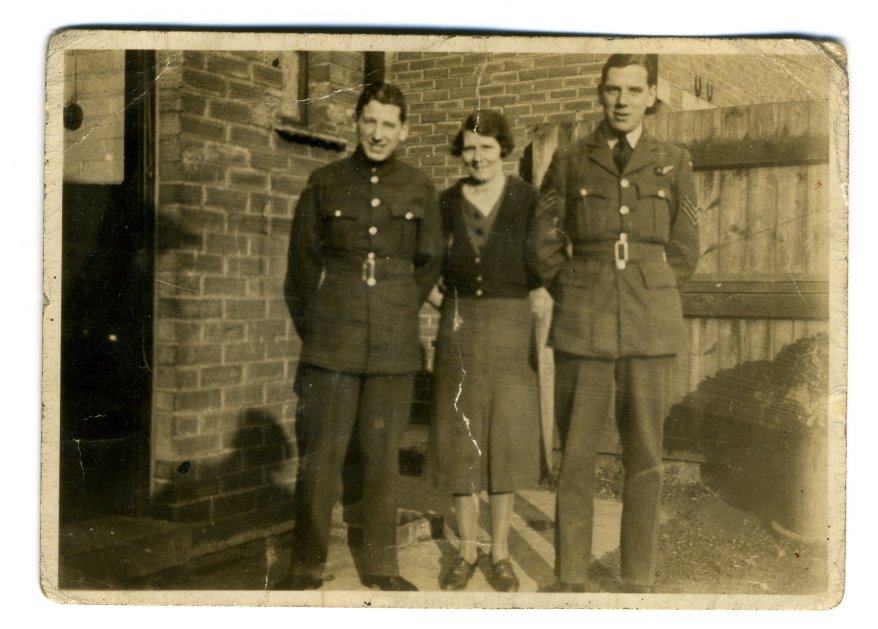 Sgt Wall had married only in late 1941, to Janet Baron in Scarborough district, Yorkshire. His father, of the same name, died on 24th October 1953, with an address at 101 Redcross Street, Rochdale. His mother Mary Elizabeth (nee Eastham) lived on until 26 December 1964, living also at the same address. No next of kin is listed on her probate record. Sgt John D'Arcy Wall was buried after the crash in his native Rochdale. The Rochdale Observer published the sad details of his funeral and life in their 6th March, 1943, edition: Sergeant-Pilot John Darcy Wall, only son of Mr and Mrs Darcy Wall of 101 Redcross Street, was killed in Northern Ireland on Sunday last. Twenty-two years of age, he joined the R.A.F. eighteen months ago, had spent nearly twelve months in Canada and returned home only at the end of last year. Before joining the forces he was employed as an assistant with Mr Robert Sheard, grocer, of Bury Road, and before that was with Messrs. James Duckworth and Sons. Fifteen months ago, he married Miss Janet Baron of Deeplish Road, who is no serving in the A.T.S. Sergeant-pilot Wall was a member of the Third Church of Christ Scientists, Smith Street, with which he had been connected from boyhood. The interment will take place at Rochdale Cemetery this afternoon."

Geoffrey James Scott Farthing, the family in some records going by the surname 'Scott-Farthing' was son of William and Alice Scott Farthing. He had one brother named Berie Leslie Scott Farthing, named Leslie in his 1945 marriage announcement to Dona Cerie Owen from Holyhead. The boys parents address was listed in 1945 as 53 Priest Hill, Caversham. Leslie Scott-Farthing passed away in 1977.
If any one reading this might have any knowledge of or photos of Sgt's Wall and Farthing, I would love to hear from you. It has proved impossible so far to contact any relatives.
Local Historian John Connaghan was very helpful with this report by visiting the crash site and providing the following photos from the crash site in the bog. As can be seen the area is rather flat.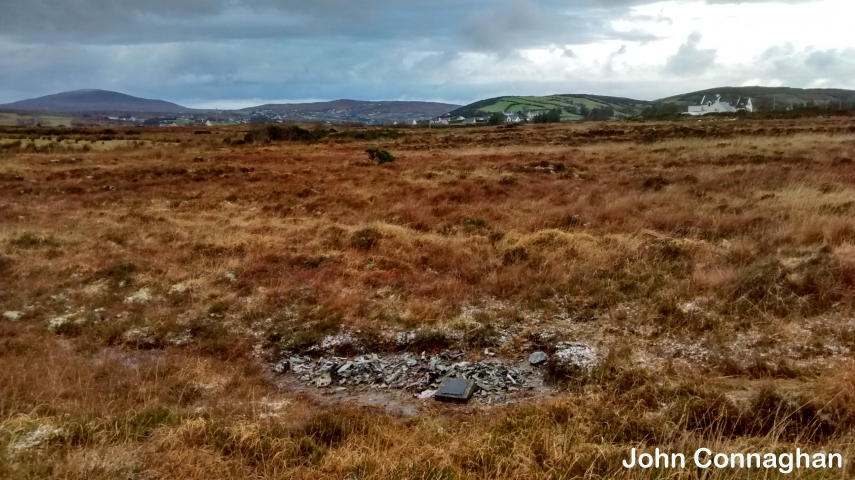 The photo above is taken at the crash site, note the memorial plaque in the foreground. This view is taken facing roughly north.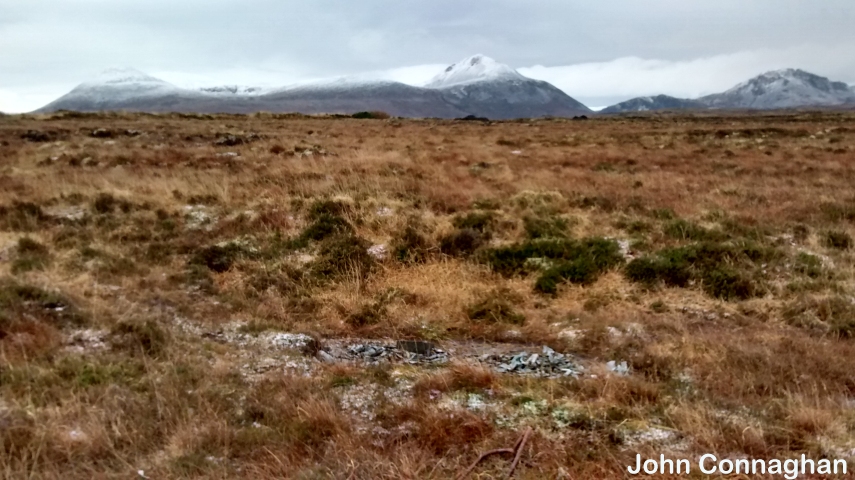 The image above is taken facing to the south in direction the aircraft is understood to have been flying. In the background can be seen the peaks at Mount Erigal.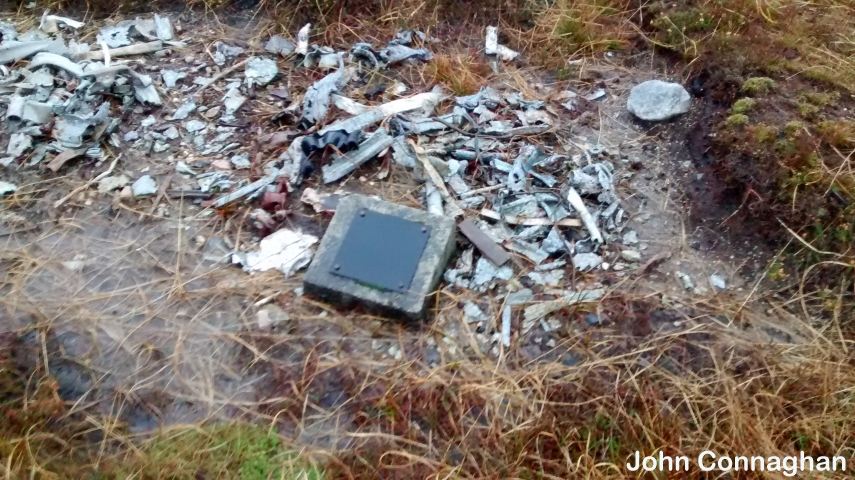 At the crashsite, the patch of ground is scattered with assorted shattered remains from the aircraft.