DeHaviland (Canada) Mosquito, Galway, June 1945
Tragedy and Heroism at Ballinduff
by Hayden K Lawford
(This article is an expanded version of an article prepared by Hayden Lawford and sent to me prior to his passing away in 2009. Content added by myself is in blue font)
Shortly after 11 pm on the 28th June 1945, the roar of two Packard Merlin engines was heard over Galway as a De Havilland Mosquito FB 26 approached from the north west and headed across Galway Bay towards Kinvara. Witnesses reported that the aircraft approached Kinvara at high speed with navigation lights visible, before turning left and heading north east at low level towards Oranmore, where it was observed circling overhead the village by the local Garda a few minutes later. The aircraft then headed south from Oranmore, and was reported by the Gardai in the vicinity of Ardrahan at about 23.28 hrs.
The end of the War in Europe had resulted in a surplus of new military aircraft, and this Mosquito, serial number KA317, was one of a batch FB 26's built by DeHavilland (Canada) at Downsview, Ontario, and was on the first stage of a delivery flight to the Chinese Nationalist Air Force in Formosa. The aircraft had taken off from Bluie West One (BW-1), now called Narsarsuaq, in Greenland, to fly to Prestwick Airport, Scotland, as part of the North Atlantic Ferry Scheme operated by 45 Group RAF Transport Command, based at Dorval Airport, Montreal.

On board the aircraft were the pilot, Flight Lieutenant Gordon Ayton RAF, and the navigator, Flying Officer Hans Raymond Anderson RCAF. The exact reason for the Mosquito ending up so far off course is unknown, but the failure of the radio compass and an inaccurate forecast of en-route winds are a possibility as a depression was present in the area, the remains of "Hurricane One" of the 1945 season which had tracked north east along the north American coastline in to the North Atlantic. The Flight Forecast issued by the USAF at BW-1 predicted only moderate winds en-route, with an occluded front lying in mid-Atlantic. After take-off from BW-1 sometime after 1500Z, Ayton would have made a rapid climb to 12,000' before heading east across the Greenland ice cap before descending to 9,000' to pick up a more favourable tailwind. About 450 nm out a further descent would have been made to 5000' to stay below the freezing level while flying through the frontal cloud of the occlusion which extended for over 500 nm, before climbing back to 9000' for the final part of the flight. The forecast en-route wind for this leg of the flight was a light northerly. Weather conditions in the south Galway area at the time were unsettled, with variable cloud cover and occasional showers. It is possible that Anderson had identified their position over Kinvarra and that Ayton had turned towards Oranmore to look for the local airfield which was listed as an emergency landing ground, but with very little to identify it Oranmore Airfield would have been difficult to locate. Over Oranmore village the Mosquito was seen by the local Garda to turn south and head away from the village. It is probable that the fuel state was now becoming critical as they had been airborne for more than 5 hours, and after passing Ardrahan, about 10 miles south of Oranmore, Ayton elected to make an emergency landing in the failing light on the dry turlough at Ballinduff, about two miles to the south.

Teenage brothers John and Patrick Cunningham, startled by the sudden noise of Ayton's aircraft approaching their house at Coolfin on the north side of the turlough, ran outside just in time to see the Mosquito flying south at about 100 feet. They saw it turn left over the Lisatunny and head north towards Tullira Castle, before making a further left turn to take up a south westerly approach to the turlough with landing lights illuminated, and reportedly dropping a flare to light up the area. Ayton touched down on a level ground, but unseen in the darkness 40 metres ahead lay a wall built of large rocks running diagonally across his intended landing run. The Mosquito smashed through this obstruction and burst in to flames before coming to rest after a further 60 metres. The impact smashed both propellers and damaged the fuselage, scattering some of it's contents around the area.

The two Cunningham brothers had realised that the Mosquito was attempting to land on the turlough and they were now only a few hundred metres away and sprinting towards the crashed aircraft, arriving at the scene about a minute later. The Mosquito was burning fiercely, and hearing a scream, John Cunningham approached the small crew access hatch situated below the cockpit on the right-hand side of the fuselage where he saw navigator Hans Anderson hanging half out of the burning aircraft. He pulled Anderson clear, and the injured airman rolled a few yards across the grass away from the wreck to extinguish his burning clothing. John Cunningham now tried to rescue Gordon Ayton from the left hand side of the Mosquito's cockpit. He succeeded in entering the blazing aircraft through the crew hatch, but was driven back by the smoke and flames and exited the aircraft choking for breath, to see his brother Patrick talking to Anderson who told him that the pilot was still trapped. Patrick went to the nose of the aircraft calling out "Where are you" and heard Gordon Ayton call out, but he too was driven back from the aircraft by the intense heat of the fire. The Cunningham brothers, assisted by a member of the local LDF, James Fahy, who had now arrived on the scene, made further attempts to save Gordon Ayton but were driven back by the flames and heat, and nothing further was heard from the pilot. The men then helped the seriously injured Anderson to a safe distance away from the blazing wreck, quenched his clothing which was still smouldering, and gave him first-aid. Anderson informed them that he was a Canadian citizen and that there were no munitions on board the aircraft and requested medical attention. A crowd of onlookers had now gathered, and by 23.50 hours the area had been cordoned off by the local LDF under Company Leader Joyce. Dr Sexton from Ardrahan soon arrived to tend to Anderson, who was suffering from serious burns and a broken wrist. He was taken to the safety of a local house to await an Army contingent from the 1st Infantry Battalion, Renmore Barracks, Galway, commanded by Major O'Tomanaidhe, which arrived on the scene at 01.45 hrs. This party had been summoned by Comdt. Considine of the Gort LDF, and included a Medical Officer, Capt. Gaughan, who arranged for Anderson to be taken by ambulance to St Enda's Military Hospital, Galway. Comdt. Considine and Lieut. Leyden of the LDF then recovered the remains of Gordon Ayton from the wreckage, and these were removed by ambulance to St Enda's.

Comdt. Considine, Lieut. Leyden and the LDF contingent then carried out a search of the immediate area and found some of Anderson's personal effects including a watch, cash, keys, a ring and cigarette case, and also collected a large number of charts and other documents found in the vicinity of the wreckage, which they handed over to Major O'Tomanaidhe. It appears that some of the locals had helped themselves to articles scattered around the crash site, as the following evening the Gardai handed over to O'Tomanaidhe several items including a radio set, Anderson's wallet containing $55, a locked kit bag, radio spares, valves and a boat paddle which had been found in the possession of some locals. The Gardai immediately began an investigation into this matter.

Next day, 29th June, an RAF officer, Flt. Lieut. Carrig, accompanied by Comdt. J. Power, Officer I/C G.2 Branch, Western Command. arrived at the crash site. Carrig classified the remains of the Mosquito as "useless", nearly all the main wooden structure had been consumed by the flames, and all that remained were the engines and other large metal parts. Comdt. Power arranged for an Ordinance Officer to set charges to reduce the wreckage in to manageable pieces for removal. Salvaged material and documents were handed over to Flt. Lieut. Carrig, and the remaining wreckage was transported to Renmore Barracks for disposal. In his official report of the incident, Major O'Tomanaidhe stated:

"I believe there is great credit due to a civilian (John Cunningham) who rescued Flying Officer Anderson from the burning plane regardless of his own personal safety".

Gordon Ayton's remains were conveyed to the border at Belleek by a detachment of the 1st Infantry Battalion under Capt. Ian, where they were handed over to an RAF contingent with full military honours.
For more than sixty years the tragic events at Ballinduff turlough have been largely forgotten, but recently there has been a sequel to this tragic incident. Following the publication of Hayden Lawford's book "In Galway Skies" in 2003 which he mentioned the crash, Hayden was contacted from Canada by Peter Steer, a brother in law of Gordon Ayton, who had read a review of the book in "Aeroplane Monthly". Peter Steer was anxious to discover the location of the crash site and details of the accident for his family. This resulted in a visit to Galway by Gordon Ayton's son-in law, Stephen Steer, in September 2007. They visited the crash site which was dry at that time of year. Following Stephen's visit Gordon Ayton's son, David, also visited the site with Hayden in February 2008, but unfortunately at that time of year the turlough is in full flood and we were unable to walk the site as it was under several feet of water. David, who was only two years old at the time of his father's death, is a private pilot, and also served in the RAF before emigrating to Canada to work as an aircraft engineer. He hopes to pay a return to the crash site when the turlough is dry again.
Hayden's work which he passed on on in 2008 finished with the following words: I believe that it is now time for a suitable memorial to be erected near to the site of the crash to commemorate the untimely death of a brave airman who, after surviving 128 operational missions during World War II, lost his life in a tragic accident during a routine ferry flight.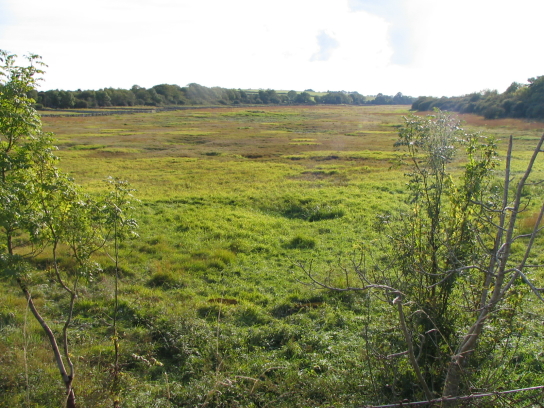 Ballinduff turlough looking southwest along the probable landing run of Mosquito KA317, September 2007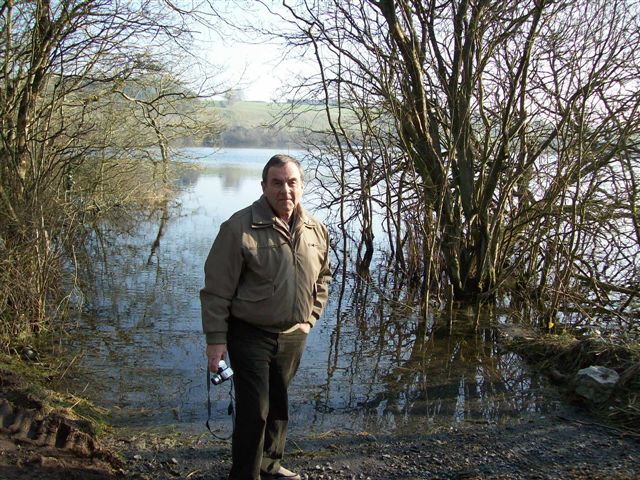 David Ayton at Ballinduff turlough, February 2008. The site of his father's fatal crash landing in June 1944 is in the background below the tranquil waters of the turlough.

The Air Ministry Form 1178 report carried the following conclusions on the crash:
FB: Forced landing in a field when running out of petrol struck pile of stones a/c burst into flames
[Casual factors] A: OP: Loss of power due to petrol shortage
[Pilot factors] P: CN/C: A/C had been lost for sometime & was seen over Galway Bay
[Engine factors] E: S/PS/PM/I: Forced landing due to shortage of petrol poor navigation
[Undercarriage factors] U: OK
[Airframe Factors] A RM: Visual indicator needle ceased to respond to beacon. W/T conditions were difficult. Lost contact with RAF Prestwick.
[External factors] X: OK
[Weather factors] W: OK


The Pilot: Flight Lieut. Gordon Frederick Ayton, 51167 DFC MiD

Gordon was the son of Frederick and Gertrude Mary Ayton, of Dereham and husband of Irene Constance (nee Steer). They had married in 1940. His brother Wallace Henry Ayton also served in the RAF as a Wireless Operator/Air Gunner and sadly also was lost with his crew when Marauder FK155 of 14 Squadron failed to return from a mission over the Tyrrhenian Sea on 9 May 1943.

Only 26 years old at the time of his death at Ballinduff, Co. Galway on 28th June 1945, Gordon Ayton, known as "Ginger" to his colleagues, had served with distinction in the RAF for over 10 years. In 1935 at the age of 15 he passed the entrance scholarship to the RAF College at Cranwell, where he trained as a Wireless Operator and Air Gunner. Following the outbreak of War in 1939 "Ginger" Ayton completed his first operational tour, consisting of 30 missions over Germany as a wireless operator in Vickers Wellingtons, before being accepted for pilot training.

After qualifying for his "Wings" Ayton served as a pilot on his second operational tour with 37 Squadron in support of the North African campaign during the autumn of 1942, flying Wellingtons on raids against enemy airfields and shipping during the Allied advance from El Alamein to Tunis.

Ayton received his commission while serving in Africa, and later returned to England to convert on to the DH Mosquito. For his third operational tour he was posted to 151 Squadron during April 1944, flying Mosquitos on missions over occupied Europe, including Ranger operations intended to harass the enemy by attacking random targets of opportunity such as airfields and railway depots. Ayton damaged and destroyed a number of enemy aircraft on the ground including a Ju88, Ju188 and two Ju290 at Mont de Marson airfield. He survived a gear up flapless belly landing on his base at Predannick, Cornwall after returning from a raid on a French Power Station when he was attacked by a German FW190 and hit by anti-aircraft fire which destroyed the Mosquito's hydraulic system. 151 Squadron also carried out attacks on Gestapo buildings in France to relieve the pressure on the French Resistance, and for his 100th operational sortie on 9th August 1944, Ayton lead a raid by four Mosquitos on the Gestapo HQ at Chateau Ferron, at Tonniens on the river Garonne, 25 miles south east of Bordeaux. This was a precision attack which totally destroyed the multi-story building, severely disrupting the German administration in the area and thus aiding the French Resistance. Ayton later described the raid:

"We had quite an uneventful trip to the target, except that when we crossed the enemy coast two flak ships opened up at us and some ack-ack batteries had a go. F/O Dines brought us dead over the objective, which was a grand bit of navigation. I attacked first. One of my 500lb bombs went straight through the wall and the other through the roof. We knocked nearly the whole place down. A shower of bricks and debris went hurtling up in to the air to about 300 feet. There was not much left for the other Mosquitos to bomb, but they went in and dropped their bombs in the middle of the smoke and debris."

On 16th August Ayton and F/O Taylor carried out a night Intruder sortie to Orly, Bretigny, Melun and Coulommiers airfields. They arrived over Bretigny at an altitude of 3000 ft where they spotted an aircraft in the circuit. Interception was difficult, but they succeeded in positioning behind the enemy aircraft, which was identified as a Ju 88. Ayton attacked with cannon and machine gun fire and the tail section broke off the Ju 88 which entered a vertical dive and exploded on impact with the ground. Following this raid, Gordon Ayton was awarded the Distinguished Flying Cross (DFC) – his citation read:

"This officer, who is now on this third operational tour, has completed a very large number of sorties. During his first tour of duty he was engaged as a Wireless Operator (Air) on bombing missions to Germany. Later he became a pilot in the Middle East, making numerous attacks on airfields, shipping and enemy troops. During his present tour of duty, Flying Officer Ayton has delivered a number of effective attacks on enemy airfields in France, which have resulted in several enemy aircraft being destroyed on the ground. During his present tour Flying Officer Ayton has destroyed at least one enemy aircraft in combat and damaged others."

By the end of hostilities in Europe on 8th May 1945 Ayton had completed 128 operational sorties. At the end of his third operational tour, he transferred to 45 Group RAF Transport Command at Dorval Airport, Montreal. This unit was staffed jointly by RAF and RCAF personnel engaged in ferrying Canadian and U.S. built aircraft across the Atlantic from Canada to the U.K. Ayton was due promotion to Squadron Leader three weeks after his untimely death, and would undoubtedly advanced to higher rank in the RAF had he lived. His remains are interred at his native village of East Dereham, Norfolk, England


The Navigator: Flying Officer Hans Raymond Anderson CAN/J.38661

Hans was born on 4 October 1922. His RAF Ferry Command card lists his place of birth as New Brunswick. His parents were Christian Sigurd and Kamma Christa Anderson.

He enlisted in Winnipeg on the 13 April 1942, and his name appears in a list of Winnipeg men published in the Winnipeg Tribune as having been recruited during that week. He was granted leave without pay until 9 June 1942 and then posted to No.3 Manning Depot. Another holding posting was next to No.12 SFTS for guard duty on 1 August 1942.

He was posted to No.2 ITS on 12 September 1942 and finally to No.2 EFTS on 21 November 1942 to begin pilot training. It would appear that he was not found to be suitable as a pilot and ceased that training and was posted to No.1 Composite Training School in Trenton, Ontario on 15 December 1942.

His wartime trade training continued with a posting to No.4 Wireless School, Guelph, Ontario on 19 March 1943, this would seem to align with the units ORB mention of the arrival of Course 65 on the 20 March. Following completion of that his next posting was No.2 Bombing and Gunnery School, Mossbank, Sask. on 3 October 1943. He graduated and was commissioned on 22 November 1943.

Following this he was posted to To "Y" Depot, Halifax, for embarkation overseas on 6 December 1943 and sailed to the UK. He was taken on strength of No.3 Personnel Reception Centre, Bournemouth on 13 December 1943. It is not known what duty he was assigned to between December 1943 and September 1944 when he was posted to No.45 (Air Transport) Group, Dorval on 13 September though the below details place him in Ferry Operations earlier starting in late June 1944.

Notwithstanding postings as given above, crew card shows him as being at Montreal (Dorval) as of 27 June 1944. Departed Montreal as crew of Dakota KJ839 on 30 August 1944, arriving Gander on 31 August 1944; departed Gander 31 August and arrived Bluie West One that date. At Reykjavik as of 1 September 1944; arrived in UK 4 September 1944. Returned by boat, Liverpool to Canada (6-13 September 1944). Departed Montreal with Liberator KH212, 21 September 1944, proceeding via Gander, Lagens, Rapat, Cairo and Khartoum (arriving 28 September 1944). Returned to New York and Montreal, 1 October 1944 (which suggest return by air).

His burn injuries required special treatment and this recorded on the website of the East Grinstead Museum. The Winnipeg Tribune published a notice on the crash on 4th July 1945. Manitoba Flier Burned When Mosquito Crashes DUBLIN, July 4 (Reuters) Flt. Lt. H. R. Anderson, of Red River, member of the R.C.A.F, was severely burned last Thursday when a twin engined Mosquito crashed In flames near Gort, Galway, Eire, and killed PO. Gordon Ayton, a member of the R.A.F., it was disclosed Tuesday. The aircraft was on its way from Greenland to Scotland.

Following treatment for his injuries in the UK, Han's was repatriated 30 December 1945. Winnipeg newspapers reported on his arrival with 34 other personnel on the SS Scythia in Halifax. The papers understood he would be sent to Lachine and then sent on leave. To No.8 Repair Depot, 8 January 1946; to No.5 Release Centre. 13 February 1946; retired 15 February 1946.

Han's Ferry Command crew card, which was not maintained after December 1944, confirms date of birth and states he was born in New Brunswick. His permanent address was given as Bird River, Manitoba and his next of kin, his father, was at the same location.



He gave the Irish Army his address at the time of the crash as Suite 11, Douglas Block, Corner of Grahams and O'Donnells, Winnipeg, Canada.

Hans passed away in Winnipeg in December 2002.


The deHavilland Mosquito FB26

The Mosquito FB 26 was based on the British made DeHavilland Mosquito Mark VI fighter bomber aircraft and was manufactured under licence by DeHavilland Canada at Downsville, Ontario. Powered by two Packard Merlin 225 engines, the Mosquito featured a unique form of ply and balsa wood sandwich construction and was known as "The Wooden Wonder". It's high speed allowed it to operate unarmed over enemy territory, and it was used as a light bomber, fighter bomber, night fighter, reconnaissance aircraft and even for transportation of VIP passengers who were accommodated in the cramped bomb bay.


Specifications, Mosquito FB Mk 26

Engines: Two Packard Merlin 225 1620 H.P. V-12 piston engines
Weight: Empty 14,300 lbs., Max Takeoff 22,300 lbs.
Wing Span: 54ft. 2in.
Length: 40ft. 10.75in.
Height: 15ft. 3in.

Performance:
Maximum Speed: 362 mph (Later photo-recon versions could exceed 425 mph)
Ceiling: 33,000 ft.
Range: 1,650 miles with full bomb load
Armament: Four 20-mm cannon in nose
Four 7.7-mm (0.303-inch) machine guns in nose
2,000 pounds of bombs, or 1,000 pounds of bombs and eight rockets

Canadian built Mosquito FB 26's were prepared for ferry flights across the Atlantic by the addition of a disposable 121 Imperial Gallon tank constructed of rubberised material housed in the bomb bay which would have given a total endurance of about 6 hours. It is probable that KA317 was equipped with a bomb bay tank which exploded on impact with the stone wall

Sequel, as written by Hayden in it is thought 2008

Last July, accompanied by some fellow enthusiasts, we were able to locate the debris field and the site of the crash using metal detectors, and recovered some small fragments from one of the Packard Merlin engines of KA317. David Ayton visited again from Canada in early October 2008, but unfortunately the turlough had flooded again after the extremely wet summer, but I was able to give him some of the small items recovered from the crash site. He hopes to return again during 2009 when the turlough is dry.
Because this crash occured after the cessation of hostilities in Europe and the relaxation of censorship of the Irish media, one can find a number of mentions of the crash in Irish newspapers unlike most such crashes since early 1942. Most stories published at the time mistakenly assumed that Gordon Ayton was a member of the Canadian forces, when he was actually a Royal Air Force officer.

Both the Connaught Sentinel and Connaught Tribune carried similar stories on the 3rd and 7th of July 1945:
GALWAY PLANE CRASH
Pilot Officer Killed
THE roar of aeroplane engines stopped over Labane about 11.15 p.m. on Thursday, and a sheet of flame lit the sky as a twin engined Mosquito aircraft burst into flames and crashed, a heap of wreckage, into a turloch in a field at Lissatulla, between Labane and Gort.
Pilot Officer Gordon Ayton, of the Canadian Air Force, was burned beyond recognition, and Flight Lieut. H. W. Anderson was extensively burned and sustained a broken wrist.
Guards from Labane and members of the L.D.F. and L.S.F. from the locality rushed to the scene of the crash and pulled Flight Lieut. Anderson from the burning machine. They were unable to reach Pilot. Officer Ayton.
A short time after the machine had crashed all that was left above the level of the ground was the twisted steelwork of the engines; the rest of the machine was completely consumed.
Engine Trouble
The aircraft was on its way from Greenland to Scotland. and it appears that engine trouble developed over Galway Bay. It was heard flying over Galway shortly after 10.30 p.m. evidently traveling south. It was heard soon after over Oranmore, Clarenbridge and Ardrahan.
After the crash two ambulance went out from St. Enda's Military Hospital, Galway, in response to a 'phone call and took the injured Flight Lieut, and the remains of the dead Pilot Officer to St. Enda,'s.
The remains of Pilot, Officer Ayton were removed in am ambulance from St. Enda's on Saturday morning and brought to the Border, where they were handed over in the afternoon to representatives of the Canadian military authorities. The Irish Army authorities provided a guard of honour at the Border. An inquest was not considered
necessary.

While outside the realm of Irish Government censorship, the Belfast Telegraph carried the following story on 30 Jun 1945:

EIRE 'PLANE CRASH
R.C.A.F. Officer Burned to Death
A Mosquito aeroplane of the Royal Canadian Air Force crashed in Co. Galway shortly alter mid night (British time) on Thursday, and Pilot Officer Gordon Ayton was burned to death and Flight Lieut. H. W. Anderson severely burned. They were the only occupants of the aeroplane.
The aeroplane developed engine trouble over Galway Bay, but managed to fly over Galway city before it fell on low-lying land.
Firemen and members of the L.D.F. extricated Anderson from the burning aeroplane but were unable to reach Ayton whose body was recovered later.
The aeroplane was flying from Greenland to Scotland.



Converted to digital format by Dennis Burke with addition of information on F/O Anderson, 2018, Dublin and Sligo. A thank you to the late Hayden Lawford. If you have information on any of the people listed above, please do contact me at dp_burke@yahoo.com