Consolidated Liberator KK295, Portsalon, Donegal
Irish Army archives record that at about 14:20 hours on the 10th February 1945, an aircraft made an emergency belly landing on Portsalon beach on the shores of Ballymastocker bay, Lough Swilly in County Donegal. The officer commanding Fort Dunree on the Innishowen peninsula reported that an aircraft had come down on the beach at Port Salon.
Local men of the Local Defense Force (LDF) and Local Security Force (LSF) were quickly present at the scene and took account of the crew of the aircraft. The Irish Army files records the aircraft having been "flying mail from USA to Britain". The five men were taken to the Port Salon Hotel nearby where they were accommodated for the night.
The aircraft carried nine large mail bags and all were recovered from the wreckage. The aircraft was reported to be sinking in the sand on the evening of the landing, the Army officer reporting : "The plane appeared to be slowly sinking in the soft sand and at Full Tide it was almost completely submerged in the water."
The men's names were recorded by the Army as:
Capt. L R Rawlings – American
Capt. G K Pidgeon – Canadian
W/O L W Smith – British
Fl/O W Wright – Canadian
Fl/O W M Scott – Canadian

The Irish Army officers noted in their report that "Capt. Rawlings and Capt. Pigeon are not members of the RAF but belong to Transport Ferry Command."

Sometime prior to their departure, F/O Wright must have had the opportunity to take the following photos of Liberator KK295 as she was slowly destroyed by the sea and sand, and they go someway to explaining how there remains parts of the aircraft on the beach seventy five year later.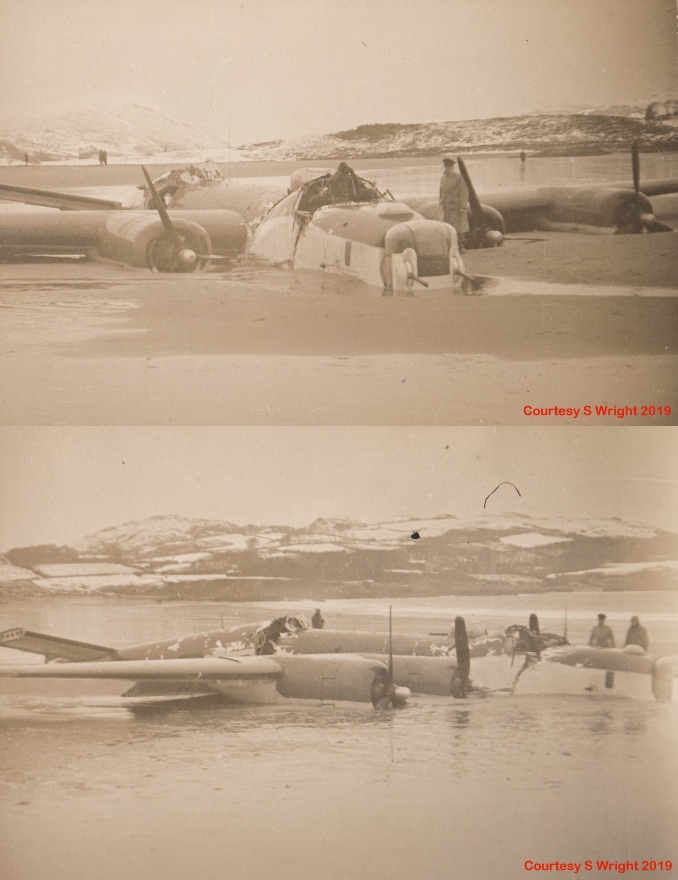 Then,the family of Lee Roy Rawlings made contact again in 2019 and they also had photos of the stricken KK295, with Lee Roy Rawlings pointed out as being the man in the light colored over coat in the following photos.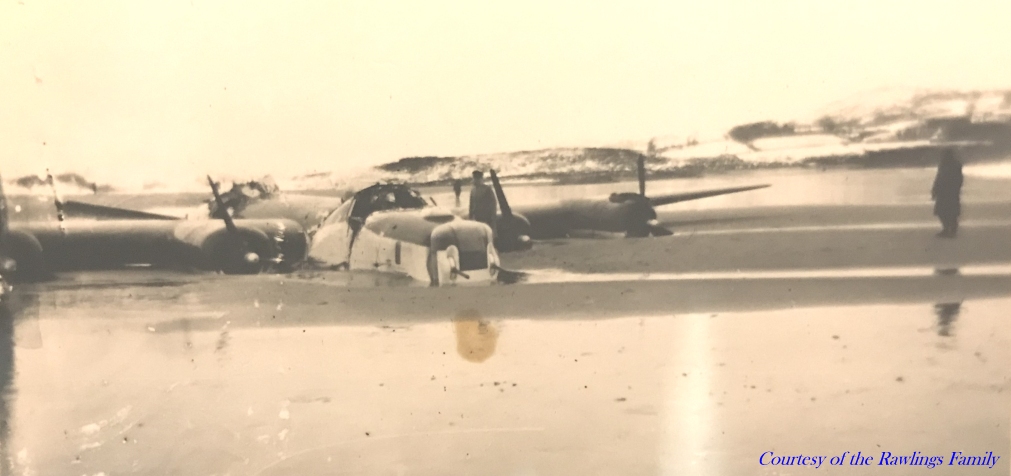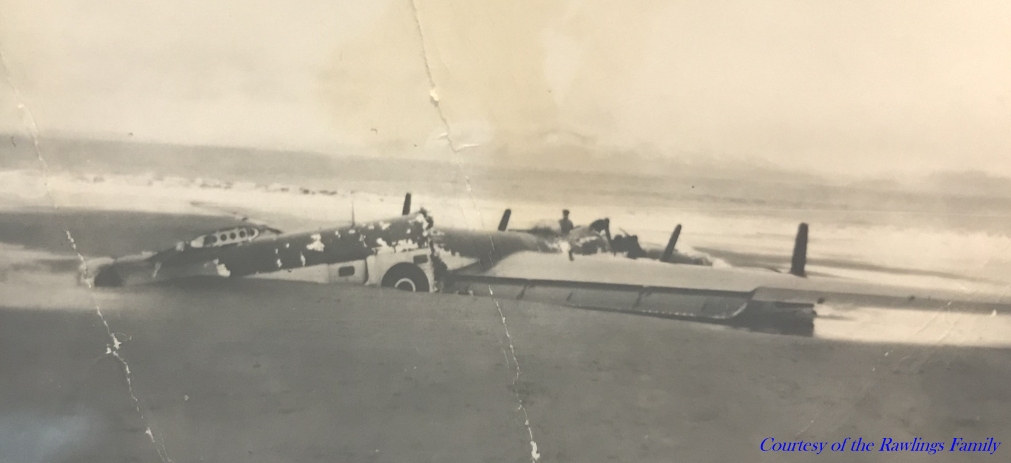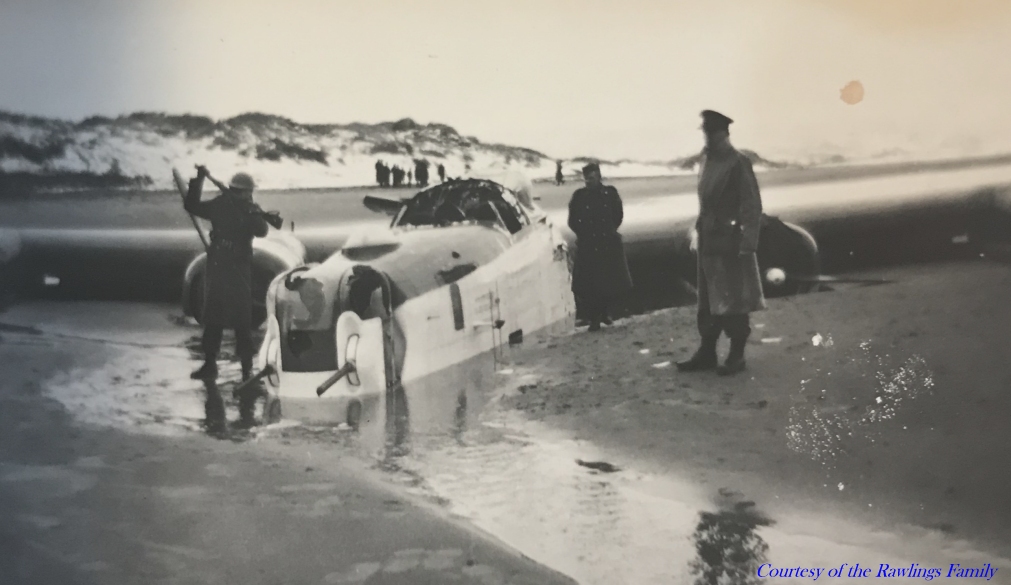 They were brought to the border with Northern Ireland the following day and passed over at the Bridgend border post at 15:00 hours. Also handed over were the mail bags. From William Wrights log book it can be seen that they were very quickly flown out from Limavady to Prestwick that day and that he and and at least Lee Rawlings picked up a new Liberator, KN258, in the UK and flew it on to India, arriving in Karachi on February 26th.

The wreckage of the aircraft was less inclined to move on and was the subject of a six day salvage operation. The army records state that the back of the aircraft was broken in the two hours after landing by the incoming tide. It subsequently sank up to 6 foot into the sand. It proved impossible to salvage the rear and ball turret machine guns and thus members of the Army ordnance corps were tasked with blowing up the aircraft on February 24th. After this effort it was decided that the guns could not be recovered and the local Garda were asked to keep an eye on the wreckage area at low tide.

These photos were taken in the summer of 1971 and were kindly supplied by Roy Kane. The remains had been exposed after a stormy tide and at the time, no one in the local hotel knew about the old wartime landing. It is said by locals that the aircraft came to rest very close to the wreckage of a coal boat that can become visible at low tides and which can be seen in aerial photos.

In the photo below, Roy kneeling next to the top of one of the aircraft engines, the cylinders being visible along with an engine bearer. The old Portsalon Hotel is visible in the background.

The photo below then seems to show a wheel from the aircraft protruding through the sand surrounded by aircraft structure. This is possibly the nosewheel, which would be the only wheel stowed vertically.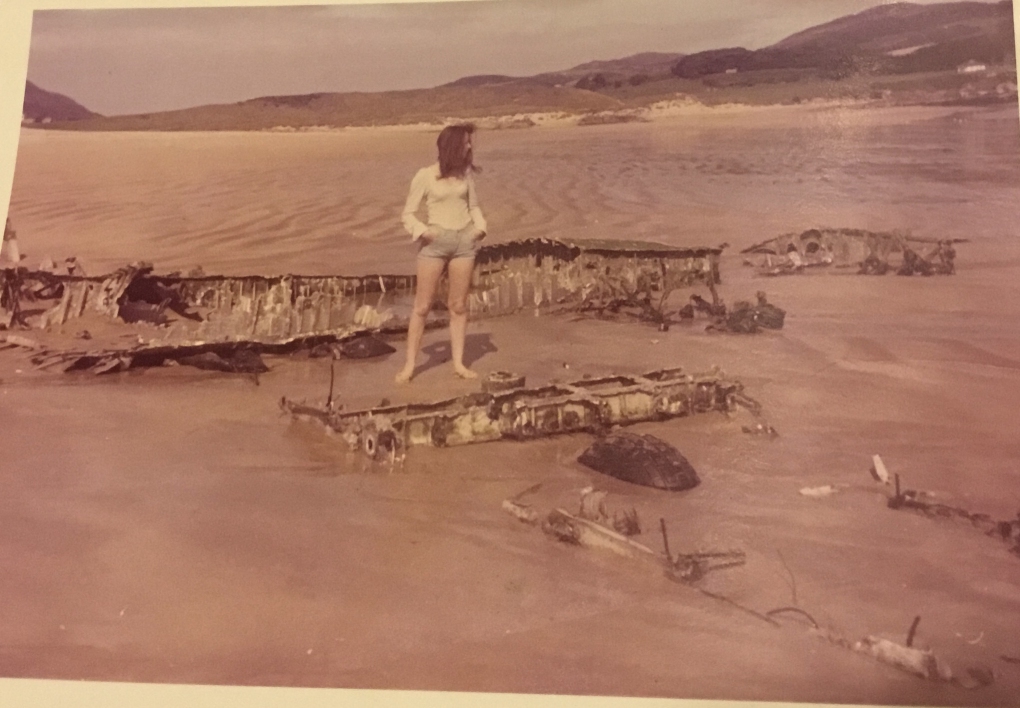 Too this day one can find metal structural parts sticking out of the sand on Portsalon beach at low tides. For the most part the wreckage remains largely buried but tides can expose a surprising field of debris. This photo taken around 2010 by Aine Doherty from Donegal reveals the extent of existing wreckage.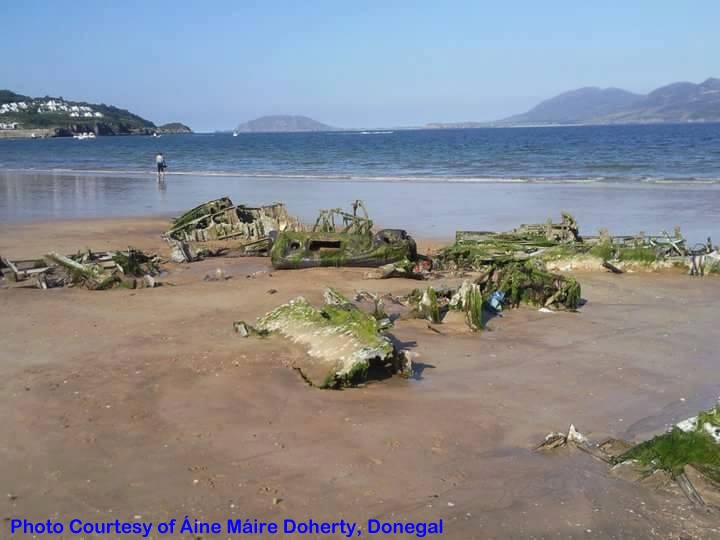 What brought this aircraft to Portsalon beach on a Saturday afternoon in 1945? Royal Air Force records tell us that the aircraft was a large four engine Consolidated Liberator GR. VIII of the Royal Air Force. It was one of over 18000 of the Liberator family built in American factories, many of which were transferred to the British Government on the Lend Lease program. American production records record this airframe as a Consolidated B-24J-100-CF. The designation shows the aircraft was the B-24J sub type of Liberator. This subtype, along with the B-24H, had introduced the familiar four twin gun turrets onto the type, one each in the nose and tail along with upper dorsal and lower ball turret. The designation '-100-CF' indicated further that this aircraft was from a production block of B-24J's built by Consolidated at their Forth Worth facility in Texas. The aircraft was then assigned to the Royal Air Force where it gained the serial number KK295 which it brought to its inglorious end on Portsalon Beach. Among a batch of 158 other Liberators, KK295 was built to the GR VIII specification. The GR stood for General Reconnaissance which was the term used for aircraft used in anti-submarine warfare at the time. Britain assigned a great many of the Liberators they received to maritime patrol squadrons due to the aircraft's great range capabilities. These aircraft served with up to 20 squadrons of the Coastal Command and many of those flew their wartime missions out of Northern Ireland bases. For the anti-submarine role the aircraft were fitted with radar equipment and aerials and some were fitted with a "Leigh Light" search light under one wing for night operations.
For these over water operations the RAF Liberators GR's were painted in an almost all white paint scheme with grey-green camouflage on the top surfaces of the aircraft. This can be made out in the photos above.

The RAF Museum in Hendon, London holds an Air Ministry Form 1180 for the crash of KK295 and it states the following as reasons and causes for the forced landing.
(The following information is extracted from the Form 1180)
Time of Accident: 1324Z
Duration of Flight: 11H 14M
DUTY: Ferrying across Atlantic
- In bad weather a/c unable to find break in cloud; had to force land on beach after petrol ran low.
- Pilot to blame in view of XXXX carburetors, not allowed to fly in cloud, took off in adverse weather conditions. Could not find Prestwick. Did not return when he found w/t u/s
- Port inner engine using 15 gals per hour more that others. Aircraft force landed due to low fuel state.
- W/T reception very bad due to interference.
- Had to force land, could not find A/F. XXX of carburetor icing up. Could not climb.

Note: The above extracts include the abbreviations a/c = aircraft; w/t = wireless telegraphy, radio equipment; u/s = un-serviceable; A/F = airfield

The Form also confirmed the flight crews names as Pilot, Captain L R Rawlings and 2nd Pilot, First officer G R Pigeon. Capt Rawlings is listed as having over 1800 flight hours at that time and F/O Pigeon having over 7000.

The operations record book of the Royal Air Force's 226 Maintenance Unit based at Mallusk, Northern Ireland, recorded the following statement in February 1945: In addition, two special parties salvaged Marauder (American) 468079, collected propeller, guns and instruments from Liberator KK295, under the direction of F/Lt H S Moore HQ RAFNI

The American Marauder mentioned had force landed in Wexford in February.

The aircraft is noted as assigned to RAF Prestwick and number 45 Group. This was the RAF organization that by this stage in the war was managing the Ferrying of large aircraft from North America across the Atlantic to fight in Europe. It was at this time part of the RAF's Transport Command, having taken over from the former Ferry Command. The ranks of the two pilots tell a story also, Captain and First Officer indicate that these two men were in fact civilians, not military aircrew as one might expect with a large wartime bomber. British Ferrying operations during the war made use of large numbers of civilian contracted aircrew to ferry the much needed aircraft across the Atlantic. As with KK295, the crew of many ferry aircraft consisted of military and civilian aircrew. The military members in many cases had just completed training in Canada and this was used as a means of getting them to Europe to join the war whereas other military personnel were assigned to ferrying operations for prolonged periods.
Using various military and genealogical sources it is possible to learn something more of the men on KK295. The Directorate of History and Heritage in Canada was a particularly important source in this case having Ferry Command Cards for crew members Rawlings, Pigeon, Smith, Wright and Scott. It was from these sources that the follow photos were sourced, sadly the photo on Capt. Rawlings card was missing.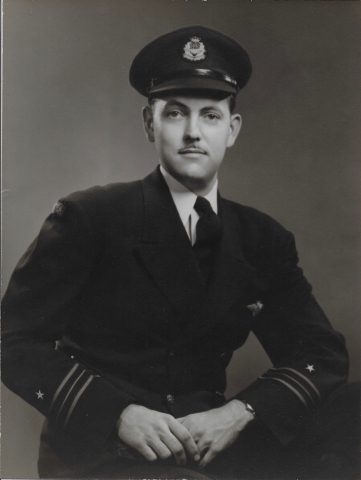 Captain Rawlings was Lee Roy Rawlings, born in September 1918 in Waco Texas to Laura and William Rawlings. The Abilene Report newspaper of 23 November 1939 records a Lee Roy Rawlings being enrolled in a pilots course in Abilene. The course members were expected to have completed 35 to 50 hours flying by the following June. He was a student in Abilene Christian College at the time.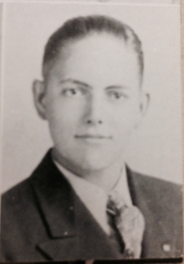 The photo shown out of uniform of Lee aged 18 in his school year book, 1936. The pupils of Sunset High School, Dallas, Texas were able to find this in an old year book and their teacher sent it on. His name is included on a memorial panel listing alumni who served in World War Two.

Lee, at the start of the war in Europe, volunteered his service to the British government as a pilot with the Air Transport Auxiliary and his ATA service file provides details of his service.

Lee's name can be found on the manifest of the SS Thorstrand in November 1942, when that vessel arrived in New York. Beside his name in hand writing is '1st Officer Air Transport Auxiliary'. On the departure manifest from the UK archives, there is the typed notification A.T.A. Maidenhead. This was another wartime civilian staffed ferry organization this time based in the United Kingdom which ferried aircraft around the United Kingdom. ATA staff were civilian pilots who ferry newly built aircraft from British factories to front line units to spare RAF pilots for front line duties.
Captain Rawlings' Ferry Command card shows that he signed on with Ferry Command on July 19, 1943. He captained at least 18 aircraft from North America to Europe but also to India and the Middle East on two occasions. He flew various types including Ventura and Mitchell twin engine bombers, Dakota transports, the larger Liberator and the famous Mosquito attack bomber. His former school, Sunset High School in Dallas, published his name in their 1943 school year book, 'Sundial', among a list of alumni who were serving with the military. Lee's is listed as serving with the RAF.
After the war, Lee was employed by the High Plains Hail Prevention Association as a pilot in their Cloud seeding operations. Indeed, he almost met with a mishap on the early operations when the landing gear of the Curtiss P-40 he was flying got stuck up and he had to abandon the seeding effort to concentrate lowering his gear manually. This was reported widely in Texas newspapers in June 1951.
Lee Rawlings lost his life at Hale County Airport, Texas in December 1980 while working on an agricultural crop spraying aircraft. He was killed by fumes following a fire on an aircraft of Cotton Center Spraying Service. In 2009 his late nephew Bob Rawlings of Arizona contacted the author to pass on some details of Lee's life and career. Bob was referring to a website at http://ni_towns.tripod.com/portsalon/beach_metal.html which contains photos of wreckage on Portsalon beach.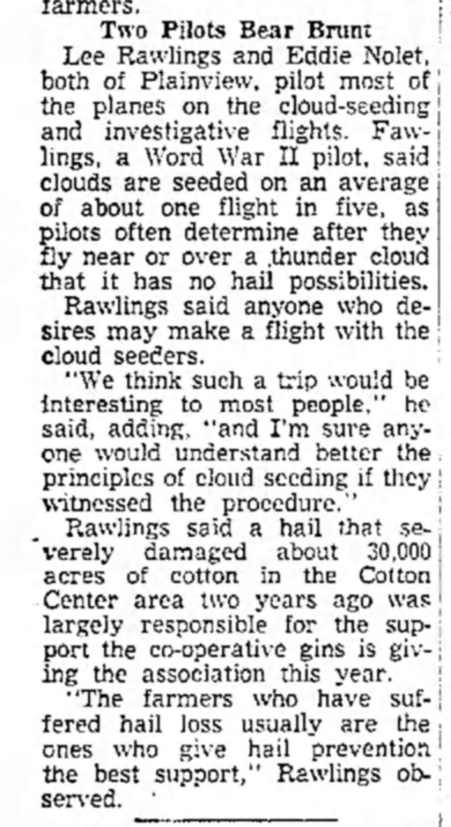 My uncle, Lee Roy Rawlings, was the pilot in command of the B-24 bomber that made the emergency landing at the beach near Portsalon in Feb '45. Per the link to the site, there has been some feedback as to what the "remains" are. I very clearly remember a picture that he took or obtained before the plane was blown up by the Army or disassembled.
Additionally, the comment from Celine Hynes is 100% correct about the hotel. This particular plane was retrieved at the factory by this crew and immediately ferried to England. Upon reaching the coast of Ireland, the weather continued to worsen after circling for several hours off shore plus they were unable to make radio contact due to their location and/or altitude. For fear of being detected as a German aircraft if they pressed on, the decision was made to land on the beach. Lee relayed to me that the bomb bay doors were opened to act as a "sand scoop" in order for the plane to stop as quickly as possible.
After exiting the plane and accounting for all persons, the next order of business was to remove the Norden Bombsight which as that time was a classified piece of equipment.
Lee was about 22 years of age when the RCAF was asking for American volunteers prior to the US entering the war. He departed for Canada in 1940 or early 1941. At that time Lee was already a licensed civilian/commercial pilot in the US. In fact he was teaching aeronautics at a flight school in Dallas Texas (his family home) that had a contract with the Canadian Government for flight training. Being single, there was only one choice, he went to Canada for an adventure.
I do not believe that he actually saw any combat during WWII, as he was a Captain in the Canadian Transport Command till his discharge at the end of WWII.
My relationship with Lee was first as my uncle (my Dad's older brother) and then aviation. Lee returned to the US in '46, married a beautiful Canadian girl and settled near Plainview Texas. He then began a 35 year career of crop dusting (aerial application of agricultural chemicals). Much like Lee, I've been involved with airplanes nearly all my life. Lee died in Dec of '80. I began my crop dusting career several years prior and was fortunate to fly and work with Lee the two years prior to his death. I bought his business in early '81."
Bob sadly passed away at Christmas 2010 before he could pass on further information but subsequently another grandson was able to provide detailed information and photos of lee along with more photos of Lee on the beach in Ireland.
It can thus be seen that Lee was a very experienced pilot at the time of the emergency landing in Donegal despite the harshness of the crash report.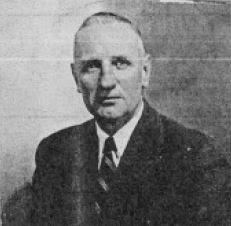 George Romeo Pigeon was the 2nd Pilot on that day. George was an older man, born in October 1900 in Quebec, Canada according to his Ferry Command records. Other shipping records however showing his arrivals in New York during the war show is age to be up to five years older. He appears as Romeo or George on various records, using both names first. He signed up the Ferry Command in July 1942. He appears to have stayed active in the aerospace industry after the war as his name seems to appear associated with a aerial surveying company named Aero-photo. He also seems to have been an RCAF member around 1932. In 1942 also he may have suffered a small mishap in an Anson trainer of the RCAF. Anson 6242 which he was taxing for take off accidentally struck another aircraft. It is presumed he was undertaking a ferrying roll at that time also. The name appears also as a likely owner postwar of Yellowknife Airways. At this time he owned a Stinston Station Wagon with Canadian registration CF-KJL.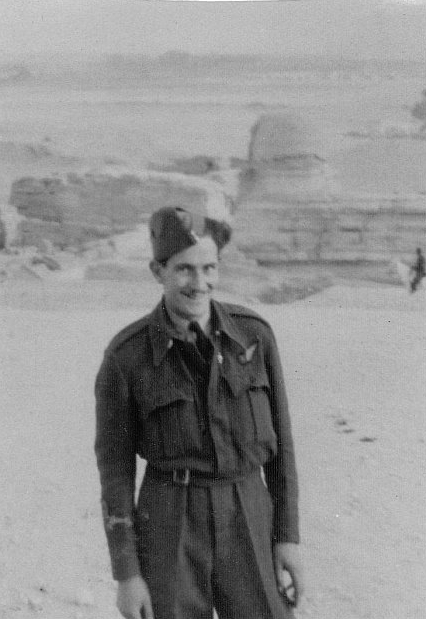 The W/O L W Smith recorded by the Irish Army turns out to be Flight Sergeant Leonard William Smith 937181 of the Royal Air Force. His address during the war was near Walsall, Staffordshire and he was born in May 1921 in Sheffield. He married his wife Lorna in Staffordshire in 1944. His family kindly made contact following a letter being published in the Chase Post and confirmed details of Leonard Smith's career, he was known to the family as 'Smudge'. He unfortunately died on November 3rd 1998 aged 77. His trade per RAF Ferry Command records was that of Flight Engineer. F/Sgt Smith flew on at least four ferry missions in the later part of the war, his ferry Command Card in the DHH is a little unclear in this point. His last ferry mission before ending up in Ireland was to Cairo with another Liberator bomber. This is possibly where the photo at left was taken, which shows Leonard standing in front of the Sphinx in Egypt.

Leonard had served a tour of duty with RAF Bomber Command during the war, flying at around 30 missions over Europe based at RAF Wickenby, where he was flight engineer on Lancaster bombers of 12 Squadron, from April to October 1943. From there he was posted to 83 Operational Training Unit.

it seems very likely that Leonard was involved in another forced landing on 9 April 1945 when Liberator AM929 of 231 Squadron crashed with tragic consequences near Simone, near St. Hyacinthe, Quebec. Two passengers on the aircraft were killed along with a local man on the ground.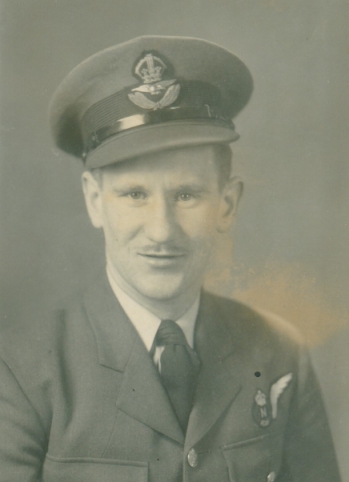 The forth crew member was Pilot Officer William Wright J35225 of the Royal Canadian Air Force. Born in Scotland in October 1918, he held the trade of observer. He moved to Canada with his family in 1924. He was married at the time of the landing in Ireland with his wife, Eveline, and child living at Bingham St, Toronto.

William's grandson was kind enough to share a number of William's wartime items including a scan of his log book showing the landing in Ireland. of note at the top of the page is that he had been involved in another forced landing only 8 days prior to the landing in Ireland, when Dakota KN289 came down near Bury, Quebec.

Of note from the log book is that William was serving as a Radio Operator on these flights, rather than navigator.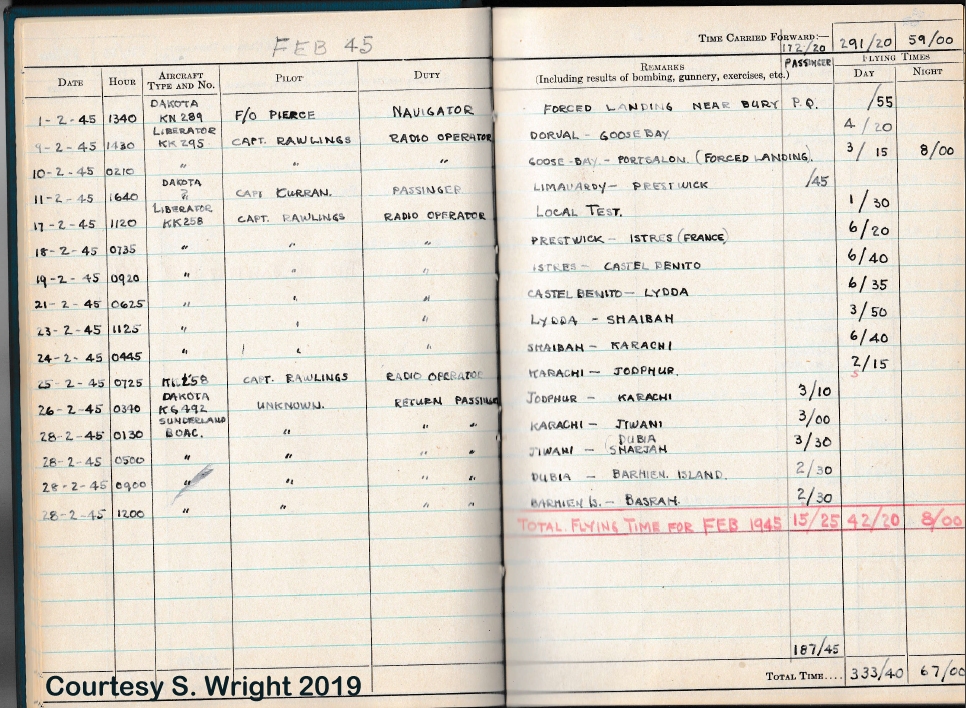 William had told his family about his wartime visit to Ireland. They understood he may have hurt a knee in the landing and it gave him problems in later life. He had kept a postcard of the Port Salon hotel all those years after the landing.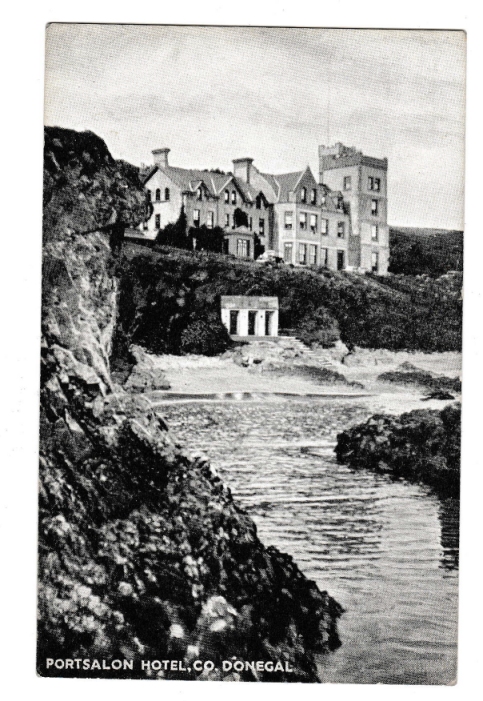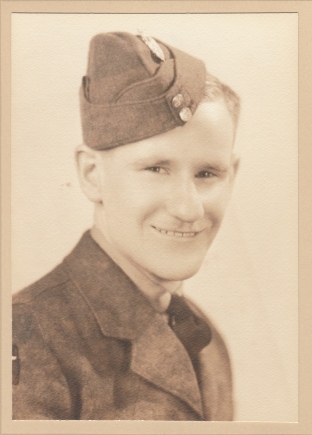 William is seen in Royal Canadian Air Force uniform.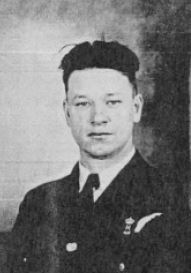 The final crew member was Pilot Officer Walter Harold Scott J39408 of the Royal Canadian Air Force. Born in 1913 in Toronto, Ontario his parents were Walter and Mai Scott. He and his wife, Julienne Maria's, wartime address was in Matachewan, Ontario.

He was also a navigator by trade. His time serving with 45 Group started in March 1944. His first ferry was a Mitchell bomber from Montreal to the UK in August that year, with a return on the Queen Elizabeth to New York. There followed five more trips with Liberator KK295 being the last found. The 19 March 1945 finds Walter on the passenger roster of the Queen Elizabeth arriving in New York.

Walter passed away in 1980 and is buried in Minto, Wellington, Ontario.

Compiled by Dennis Burke, 2012, Dublin and Sligo. If you have information on any of the people listed above, please do contact me at irishwarcrash@yahoo.com
Download Free Adobe Reader from