Fairey Swordfish, Co. Sligo, September 1944

One story that is remembered well in the area around Easkey and Aughris in County Sligo is that of the forced landing of a Fairey Swordfish in the townland of Carrowcaslan at about 2100 hours on the 4th of September 1944. A summary report filed on the 5th of September by the Irish Army G2 Branch stated: A British aircraft observed by L.O.P. Downpatrick head, at 19.08 hours, 4th September, 1944, 2 miles north moving east, circled, and was observed by L.O.P. Kilcummin Head and Garda Bangor Erris over land moving west. It again turned and was later observed by L.O.P.s Annagh Head to Aughris Head moving east to Carrowcaslan, 2 miles south-east of Aughris Head, Co. Sligo where it force landed at approximately 21.00 hours.

The aircraft, with a crew of two men, recorded by the Irish Army simply as Sub/Lt's Arcus and Pender, had destroyed half an acre of cabbage then slammed into Mr Foleys hen house killing 30 chickens. They reported they had flown from from Ballykelly in Northern Ireland but lost their bearings. The pilot had wanted to burn the aircraft but Power allowed him to call British legation in Dublin to clarify that the plane did not have to be destroyed if landed in Eire. 17th battalion from Finner guarded aircraft and Flight Officer Herbert S Moore of the Royal Air Force from Northern Ireland and Capt P. OíSullivan from the Air Corps in Baldonnel arrived to salvage the aircraft which was fitted with new radar device. Arcus and Pender were handed over the border at 0420 at Belleek the morning after the landing.
The Irish Army G2 report on this plane crash, included the fact Mr Foley was at his sonís funeral was to appear in the Irish Times the following day but was censored and never printed.

The henhouse was valued at £5 and the chickens at 7 shillings 6 pence each. RAF Northern Ireland vehicles are allowed over the border at Beleek in Donegal on the 7th of September, and assisted in the dismantling of the damaged aircraft. The aircraft under carriage and wings had been damaged and the propeller bent during the landing. The aircraft was dismantled and moved to Finner Camp, Co. Donegal on September 8th before it was handed over border to the RAF Northern Ireland at Strabane on 10 September 1944. It was noted by the Irish Army officers that the plane carried the serial number NR890 and the letter C on the fuselage.

NR890 identifies the aircraft as a Swordfish Mark III built by Blackburn at Sherburn. Delivered in May 1944, it was assigned to 811 Squadron, of the Royal Navy, Fleet Air Arm. More can be read about the Swordfish on the website of the Navy Wings website, the Royal Navy Historic Flight (RNHF) and the Fly Navy Heritage Trust (FNHT). There is of course a Wikipedia page about the aircraft. The British aviation publication, Flight published the general arrangement drawings shown below during 1943.

811 Squadron had just completed a series of duties on board the escort carrier HMS Biter and had flown off in August 1944 and were temporarily based at the RAF Coastal Command station at Limavady, Co. Derry. The crew of course stated they had flown from Ballykelly, not far from Limavady.

The Fairey Swordfish was a torpedo bomber biplane that began life in the 1930s, but remained in front-line service until the end of the war, primarily as an anti-submarine aircraft.


Sub Lieutenants Arcus and Pender were identified by review of the Royal Navy Lists for the period.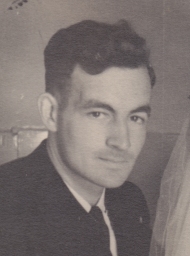 The pilot of the aircraft was a member of the Royal New Zealand Naval Volunteer Reserve (RNZNVR), Sub/Lt Alan Dougal ARCUS. Alan was born in 1921 to Jessie and Thomas Arcus. He studied accountancy in the University of New Zealand before the war and received his awards in 1940. New Zealand newspapers in early July 1942 published military promotion information and this source reveals he received a temporary commission in the Fleet air arm as a Sub-Lieutenant (A) at that time. His name was mentioned later in July 1942 as having arrived recently in England after training in Canada.

He was promoted to Lieutenant (A) in late 1944. His

He passed away in New Zealand in 1993.

Denis Hugh Pender was born, 11th Dec 1924, in Butte Montana to Hilda and George D Pender. They and Denis returned to England in 1926 and settled in St Ives, Cornwall.

His service saw him posted around the Fleet Air Arm, including service with 766 Squadron in early 1944, then to 810 Squadron where had had the mishap described above, and 819 Squadron in January 1945. This latter unit was active in attacks on occupied Holland and Belgium ports in early 1945. Late 1945 finds him back at a training unit, 798 Squadron. Denis married around that time in Surrey, to Florence Sutton.

The family moved to Canada in 1958 and continued his career working in banking. Denis passed away in Mission, British Columbia in December 2004.


Additional information added to digital version by Dennis Burke, 2012 - 2019.