Armstrong Whitworth Whitley, P5045, Galway Bay, March 1941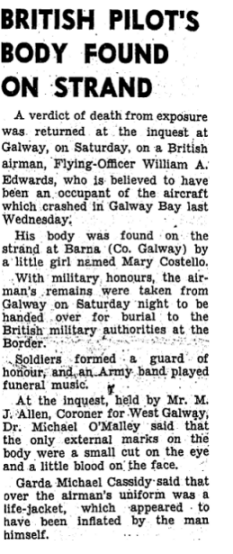 On the night of March 11th/12th 1941, the crew of a Whitley patrol bomber from 502 Squadron, Royal Air Force's (RAF), based at Limavady airfield in County Derry, Northern Ireland, found themselves in difficulty after a long range convoy escort mission over the Atlantic.
The Captain of the aircraft, young Pilot Officer Edward Dudley Dear was forced to order his crew to bail out over Galway Bay. Of the five young airmen on the aircraft, only two would survive to the morning. The remaining three were lost either with the aircraft or drowned upon landing. It was one of six aircraft lost or damaged with the Squadron that month alone.

The aircraft was an Armstrong Whitworth Whitley, a pre-war twin engine bomber that was being relegated to the over water patrol role due to its unsuitability to bombing activities over Europe. This particular aircraft was the Mark V version, powered by two of the famous Rolls Royce Merlin engines. And it was the aircraft's engines that proved to be its demise on that night in 1941. This was one of four Whitley aircraft to crash in or close off the shores of neutral Ireland during the early part of the war. 502 Squadron lost three men in similar circumstances in January of 1941 off Donegal, and another thankfully non fatal accident befell the squadron on 30th April 1941.

The crew of the aircraft were the five airmen listed below:

P/O Edward D Dear 82695 (Pilot),
age 26, From Croyden,
Missing in Action




P/O William Hotchkiss Edwards 81033 (Pilot),
age 22, from Meole Brace, Shrewsbury.
Body recovered and buried in Shrewsbury


(Seeking photo and family contacts)





P/O David A E Midgley 60328 (Navigator),

age 28, from Yorkshire.

Survived bail out and was interned.


Sgt Stanley D S Goodlet, 973901
age 21, from Edinburgh,
Missing In action


(Seeking photo and family contacts)


Sgt Robert G Harkell 749495 (Wireless Operator/Air Gunner),
age 22, from Market Harborough, Lincs.
Survived bail out and was interned.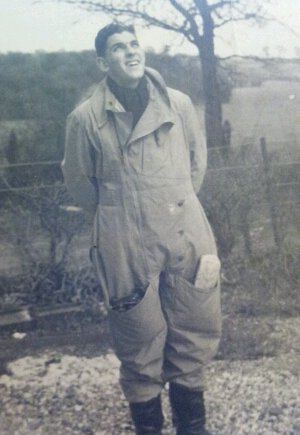 The aircraft's pilot, Edward Dudley Dear, pictured at left and right, was born on the 5th October 1915 in Croyden, London. His parents were Christine and Dudley Dear. The memorial publication, Croyden and the Second World War, published in 1949, records his residence as 6 Colchester Villas, Stanley Road and that he attended school at Selhurst Grammer School. He was a member of the Old Croydonians Rugby team in 1937-1939. He was married to Vera Ward in the summer of 1940 in Camberwell. Teddy, as he was known to friends, was posted missing following the loss of Whitley P5045. His remains were never recovered and his name is recorded on the Runnymede memorial.
P/O William Hotchkiss Edwards was the second pilot on the aircraft and came from the town of Meole Brace, in Shrewsbury. His parents as listed by the Commonwealth War Graves Commishion were Ada and William Hotchiss Edwards. His parents had married in 1909 in the Wolverhampton district with his mothers maiden name being Saunders. William was born on the 21st June 1918 in the Wem district of Shropshire. His CWGC register entry, records that he was a member of the Royal Aeronautical Society (RAeS) and their member ship card shows that he joined the RAeS in February 1938 whilst studying at Chelsea College. The address given at that time was an address on Belle Vue Road, Shrewsbury. The address details given in his National Probate Calender is The Rocks, Meole Brace, with all his estate left to his father, a retired bank manager. William is buried with his parents in Shrewsbury General Cemetery in a family grave. His father passed away in 1952 and his mother in 1957. They are in a family plot and thus there is no Commonwealth War Graves Commission headstone. It is believed that William had a brother named George and perhaps a sister named Marjorie.
No relatives of Sgt Stanley David Sutherland Goodlet have been traced at this time. He was son of David Bell Goodlet and Jessie Jane Goodlet and was born on the 20 May, 1920 in Edinburgh. His father was a Great War veteran of the Royal Engineers and in 1941 was serving as a Sergeant in the 248/249 Coastal Battery of the Royal Artiller. Stanley was at one time commemorated in Galway following the recovery of a set of remains near Cranmore on 14 April 1941. On the body the only items of identification found were a wrist watch, a shirt tie and the collar of a short. Despite much correspondence however between the Irish and UK authorities it was determined in 1953 that the remains could not be firmly identified as those of Stanley. His father was only informed in 1953 that remains, believed to be that of his son were buried in Galway twelve years previously, but following the review of matters, it could no longer be determined that the remains found actually were Stanley.

Sgt Harkell and Sgt Midgley remained in internment until October 1943 when they both were released in the first batch of Commonwealth airmen to be officially, but quietly, released by the Irish authorities. They arrived in Stranraer on October 19th, 1943. They filed two very short escape and evasion reports which are now in the UK National Archives. P/O Midgley's statement, which is referred to in Sgt Harkell's report, states simply:

1. Internment.
Whilst on convoy escort duty, S.W. of EIRE on 12 Mar 1941 our port propeller broke. We were trying to make our own ground in NORTHERN IRELAND when the starboard engine failed and we were ordered to jump.

I came down in GALWAY BAY and swam ashore, and the following day was interned in THE CURRAGH CAMP.

Escape Attempts
In the two escape attempts of Feb and Aug 1942 I was not sucessful in getting out of the camp.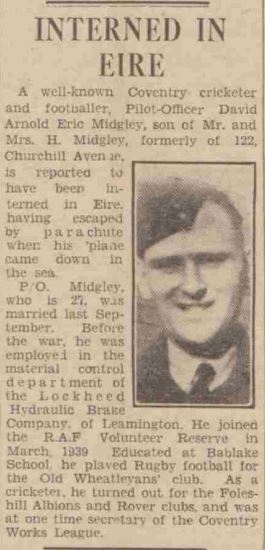 David Midgley was born in 1913 to Emile and Horace Midgley.
He gave his profession as production engineer and had joined the RAF in April 1939.

The now Flight Lieutenant David Midgley returned to active duty and in late 1944 joined number 201 Squadron flying Sunderland flying boats out of the base at Lough Erne in Northern Ireland.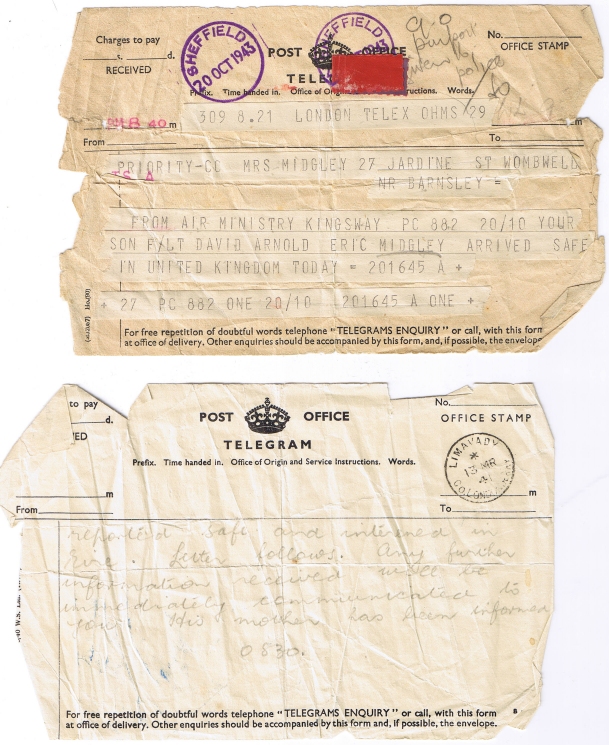 His family were able to provide the above scans of telegrams received by his late mother during his internment in Ireland. The upper one reports to her that he has returned to England in October 1943, and the lower telegram, sent in March 1941 states - Reported safe and interned in Eire . Letter follows. Any further information received will be immediately communicated to you. His mother has been informed.
He remained in the RAF after the war, transferring from the RAF Volunteer Reserve to the RAF in 1949. He later transferred to the Equipment Branch and retired with the rank of Squadron Leader in 1961. David passed away in Oxford on the 14th October 1965 aged just 51, leaving his widow Rudy behind.
After the war Robert Harkell became a a consulting engineer and traveled throughout much of the world. He was the son of Lillian and Walter Harkell from Market Harorough, Leicestershire. His brother Bill made contact in 2012 to tell of what he knew about his brothers time. In 1946, Bill visited Athy in Kildare to stay with a family who had been friends with Robert during his time interned in Ireland. Bill provided the below account of his brother time in internment and it is interesting to note the story of the 'escape' from Ireland. This is a common theme among the families of some of the internees. It would appear that a story arose after their release that they had escaped in the strange fashions they described. The files in the Irish Military Archives and the Irish and UK National Archives however tell a different and much more mundane story. The men in October 1943 were simply driven to the border with Northern Ireland and released to the authorities there. The airmen would have been sworn to the utmost secrecy at the time so it is understandable that the story arose. We will let Bill tell his brother story in any case:

My brother, Robert (Bob) Harkell, joined the RAF at the beginning of WWII and trained to become a Wireless Operator/AirGunner. He was a perfectionist and extremely fast and accurate with Morse Code.

In the RAF he flew missions with Coastal Command over the Atlantic protecting the military and civilian convoys sailing from the USA to England from the Nazi U-Boats. On one such mission the Whitley bomber had engine failure and according to one report had a propeller break on the other engine. They had to bail out and my brother landed near Galway Bay. In the landing he injured an ankle and was soon picked up by local police who contacted the Irish military authorities.

Eire was a neutral country and interned military personnel from both the Allies and the Axis powers. The internment camp was at the Curragh in County Kildare.

Ironically, I've since discovered on Google that the camp was originally built by the British to house Irishmen captured during Irish protests against British rule. I believe it was called the A-Lines while under British control.

It is the duty of a prisoner of war to try to escape and there were several attempts made that involved my brother. In one attempt I understand he was to act drunk and distract the guards while other prisoners tried to escape. Another escape was planned by tunneling under the barbed wire fences but that attempt was discovered, too.

In the 1940's Roman Catholics and Protestants were very intolerant of one another. It is my understanding that anyone escaping from Curragh Camp had to choose the escape route that was safe for his religious affiliation. Bob was a Protestant so tried to escape along the Protestant route to Ulster.

My brother was helped by a Protestant family who had a farm near Athy. Their name was Kenny or Kenney.

On New Year's Eve, 1946, my sister and I took the ferry from Holyhead to Dún Laoghaire to thank the Kenney family for the help they gave to my brother. It was a very rough crossing.

It was a very exciting trip for me. I was a 15 year old English Protestant going to a land where I knew the Brits were hated. (I understand why, too!)

We had a wonderful time on the Kenney farm but the highlight was riding into Athy in a trap drawn by a horse named Dahlia. That was 66 years ago and I still remember it very fondly. Eire is a beautiful country. It truly is the Emerald Isle.

After the RAF my brother returned to civilian life and became a consulting engineer to steel related companies and in 1948 married. He and Kay had 3 daughters.

His work was global in nature and he traveled extensively including stints in Europe and Canada. Two of his assignments included extended stays in Osaka, Japan and Cleveland, Ohio USA.

In 1997, during a celebration of their 50th wedding anniversary, Bob complained to me about chest pain. I have coronary artery disease so Bob wondered if his pain might be angina. Unfortunately, upon investigation, it was much worse.

Bob's work in the many steel factories where air quality including considerable quantities of asbestos dust was as yet uncontrolled, made him a prime candidate for mesothilioma, a specific cancer in the lungs. He was diagnosed and died within a year. My wife(Mary) and I, flew over to visit him, but by then Bob was being moved into hospice. He died shortly after our visit.
Robert married after the war. His wife was herself the widow of an RAF Bomber Command officer, the two having had a tragically short marriage of only a few weeks for his death over Germany. Robert's daughters were able to provide the following group photo which appears to show some of the British internees. The two men standing at the right hand rear of the photo in civilian attire were identified by Reggie Darling, who grew up in the Curragh area, as Alex Lyons on the left with Ernie Lyons to the right. Ernie was a champion TT Rider in the 1930s and his brother was also involved. Reggie understands that the photo was taken on the day of the marriage of Eileen Lewis to Canadian internee, Roswell F Tees. Eileen's father, Jack Lewis, was the manager of the Wesleyn Home in the Curragh Camp (a recreation centre and canteen). Reggie could not identify the 3rd civilian in the middle of the back row. Alex and Ernie came from Kill Co. Kildare and in fact Ernie only died on 07 Feb 2014 aged 100 years.. Those faces that can be identified are believed to be:

In the front row of the photo, from left to right

Sgt Robert George HARKELL 749495
Sgt Norman Vyner TODD 551678
Sgt William BARNETT 973926
Sgt David SUTHERLAND 51946

It seems most likely that the tall man standing at the very left of the photo is Sgt Herbert Wain RICKETTS 581473.
The airman with the light coloured hair standing at the middle is Sgt George Victor JEFFERSON 816145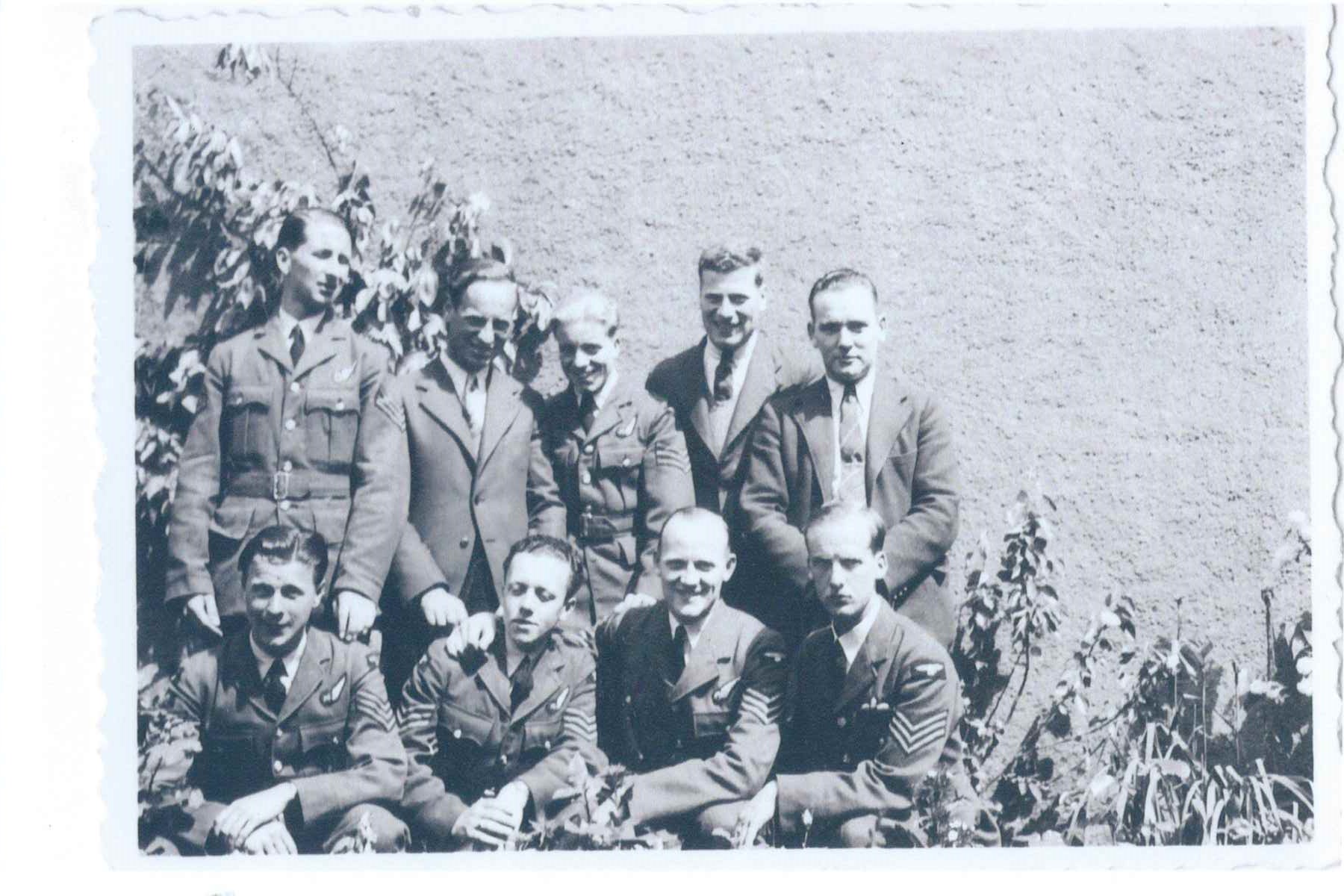 Also among Robert's photos and records were these images taken of him and of the Curragh internment camp.

Around 1962, Robert Harkell was in correspondence with Galway man Leo Sheridan, mentioned below, and provided the following recollections to Leo.

"On the night in question, we were obliged to abandon the aircraft due to severe mechanical trouble which was tearing the starboard engine out of the wing, causing tremendous vibration and causing smoke to enter the fuselage. I believe that we were above cloud, unaware of the presence of town below and flying towards the north (probably west of north). We had previously been flying east of south and had turned on reciprocal. I cannot remember what length of time had passed between turning and running into mechanical trouble, nor do I know whether a steady course was being flown during the period of this trouble until we baled out. The pilot was certainly fighting to gain height and it has always been my clear impression that he mentioned that we had 5,000 ft as our height when jumping commenced. Of the crew of five, only the first and third man out survived; being the third man, no survivor left after I did, and therefore no one can say what happened afterwards.
Having said that I can give no proof, let me at once say that I believe that your main theory could well be correct, for the following reasons.
Firstly, the man himself. Although I knew him little, for I was flying as a replacement airgunner on this particular flight and was not a regular member of F/o Dear's crew, he struck me without question as the type who would, in the circumstances, do as you believe he did. Secondly, we had on board, a large depth charge which had not been jettisoned due to our knowledge that we were over land. Thirdly, and most important of all, that our Captain presumably went down with the Whitley, since his body was never recovered. In view of our original height and certainly of the length of time during which I was able to hear the aircraft still flying after I left it, there should have been ample time for both pilots to have jumped clear. (Whilst in interned at the Curragh camp I learned that the Captain had not been found and could not understand the reason in view of the adequate time available for jumping)."
Robert George Harkell died in August 1998 in Warwickshire.
The story of Whitley P5045 has stayed alive in the minds of people in Galway ever since the war. As early as the some witnesses were callin gfor a memorial to be raised to the crew. At this this stage it was being claimed that the In the early 1990's one Leo Sheridan campaigned to have the wreckage found so that the weapons the aircraft carried could be made safe for shipping outside Galway. Mr. Sheridan was involved in a company who hoped to run a tourist submarine service in Galway Bay.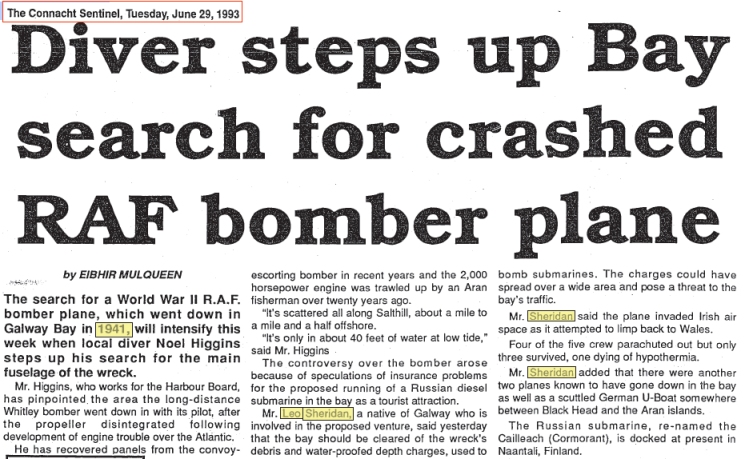 The crash is mentioned occasionally in the local Galway papers and as late as 2012, there was talk among some people about raising a memorial to the pilots on the basis that they had deliberately avoided crashing into Galway with the depth charge laden aircraft. Review of the limited wartime statements don't indicate that the pilots were doing this. It is felt that witnesses to the aircraft in its final minutes felt that the crew were avoiding built up areas. The two survivors made no observations of that nature and sadly the pilots perished in the incident. Witnesses also believed they heard an explosion after the crash which might have been the sound of the aircraft's weapons detonating, but again, this is only assumption. What ever the truth might be behind the actions of the pilots in those last few minutes, it is certain that three young airmen lost their lives in a tragic accident. Hayden Lawford, who passed away in 2013, sent on his findings from the review of the Operations Record Book for 502 Squadron. This is held in the UK national Archives in Kew, London:

Interestingly enough the 502 Sqdn ORB indicates that at the time there were problems with the props on the Whitley - there had been one ditching and a return to base with prop problems on 11th March. It is possibly significant that at 12.25 on 12th all 502 Sqdn aircraft were grounded and 3 aircraft sent to Staverton for prop changes, no further ops were undertaken by 502 for the rest of March 1941.

I have checked up on the Convoy situation on the evening of 11th March, and P5045 may have been patrolling out as far as 54N 16W, almost 300nm west of Galway, to escort an outbound convoy, OG55, so fuel could have been low as they would have been airborne for over 9 hours if the crash occured around 02.30 on the 12th March as quoted, but I am not sure what the endurance of a Whitley would be on this type of patrol. Also they had a head wind on the return leg as the surface winds were moderate ESE. The official RAF crash report states:

"The aircraft was misdirected by a series of H/F and D/F bearings and so became completely lost. The aircraft was at a reasonable height (4000' or so), bearings were unreliable up to 120 degrees in error."


The H/F D/F referred to the High Frequncy Direction Finding system the crew relied upon. This equipment was intended to show the operator the direction from which a radio signal was being broadcast.
This report, the Form 1180 can be obtained from the RAF Museum in Hendon, London.
The Whitley joined the RAF in 1937, but by the time the war began it was out classed as a bomber and as soon as they could be made available they were transferred to RAF Coastal Command for convoy protection and anti submarine work. Whitley P5045 was a Whitley V version, powered by two Rolls Royce Merlin X engines. A brief run down of the type is given in the profile below from the December 3rd, 1942 edition of the magazine, Flight. These archive magazines can be found on www.flightglobal.com.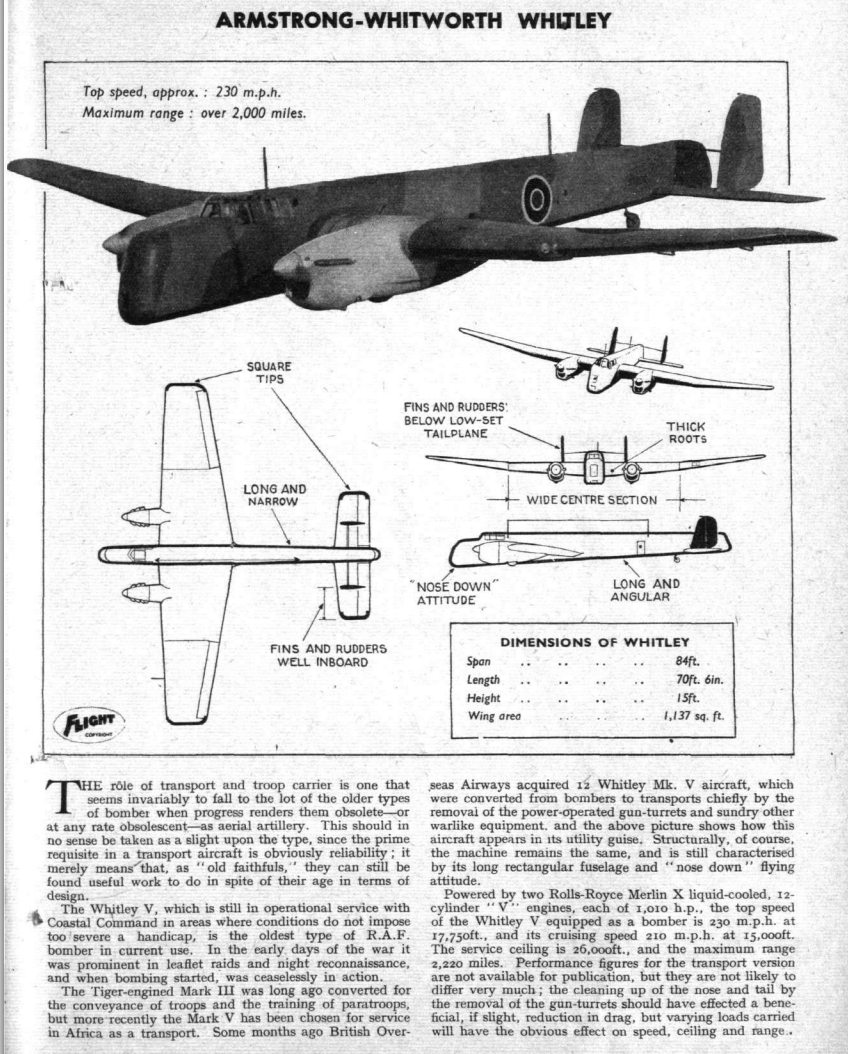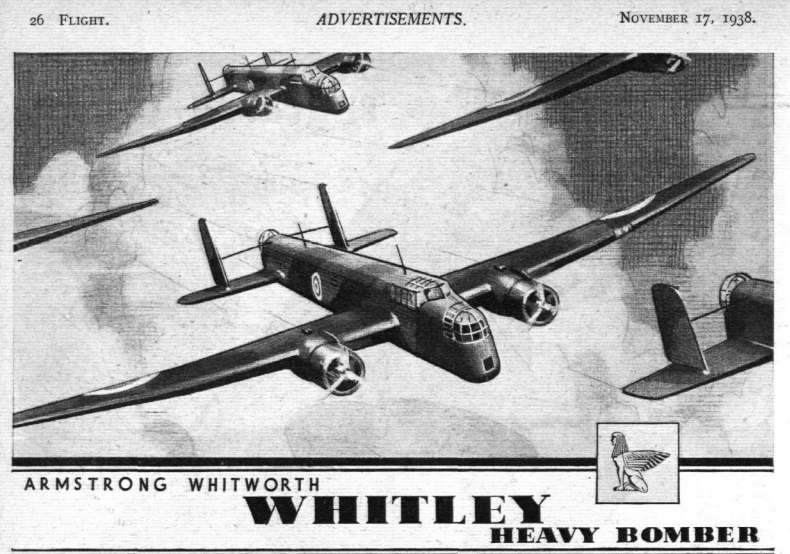 Compiled by Dennis Burke, 2012, Dublin and Sligo. A big thank you to the Dear, Harkell and Midgley families, to Martin Gleeson and to the late Hayden Lawford who passed away in 2013. Also to James Keating of Galway.