Hawker Hurricane PZ774, Moville, 1945
As the war in Europe ground to its sad and bloody end, the peaceful skies over Ireland had one of its last war time unexpected visitors at Gleneely, North West of Moville in County Donegal. The Innishowen Peninsula was at this stage sadly no stranger to the sight of Allied aircraft coming down on and around it with no less than 15 incidents recorded, not including many off shore.
The subject of this article at least did not come with loss of life or injury. On March 14, 1945, at about 06:30 in the morning, at the Hillhead Farm, to the east of Gleneely, a single engine aircraft made a forced landing in a field belonging to Mrs Robert Hutchinson. The lucky pilot was soon joined by the local Local Defence Force section and the section leader provided him with breakfast nearby. The Military were no doubt soon on hand and the pilot, whose name is recorded as F/O Robert Leslie Bramley 172117, was brought to the border post at Bridgend at 18:35 that day. The Irish Army report recorded that he told them that he was "Just up for a flip"
His unfortunate aircraft would follow someways later. F/O Bramley's aircraft was a Hawker Hurricane, famous veteran of the Battle of Britain. It's serial number was PZ774 and the Air Ministry Form 1180 accident card, received from the RAF Museum in Hendon, records that it was on the strength of 1402 MET FLT, Royal Air Force. Number 1402 Flight had formed in 1941 at Ballyhalbert airfield from the local Meteorological flight using Gloster Gladiator biplanes. Over the following four years the flight expanded to be equipped with a various collection of aircraft including Hudsons, Spitfires, HP Hampden bombers and the Hurricane. By 1945, the Hurricane had been outclassed as a front line fighter in Northwest Europe and had been relegated to second line roles such as training and single engine meteorological flights. 1402 Flight was operating out of Royal Navy Air Station Ballyhalbert at this stage in the war. The official crash reports explains better the reason for F/O Bramley's flight.
Hurricane PZ774 was a Mark IIc model of the fighter. Its fighting days behind it, it was noted by the Irish Army that after its crash it was unarmed. Rather than being up for a flip, F/O Bramley was carrying out an early morning met sortie. After a two hour flight, the report states: Pilot returned to base, 10/10 cloud, unable to land, after several ???? which were unsuccessful, forced landed, petrol getting low".
A further entry on the card states: Pilot forced landed when A/C nearly out of fuel having ??????? ?????? of ???????? and weather too bad to land at base."The conclusion of the investigation carried out by more senior officers found that: FCO and FCLO NI failed to give adequate aid to pilot. 10/10 cloud made landing unsafe, ????? position, forced landed
.
The Hurricane had suffered a broken propeller and damage to the under surface of the fuselage and the starboard wing. The radiator had been torn from its position under the aircraft belly. A team of Irish Air Corps technicians salvaged the aircraft from the field and it was taken to the border at Derry on 21 March and handed back to its owners.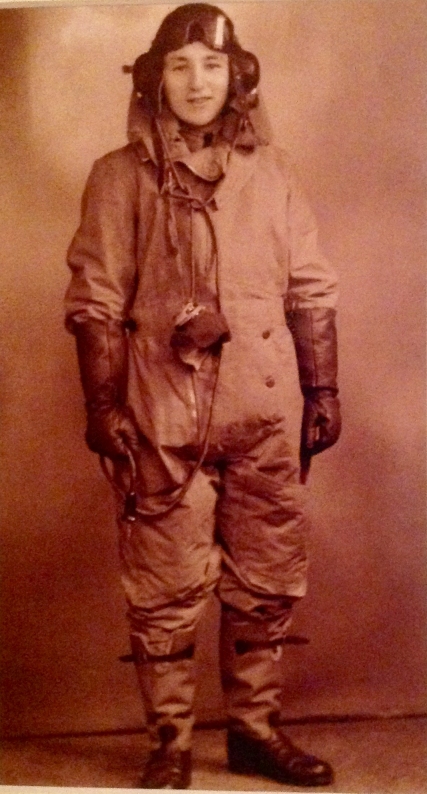 R L Bramleys name and serial number were confirmed in the London Gazette Air Ministry announcements. His commission to the rank of Pilot Officer in the General Duties Branch of the Royal Air Force Volunteer Reserve was published in January 1944.

As a Sergeant pilot, 990154 Robert Leslie BRAMLEY, his name appears in the summary Operations Record book for 285 Squadron on the 5th May 1943, being posted in with four other pilots, including one who had trained with a Sgt J R McMillan who died in December 1943 in a crash in Monaghan. 285 Squadron was a support unit that provided target towing aircraft for Army anti aircraft training purposes. Sgt Bramley and the others had been posted in from 61 Operational Training Unit at that time. At that time, 285 Squadron had started to flying Airspeed Oxford twin engine aircraft. He was promoted to Temporary Flight Sergeant on 29 Sep 1943. He was posted out to another support Squadron, number 667 Squadron in April 1944, and from there was posted to 8 OTU in May 1944 for operational training.

He remained on in the RAF after the war, being confirmed as a Flying Officer post war in the Royal Air Force, reducing in rank due to the contraction of the force after the war. Flight magazine carried the short article in its April 28th, 1948 issue, searching of the London Gazette would indicate there was only one officer of this name in the RAF at that time. Early 1953 saw his name again printed upon receiving a promotion to Flight Lieutenant. In 1955 however his retirement from the RAF was published, "(on account of medical unfitness for air force service)".
Robert Bramley was born in Middlesbrough in 1920, to Lily and Robert Bramley. In the 1939 register, he is found living at home with his parents and sister and working as a Grocer Shop Assistant. He married in 1941 in Durham and had two daughters. Sadly there is an death register index entry for a Robert L Bramley, aged 39 who died in Leeds in 1959.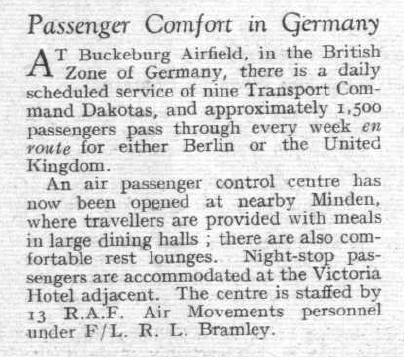 Compiled by Dennis Burke, 2019, Dublin and Sligo. Information Sourced from the Bramley family, Irish Military Archives, The UK National Archives, Flight Global Archives and ancestry.com records.