Vickers Wellington, R1021, Charleville, Cork
At 18:35 hours on the 26th of September 1942, a Wellington bomber of the Royal Air Force made a forced landing outside the town of Charleville, in County Cork. The Irish Army recorded its movements in the following terms: A British aircraft fist observed over Monaghan town at 15.38 hrs. on the 26th September, was later reported over county's Cavan, Galway, Clare, Limerick and Cork. The aircraft flew on an erratic course circling various points en route evidently endeavoring to pick up its bearings. After circling over Charleville the machine made a landing near the town at 18.50 hrs.
The crew of three airmen and one passenger were un-injured in the landing. They were joined at the crash site by members of the Local Defense Force (LDF) and the local Gardai from the vicinity and were brought to the nearby Garda station at around 20:00 hrs that evening. It was three hours later before a military party from Bruree arrived to take over security duties. A summary report dated 10th October 1942 by the Irish Army Intelligence Officer for the Southern Command Area reported on the sequence of events between the arrival of the various civil and military groups. All parties were interviewed to show clear evidence that the aircraft was unarmed, without bombs or ammunition on board.
The aircraft had landed on the land of Mrs. Fleming of Deerpark. The military officers who attended the scene recorded that the aircraft carried the number R1021 and had the number 14 painted on the side and wore night bomber camouflage. The local Gardai and LDF were at pains to point out to the Southern Command officer that while they were guarding the aircraft after it crashed, no one got near it whereas the military party seems to have allowed civilians access to the aircraft.
The pilots of the aircraft reported to the Irish military that they had been on a flight from Abbotsinch* (sic)* in Scotland picking up a Leading Aircraftman for service at Limavady in Northern Ireland. They began to run low on fuel having become lost on the flight and with their radio having gone un-serviceable they had elected to put the aircraft down.
The four men on board gave their names as:
Lt Wilfred J Broughton. Keelby, Haybrough, Lincolnshire; Father H. E. Broughton

Sgt George Reginald Unitt, 94 Dudley St, Punchbowl, NSW, Australia

Sgt John Boulton Hallend, Wickwar, Gloucestershire

LAC Alexander Chisholm, 63 Erskine St, Aberdeen

Note: the spellings of places above are those found in the Irish Army file on the crash.

Late in the evening of the crash, word was received by the military that the four men were to be allowed out of the Garda barracks and allowed to stay in the local Imperial Hotel for the night.
The four were handed over to the United Kingdom representative the next day at Corkagh House, Clondalkin, Dublin on the Dublin Ė Naas Road. From there they would have been escorted to the border with Northern Ireland although the file does not specify.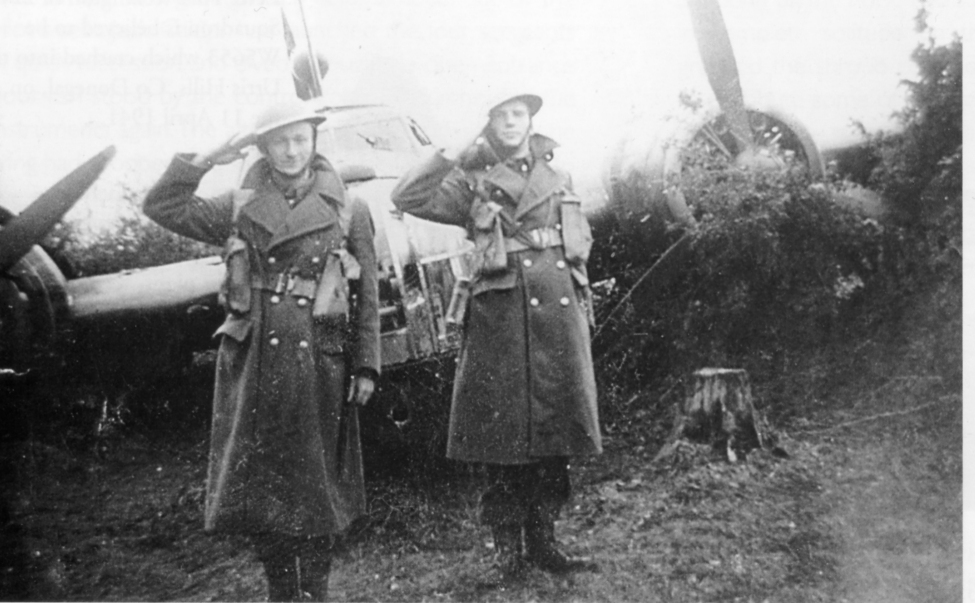 The photo above showing two members of the Irish Army standing guard at an aircraft's nose is said to be the remains of Wellington R1021. It was published as such in the D MacCarron book, Landfall Ireland. It is understood that the aircraft landed somewhere in the very close to the north part of Charleville town. The 1911 maps of the town show an area named Deer Park, and probably quite close to the preset day Charleville Park Hotel. The Irish Army report continues in the aftermath of the crewís departure to describe the salvage effort that was put in to remove the aircraft from the crash location.
A party of military technicians from Northern Ireland arrived at the scene on the 11th November. Over the next three days they disassembled the aircraft and loaded it onto loaders for the journey back to Northern Ireland. The Irish army officers assigned to work with them or at least to keep an eye on them decided that the salvage operation was of secondary importance to the men and they were more interested in getting to visit the local towns to attend dances. They felt that they were of good character however! Most of the RAF men had previously been south of the border involved in the salvage of other aircraft, the October 1942 crash of a Boston bomber in Mayo is mentioned in particular. The salvage crew loaded up and departed on the 14th November and crossed over the border at Newtownbutler in County Monaghan.
The number R1021 recorded by the Irish officers leads one to the identify of the aircraft. Vickers Wellington serial number R1021 was one of a batch of 550 Wellington bombers completed at the Vickers factory at Broughton, near Chester in North East Wales. At its peak rate of production, this factory was delivering 130 Wellingtons each month. Wellington R1021 was delivered as a Mark 1C bomber. This was the first large scale production version of the famous bomber and 2685 were built.
The RAF Museum in Hendon hold a microfilm copy of the Air Ministry F1180 covering the crash and outcome. It lists the aircraft damage to be a category B, which in RAF terms indicated and aircraft that was: Damaged, repairable at a maintenance Unit, civilian repair depot or manufacturers. The hand written accident narrative reads:

- F.L (Lost) O.C 2nd Pilot did not take sufficient care over his navigation had not done a cross country with map reading at his A.F.U. or over England before, neither had he used this type of map before. Trained in America. pilot did not check navigation or use much initiative. WOP could not get a Q.D.M. Suggest A.F.U.ís make pupils more conversant with English maps. Stn Com F/L due to carelessness on part of both pilots. Cpt must be held to blame.
Some of the terms used above need some explanation:
F/L = Forced Landing
O/C = Officer Commanding
A.F.U. = Advanced Flying Unit. These were units set up to provide extra training for airmen who had trained in America. Airmen trained in the finer and less congested skies over America and Canada, or even Southern Africa, were found to need further courses to bring them up to speed with the poor weather and busy wartime traffic of north west Europe.
WOP = Wireless Operator. This was the role undertaken by George Unitt in this crew.
QDM = A code which could be sent by the aircraft to a station requesting the magnetic course to steer with zero wind to reach that station.
The Form 1180 also lists the RAF unit that flew the aircraft, Ď7 OTUí.
7 (Coastal) Operational Training Unit ((C) O.T.U.) Was formed in April 1942 at Limavady outside Derry in Northern Ireland. Itís role was to train crews for operations on the Wellington which was at this time being introduced to Coastal Command as a patrol and torpedo bomber. It would take in trained pilots, navigators, engineers, radio operators and gunners and forge them into operations ready crews. Many of their aircraft were Wellingtons that had flown a previous career as bombers in Bomber Command in raids over Europe.
Wellington R1021 had not always flown in the training role. It had previously flown with 311 (Czech) squadron of the RAF, manned by Czech airmen in exile from their occupied homeland. It flew throughout 1941 with the squadron on bombing raids to targets such as Cherbourg, Emden, Hamburg, Hamm, Hannover and elsewhere. Itís markings during its time with 311 Squadron were the fuselage codes KX-W.
And what of the crew men from R1021 during her landing in Ireland?
| | | | |
| --- | --- | --- | --- |
| P/O Wilfred Joseph BROUGHTON 123948, Pilot | Sgt Alfred John BOULTON 1312211, Co-Pilot | Sgt George Reginald UNITT 411412, Wireless Operator/Air Gunner RAAF | LAC Alexander Walker CHISHOLM 651383, Passenger, aircraft mechanic SEEKING PHOTO |
Each of the menís names have been confirmed using official records from the Royal Air Force and Royal Australian Air Force.
P/O Broughtonís officer career can be traced using the London Gazette government publication. His name appears in Gazette 35654 dated July 1942 as a Leading Aircraftman being promoted to a Pilot Officer (probationary) as of 25 June 1942:
658051 Wilfrid Joseph Broughton (123948)

Wilfred was posted into 179 Squadron during the winter of 1942/43, the unit ORB being hand written it can be hard to decipher what it is written. He is found listed in the Squadron ORB flying as second pilot in the crew of P/O Ernest Silson 123951 during January to March 1943, when Silson is listed as been admitted to the station hospital on March 22nd. P/O Broughton rose to the rank of Flight Lieutenant in 1944.

On the 6th, 9th, 12th, 16th, 19th, 23rd, 28th Feb 1944, he is found as captain of his own crew in 179 Sqn flying from Gibraltar. His crew consisted of Sgt R F Newman, Sgt D S Davies, Sgt R L Runulus, Sgt C Kinsey and Sgt E W Reynolds. he is listed throughout March and April. May 1943 finds Wilfred departing from Gibraltar with a number of other airmen to the UK in the Squadron's Aircraft 'Z' with them all listed for a period as going on leave.
He appears again on 5th July, 1943 this time flying escort patrols as second pilot to F/O Silson again.

He told his family little about his wartime career but his wife Irene recalled that: I worked in flying control at Haverfordwest and then Silloth aerodromes and that was where we met. He came to Silloth for a monthís break before going back for his second tour. He was posted after a month or so to Norfolk, Lakenham or somewhere near Holt and flew Lancasters to the end of the war. Bombing over Germany mostly.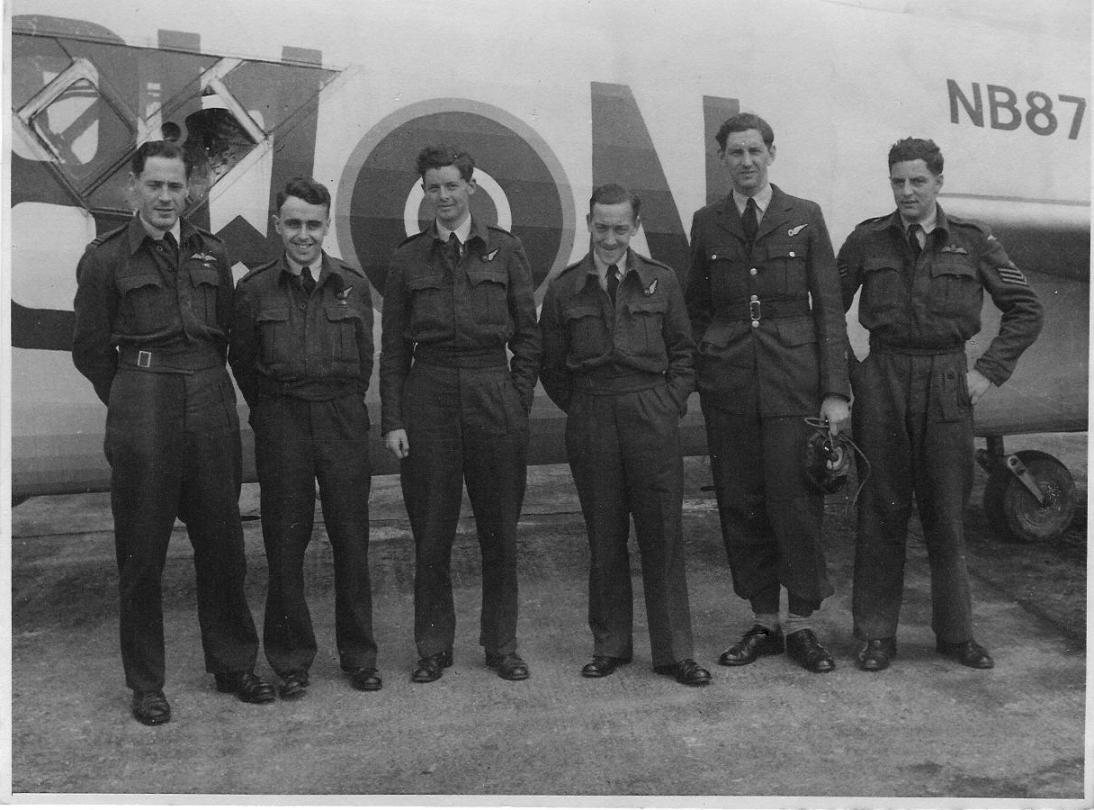 The above photo shows Wilfred Broughton standing at the left with an unidentified crew. The aircraft behind is another Wellington in the white colours of Coastal Command. The last number of the aircraft serial is missing, being NB87_. Behind Wilfred are his units identification codes, in this case the 8W code of 612 Squadron. The aircraft letter N seems to have been assigned to NB874, which flew the Squadrons last mission on 22 Jun 1945. His crew during this short tour consisted of:
F/Sgt Hampton G S
W/O Healy D C (Not 100% if this is correct spelling)
W/O Wadsworth D
W/O Bell G C
W/O Parsons W N

Wilfred's second tour of duty began with 612 Squadron in March 1945, and he served with them until June 1945 when the Squadron was stood down. His missions during May and June were recorded as uneventful except for the night of May 3rd 1945 when he and his crew attacked radar contacts on the surface off the Danish coast, witnessing secondary explosions following their bomb drops.

Wilfred Broughton, pilot of R1021, passed away aged 91 in Curry Rivel, near Bristol on 17 February 2010.
Alfred John Boulton, the second pilot of the aircraft, came from Hall End, Wickwar and was born 1922. His parents were Margery and Alfred Boulton. His subsequent wartime career brought him to the Middle East, as evidenced by his wonderful wartime photos. He passed away in 1990 in Yorkshire.

Alfred can be seen in the photos below: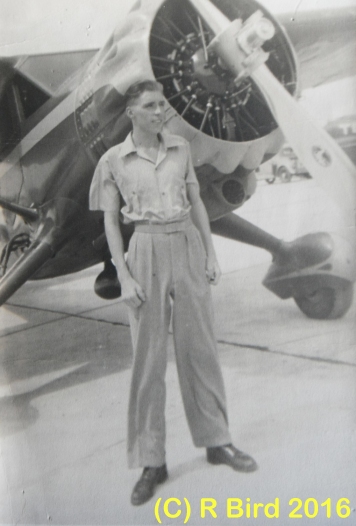 Above, standing in front of a Stinson Reliant aircraft. This was most likely taken during the training he did in America.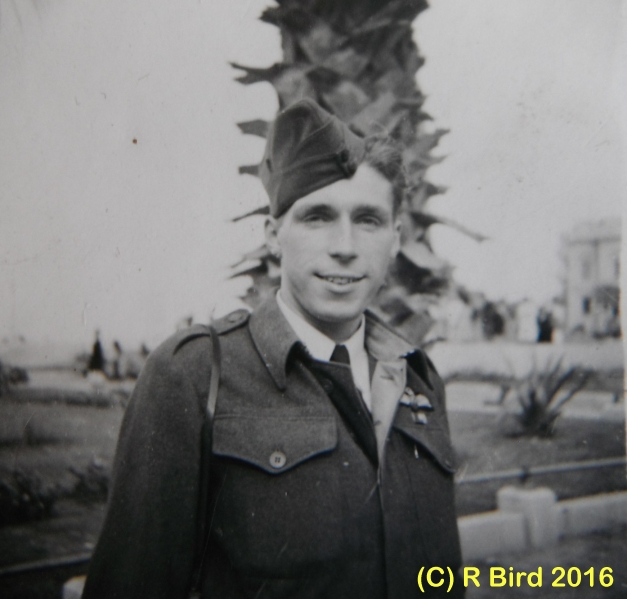 John, as he was known to family and friends, shown standing in somewhat tropical looking surroundings.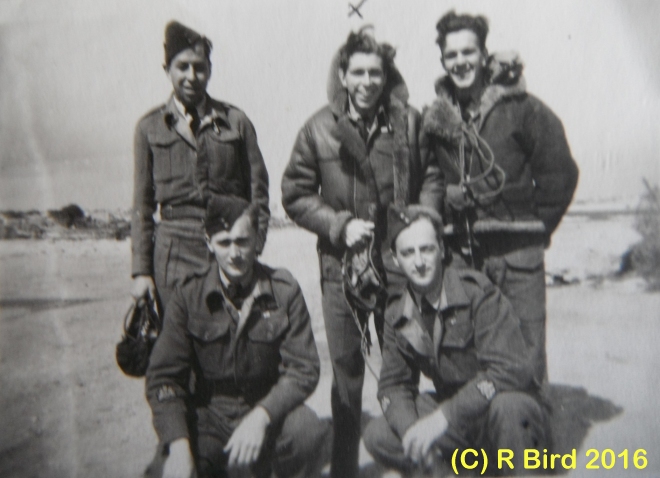 Sgt Boulton, marked with the X, is shown with other airmen.
He was posted to the USA in the summer of 1941 and undertook flying training Lakeland, Florida at a civilian contracted training school as part of the Arnold Scheme. He returned back to the UK in March 1942, going to 2 (P) AFU in May and then Limavady and 7 (C) OTU in September.

His posting to the Mediterranean took place in January 1943 and thereafter his service record is a little confusing due to a lack of dates on most postings. His photos are labeled throughout the Mediterranean; Cairo (Feb 1943), Alexandria (Apr 1943), Algeria (Jan - Feb 1944), Malta (Mar 1944), Tunisia (Aug 1943) and Italy (Dec 1943). He was posted to 458 RAAF Squadron in about April 1943, the same Squadron as George Unitt, but they may not have served at the same time.

Alfred is shown here in a group photo, thought to be of his initial training, based on the fact that none of the men carry NCO stripes, other than the named Sergeant. This may have been taken while he was with 10 Initial Training Wing at Scarborough.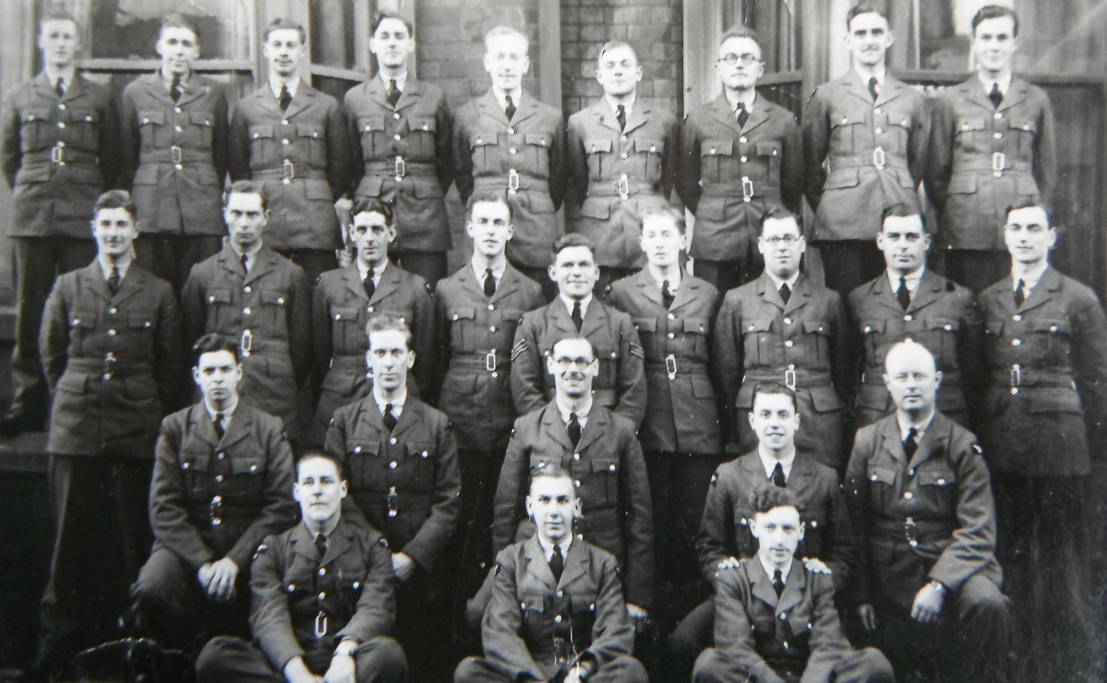 Top Left: CLEEVE-BOULTON - MILES - COLLIS - OAKES - BERRIMAN - MORRIS - ELLIS- ??
Third Row From Left: SMITH - HARRIS - RUDEL - WOOLARD - HUTT - TOMKINS - JANLEY - NEWPORT
Standing between Second and third Rows: SGT TAYLOR
Second Row from Front: SMITH - JONES - Unknown - MILLS - ROWBOTHAM
Front Row: PERCIVAL - POWELL - WHITE
George Unitt was the radio operator on the aircraft.

He was born in January 1920 in Sidney, New South Wales. He married in 1939 to his wife of many year, Ida Dorethea Martin. Their first child was born before his wartime adventures began.

After his enlistment in 1941, he underwent basic training in Australia prior to shipping out for Canada where he attended No 3. Wireless School in Winnipeg. Thereafter, he went to No. 3 Bombing and Gunnery School in November 1941, and following this arrived in the UK in late January 1942. He was posted to the Middle East in December 1942 and served on 458 Squadron of the Royal Australian Air Force. There he flew on 31 patrol sorties before a posting to second line duties as an instructor. Upon returning to Australia in 1944, he flew with numbers 11 and 42 Squadrons in Catalina flying boats. He is still alive and well and living in Australia as of August 2019. His family were kind enough to forward on a copy of his log book for the day of the crash and his recording of events.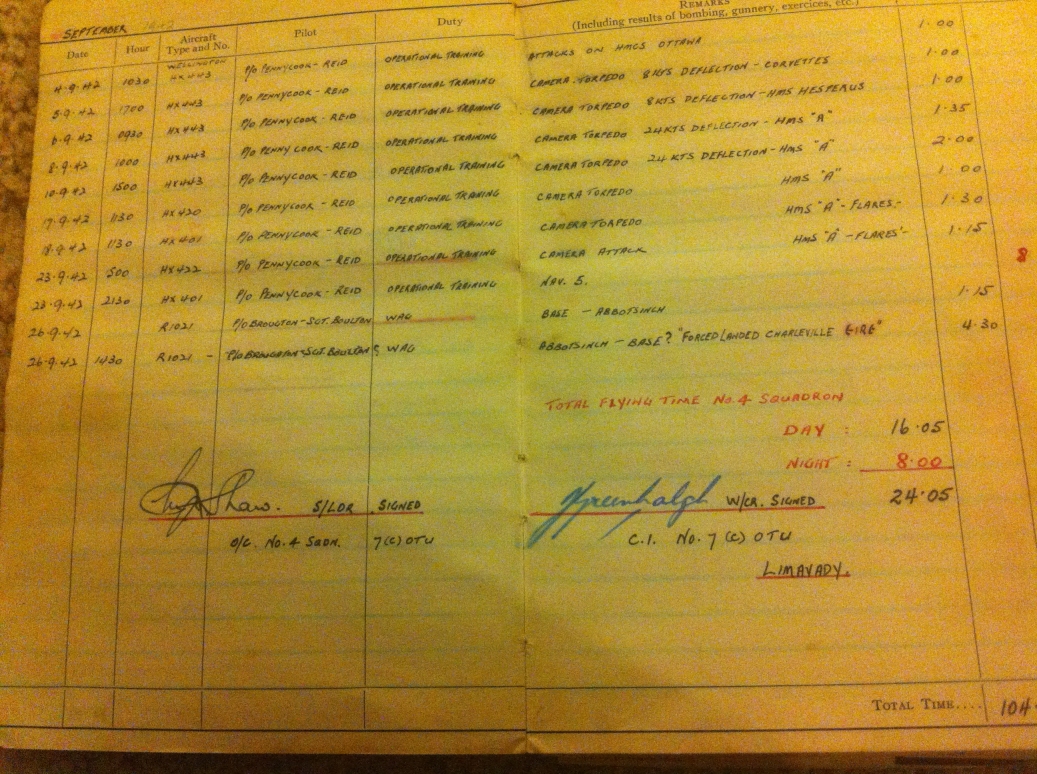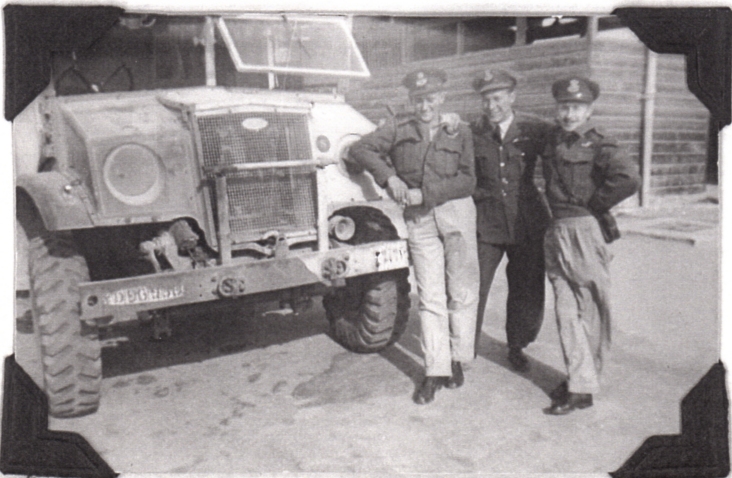 This image shows George on the right of the photo with two Air Force Colleagues at RAF Hallufa in 1943. On the left of the image is RAAF officer Ross Rasheed.

George passed away 22nd November 2018 aged 98. His daughter said, like a lot of Veterans the only day the war was spoken about was on ANZAC DAY, 25TH April each year.

Alexander Chisholm from Aberdeen continued his service in the RAF during the war in a ground trade. After the war he became a city fire fighter. His obituary from 2005 reads:
CHISHOLM
Peacefully, at Beach Court Care Home, Aberdeen, on Wednesday, January 5, 2005, Alexander Walker, aged 83 years, retired Brigade Fireman and Social Worker, beloved husband of Dorothy and relict of Nellie Brand, much loved father, stepfather and papa, late Cruden Crescent, Northfield and Charlie Devine Court, Bridge of Don, former member of Fire Brigade, ARI and Summerhill Bowling Clubs. Funeral service at Aberdeen Crematorium, Hazlehead (East Chapel), on Tuesday, January 11, at 10.50a.m. Sadly missed
Alexanderís widow Dorothy wrote in 2010, that Alex often spoke about the crash in Ireland over the years. He was greatly involved with many things in his life and is greatly missed by his family including his grand children.
Compiled by Dennis Burke, 2016, with the assistance of the Boulton, Unitt and Broughton families.