Vickers Wellington, T2506, Cloonwhite, Co. Clare, 1941
Early on the morning of 25th October 1941, there arrived in the skies over Ireland a Wellington bomber of the Royal Air Force carrying a Canadian airman who provided the earliest public information about the 'fate' of Allied and German airmen interned in Ireland.

A report prepared on 0ctober 27th, 1941 by the Major J P O'Connell of the Irish Army Intelligence Staff of Southern Command recorded the following: "In confirmation of my telephone messages of the 25th, instant, I have the honour to inform you that a British twin-engined Wellington bomber crashed in the vicinity of Cahermurphy,two miles N.W. of Kilmihil, at 08.55 hours on 25th.
The crew consisted of six, two officers and four N.C.O.'s. They had been on a bombing raid over Germany and on the return journey got lost, flying acorss England into Eire. When in Eire they discovered that they were running out of petrol and the crew with the exception of one decided to bale out. The member of the crew remaining, an officer, Keefer, who appeared to be in charge endeavored to bring the 'plane out to sea where he intended crashing her, but as she began loosing height he also decided to bale out. They were picked up in the vicinity of Quilty and brought to Limerick Military Barracks and were later transferred to the Curragh.".

A further report summary on an undated sheet mentions that: "A British Wellington Bomber aircraft crashed at about 07:30 hrs on the 25th October at Clonwhite, 2 miles north-west of Kilmihil, Co. Clare. The aircraft was completely destroyed but the six occupants escaped safely by parachute and were subsequently taken into custody and interned." Among the pages in the Irish Army erport is a sketch map highlighting the field in which the aircraft crash and it is indeed in the middle of Cloonwhite townland.

| | | |
| --- | --- | --- |
| P/O Ralph 'Bob' Gardner KEEFER J/4876 RCAF | Sgt Leslie George DIAPER 1375190 | P/O John 'Jack' Philip CALDER J/4695 |
| Sgt Albert Colin DALTON 636611 | Sgt Maurice Bertram BROWN 987421 | Sgt Alexander VIRTUE 1378792 |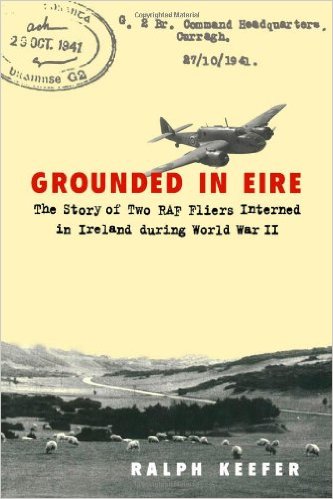 P/O Ralph Gardner Keefer was posted in to 103 Squadron on 2 July 1941. He initially flew as second pilot to F/Lt Ball and his first mission was 24th July 1941 against the German warship, Gneisenau, at Brest. Ralph escaped from internment on the 17th August 1942 alone with two other airmen, making his way northward to the border with Northern Ireland with the aid of some sympathetic Irish helpers. He returned active service and flew with Ferry Command in Dorval for a number of months as an instructor and check pilot. Finally he was posted back to Europe and was posted to 540 Squadron flying photo reconnaissance missions until the wars end. He turned to commerce after the war and planned to publish his memoirs and in the process of doing so, contacted many of his old internee friends. Sadly, deteriorating health prevented him from publishing, however his son completed the work and published it in 2001, under the title "Grounded in Eire" Ralph Keefer passed away on 28 July 2012.
John Phillip Sargant Calder was born in Regina, Saskatchewan to Archibald and Mary Agnes Calder. He was formerly on the editorial staff of The Canadian Press in Toronto. His name can be found on numerous prewar sports reports in Canadian papers. He was trained as a Navigator, that role then carrying the name of Observer.
P/O J P Calder was posted in to 103 Squadron in 28 June 1941 and sent on a parachute course to Weeton. First mission was with F/Lt Max on 20th July. Upon reaching England however, he was able to continue reporting by describing some of his experiences. These news stories were carried by newspapers all over Canada and also the United States. It began in late April 1941, with a story not by him, but about him. He was part of a party of Canadian airmen visiting Windsor Castle when he was asked by the Queen how many men had been on the vessel he crossed the Atlantic on. Following from this his recounting of his mission against the port of Brest on the 24th July 1941, was the first bylined spot story by a Canadian war flyer. Newspapers across Canada and in the United States used it on their front pages. This was published on and around the 30th of October, 1941, coinciding with his internment in Ireland. His name was next published when news was received that he was interned in Ireland. His time interned is well recorded by Ralph Keefer's book, "Grounded in Eire'. While interned Jack was able to continue reporting and had a number of articles about internment and his interpretation of neutral Ireland published in Canadian newspapers. In the end, following a number of failed escape attempts Jack decided with the aid of others to feign a mental breakdown in order to obtain a release on medical grounds. This attempt proved successful and he was released on the 2nd of July 1943. He soon returned to flying duties but was badly injured in a crash on 9th August 1943 when the Anson aircraft he was flying in crashed in Yorkshire. The crash is discussed on the Aircraft Accidents in Yorkshire Website.. He was listed as dangerously ill until the 12th August 1943 but subsequently made a full recovery.
Jack Calder's luck ran out on the night of 21st July 1944. Flying a mission to Hamburg with 571 Squadron. Flying with pilot F/Lt D L Thompson, their Mosquito was hit by flak, injuring Jack in both legs. He bailed out of the aircraft ahead of the pilot but was wearing only his Mae West. Nothing more was heard of him until after the war when British Missing Research and Enquiry Service teams discovered that his body had been recovered and buried in Brunsbuettelkoog, on the north shore of the mouth of the Elbe River. This discovery was made in 1949 and conveyed to his parents. Jacks two brothers had served overseas with the Canadian Army.
Albert Colin Dalton was the radio operator on T2506. He was born in North Anston, near Sheffield on the 11th of November 1921.
His first 103 Squadron mission was with P/O Ball on 10 May 1941 against Emden when their Wellington, serial R1395, was attacked by numerous aircraft and damaged. His baptism of fire ended up in a wheels up forced landing. His early missions were flown under the command of New Zealander, F/O Edward C Ball. The photos below supplied by Colin nephew, show this earlier crew: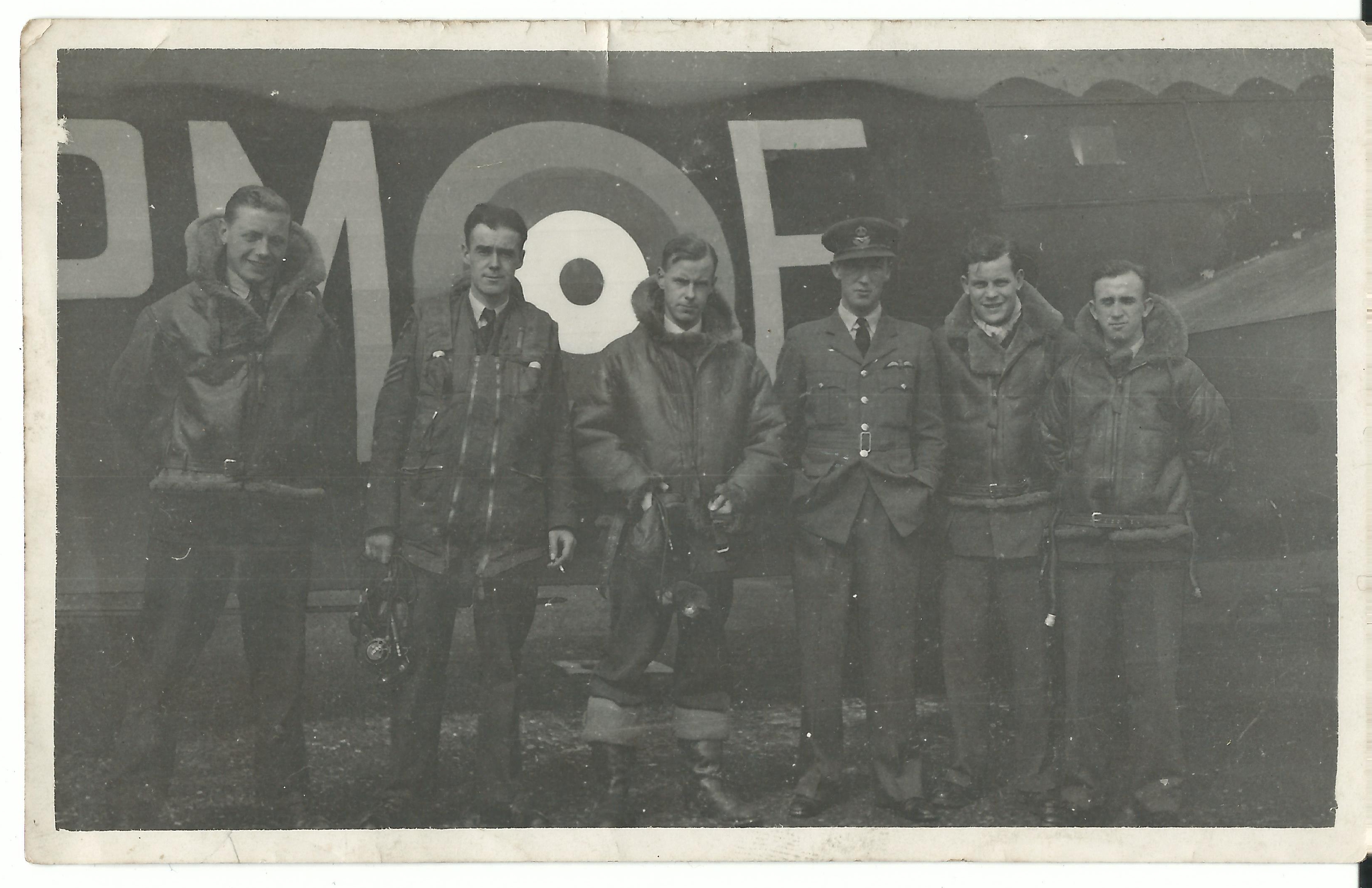 The photo above shows, Standing in line: Left to Right: Sgt A C Dalton, Sgt Tett and Cox, F/O E C Ball RNZAF, R Keefer RCAF, and of course M B Brown.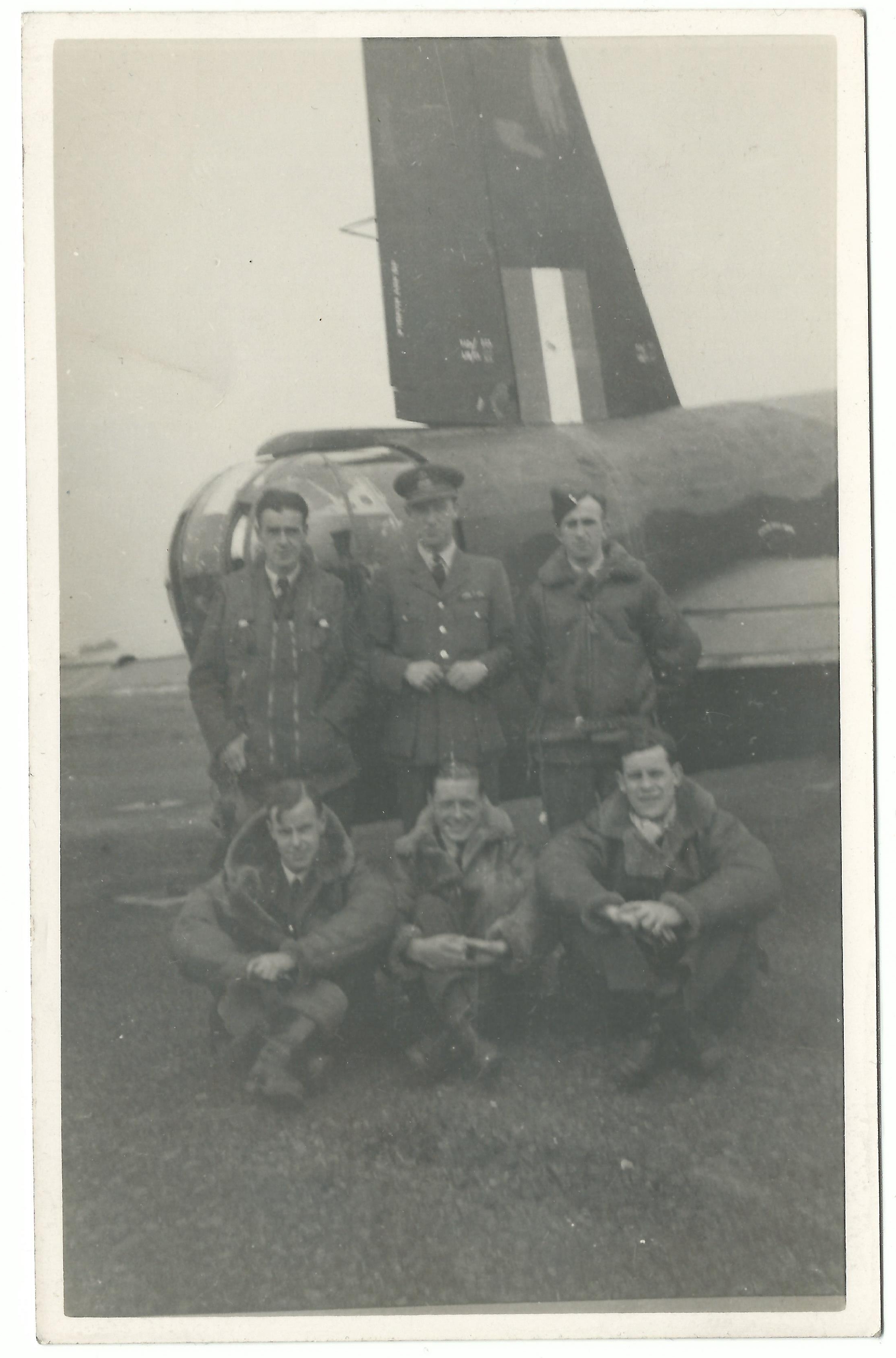 The photo above shows, Standing in line: Left to Right: Sgt Tett, F/O E C Ball RNZAF, M B Brown, with sitting at the front, Left to right, Sgt Cox, Sgt A C Dalton and R Keefer RCAF.
Colin's log book records the 25th October 1941 operation that ended in Co. Clare and shows that the flight lasted 9 hours and 20 minutes.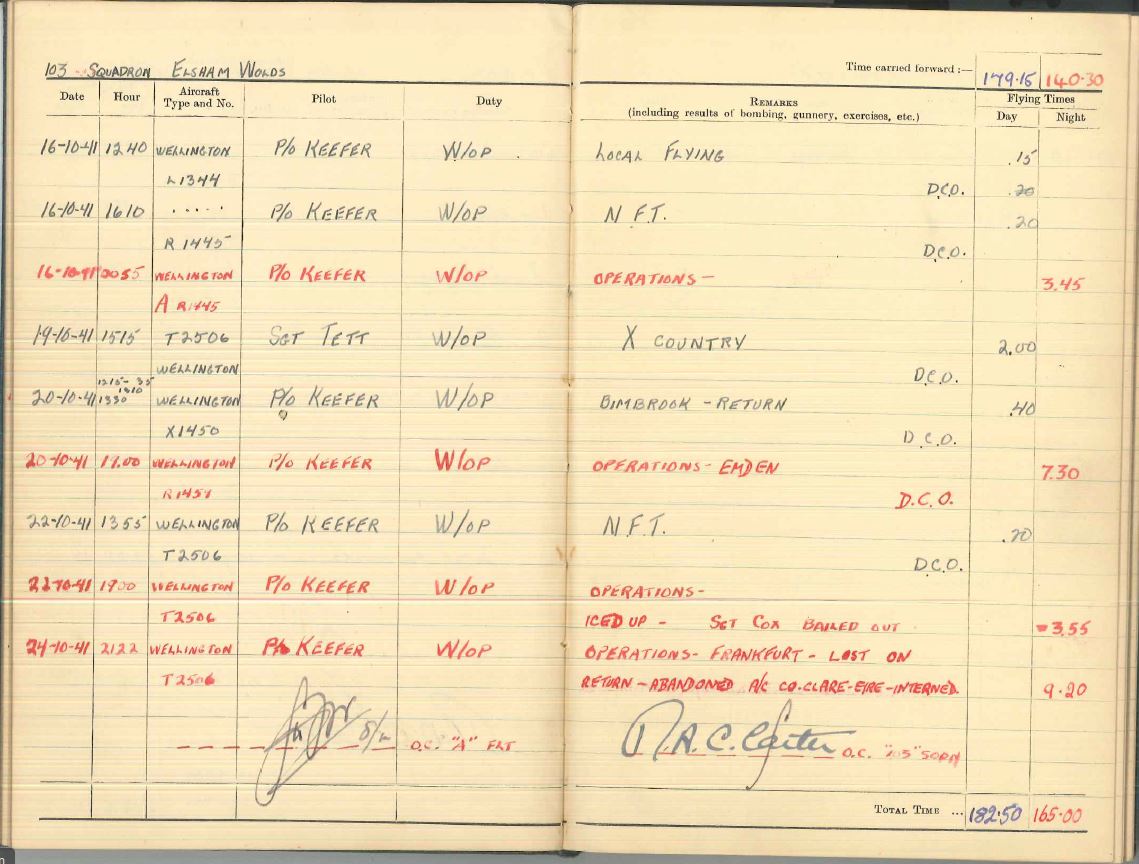 While interned, Colin submitted a claim for and was awarded his Caterpillar Badge by the Irvine parachute company for having had a successful bail out. Of interest is the address at which he was sent the letter, "RAF Internee, Curragh, Camp, Co. Kildare, EIRE". The modern day company was able to confirm that all members of the crew requested and received their caterpillar badges.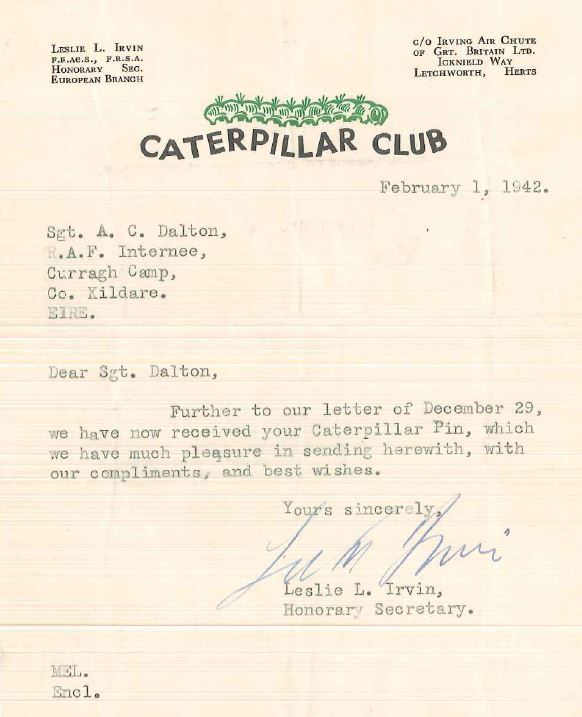 Sgt Dalton was able to make an escape from the camp in September 1942 when another internee forged his signature on a parole form. He was posted to 75 Opeartional Training Unit (OTU), which was at that time UK based prior to moving to the Middle East. In January 1943, he was next posted to 30 OTU and then on to 156 Squadron in April 1943, where he served until his death in September of that year.
Sgt Dalton returned to active duty and flew his first mission with 156 Squadron on the 26 April 1943. On the 7th September 1943 when flying on Lancaster JB177 on his 21st bombing raid, he was shot down by a German nightfighter. Dalton was killed along with three other members of the crew. Aged just 21, he is buried in the CWGC cemetery in Durnbach, Germany. At the time of his death, his parents Albert and Mabel (nee Turner) lived in Dinnington.
Maurice Bertram Brown came from Middlesborough, born in 1913. He was the front gunner on T2506 and had been in the RAF since the summer of July 1940. He may have flown first mission with Sgt Munro on 17 June 1941. During his time being interned, he met and married Bridget Devin. They were married in the Autumn of 1942. Like Sgt Diaper, Maurice was required to remain interned after the initial batch of airmen were released in October 1943 and was moved to the Gormanstown Camp. He was returned to the United Kingdom in June 1944. He returned to Ireland after the war and settled in Chapilizod. He corresponded briefly with Ralph Keefer in 1985 and in 1988 he passed away. He is buried in Palmerstown Cemetery, Dublin.

Leslie George Diaper was born in London in December 1920. His parents were Joy Maud (nee Oliver) and Albert Thomas Diaper. He grew up in Lewisham, London and worked as a Cashier before he began his Royal Air Force Service on the 14th August 1940. Trained as a pilot, he ended his training at 15 Operational Training Unit before serving with 103 Squadron. His flight on the 24th of October 1941 was only his fourth mission as second pilot with Keefer. During his time interned in the Curragh Camp, he met and married Jessica M Black from Brownstown, in 1943 in Kilcullen. They later had a son born in Dublin just after the war. The family moved to London and lived in Lewisham. Jessica passed away in 1966. Leslie later died in the summer of 1992 in his native Lewisham.
His escape and evasion report reads:
We took off from ELSHAM WOLDS in a Wellington aircraft on 24 Oct 41 at 2000 hrs on a bombing trip to FRANKFURT. After we left the target the wireless was unserviceable. At approximately 0530 hrs on 25 Oct we got a wireless bearing which the navigator plotted. His fix indicated that we were over EIRE. We were short of petrol, and the pilot gave the order to bale our as approximately 0615 hrs.
I bailed out and landed near QUILTY, Co. CLARE, EIRE. I was arrested by the police and interned at the CURRAGH Camp until 16 Oct 1943 and at GORMANSTOWN until 5 Jun 44, when I was sent to the U.K.
I was concerned in the tunnel attempt started in Dec 43 which has been described by P/O Tisdall in his report.

Leslie, along with Maurice Brown had the prolonged stay in internment due their having been on a operational mission at the time they landed in Ireland. It was only after much contact between the two governments that they were released in June 1944 from the new internment camp in Gormanstown.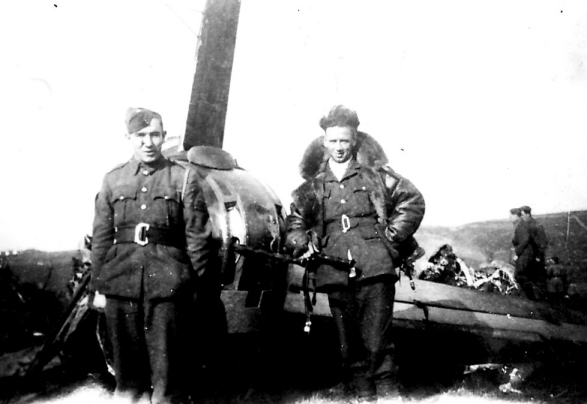 Alexander Virtue came from Newcastle upon Tyne and was born to Alexander and Jane Virtue. The October 22nd/23rd mission was for Alexander his first mission as gunner with P/O Calder's crew and indeed with 103 Squadron. He was appointed to the crew after Calder's previous rear gunner accidentally baled out of their aircraft over Europe. In the aftermath of the crash, Alex was photographed with local garda and military standing next to the wreckage of T2506

Alex was repatriated from Ireland to the UK in March 1943 for medical reasons. He passed away in Newcastle on the 10th of June, 1944 just five days before his two remaining crew mates from T2506 were released from the camp in Gormanstown.

He left two infant sons who have been very helpful in building up this webpage in his and his crew mates memory. His widow Jane had the following inscription added to his Commonwealth War Graves Commission headstone, "In proud and loving memory of my darling husband Alec "Till we meet again"".


Wellington T2506 was a Vickers Wellington mark Ic, the first major production version of the Wellington.