Spitfires in Donegal
Crashes of Britain's best loved wartime fighter in Donegal, Ireland.
During the Second World War a number of Royal Air Force and Royal Navy, Fleet Air Arm, Spitfire and Seafire fighters crashed or made emergency landings in neutral Ireland. Three of these iconic fighters came down in County Donegal.
---
Spitfire P8074, Moneydarragh, Donegal, November 1941


The first of the Spitfires is probably the best known and was the aircraft flown by P/O Roland L Wolfe 102518, an American volunteer flying in the Royal Air Force's Number 133 Squadron, one of three Squadron's manned by volunteer pilots from the United States. P/O Wolfe found himself in difficulty on November 30th 1941 during a practice flight and was forced to abandon his aircraft over Donegal.
Commandant J Power, the Intelligence Officer for Western Command of the Irish Army provided a report to his superiors on the 3rd of December 1941 that forms part of the report held by the Irish Military Archives. It reads:

I have the honour to submit the following report on the above crash.
A British Spitfire "Single Seater" crashed at Moneydarragh, Gleneely, Moville, Donegal, at 12:30 hrs on the 30th November, 1941. People coming from mass heard the plane but, owing to a heavy fog, nobody sighted it. A Mr Kelly from Moneydarragh saw the parachutist floating down but he disappeared from view before he reached the ground.
The sole occupant, Pilot Officer R L Wolfe baled out and came down uninjured. William Doran, L.S.F., apprehended him at Moneydarragh at 13.30 hours and took him into Moville Garda station. He was handed over to Lt. Crawford at 18.00 hours, having, been searched by the Garda,and accommodated in Rockhill that night. He was taken to Athlone on 1/12/1941 and sent to the internment Camp in the Curragh the same date.
The plane was a total wreck, being buried 12 to 20 ft. in a bog on the mountain site. The armament recovered consisted of two badly damaged Browning Machine Guns, 240 rounds of Ammunition good condition, and 940 damaged rounds. The Air Force Officer from Baldonnel stated that the plane was too badly damaged to recover any valuable parts and, as water was pouring into the hole, it was filled in and the Guard taken away.

The Gardai found a collapsible rubber boat near where the prisoner was taken into custody. Pilot Officer Wolfe's father and mother are both still alive - living in Ceresco, Nebraska.

No damage to civilian property has been reported.

The salvage of the aircraft wreckage was tasked to the garrison of the Irish Army Coastal Defence post, Fort Lenan. Captain J Murray from the post filed the following report to his superiors following the completion of work on the 1st of December 1941.

Aircraft Crash at - MONEYDARRAGH - 30/11/1941
Sir,
I have the honour to state that I supervised salvage operations on the above on 1/12/1941. Excavations were carried out by twenty men to a depth of ten feet; Two Browning Guns and about 1,000 rounds of .303 ammunition were salvaged, in a much damaged state.

An Air-Force Officer from Baldonnel then arrived and inspected the wrecked plane. He advised that further excavations would serve no useful purpose and would be uneconomic. The hole was then filled in and the amount salvaged brought to this Post and despatched to the Ordnance Officer, W/Command on voucher.

The aircraft must have struck the ground in great force as the ammunition was telescoped and the guns found 10 feet below the surface in a vertical position.

Small pieces of fuselage were salvaged and held at this Post.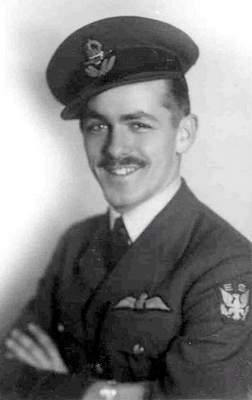 The Squadron Operations Record Book, (ORB), Form 541, for the 30th of November 1941 records five planned missions for the Squadron, none of them operational ones, but F/Lt Wolfe's flight, which took off at 10:30; is not described, stating rather: "Baled out over Eire and aircraft destroyed". At the same time P/O Jackson in Spitfire P8191 took off with the ORB recording his sorties details as:
Climb to 25,000 ft. for Camera Gun - Opponent wouldn't play.

The P/O Jackson is thought to have been Marion E Jackson, who on September 26th, 1942 would become a Prisoner of War of the Germans having been lost over France.

No other aircraft on 133 Squadron was tasked with a convoy escort that day. At 13:40 that day, seven of his squadron mates took off to carry out an overland search for the missing pilot, followed five minutes later by four who were tasked with an oversea search for him. The Form 540 monthly summary is no more forthcoming with information, stating largely the same facts.

The aircraft is identified in the Squadron records above as Spitfire P8074. This was a Spitfire Mk IIa aircraft, delivered from the Castle Bromwich factory in February 1941. Its first assignment, to 222 Squadron would see it damaged in combat in April, and following repair, assigned to 501 Squadron. It was again damaged in July 1941 and, after servicing, assigned to 133 Squadron late in October 1941. It was also a presentation aircraft, named for business man, Garfield Weston, and carrying the legend 'Garfield Weston No. 1"

The RAF Form 1180 report on aircraft accident lists the reasons for the flight as "Dog Fight Practice".
The description of the loss of the aircraft is described in the following terms:

"WIRELESS" was seen going down from 25000' with R/T out of commission - pilot baled out.
Pilot ran out of fuel cause unknown."

This may account for the 'Opponent wouldn't play' comment on the ORB against P/O Jackson's flight. Both pilots it is assumed must have been tasked to fly practice dog fighting.

There is a hand written note in the Irish Army File which records communications between Dublin and Donegal on the day of the crash regarding the status of the pilot.

In connection with the messages 5, 7 & 8 in the Daily Report Sheets for 30/11/41 - 1/12/41 Mr Boland rang asking for full (word not readable) regarding Wolfe as the Brit. Reps. Office was on to him regarding the question of getting him back across the border - they state he was on a non-operational flight.
I ascertained from Letterkenny the following details
1. Wolfe is an American citizen and has not taken Brit Nat.
2. He came down wearing British Air Force uniform.
3. His rank is Pilot Officer.
4. He was not carrying arms on his person.
5. He belongs to the Eagle Squadron.
6. He landed by parachute at Moneydarragh about 20 m from the border and a mile from where his own plane fell (the plane is buried in bog with very little of it showing above surface.)
7. He states he was on a trial flight.
8. The plane was armed and equipped for action (he stated he would have attacked if he had come across an enemy plane.) It carried no bombs but did have two American flares which would have been destroyed by damp in the bog. Would not say how many MG's she carried.

The loss of P/O Wolfe's aircraft was widely reported at the time. Newspapers throughout America and the UK carried the short news piece, which invariably was published with the wrong date. Some on the other hand were more accurate.

| | |
| --- | --- |
| The New York Times reported the internment of P/O Wolfe with this article. | An article published in the The Times newspaper in the United Kingdom on the 6th of December, 1941. |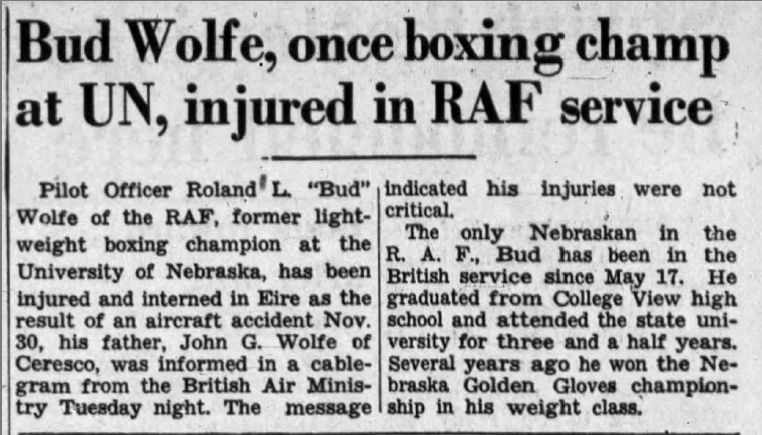 The above is from the Nebraska State Journal dated December 4th 1941. Two days later his father was quoted as saying he was to ask his local Senator to seek to have Roland returned to the USA if he could not be returned to the UK.

Only days after his internment, while receiving a visit from a 133 Squadron officer, P/O Wolfe took the opportunity to escape the camp by clever use of the camps parole system. The two made it to Limavady on the 14th of December but sadly for Roland, the British authorities decided to return him to the Curragh camp as a means of maintaining relations with the Irish Government. It had come down to his word against that of the Camps guards regarding how he came to have parole forms signed.

The Nebraska State Journal of Dec 28th actually published a short column stating that he had been released.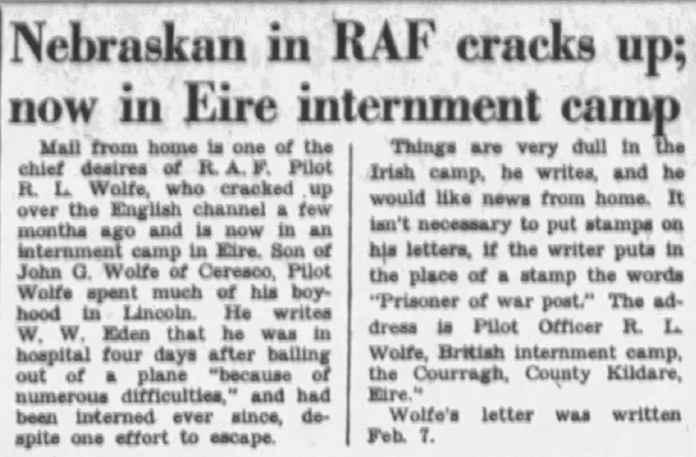 He was interned in the Camp until October 1943 when he was part of the batch of twenty airmen released on the 18th of that month. In his debrief reports he states:

I took off from EGLINGTON, Northern Ireland, at approximately 1500 hrs on *4th Dec* 1941 on a practice flight. I ran out of petrol at 15000 feet and had to bale out about 5 miles north of LOUGH FOYLE. I was then interned in THE CURRAGH Camp.

**The report strangely does say the '1500 hrs' on '4th of December', but the Squadron ORB, AIR81 report and Irish Army reports clearly show it was the 30th of November. The error may have come from the officer who compiled the report rather than incorrect information given by F/Lt Wolfe. His interview was taken on the 20 October 1943 but the file seems to be dated the 25th of November 1943.

The report then goes on to record his escape attempts as follows:
(a) I was in the ladder escape in Feb 42 which was unsuccessful, and was somewhat severely beaten up by two Irish Corporals.

(b) In the escape attempt in Aug 42 I managed to get outside the wire, but was caught almost immediately.

The United Kingdom National Archives released the AIR81 file on P/O Wolfe's crash in 2019, file reference, AIR/81/10630. This contains copies of the telegrams and letters sent to his next of kin, at that time his father J G Wolfe in Ceresko, Nebraska and his sister Mrs L C Fowler in Hooper, Nebraska.

A telegram dated 2nd December 1941 from the UK representatives office in Dublin to the Dominions Office in London for transmittal onwards to the Air Ministry and RAF stated:
Pilot Officer Wolfe belonging to Eagle Squadron R.A.F. made parachute landing from fighter plane on west side of Lough Foyle on Sunday (?) afternoon 30th November and was detained by Garda. He is now in hospital at Rockhill, Letterkenny, Co. Donegal.
As a result of preliminary information concerning the landing received from R.A.F. Northern Ireland, we asked Department of External Affairs on Sunday evening to look into the matter with a view to releasing the Pilot if at all possible. We also informed the United States Legation. We have learned from Department of External Affairs today however that the pilot was in R.A.F. uniform, that it was clear that he was a member of a fighter squadron and that in circumstances Eire government have no option but to intern him. His plane crashed in bog in Eire territory.

Within the AIR81 file is a copy of a Form 765, Report on flying accident or forced landing not attributable to enemy action rasied on 2 Dec 1941. This repeats again the flight being a non-operational one.
The summary of the report, sadly damaged by wear and tear at the end of a page reads:
Pilot was ordered to carry out Dog Flight practice at 25,000 feet. At this height with apparently R/T out of commission, was seen going down. No other information. Pilot reported to have bailed out over Irish Free State and is slightly cut on the knee, and has been interned. No more information available until pilot can be questioned.
Thomas S/Ldr, Commanding 133 Squadron 2.12.41

It also records that P/O Wolfe had at that time only seven hours flown on Spitfires, but 124 hours in total on all types. He had flown Hurricanes with 133 Squadron in the three months previous and at 56 OTU. Another 245 hours are listed as having been flown in 'U.S.A.'.
It also contains the rather improbable set of telegrams from December 14th and February to his family stating first that he was safe and back with his unit, but later that he had been re-interned, but owing to a 'misunderstanding' he had been sent back. There is a postal censorship form containing a surprised reply from Bud Wolfe to a friend in Holebeach, Lincs, asking her on January 26, 1942, how did she know that he had escaped. He had to explain that he had been sent back to internment but vowed he would try to escape again soon.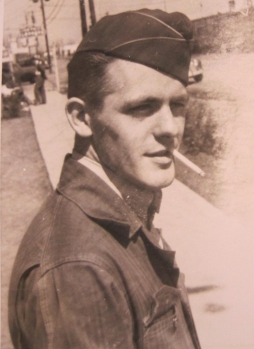 Roland Wolfe registered for the US government draft in Hastings, Nebraska in October 1940 but had enlisted in the Royal Air Force in April 1941 through the efforts of the Clayton Knight Commission, and not into the Royal Canadian Air Force as many other American volunteers had. He was given the serial number 102518 upon receiving his officers Commission. As an American volunteer, this batch of commissioned officers do not seem to appear in the London Gazette, the official British government publication. His post internment debriefing report states his RAF service began in April 1941. The Form 1180 described above, reported his having received his pilots "wings" on 5th June 1941.

He had attended training at 56 Operational Training Unit at Sutton Bridge and was an early member of 133 Squadron, his name being recorded as flying a Hurricane on the 26th of September in a formation practice flight. He transferred to Eglington with the unit in October.
After his release from internment, he was transferred to the US Army Air Forces. He served there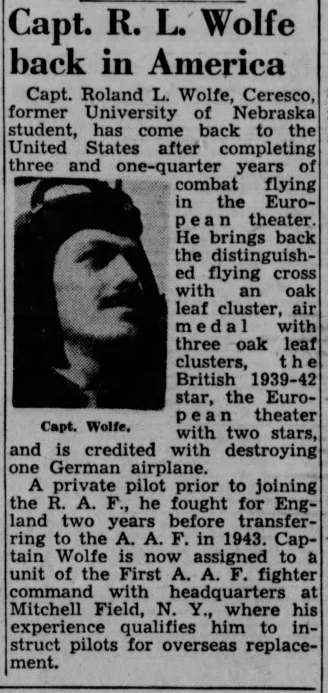 with the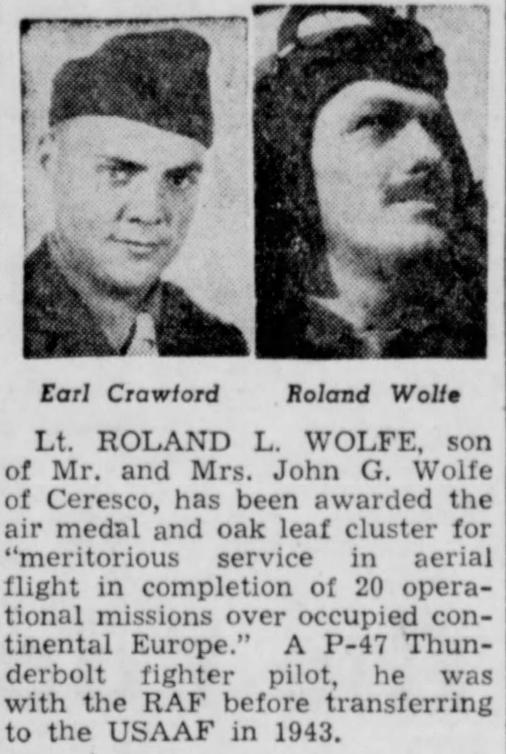 78th Fighter Group's, 82nd Fighter Squadron during 1944 before returning to the US to serve as an instructor. The National Air and Space Museum archives contain a reel of gun camera footage from his missions on the P-47 Thunderbolt with the 82nd Fighter Squadron. His service was recorded by his local state newspapers during that summer of 1944. In May they recorded his award of the Air Medal and Oak Leaf cluster having completed 20 missions. While his prior RAF service was mentioned, no mention of any time in Ireland was made.

He stayed in the USAAF and the later USAF after the war and is credited with having served during both the Korean War and the Vietnam War.

Lincoln, Nebraska newspapers on July 8th 1951 reported on his posting to the 127th Pilot Training Wing at Luke Air Force base. And in April 1953 his promotion to Major was reported in Florida newspapers, with him being stationed at Tyndall Air Force Base with Air Training Command. He was still based at Tyndall in 1956 when he and his wife are mentioned as hosts at a party held for new students of an F-86 Sabre training class.

The US military newspaper, the Stars and Stripes carried this curious article about him in their 14 July 1960 edition. It is curious in that it associates his incarceration as being with the German military! This version of events also made its way into a Salinas, California newspaper in September that year.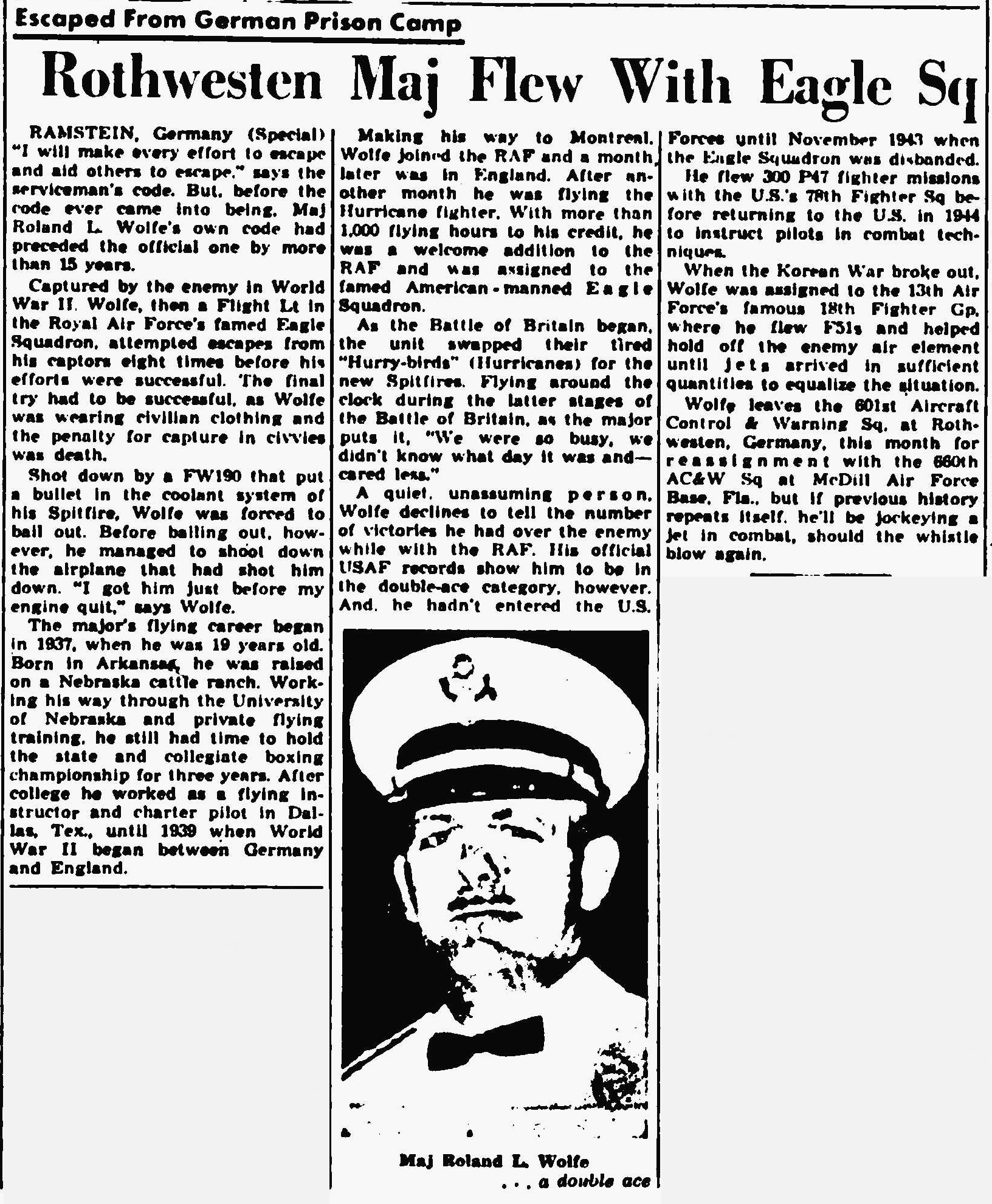 The 601st and 660th AC&WS were ground based radar units. He later was the commander of the 623rd AC&WS between August 1962 and February 1963 based in Okinawa, south of Japan.

Roland Wolfe lived until 1994, passing away in Florida on January 28th.

In June 2011 an excavation of the crash site was carried out by a team of researchers along with much coverage in Irish and British newspapers. This flickr album show the efforts expended to do this work. The dig was used as part of a BBC documentary. Jonny McNee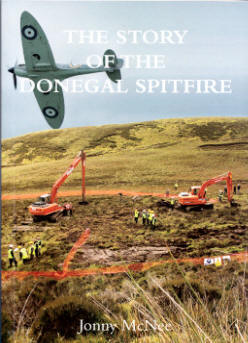 published a book in 2011. The book tells the wartime story of Roland Wolfe's time in Ireland and the efforts involved in carrying out the excavation. This work based the reason for P/O Wolfe's flight to be a convoy escort mission over the Atlantic, which conflicts with contemporary wartime records, some of which are presented above, including the RAF Squadron record, the Irish Army records, the Form 1180, the AIR81 Casualty file and the Escape and Evasion file. This convoy escort story seems to originate in correspondence between Bud Wolfe and the late Eglinton based researcher Nat McGlinchey in the 1980's and 1990's.

Among the remains of the aircraft recovered were five Browning .303 machine guns, an intact flying helmet and the remains of the aircraft's engine. Some of the items were placed on display in the Tower Museum in Derry in 2011. Roland's daughters visited the crash site and museum in December of that year.

In 2015 a plaque was unveiled near the crash site by Gleneely Developement Association. The memorial is located at viewing spot car park on the Cnoc an Uinnin mountain. It repeats the story of the flight being a convoy escort mission.

---
Spitfire P8267, Ardara, Donegal, December 1941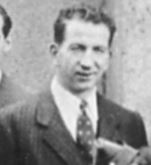 It would be only two weeks until the second Donegal Spitfire landing occurred, when another was forced to make wheels up landing on the strand at Clogher Strand, Ardara in the west of Donegal. The pilot was a member of the Royal Canadian Air Force, F/Sgt Guy Duncan Fowler R58474. He was taken into custody by the local members of the Local Defense Force (LDF).
The aircraft was flown by F/Sgt Guy Duncan Fowler R58474 from British Columbia. F/Sgt Fowler put his aircraft down on Magheramore Strand, Clogher, at 12:50hrs on December 16th, 1941. It had been observed by the Look Out Post (LOP) at Mullaghmore in Sligo at 12:24 and later by Dunmore Head at 12:45. It was then seen by the local Garda and LDF in Clogher and Ardara and observed loosing height and flying behind nearby hills. Sgt Fowler was taken into custody by District Adjutant Shevlin of the LDF and held by the local Garda until Lieut. Crawford of the Army arrived at 18:00. The Army accommodated him that night at Rockhill barracks in Letterkenny. The following morning, he was taken to the Curragh via Athlone and was taken into internment at 17:20 that evening. F/Sgt Fowler told the Army officers that he had become lost and had landed before he ran out of fuel. He also stated that he was delivering the aircraft from the Isle of Man to Limavady.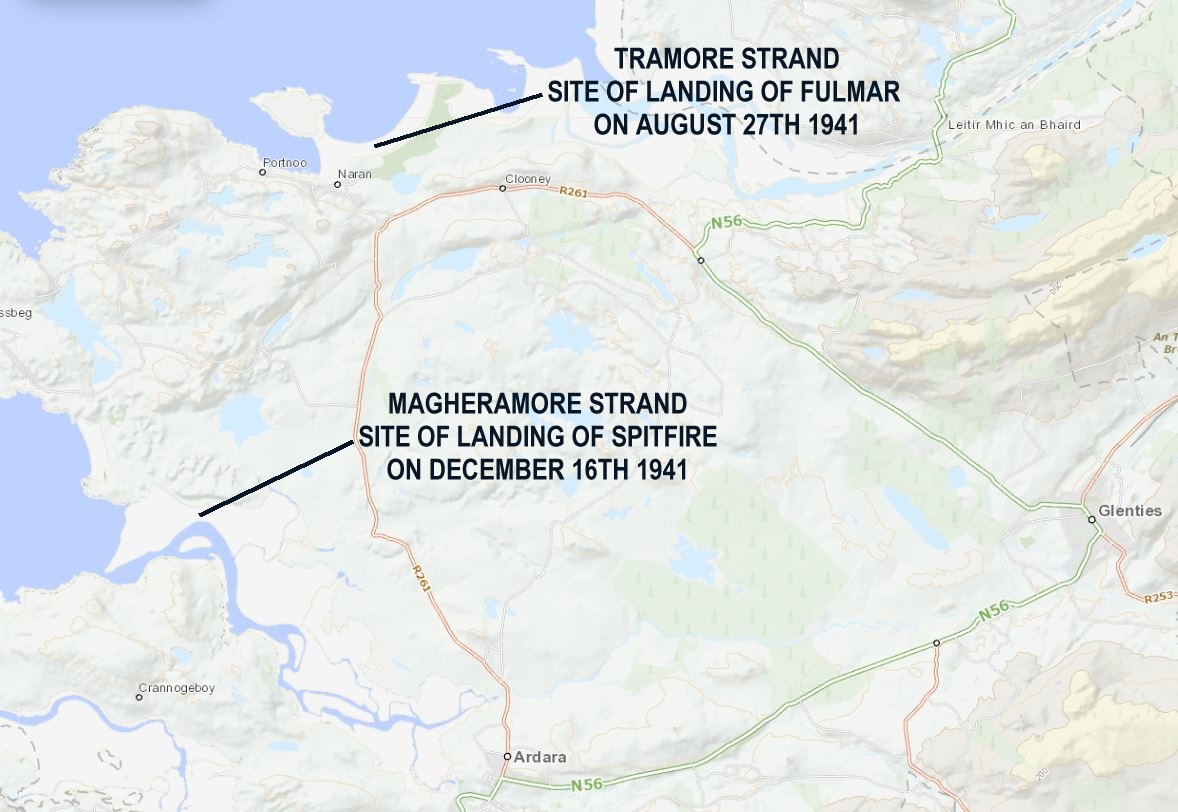 The aircraft had been put down on the beach below the normal high water mark. It was pulled further up the strand by a reported 80 members of the LDF. The Irish Air Corps then provided a team of personnel to recover the stricken aircraft. Damage to the aircraft was not reported as serious, having two bent propeller blades, and damage to the underwing radiator and air intake. The aircraft was dismantled over the following week and dispatched to Baldonnel aerodrome in Dublin.
His fellow RCAF internee and journalist, Jack Calder wrote of him in a Summer of 1943 article: "It is a relief from camp like to be able to spend a day working in the fields or felling trees, listening to the philosophy of the Irish labourers. Farmers like to have Sgt. Fowler around for a day because with his experience of the British Columbia woods and Ontario farms, he sets a pace that the workmen must emulate to maintain their dignity."

Most records state Guy Fowler was born in 1911 and although he was a member of the RCAF, he was in fact born in York, in Yorkshire, England. His baptism record shows his parents were Arthur and Sarah, and he was the seventh child born to the couple. He traveled to Canada in 1926 on the SS Megantic with a party of youths in a group titled 'C.N.R. Boys Party' on the passenger manifest. This it seems was a Canadian National Railways Colonization Department scheme whereby male British teenagers were given free passage to Canada and placed with a family for farm work. He returned home to England in 1931, sailing through New York, returning to Canada in January of 1932. The 1940 List of Electors for Comox - Alberni in British Colombia, shows a Guy Duncan Fowler as registered in what appears to be a logging camp at Port Alberni.

Guy's RCAF training brought him to 9 Elementary Flying Training School (EFTS) between January and March 1941, and then onto No 2 Service Flying Training School where he was in the same training class as John Gillespie Magee, the famous poet pilot of the second world war.

The Air Ministry Casualty Report, AIR81/10992, records that he had been flying from No 3 Delivery Flight at Hawarden to Limavady. His next of kin listed at the time of his landing were his wife, Mrs E T Fowler, 1830 Davy St., Victoria, British Columbia and a sister, Mrs J D Hope in British Columbia.

Despite attempts at escape, Sgt. Fowler remained in internment until released as part of the October 1943 group. At the time of his release from internment he was interviewed, like all the other former internees by the I.S.9 department about his experiences and filed a short report in their files. This file tells us that F/Sgt Fowler was born in 1911 and entered the air force in August 1940. He had attended Operational Training Unit (OTU) at Llandow in Wales and at the time of the forced landing in late 1941 he was posted to 123 Squadron but was detached to the RAF "Ferry Group". 123 Squadron was at that time based at Turnhouse in Scotland and flew the Spitfire. The Squadron Operations book records his having been posted to the unit on the 4th November 1941 with four other pilots from 53 OTU, then based a Llandow. He appears to have flown just one recorded operational sortie while with 123 Squadron, on the 23 Nov 1941, with the detached B Flight at RAF Tain. The ORB summary of December 3rd, 1941 records that: Sgts. Fowler and McLaughlin are to be attached to No X Delivery Flight, Grangemouth to bring our new Spitfire Vs to us. The 18th December then brings the news that a signal was received informing them that Sgt Fowler had been in interned in Eire. Another message on the 22nd of December was to the effect that the Air Officer Commanding (AOC) had sent a commendation to 'Sgt Fowler' for his actions in attending to Aircraftman W B Burns who had been badly injured at Tain by the spinning propeller of Spitfire P7676 on the 1st of December.

His wife, Mrs. G D Fowler lived at that time in Victoria, British Columbia. F/Sgt Fowler's report contains the following information:
1. Internment.
I took off from HURDEN (near Liverpool) on 15 Dec 1941, flying a Spitfire, and came down on 16 Dec in CO. DONEGAL. I was sent to THE CURRAGH Camp for internment.
2. Attempted Escapes
(a) I took part in the big escape attempt to escape from the camp on 9 Feb 42, being one of those whose task was to rush the wire. This attempt was unsuccessful.
(b) I was one of the nine who got out on 17 Aug 42, when the main gate of the camp was rushed. I was out for two days. The first night I wandered through fields, dodging patrols. The following day I hid for 15 hours in a ditch. At midnight I crossed the LIFFEY, and went to a house where I got food, and dry socks. On the outskirts I was taken in by a pro-British Irishman, given food and clothes, and allowed to sleep in a hayloft for about three hours. My helper wanted me to stay for a few days till the search had died down, but I did not wish to compromise him. I began to walk openly to DUBLIN and was picked up by a patrol in the suburbs. I tried to get away from the police station, but was stopped just as I was closing the door behind me.

An addendum to the report gives a further top secret passage: "On the 18 Aug 42, the day after I had got out of THE CURRAGH on the main gate escape scheme, I went to the house of the Sgt. Major WILKINSON, the steward of Capt. REEVES. Here I was given food and dry socks. Later I went to the house of Mr. Thomas Francis MARR, J.P., KILL, a member of the LDF. He gave me food and civilian clothes and let me sleep in his hayloft. He wanted me to stay for two or three days, but I refused, as I did not wish to compromise him."
It is not known what postings F/Sgt Fowler was sent on after his release but he was promoted to the rank of Warrant Officer and later commissioned as an officer with serial number J85361. He returned to Canada in mid July 1944, his return being reported on by numerous Canadian members.

His name was found on a December 1960 naturalization certificate index for the city of Sonoma, California, the same date as an Adelaid Constance Fowler at the same address. This leads to one finding him listed in 1955 directory for San Francisco, with his spouse as Adelaid C Fowler. His wife appears to have passed away in 1992 in Canada, but no trace of Guy's post war activities can be found.

Guy Fowler's Spitfire that day was moved on to the border with Northern Ireland and handed back to the RAF. Following repair, the aircraft was assigned to 61 Operational Training Unit in February 1944 where it was used by newly trained fighter pilots to learn how to fly the Spitfire. It's luck ran out on the 15th May 1944 when it crashed on a training flight killing a young Polish pilot, W/O Stanislaw Boleslaw Mieczyslaw Kos 704007. The aircraft was a Spitfire IIa, manufactured at the Castle Bromwich Aircraft Factory near Birmingham. Prior to its accident in Ireland its Air Ministry history card shows that it had been assigned to numbers 54 and 111 Squadrons during the spring and summer of 1941. It was on its delivery flight to join 133 Squadron when the mishap occurred. The damaged airframe remained in Baldonnel until 1943 when it was sent across the border to Shorts for refurbishment.
---
Spitfire AD116, Ballybofey, Donegal, November 1942
The final Spitfire to arrive in Donegal arrived in November 1942 under the command of an English pilot in the RAF.
The aircraft was first reported to have crashed in the townland of 'Treanmull' (Treanamullin) 1 ½ miles east of Ballybofey by the Gardai in that town. Upon receipt of that report, a Capt. Crowley of the Irish Army was dispatched with an Ambulance and a party of soldiers from Letterkenny. The Gardai had received reports from the authorties at the Ballybofey County Home in the neighbouring townland of Mullandrait.
By 14:00 hours that day, November 26th, 1942, the personel at Central Control received the following update from Athlone: Flight Officer R F Kingswood R.A.F. based in Northern Ireland made a forced landing at Glebe, Ballybofey, Co. Donegal. Spitfire a/c forced down owing to fuel shortage. Pilot sustained only slight cut on forehead. A/c landed with undercarriage up and is damaged as a result. Pilot is in R.A.F. uniform. Nat(ionality) British, Next of kin father – G M Kingswood, East Gardens, Canterbury, Kent. Telephone no Canterbury 2546. … On training flight + thought he was landing in Northern Ireland. A/C armed with 2 Cannons, 4 M.G.'s and ammo.


This report above contains many of the basic items of information that were at this time being used to justify not interning airmen, the mention of the aircraft being on a training flight and that he was in military uniform. Only the year previous, Sgt Fowler had been interned on a flight that only months later would have seen him released across the border immediately.
Athlone was later that afternoon informed that the aircraft had suffered a completely damaged propeller and had landed in the middle of a fairly large field, 200 yards from the road. The pilot had been taken to Letterkenny that evening and the aircraft serial number was read and recorded as being AD116. Following agreement with the Irish Government, the airman was allowed to be returned to Northern Ireland and was taken to the border at Bridgend at 21:00 hrs on the evening of the crash.
The pilot of the aircraft was identified correctly from the UK Air Ministry Form 1180 crash record card held by the RAF museum in Hendon. This document gives the pilots name as 'KINGSFORD A S F/O 102557.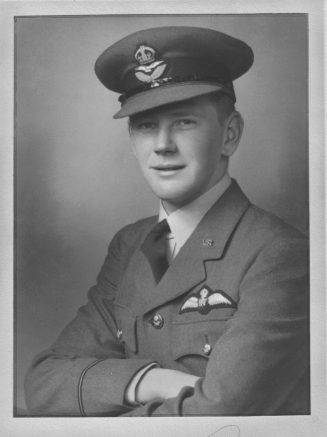 This information can be cross referenced with the London Gazette publications to find that the pilot was one Roy Stuart Kingsford, then aged 21. The difference in name between the Irish reports and the pilots actual name may have been a misinterpretation of the name during phone calls between Donegal, Athlone and Central Control. It has been possible to make contact with the family of F/O Kingsford and learn something about his RAF career. Roy enlisted in the RAF in mid 1940 and following an initial period on the reserve until called up, he carried out his basic military training in the UK. He was posted to Canada in early 1941 where he trained at 32 Service Flying Training School (SFTS). At the successful completion of his training, he was commissioned as an officer and returned back to England in late July 1941. There then followed a month of further training on the Spitfire with 53 Operational Training Unit until his posting to 41 Squadron in September 1941. In the Spring of 1942, he was posted overseas and flew with 74 Squadron. August 1942 sees a posting to 145 Squadron in the North African theatre but his name does not appear listed on operational missions. Co-inciding with the crash in Donegal is a posting back to the UK for what seems to be further affiliation training on later versions of the Spitfire fighter. His service records do not list a posting specifically with 501 Squadron but the squadron records show him arriving at RAF Middle Wallop on posting on the 2nd of September 1942 and immediately going on leave until the 20th of the month. October 1942 seen 501 Squadron move to first RAF Hawkinge for some days, back to Middle Wallop before moving to Ballyhalbert in Northern Ireland. 501 Squadron was due to replace 504 Squadron at that time. The Squadron ORB refers to the activities of 26 November 1942 as simply: Air to air firing at Ballyhalbert and Eglinton, camera gun and homings, and dusk landings were carried out. He was posted to 611 Squadron on 23 January 1943 from 501 Squadron for the purposes of familiarization on the Spitfire IX aircraft. Spring of 1943 saw him posted back to the Mediterranean where he flew with 152 Squadron until July. The remainder of the war seen him serving as an instructor and test pilot at various establishments around the Mediterranean. Roy stayed on in the RAF until 1964 and during that time transitioned to jet fighters and flew the Gloster Meteor and Hawker Hunter. He retired with the rank of Squadron Leader.
Roy passed away in 1993 and is fondly remembered by his family.

They were able to provide a copy of a report he wrote to his Commanding Officer and which read as follows.

To: O.C. 501 Squadron
From Flying Officer R.S.K. 102557
Date. 28:11:42
Forced landing in Eire
Sir,
IHTHTR on Thursday Nov 26th I was detailed to fly Spitfire VB AD116 from Ballyhalbert to Eglington. As I had no flying kit I informed ops that I would be flying without wireless. I consulted a map & worked out my courses, I intended to fly on 300 deg to the northern end of Lough Neagh & then on 340 deg up a continual valley to Eglington. I was airborne at 10:37 hrs & reached my first pin point about 15 minutes later & set course up the aforementioned valley. The weather became very misty & seeing that it was clear to the starboard, I turned in that direction in order to hit the Coast E of Eglington. However I soon found myself forced into cloud in order to ensure being clear of all mountains & set course 360 deg for 20 minutes at 4000' to make sure I would break cloud over the sea. This I duly did & steered 180 deg till I made landfall thinking it was east of Eglington. I had assumed that local maps were in the a/c & discovered that they were not. I turned west and followed the coast thinking that I would find Lough Foyle & hence my destination. Visibility was poor & I lost direction following the coast ????. inlets. I flew on -2 boost 1600 revs & realising I had been heading ..
[This portion of the report was not scanned]
... dug in and I struck my head on the reflector sight and lost consciousness, I regained consciousness in a short time & & immediately pressed the buttons to blow up the I.F.F. set. There was no result whatsoever. (and being deaf from the engine noise without a helmet & hence not hearing the whirring noise I assumed that is had blown up as I wished?? as it was intended to do.
A largish crowd of civilians collected & I kept them away from the a/c until the Local Defence Force appeared and mounted a guard. I was taken to a civilian doctor's house & had my injuries, which were only slight, dressed. An RAF officer in civies came in & told me he had heard a whirring sound in the back and had switched the switch off. I drew him aside and asked if he could find me a heavy instrument & he produced form of hammer. I returned to the scene of the crash & tried pressing the buttons again: still nothing happened. I then opened the panel with a borrowed sixpence & was about the smash the set with the aforesaid instrument when I was prevented forcibly by a sergeant in the police, who took me away under guard to the local police station at Ballybofey. The military arrived shortly after and cleared all civilians out of the field and mounted a guard, their officer promising me that nothing should be touched until the RAF officer should arrive as was customary.

Previous to the flight I had been on leave & had spent the last seven days at my wife'd bedside as she was ill after her first child's arrival & the doctor deemed it advisable for me to be with her as long as possible.
I have the honour to be, Sir
Your obedient Servent
R.S.Kingsford F/O

The damaged Spitfire had a less dignified end. It was examined by a team of Irish Air Corps personel and found to have the underwing radiator, oil cooler and air intake ripped off. The engine cowl, both wings and aft lower fuselages, all had suffered damage in the landing. The landing had taken place on the land of Mr J Fairman, Ballybofey and left a 50 yard long gouge in the field. Due to the ground being soft around the aircraft, it was towed on its lowered landing gear to a neighboring field. The aircraft was dismantled and brought to Rockhill House, Letterkenny, on the 5th December 1942. On the following day is was escorted to its destination and handed over to a party of RAF personnel from Northern Ireland.

AD116 had had a busy career since delivery. It was a presentation aircraft, meaning it came with the name of the town whose residents had donated money to pay for a Spitfire. Thus it was marked with the honour title of Twickenham I. It fought with 303 (Polish) Squadron until a forced landing required it to be repaired. It was posted next to a USAAF unit for a few days, then thereafter to 504 Squadron, where it acquired the fueslage codes TN-A.