Lockheed Hudson, Co. Sligo, January 1941

The afternoon of January 24th, 1941 would find a Lockheed Hudson aircraft from RAF 233 Squadron, Aldergrove, Co. Antrim made a forced landing around 5.00pm having run low on fuel in the townland of Derk Beg, Skreen. It landed, wheels up, in a field belonging to Patrick Kilcullin and he, along with Peter Barrett a neighbor, were the first on the scene. They were joined shortly after by Patrick McTernan, a Local Defense Force man. They, along with a number of others, including the Volunteers at Aughris Look Out Post (LOP) no 67 and Rosskeragh LOP 68 had all seen the aircraft circling over Sligo Bay from about 15:50 onwards. It dropped its four bombs out at sea, 2 miles south of Raghly Harbour, before making its landing. Visibility was poor adn it was hard for observers to keep track of it. The crew asked Peter Barrett where were they, as they thought they had crashed in Scotland. After discovering they were in the Free State three of them, leaving one crewman at the aircraft, went towards the village of Skreen but were apprehended by Gardai, the Irish police, from the station there. A local story says that the crew were brought to Scott's pub nearby and while there, there was a row between two drunken customers and one of the crew reportedly said he hoped he can rejoin the war as it was safer than the pub!

Shortly after the crew returned to their aircraft along with Garda Sergeant Peter Byrne from Skreen, two members of Irish Military Intelligence, G2, arrived from Athlone and searched the aircraft and confiscated the logbooks and the two carrier pigeons that each aircraft had. A local un-named Volunteer from Aughris LOP accidentally let off the emergency dingy and blocked the door escape, briefly trapping the G2 men inside.

Captain Joseph Kevin Birthistle of the Irish Army was the assistant intelligence officer in Western Command and he was dispatched from Athlone on the 24th of January to the site of the landing. He filed a report thereafter dated 31 January reporting what he found. On landing it had managed to stop after 20 metres but two of its propellers on each engine had been bent and the belly was damaged. But it was otherwise undamaged.
The Army report records that the four crew members were taken to either the Grand Hotel or Royal Hotel in Sligo town where they were provided opportunity to rest before being taken on to Athlone barracks and thence to the Curragh where they were interned.

Birthistle departed Sligo on the following day, the 25th and proceeded to Donegal to carry out a similar task related to the crash of another British bomber there. The joined the six incumbents of the British Compound and were joined around the same time as two survivors of the tragic loss of Whitley T4168 off Donegal, Sgt George Victor JEFFERSON 816145 from Belfast and Leslie John WARD.

Irish newspapers carried the following brief government message on the days papers.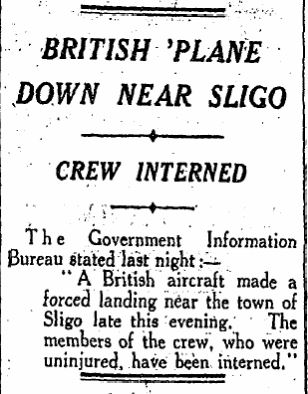 From the operations record book (ORB) of 233 Squadron, P/O Welply and his crew took off at 9:20 in the morning to find and escort a Gibralter bound convoy. Bad weather prevented this crew or indeed any other crews from 233 Squadron in finding the convoy.

An Irish Air Corps salvage team dug trenches into which the undercarriage was lowered and they managed to repair the aircraft enough on site to allow it to be recovered. It was bought from the British Government during early 1941 and finally on the 26 March 1941, the pilot Ivan Hammond of Aer Lingus arrived and flew the plane from Kilcullin's field to the Irish Air Corps headquarters at Baldonnel Aerodrome, Co. Dublin. He had previously flown the two Lockheed 14 airliners briefly used by the airline until 1940. It would be May 1942 before Hudson P5123 flew again as Irish Air Corps No. 91 and was used as a coastal patrol aircraft flying out of Baldonnel and Rinneanna air fields. It was sold to Aer Lingus after the war who planned to use it as a crew trainer but civilian registration was refused and later still was sold to Belgium around 1947, serving with John Mahieu Aviation, following which it was scraped in 1954.

This photo of the aircraft in its Irish Air Corps colors as No. 91 was provided by the son of James Copley, an Air Corps technician who helped in the recovery of such aircraft during the war.

It can be seen here in the background of another James Copley photo, with RAF Tomahawk AH920 in the foreground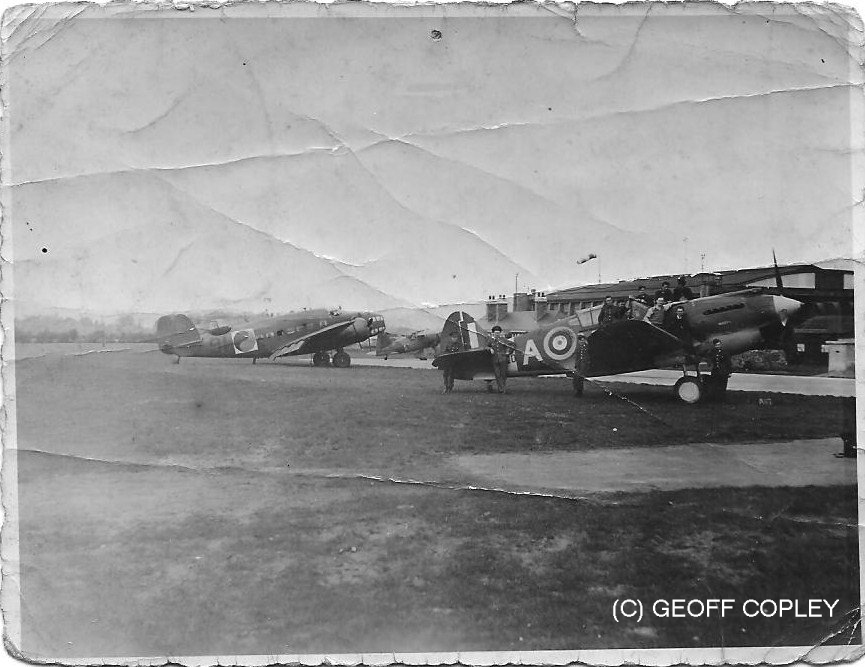 The Royal Air Force crew of Hudson P5123 are described in the following paragraphs. Two would not survive the war, and one would not survive the peace for long.
The men's next of kin were all sent telegrams on the 26th of January 1941 informing them that the four had been posted missing, and that any further information would be passed to them in due course. Happily, at that time, the very next day each were sent a telegram stating: "Further information received states that your ... ... previously reported missing is now reported safe and well and interned in EIRE."
The AIR81 casualty report in the UK National Archives contains these telegrams and indicate that the irish authorities had informed the British authorities of the men's names late on the 24th January, and this was reported onwards to the RAF Northern Ireland late that same night.
Each family was written to on the 3rd of February to confirm the telegram contents, and again on the 7th February to inform them of the postal address of the men. Cowper's letter, for example, reads as follows:
I am directed to refer to a letter from this department dated the 3rd February, 1941, and to inform you that the address of your brother, Pilot Officer R.T.R. Cowper, "The Internment Camp, Curragh, Co. Kildare, Eire". Envelopes should be marked "British Prisoners-of-war".
It would appear that he is being excellently treated by the local residents who have provided games and amusements for him and his fellow internees"

His sister wrote back on the 12th of February to thank the Air Ministry for their assistance and to report that he brother had written them to say he was being well cared for, "but naturally chafes at being where he is instead of being able to help the R.A.F."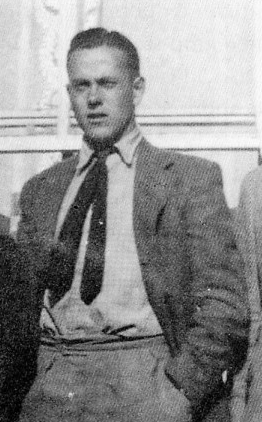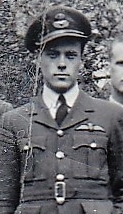 P/O Denys WELPLY 42472, the pilot and Captain of the aircraft was born on the 16 Aug 1917 to Dr. Alfred Welply, M.D., and Sarah Poyntz Welply. His father was the Secretary of the United Kingdom Medical Practitioners' Union throughout the war and visited Northern Ireland on occasion in that capacity.

He was detached to Aldergrove from Leuchars in early August 1940 as part of the Squadrons move to the Northern Ireland airfield. His first mention on a mission then appears to be the 21st of August where he appears listed as co-pilot or second crew member with a P/O Baudoux on a convoy escort mission that failed to meet its convoy. The two flew together a number of times that month until having to force land Hudson T9318 near RAF Oban causing great damage to the airframe but luckily with no human damage. His missions in September are with a variety of pilots. The 14th of October 1940 he flew his first operational mission as Captain on a mission which could not be completed as due to weather.

His escape and evasion file, which was recorded after his release from Internment in October 1943, states that he had trained at No 1 Operational Training Unit (OTU) sometime after his commencing RAF service in January 1939. In this he states simply that: I was captain of a Hudson aircraft which left ALDERGROVE on 24 Jan 41 on convoy work, and subsequently force landed near Sligo Bay. The other members of the crew were... The whole crew was arrested on landing and interned in THE CURRAGH Camp." He lists the name the three other crew members, also adding that Cowper had escaped and was later captured by the Germans.

He was required to state his involvement in escape attempts for the escape and evasion report, and lists four such endeavors:
(a) On 25 Jun 1941 I was one of a party of nine who got out of the camp. Six escapees, including COWPER, but I was recaptured.
(b) In the middle of Feb 42 I was concerned in an attempted mass escape by the use of two bridges over the barbed wire. I was unable to get out of the camp.
(c) On 17 Aug 42 I was concerned in another attempt at mass escape through the main gate. I was one of ten who got out, but was caught just afterwards.
(d) In addition, I took part in numerous abortive tunnel schemes.

Following his release from internment, the now Flight Lieutenant Welply was posted into 279 Squadron during March 1944. 279 Squadron were at that time flying Hudson aircraft in a search and rescue role, flying out to find downed aircrew at sea, and when possible dropping rafts to them or guiding rescue craft to them. At this same time, another former internee, Douglas V Newport was also serving with the unit so they may have remained in contact if not stationed apart on detachments. Denys first mission seems to have been on 15 April 1944. He continued to fly for the following months, transitioning to the Vickers Warwick type during that time.

On the evening of 21st November 1944, Denys took off in Warwick HG210 with his crew of two British, two Kiwi and one Canadian on board for a night time navigation training flight. They sadly never returned from their mission, the aircraft loss was recorded on a RAF Form 765 as:

"Q" aircraft was airborne on night navigation exercise over North Sea at 17.39 hrs. At 18.16 it was given a 1st Class D/F Fix — "5403N 0103E". At 18.30 "Q" sent a signal in (unreadable text) - "Returning Base. Engine trouble 5415N 0100E 19.15 — 18.30". At 18.36 aircraft was given a 1st Class D/F Fix — 5408N 0101E". Nothing further was heard or seen of the aircraft. No.12 Group reported a "fading plot" which disappeared at 18.57 in Position 147 FLAMBOROUGH HEAD 22 miles. It was not showing distress I.F.F.
A Hudson was airborne at 19.48 and searched without result. The following morning track home and area of ditching were again covered by five aircraft without result. The next day a large search was carried out without result by 18 aircraft.

His name is recorded on the Runnymede memorial in Surrey.
P/O Roderick Thomas Redpath COWPER 41988 was the navigator of the aircraft.

He was born in Richmond, Surrey in May 1917 to Thomas and Georgina Cowper. He does appear on the 1939 register despite being a serving RAF officer for the simple reason that he was on sick leave having had a motor bike accident in Scotland on the 27th of July.
His name seems to be first mentioned in the 233 Squadron on 29th Nov 1940 when he flew with P/O Jamieson on a patrol to the occupied Norwegian coast. He flew a number of missions in December and January 1941, including just one other on January 23rd that finds Welply and Cowper on the same aircraft.

Roderick managed to escape with five other internees on the 25/26th June 1941. He was recommended for a Mention in Dispatches for his efforts at escaping, the recommendation, filed in WO373/61 reads:
Pilot Officer Cowper and another officer, although not one of the original Curragh escaping party, took advantage of the conditions on the night of June 25th/26th and escaped themselves. They showed great resource and presence of mind in taking immediate advantage of an unexpected opportunity.
The award was however not approved.

He was posted back into 233 Squadron on the 24 July 1941 per his AIR81 file contents. His first mission back at the Squadron was on 6th August and he flew with the Squadron until the 13 of September 1941 when he again went missing on a Hudson patrol. This time, however, there would be no 'games or amusements' as he and his three crew mates came down off the coast of St Malo, France and were taken prisoner. Twelve aircraft of the unit took off at staggered times from St Eval in Cornwall on that morning to carry out anti submarine patrols.

Upon his release from captivity at the end of the war, Roderick took advantage of a scheme to allow British Armed force service members in Australia to remain there following discharge. In October 1945 he signed up for the scheme from RAAF Parafield where the Royal Air Force's 238 Squadron was operating from at the time. He had been posted into the squadron on the 23 October 1945 from HQ 300 Group, though strangely listed as a G/D Pilot, a General Duties pilot. The Squadron disbanded in February of 1946 and his name was not noticed being posted out in the Operations Record Book.

His name appears in a small social column notice on the 21 Jun 1946 in the Queensland Times, retrieved from the Trove newspaper database. It reported: Tall R.A.F.er, F/Lieut. Roderick Cowper, guest of Kerwin family, Thorn-street, was Basil Kerwin's room-mate for 2˝ years as P.O.W. in Germany. Lola is delighted to have first hand information about absent brother who is said to have developed a very English accent.

Roderick remained in Australia as per his 1945 application. He is found in the 1949 electoral register for Ashford-Barwon-Gwydir districts New South Wales. The address is given as Pineleigh, Nullamanna and his occupation is that of farmer. It's not clear if he was residing with anyone at taht time. Probate records however show that he passed away on the 6th April 1949. he was survived by his parents and two sisters, Enid Davey and Elizabeth.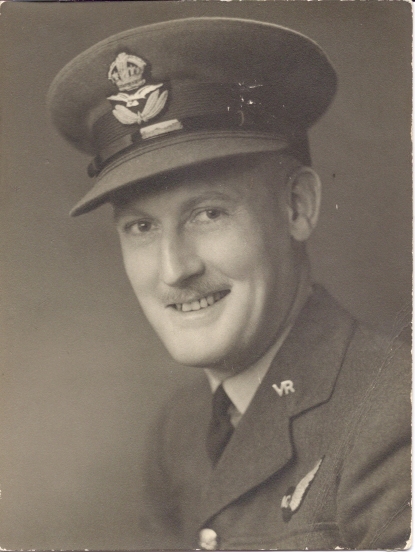 P/O John William SHAW 78664 was born in March 1910 to Ethel A and Frederick C Shaw. His prewar profession was that of an accountant and his RAF service began in February 1940. He would be posted to 9 Bombing and Gunnery School in early April 1940 where he trained as an air gunner, and just under two months later he would be posted to 233 Squadron on the 4th Jun. He was dispatched immediately to the Central Gunnery School for a weeks instruction. As an air Gunner his missions cannot be traced in the 233 Squadron ORB in this period due to the bait of only recording the pilot and navigator on operational missions. The summary of operations for August 1940 does seem to record his arrival at Aldergrove on 19th of the month.

His escape and evasion report simply mirrors that of Denys Welply's and records that he took part in the three escape attempts his pilot partook in. His Irish Army internment file is surprisingly short on detail. Following his release from internment he was posted to RAF Station Uxbridge, or at least under their authority. No 4 Aircrew Reception Center was the posting one month later, followed by a posting to the Central Gunnery School for a Gunnery Leaders Course. This was followed up a posting on 25 April 1944 to 53 Squadron. He was posted to the crew of F/L J W Carmichael and flew his first operational mission on May 7th 1944. He flew again on the 19th and 29th of May with this crew. On their first patrol of June 1944, on the 6th, D-Day, John's crew in Liberator BZ944 made two attacks on U-boats in the channel. The aircraft received significant damage from flak fired by one of the the German U-boats. They believed at they time that they had sunk a U-boat but they are credited with the damage to U-963.
His penultimate mission on the 10th of June seen his crew divert to Dunkeswell air field.

On June the 13th he took off on a patrol at 2130 with F/L Carmichael and crew in Liberator BZ818 on an anti U-boat patrol. The 53 Squadron ORB reported: At 2355, when S.W. of Ushant, on the lower end of the patrol, the aircraft sent a flash report indicating that it was about to attack a U/Boat.
No further signals were received and the aircraft failed to return.

His name is recorded on the Runnymede memorial in Surrey.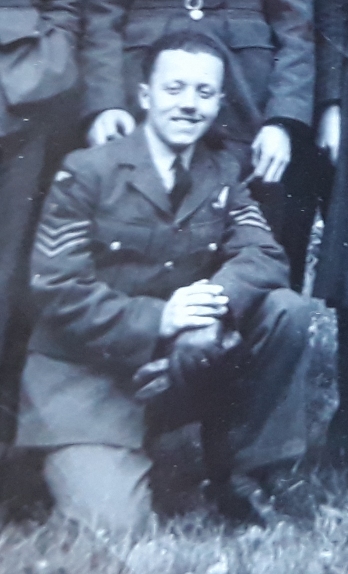 Sgt Norman Vyner TODD 551678 started his RAF service in May 1937 and was the Wireless Operator on P5123.
He was born on the 3rd April 1920 to Elsie and William Todd in Scotland.

He kept a wartime diary and for the day of the crash he wrote:
Crash landed on hill in Sligo at 1650. Taken into custody by police who stand us a drink in the local pub. Nurse at crash - Cpl. in Red Cross, home on leave from London. I slip her my address and she sends telegram home for me.'

Norman was an avid table tennis player, his name makign the Leinster Leader newspaper in 1941 for his skills in

He was released to the RAF in October 1943 and remained on active duty with the RAF. he was commishioned as an officer in 1944 with serial number 54450 and in 1952, transferred to the Aircraft Control Branch. His family recalled that he trained in radar and advanced wireless telgraphy after the war. He left the service in 1961 as a Flight Lieutenant in the Catering Branch to which he had transferred in 1955. He continued working in catering and hospitality after leaving the air force.

Norman passed away in 1995 in Nottingham.

The daughters of another British internee, Robert Harkell, were able to provide the following group photo of some of the British internees. The three men standing at the rear of the photo in civilian attire were local civilians. Those faces that can be identified are believed to be:

In the front row of the photo, from left to right

Sgt Robert George HARKELL 749495
Sgt Norman Vyner TODD 551678
Sgt William BARNETT 973926
Sgt David SUTHERLAND 51946

It seems most likely that the tall man standing at the very left of the photo is Sgt Herbert Wain RICKETTS 581473.
The airman with the light coloured hair standing at the middle is Sgt George Victor JEFFERSON 816145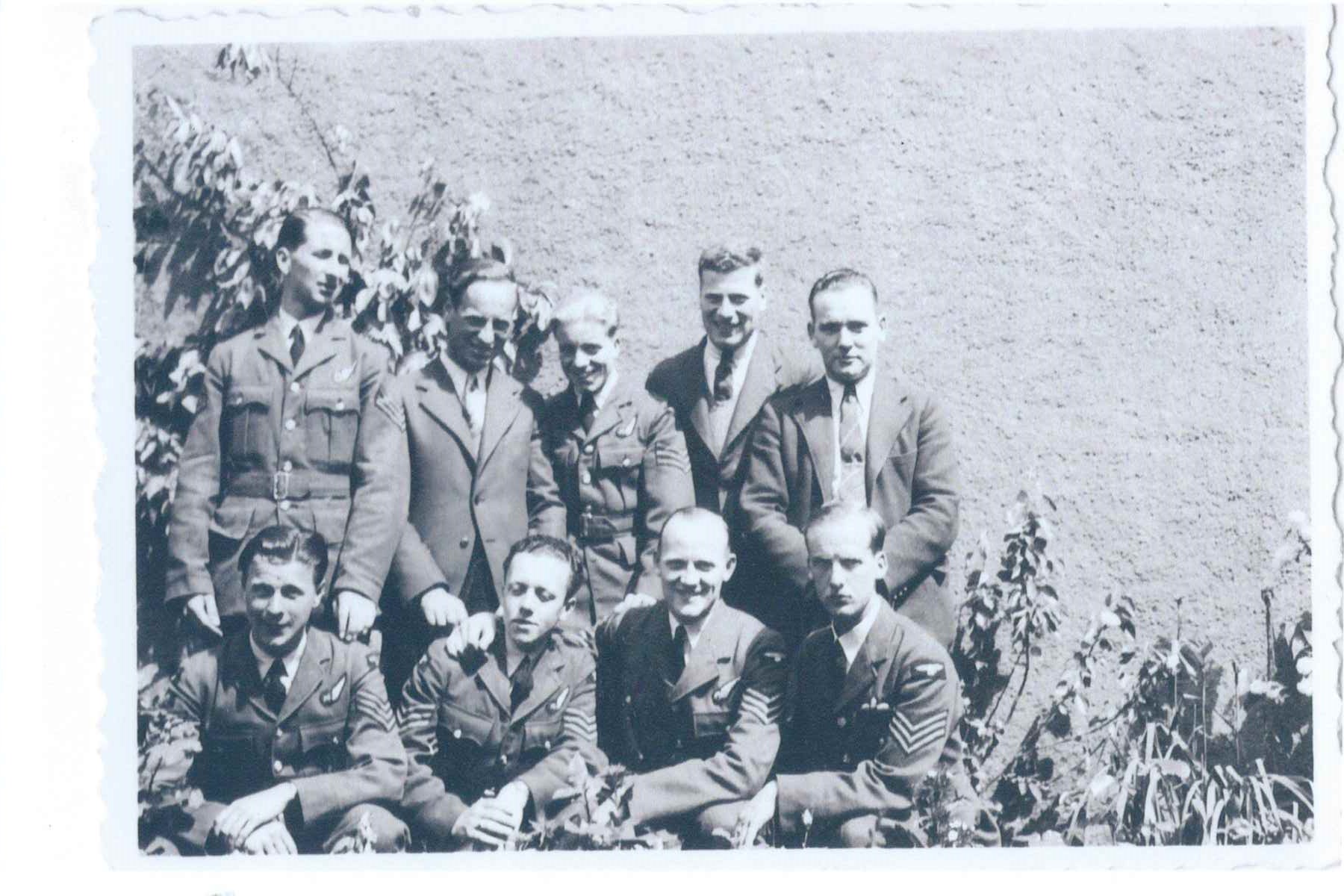 Another photo from the family of internee S J Hobbs included both Denys Welply and Norman Todd.

It is not known when the image below was taken exactly, but it includes both Sgt Hobbs and F/Lt Proctor so is likely to have been around the time of Sydney Hobbs wedding, though the lady in the photo does not appear to be his wife Joan. This small and battered photo shows the following Royal Air Force internees:
Standing, Left to Right: Herbert Wain RICKETTS, Denys Welply, David SUTHERLAND, Douglas Victor NEWPORT, Leslie John WARD, Robert George HARKELL, William Allan PROCTOR, George Victor JEFFERSON and Aubrey Richard COVINGTON.
Kneeling, Left to Right: Norman Vyner TODD, Sydney John HOBBS.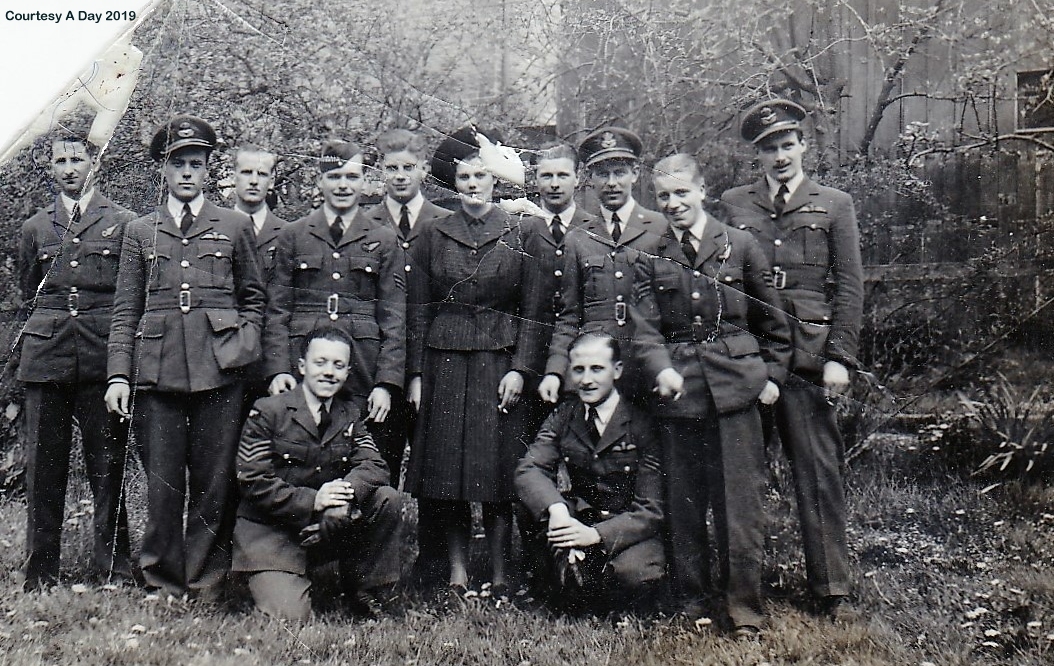 Compiled by Dennis Burke, 2019. With the very kind help of the Tood family, the relatives of J W Shaw.