Shorts Sunderland NJ175, Co. Donegal, August 1944

The Shorts Sunderland was a familiar sight around the shores of Ireland during the second world war, indeed, it was the very first aircraft type to 'breech' Irish neutrality when one landed off the coast of Dublin the very first day of the war. By the autumn of 1944, six of the large flying boats, W3988, W3977, DD846, G-AGES and DD848 had crashed on or very close to Irish territory, resulting in some involvement of the Irish defence forces in recovering dead and wounded, all too often just the former. Many more had come down off shore but had not been observed by Irish personnel.

The Sunderland was used by a number of RAF and RCAF Squadrons based at Castle Archdale on Lough Erne, in Fermanagh, Northern Ireland, including 201, 228, 422, 423 Squadrons. 422 Squadron of the Royal Canadian Air Force had moved to Lough Erne in November 1943.

Flight Lieutenant E C Devine is noted as having been posted in 'with crew' on the 28th June 1944. The crew members, not even the officers, are not listed in the ORB at that point. The first operational mission flown by Evan Devine was on the 15th of July with Devine and Platsko acting as 2nd and 3rd pilot to Squadron Leader W C Kent, this was likely a screening flight where Kent was observing the actions of the new crew. Not present on this flight Wilkinson, Locke or Clark.

The Campbell crew flew a second operational mission on the 8th of August, this time, Wilkinson and Locke were not present in the crew.

It would be expected that they would have flown many more non operational flights between the three operational missions, technical flights, navigation exercises, perhaps fighter affiliation flight etc.

The third and final fateful mission took place on the afternoon of August 12th. The ORB reported the days events.

Three operational sorties were carried out today by this squadron. F/L Devine and crew who had just taken off on an operational trip at noon, crashed twenty minutes after take off at Belleek, County Donegal, Eire. The aircraft flown by F/L Devine as captain was T/422 N.J.175 and had taken off from C.A. at 1225 hours and shortly afterwards they contacted flying control by R/T that oil pressure was high on starboard outer engine and requested permission to jettison D.C.'s in Lough area. D.C.'s were however jettisoned over land but apparently aircraft could not maintain height on three engines as the outer engine had seized. The second pilot advised by R/T that a crash landing was being made. The landing area selected was probably the best in the vicinity being a reasonably level and boggy area. The aircraft struck a small knoll almost immediately on touch down ad turned over breaking in two. The A/C burst into flames and entire forward section including most of mainplanes burnt completely beyond recognition. CAN.J.5705 F/L E. C. Devine, pilot and captain, CAN. J.28705 F/O R.T. Wilkinson, second pilot and CAN. R.66674 Sergeant Forrest, J., were killed instantly. First Pilot CAN. J.24784 F/O M.A. Platsko, Navigator, CAN. J.24911 F/O G.W. Allen, F/ENG CAN.R.75336 Sgt Jeal, H.R., A/G CANR.217572 Sgt. Colbourne, G.A. were seriously injured, FME/AG RAF1694120 Sgt Clark, J.F.S., F/ENG CAN.J.86728 P/O R.C. Parker, A/G CAN.R.26461 Sgt. Singer, C.H. were slightly injured and WOP/AG CAN. J.85165 P/O A.L. Locke WOM/AG CAN.R.161807 Sgt. Oderkirk, D.V. were uninjured. F/L Devine and crew had only been with the squadron a short time but had become a very popular crew and the unfortunate members who were killed will be greatly missed by the squadron as a whole.

The following day the 13th August the ORB recorded the following:
News received this morning from Shield Hospital, Ballyshannon, Eire, where injured members of the crew of yesterday's crash are at the present time, is that the boys are doing as well as can be expected. Sgt Jeal is on the dangerously ill list while F/O's Platsko, Allen and Sgt Colbourne are listed as seriously ill. F/O Locke reported to the Flight Commanders office this morning and appears to be alright.

Again on the 14th the men's progress was reported on:
F/O Platsko, F/O Alen, Sgt's Jeal, Singer, Colbourne and F/Sgt Clark were all removed from Shield Hospital, Ballyshannon, today by Air Ambulance from the St. Angelo landing field to R.A.F. Hospital, Halton, England; where more care can be given them. All members of the unfortunate accident appeared in good spirits, but Sgt. Jeal was in more serious condition that the others. F/L Kester, M.O. from 423 Squadron accompanied them in the absence of F/L Stewart, No. 422 M.O. who is in hospital himself at the present time.

The crash resulted in an investigation being carried out by the Squadron and No. 15 Group. The results of this investigation would be strongly disputed by the survivors of the crash in later years, all of whom felt that their Captain was wrongly blamed for the accident.

Researcher, Joe O'Loughlin, Beleek, Fermanagh based in Beleek, Fermanagh, is one of those who was able to correspond with some of the veterans and he wrote about the crash on his website and in the books he published. His website can be read at this link:

Sunderland NJ175 by Joe O'Loughlin


Another Northern Ireland researcher, James Stewart, also wrote about the crash, this time on the WW2Talk Message forum in 2009, and included first hand accounts from survivors of the crash including Colbourne and Platsko. The thread can be read here, though an account may be needed to see the survivors attachments.

NJ175 Which crashed near Belleek 12th July 1944

F/L Evan Campbell 'Cam' DEVINE J/5705 RCAF +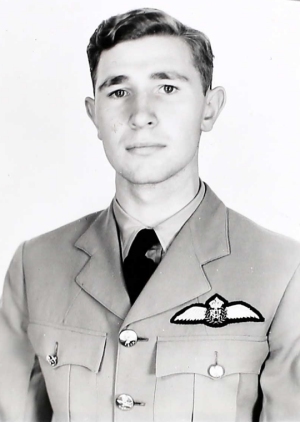 He was posted into 160 (BR) Squadron on the 20th May 1943 at Sea Island, BC flying Boeing Canada built Canso flying boats, the locally built version of the Catalina. He is listed in the Squadron Nominal Roll for their movement to Yarmouth, Nova Scotia. The ORB mentions him as the Acting Squadron CO on July 30, 1943 while the Commanding Officer was away from the unit.
On August 2nd 1943 he flew Canso 9817 with four navigators and took photos of the results of depth charge dropping excersizes. Six days later he set off on a US cross country trip. In the following weeks, he and his crew carried out many long patrol flights. Sadly the ORB does not list crew names other than the pilot at this time. His last operational light with that unit was on 17th Dec 1943. He went on Special Christmas leave on the 24th December, and again was on isolation and embarkation leave for 21 days from 6 January 1944. The ORB again does not list his crews names in the notice of their posting on the 28th December.
On 28th June 1944, the ORB records that: F/L E C Devine and crew reported to the Squadron tonight on posting from 4 O.T.U. for operational flying duties. On the 29th June, he flew a familiarisation flight with W/C Frey.
6 July he flies as 2nd pilot to J D M Patton crew.
Mentioned as having flown a night flying excersize on 11 July 1944 with his crew.
15th July, flying with S/L W C Kent is:

F/O Martin 'Alex' Alexander PLATSKO J/24784 RCAF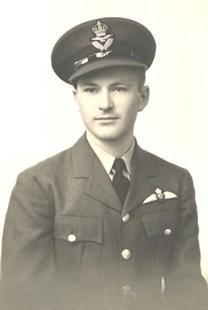 Martin was born on 26 January 1921 in Sifton, Manitoba to Ignatius Hnat and Sophie Platsko. He enlisted in Winnipeg in January 1942. After initial ground training he was posted first to 6 EFTS in September 1942 and then to 10 SFTS on 21 November 1942. There he was commissioned on 19 March 1943 and sent to 1 GRS, on 26 March 1943. His first service posting was to 160 (BR) Squadron in June 1943 and he is listed in the Squadron Nominal Roll for that units movement to Yarmouth, Nova Scotia in July 1943.
He was promoted to Flying Officer in September 1943. Along with his captain and crew he was also posted to "Y" Depot on 27 January 1944 prior to going to England. He travelled to England around the 14 February 1944 along with the others.
He was still with 422 Squadron in March 1945 with Mills crew and noted on April 6th to have been a coronet player in a musical evening, and a few days later he was forming a bugle band.
His service file records his repatriated in September 1945 and his released for duty on 6 November 1945. He moved to America in 1946 and settled in California where he became a physician.
Martin passed away in 2011 in California

F/O Roy Thomas WILKINSON J/28705 RCAF +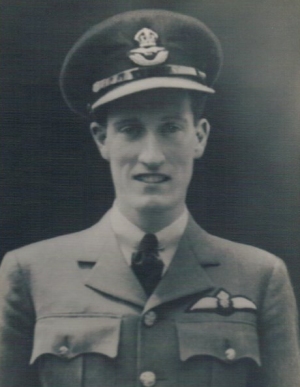 Reported to the Squadron on 15 Mar 1944 for pilot duties.
He was sent to RAF Calshot on attachment for test duties on 4th May 1944 with Wallace, Webster, Pye & Allington.

He remained on this temporary duty for the entire summer of 1944, being stationed at Gosport, Wig Bay, . Flies one mission on 9th August but doesn't appear to be mentioned between 4th May and that date.
Promoted to T/F/O in the June 1944 ORB.






F/O George Willoughby ALLEN J/24911 NAV RCAF – On lots of An trees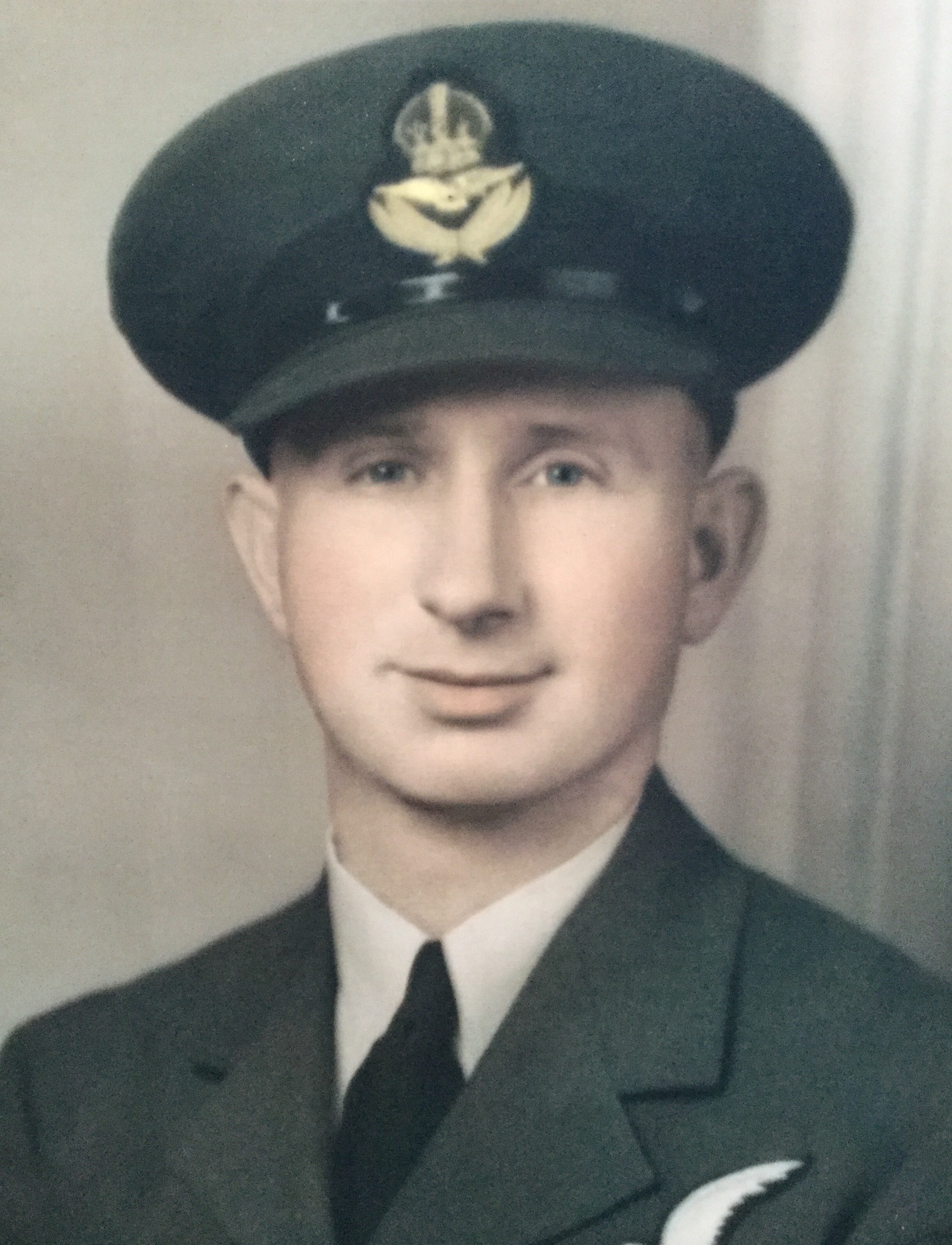 George was born in March 1913, the son of Lena and Theodore Allen. George married in 1937 in Taber, to Anna Mae Powell. . He joined up in early 1942 in Calgary and after periods of ground instruction was posted to 5 B&GS in September of that year. He was quickly posted on to 10 AOS in late November, and its thought graduated about the 19 March 1943. A month was spent at 1 GRS before being posted as a Pilot Officer to 160 BR Squadron. His dates of posting to Europe match those of Cam Devine and his movements in the UK would most likely match also.
His first operational mission was on 6 Jul with the Duggleby crew, flying as 2nd Nav.
Casualty lists record him being from Tabor, Alberta. He was sent to East Grinstead for treatment for burns treatment and thereafter he was repatriated home on the 27 November 1944, along with Jeal, Singer and Colburne.

He and Anna lived together until his death in 1997. She passed away in March 2012.


P/O Robert Clifford ""Bob"" PARKER C/86728 RCAF



Have S/R
Robert Parker was born on 30th July 1915 in Winnipeg, to Margaret and Fred Parker.
He was deemed fit for duty on August 30th but given two weeks leave for recuperation. Seems to have returned to flying duties on 19 Oct 1944 with the F/L A D Mills crew.
Promoted to T/F/O in Jan 1945 per the ORB.
He married Miss Joan Griffiths in Calgary on 1st March 1946. Robert passed away on 28 Dec 1985 in British Colombia.

Sgt Harold Roger JEAL R/75336 RCAF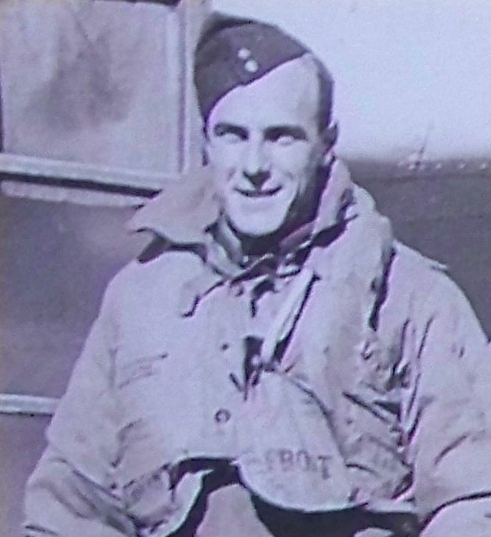 Harold was born in 1922 to
His marriage was recorded in the Winnipeg Tribune of May 4th 1943, the only mention of military service being that he was a Corporal.
He was mentioned in a March 1944 article in the Globe and Mail along with J R Forrest, as being part of a draft of Ontario men posted to England for combat duties after serving on coastal patrol duties at home in Canada.
After the crash he was repatriated home on the 27 November 1944, along with Allen, Singer and Colburne.
The Winnipeg Free Press of December 13th 1944 reported that: "Flt. Sergt. Roger Jeal, on leave from Christie Street hospital, returned from overseas last weekend. He was injured and returned to Canada for treatment."

Sgt Joseph Frank S CLARK 1694120
Sgt J F S Clark held the trade of FME/AG, Flight Mechanic Engines/Air Gunner and he was the only Royal Air Force member of the crew. His service number 1694120 identifies him as a member of the RAFVR. The former website of 422 Squadron had been informed of his death taking place on the 4th January 1993. This matches up to a death register index death of a Joseph Frank S Clark in Claro district, North Yorkshire.
This J F S Clark was born in 1908 and married in 1930. In the 1939 Register, he is to be found living with his wife Edith and their two sons at 2 West View Terrace, Halifax in Yorkshire. His occupation was that of a Textile Store Clerk and he also was an Air Raid Precaution Warden.
His name appears on a 1 March 1944 Nominal Roll of 422 Squadron. As NCO, there is no mention of his posting into 422 Squadron nor is it understood what his duties were from March to August. He had flown only once before on an operational with F/L E C Devine on the 8 August 1944.
He corresponded with a local researcher in the 1990's.

P/O Arthur Leslie LOCKE J/85165 RCAF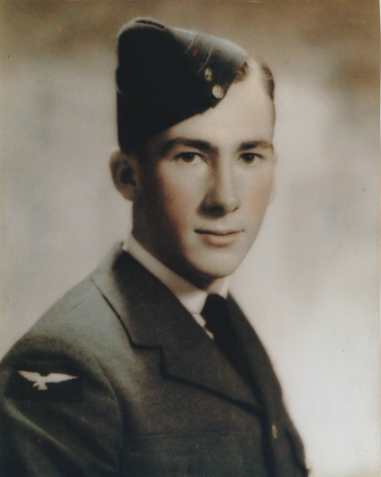 Arthur came from Lockeport, Nova Scotia, born in 1922 to Guyon and Myrtle Locke.
Posted in on the 11 July 1944 for WOP/AG duties from 3 PRC.
He was till serving in March 1945 with F/L Frederick B Fallis crew but no posting out of the unit was found in the ORB.
Arthur it seems died in a car accident on or around January 19th 1947 in Lockeport. His death certificate records him as being a taxi driver and leads one to think he may have been working at the time of the accident. Two other occupants of the vehicle were injured, one badly.
P/O John Reginald 'Jack' FORREST J/92096 RCAF +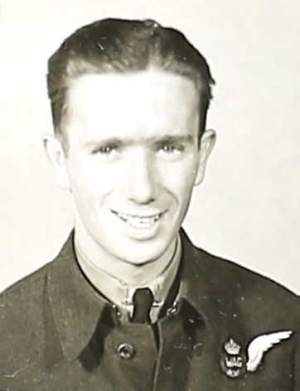 John was born on the 5th April 1921 to Annie and William Henry Forrest in Quebec. His parents were deceased at the time of his entry to service, but he had two sisters and a brother who was a Sergeant in the Canadian Army.
He enlisted in June 1940 in Montreal where he was then resident. He was at that time working as a bakers helper at XXX, though on other forms he lists working as a messenger. He undertook his initial training at No 1 Air Navigation School in late 1940 but had two periods of hospitalisation after which followed a years' service in a ground role at 1 ANS when he again took up aircrew training this time at 3 Wireless School from August 1942 to March 1943. His eagerness to become an aircrew member was noted by the reviewing officers in 1942 and he was allowed to remuster for training again.
He trained at 5 Bombing and Gunnery School and it seems in the same class as Delbert Oderkirk, their service records and newspaper announcements confirming this. The graduation of this course took place on the 28 May 1943. This next seen him posted to RCAF Eastern Air Command and 160 Squadron in July 1943 where he remained until December 1943. This was a newly formed Squadron and received an allocation of 22 Wireless Operator/Air Gunners upon arrival at their new base at Yarmouth, Nova Scotia. Sadly, the squadron records don't mention any but the crew captains names throughout this time, but John's posting out date matches that of E C Devine.
They arrived in Gourock on 24th February 1944 and were posted to 4 Coastal Operational Training Unit.
He was posted in to 422 Squadron on the 28 June 1944, which ties in with the date of the Devine crew's posting.
Posthumously commissioned, recorded in January 1945 in the ORB.
He was buried in the Roman Catholic cemetery



Sgt Delbert Venus 'Bert' ODERKIRK R/161807 RCAF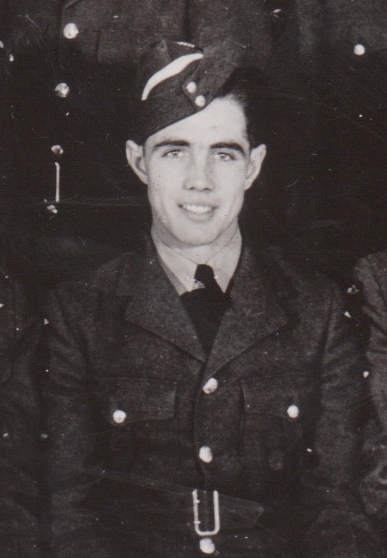 Delbert was born in
He completed his air gunner training at Dafoe, Ontario with 5 Bombing and Gunnery School, graduating the 28th May 1943. He appears to have been in the same class as J R Forrest.
On the 25th Feb 1945, the ORB records his being posted out to 'R; Depot for appearance before a reselection board. It stated also that he had been in a crash the previous year and had not fully recovered from the shock.
The 1945 Voters List for Kingston City, shows Delbert living with his parents Earl and XXX.
By 1972, he is resident in Braodview, Ontario with his wife Ella and working as an aircraft supervisor.


Sgt Charles 'Chuck' Langford SINGER R/206461 RCAF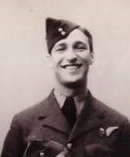 After the crash he was repatriated home on the 27 November 1944, along with Jeal, Allen and Colburne.
Sgt Singers story is told on the Joe O'Loughlin website linked above.

Sgt George Arnold COLBURNE or COLBORNE R/217572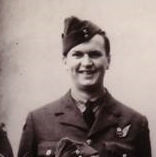 George was the son of XXXXX and was born in New Brunswick in Dec 17, 1924. He resided in Scarborough, Ontario and served in the RCAF from Feb 9 1943 to April 20, 1945. His training and service seen him pass through ground training in Quebec, Air Gunner Training at 9 BG&S, Mont Joli, where he gained his wings in December 1943, to 4 Aircrew Graduate Training School at Valleyfield for escape and evasion and ground combat training in the early part of 1944. He embarked for Europe in February and was posted to 4 (C)OTU at RAF Alness in April 1944. He recorded his service with 422 Squadron as being from June 30 to the 12th August 1944.
After the crash he was repatriated home on the 27 November 1944, along with Jeal, Singer and Allen.

Sgt Colburne passed away on the 29 July 2001.

Compiled by Dennis Burke, 2019.