| | |
| --- | --- |
| | Appendix 5 |
| | History and notes |
In September 1932 the Air Ministry issued specification B.9/32 for a twin-engine bomber for which both Handley Page and Vickers tendered. Each was awarded a contract and the resulting prototypes, the H.P. 52 and the Vickers 271, flew within a week of one another, the former on 21 June 1936 and the 271, later known as the Wellington, on 15 June.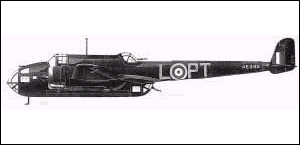 Handley Page HP52 Hampden
Considering that they shared the same specification, the two types could hardly have been more different, Handley Page going for an extremely slim "pod and boom" fuselage, with three manually-operated gun positions, while Vickers adopted a portly fuselage with power-operated turrets and manual beam guns. In the event, the Wellington was to remain in service in the night bomber role for just over a year longer than its rival.
In spite of an antiquated appearance the Hampden, as it was subsequently named, had several remarkable characteristics. With the use of Handley Page leading-edge slots it was able to land at only 73 mph. (117km/h), while its maximum speed of 254 mph. (409 km/h) was higher than either the Wellington or Whitley, and it could carry 4,000 lb (1814 kg) of bombs for 1,200 miles (1931 km), compared with the Wellington's 4,5000 lb (2041 kg) load over the same distance.
Following an order for 180 Hampdens placed on 15 August 1936, to the new Specification B.30/36, the production prototype flew in 1937. Simultaneously with the first contract another was placed for 100 aircraft with Napier Dagger engines and responsibility for their manufacture, under the name Hereford, was given to Short Brothers and Harland in Belfast.
In May 1938 the first genuine production aircraft form the Handley Page line was flown at Radlett, and on 24 June the type was christened officially by the Viscounts Hampden.
Build up of the RAF was now in full swing and on 6 August 1938 other orders were placed: English Electric at Warton were contracted to build 75, and in Canada a British mission negotiated for 80 more to be constructed by a consortium name Canadian Associated Aircraft Ltd. Following trials at the Aircraft and Armament Experimental
Establishment, Martlesham Heather, and the Central Flying School at Upavon, deliveries to the RAF began in September 1938, with the first batch of Hampdens going to No. 49 Squadron at Scampton, Lincolnshire, replacing Hawker Hinds. No. 49 was part of No. 5 Group, which eventually was completely equipped with Hampdens; by the end of the year 36 were in service and when World War 11 broke out in September 1939 ten squadrons were using the type: No.7 and 76 at Finningley; 44 and 50 at Waddington; 49 and 83 at Scampton; 61 and 144 at Hemswell; with Nos 106 and 185 in reserve, the former in process of moving from Evanton to Cottesmore where No.185 was already based.
Early operations in the daylight reconnaissance role were uneventful, but on 29 September the Hampden's shortcomings were vividly highlighted when five out of 11 aircraft in two formations were destroyed by German fighters when they were reconnoitring the Heligoland Bight area, within sight of the German coast. Not long after this it was decided to operate in future under cover of darkness, and some leaflet dropping missions were carried out.
The sub-contracted Hampdens began to come off the production lines in 1940, the first English Electric aircraft flying on 22 February and the first Canadian Hampden in August.
By the winter of 1939-40, the Hampden had found its most useful role—as a minelayer. Aircraft from five squadrons sowed mines in German waters on the night of 13/14 April 1940, just after the German invasion of Norway, and by the end of the year No. 5 Group's Hampdens squadrons had flown 1,209 minelaying sorties and delivered 703 mines, losing 21 aircraft in the operations—a loss rate of less than 1.8 per cent which was considered acceptable.
The Norwegian campaign, however, once again showed the Hampden's "Achilles heel". Because of their inadequate defensive armament they suffered heavily at the hands of German fighters when used as day bombers.
Bomber Command's first Victoria Cross was awarded to F/t Lt R.A.B. Learoyd, a pilot of No.49 Squadron, following an attack by five Hampdens on the Dortmund-Ems Canal on the night of 12 August 1940. Just over a month later a second VC was won, by an air gunner of No. 83 Squadron, Sgt John Hannah who, at 18 years of age, was the youngest RAF recipient of the award. Later that month Hampdens and Armstrong Whitworth Whitleys took part in the RAF's first raid on Berlin, and the Hampden continued to support the night bombing offensive until September 1942 when, on the night of 15/16 , aircraft of the RCAF's `No. 408 Squadron attacked Wilhemshaven in the Hampden's final sorties with Bomber Command.
From April 1942, Hampdens had begun to transfer to Coastal Command for torpedo-bombing operations a task for which experiments had been carried out at the Torpedo Development Unit. Gosport. The first two squadrons in this role were Nos 144 and 455, the latter an RAAF unit, and detachments from both squadrons went to northern Russia for convoy protection operations. Thirty-two Hampdens from the two squadrons left Sumburgh in the Shetlands on 4 September 1942, but nine were lost in the crossing, including two which crashed in Norway and one which crashed on landing in Russia. The squadrons subsequently handed over their Hampdens to the Russians before leaving for the UK on 23 October.
No 455 was the last operational unit with Hampdens, continuing to operate from Sumburgh, and sinking a U-boat on 4 April 1943, before re-equipping with Bristol Beaufighters at the end of the year.
And so the Hampden passed out of service. In spite of its inadequacies it had its good points: among them were pleasant handling characteristics and the excellent view which the pilot had. It was cramped, and crews could only change places with extreme difficulty, posing great problems in the case of airborne injuries. On a number of occasions Hampdens pursued and destroyed enemy aircraft of superior performance, such as the Messerschmitt Bf 110.
In all, 1,432 Hampdens were built, 502 of them by Handley Page, 770 by English Electric and 160 in Canada. A number of the 152 Herefords built by Short Brothers and Harland were subsequently converted to Hampdens.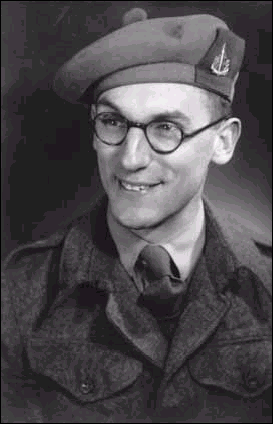 Handley Page HP52 Hampden

Specification

Type:

four-seat medium bomber

Powerplant:

two 1,000—hp (746-kw) Bristol Pegasus XVII radial piston engines.

Performance:

maximum speed 254 mph (409 km/h) at 13,800 ft (4205 m); cruising speed 167 mph (269 km/h); service ceiling 19,000 ft (5790 m); range 1,885 miles (3034 km) with 2,000 lf (907 kg) of bombs.

Weights:

empty 11,780 lb (5343 kg); maximum take off 18,756 lb (8508 kg)

Dimensions:

span 69 ft 2 in (21.08 m) length 53 ft 7 in (16.33 m) height 14 ft 11 in (4.55 m); wing area 668 sq ft (62.06 m2)

Armament:

two forward-firing 0.303—in (7.7- mm) machine-guns, twin 0.303-in (7.7-mm) guns in dorsal and ventral positions, plus up to 4,000 lb (1814 kg) of bombs

Operator:

RAF