The last resting place of the crew members of AD730 Blessington Churchyard,
County Wicklow, Ireland
Foreword
Pilot Officer J. K. Hill
My brother, John Kenneth Hill was born on 27 January 1918. He died on 18 April 1941 aged 23 in a crash of a Hampden bomber in Ireland on the return from a mission to Berlin. He was captain of this aircraft (AD 730), the oldest member of the crew of four all of whom were killed in the crash. His background was that of a typical middle class family of the period between the two wars. His father was an accountant who emigrated to Canada as a young man but, during the first world war, returned to England to join the Royal Fusiliers. He was wounded and invalided out in 1915. At the military hospital he met my mother who was a nursing sister there. They married in June 1916. My brother and I were the only children.
When Ken was five years old he developed polio. My mother refused to accept the doctors verdict that he would never be able to walk without the aid of a calliper. My earliest recollection of him is of his walking with an iron splint. After a few years he no long needed this, a great tribute to the determination of both him and my mother. His leg never fully recovered but, apart from participation in very active sports, he lived a normal life thereafter.
We lived very close to Croydon Airport, then the Airport of London and went to school at Whitgift which was less than a mile from the aerodrome. Hence our fascination with aeroplanes. Our first flight was in 1933 in an Avro 504—a pre-first world war aircraft with an open cockpit and a rotary engine which produced a thick blue smoke on starting and a unique smell which appeared to be burning castor oil—operated by Sir Alan Cobham's Air Circus.
From then on we were both hooked on flying. In 1938 Ken applied to join the RAFVR (Royal Air Force Volunteer Reserve). His first application was turned down on medical grounds; the after effects of the polio had not allowed him to develop sufficient stamina to become a pilot. He set about rectifying this. In May 1939 he was accepted on his second attempt.
His initial weekend training was at Gatwick. He was mustered on 2 September 1939, appointed sergeant and posted to No 11 Flying Training School. Up to gaining his wings on 25 June 1940 he trained on Tiger Moths and Magisters. He completed his training with a proficiency assessment of 78.4%, was commissioned on 27 July 1940, posted to No 16 Operational Training Unit on September 7th and joined 50 Squadron at Lindholme, Yorkshire, on 27 October 1940.
He underwent 15 months of full time training until his first operational posting. His operational career lasted twenty four weeks. He was 23 years old when he died. Details of his operational flights are given in Appendix 3.
His first operational mission (as co-pilot and navigator) was on November 1st with a raid on Berlin lasting over eight hours, the second longest operational flight of his career. He made 11 other operational flights, the last of which on 17 / 18 April 1941 was also to Berlin. His total flying time as a pilot at the time of his death was 232 hours. His operational flying time was just over 70 hours.
There is no record of when he became captain of the aircraft but it was probably after he returned from his posting to Finningley on January 18 for a course on new radio and navigational systems. On two of his twelve missions due to weather conditions he was obliged to return to base with his bombs unreleased. (see Appendix 3)
Some fifty years after he was killed I have finally gathered all the information which I believe to be available about the conditions in which the Hampdens and their crews operated and what seem to be the most likely causes of the crash.
The training aircraft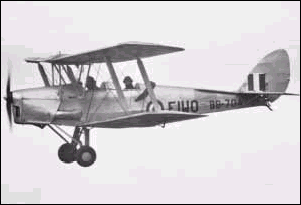 De Havilland Tiger Moth

| | | |
| --- | --- | --- |
| The training aircraft, Miles Magister | | The training aircraft, Airspeed Oxford |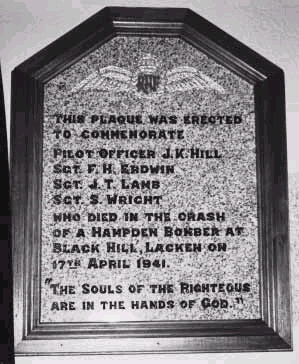 Memorial in Blessington Church